The View is just that – a stunning view of the lake in a central Florida tiny home community. This rustic wood-sided tiny home is the perfect vacation destination. With a large loft bedroom, generous living space, full bathroom, and kitchenette, it's perfect for vacationers.
The key feature of this tiny home is definitely the view. With multiple extra large windows throughout the home, you have spectacular views of not just the lake and surrounding grounds, but also the gorgeous Florida sky.
The large window on the side of the home takes up the bulk of the wall, but there is still space for a sofa that also serves as additional storage. While small, this easily turns into a fold down sleep space making this home perfect for a family of 4 to stay.
I love the addition of a little mirror behind the sofa to help open up the space even more. The larger window is spectacular and perfect for lounging in the sun while still being cool indoors.
Below the built in sofa are a few functional drawers for storage. This is great for keeping the sheets and blankets to go on this fold out sofa bed, or to use for snacks and movies for a late night movie fest with the kids.
A wall mounted television makes it easy to watch your favorite movie comfortably or to stream Netflix. The small stand below the TV is ideal for storing extra movies, books, or even a few board games for those lazy rainy Florida afternoons.
On the other side of the home is a small but functional kitchenette space. A single deep sink is all you need for cleaning up after snacks or a small meal. The two-burner stove is great for a fast breakfast, but you'll love the grills all around the property for that classic grilled steak or burger.
The Helm—2-Story Container Home close to Magnolia Market
While the refrigerator is dorm sized, it's efficient and ideal for just a few items and drinks to keep you cool.
The home comes equipped with drinking glasses, mugs, bowls, and plates to service your needs at mealtime. You can wake up with a simple breakfast of coffee and eggs, or heat up leftovers in the microwave after a long day at the local theme parks.
I love that they include a full bathroom in such a small space. The shower is perfect with the included storage rack already built in for your toiletries.
A compact but functional sink is ideal for daily needs, and I love the mirror being flexible to move around as needed.
Of course, no tiny vacation home is complete without a toilet, and this is your standard option with traditional plumbing. Small spaces don't mean you have to go without modern conveniences.
I especially love the additional baskets and shelving in this space for storage. No worries about trying to juggle where to put your basic needs.
On the outside of the stairs leading to the loft, you'll find a perfect little table made just for mealtime. It's a small table, but functional and comes with chairs so mealtime is easy to manage.
In addition to the added table feature, you'll love the extra storage drawers below the stairs. These are handy for extra linens, food storage, or to hide away clothes for a longer stay.
I love that they have an added safety rail leading up to the loft. While these stairs are very sturdy, it's nice to have that extra safety. This is especially handy when kids are vacationing with you.
Of course, you can't tour this home without checking the namesake. The upstairs loft is the second space you get a spectacular view of the grounds. That large picture window above the bed is a perfect way to view the sunrise or sunset.
Before you step outside, take note of the beautiful modern fixtures, raw wood paneling, and simple additions of pillows for comfort.
Of course, you have to admire the beauty of the deck around this home. While you vacation, you can enjoy both the comfort indoors and the beauty outdoors. A few comfortable patio chairs are ideal for relaxing with a cup of coffee to watch the sunrise in the morning.
in an infinite green oasis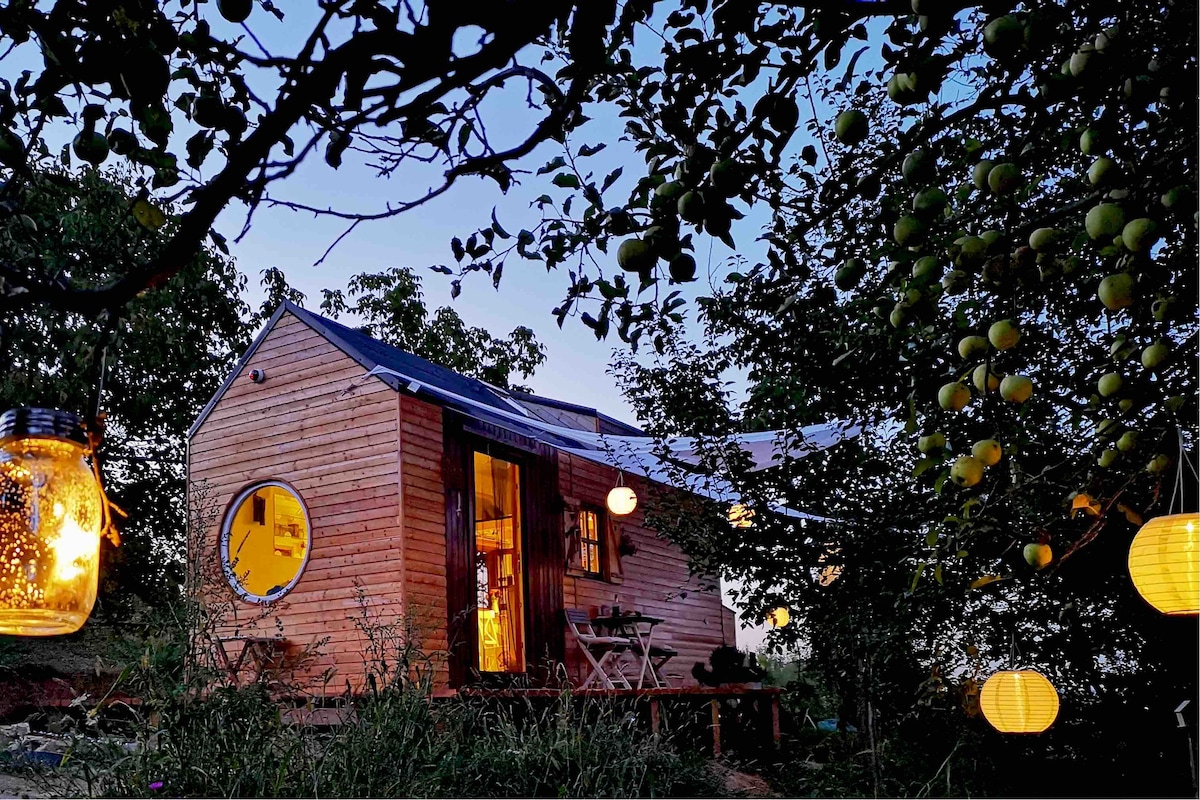 Tiny House on wheels
This is not just another bed you rest in overnight. It is a dazzling experience! Superhost Gabriella will amaze you with her cozy tiny house.
Entire house hosted by Robin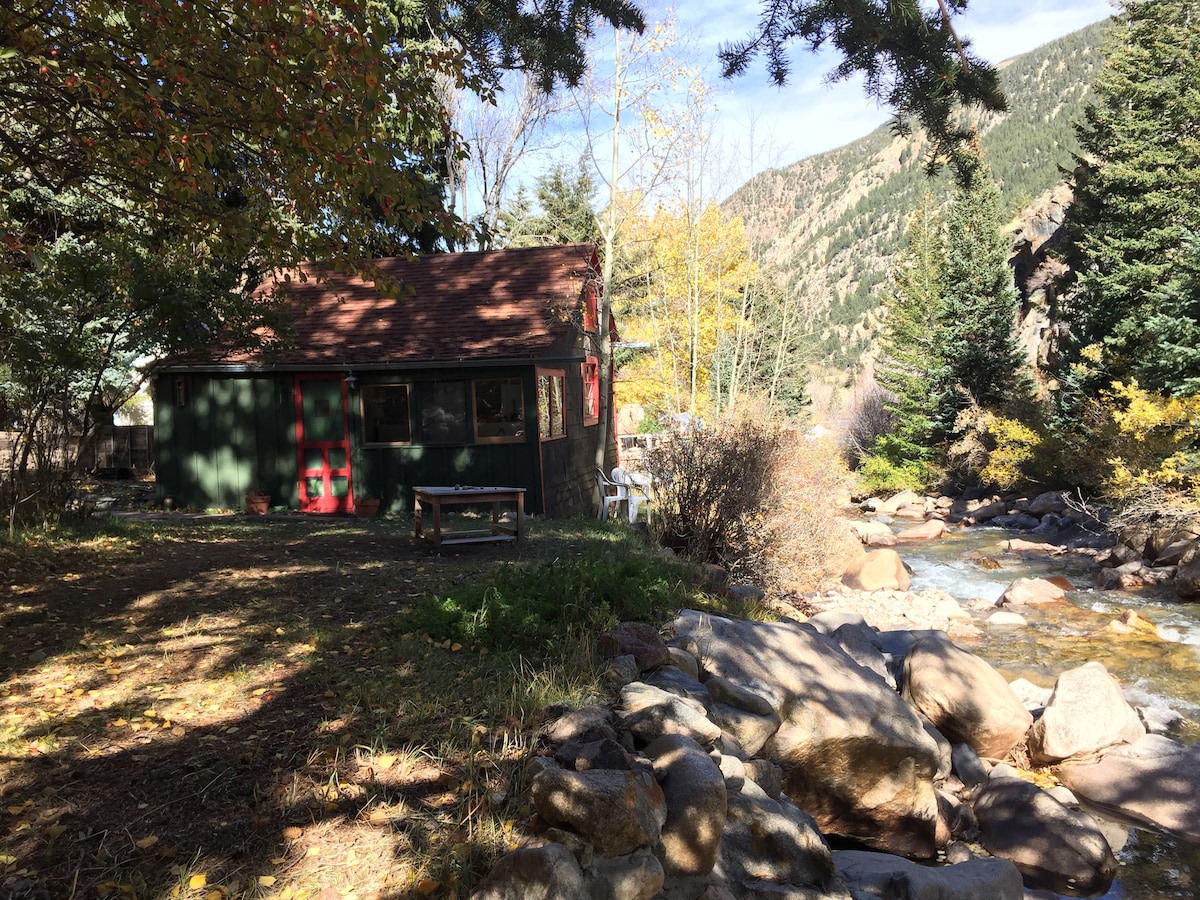 The Cricket- An amazing Tiny House!
The Cricket is a rustic historic cabin in a small neighborhood on Spring Street along side the rushing Clear Creek and nestled among an Aspen grove.
Tiny house hosted by Caroline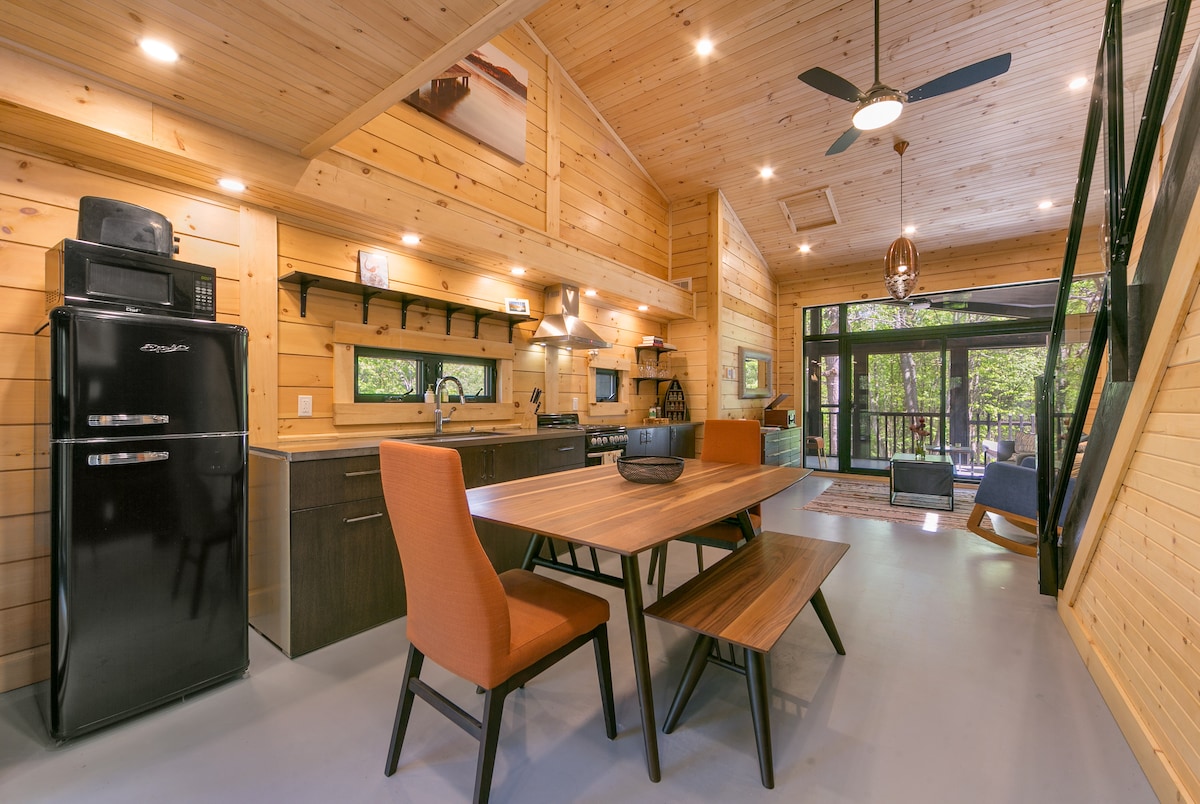 Muskoka's Luxury Tiny House
Serenely situated between Gravenhurst and Bracebridge, Tiny Haus has been custom built by an award winning architect to capture the beauty of the natural surroundings.
If you want to learn more about how to rent The View, check out the Orlando Lakefront Lodgify website for full details and availability. Make sure to let them know that iTinyHouses.com sent you.
Interested in more tiny home vacation rentals? Check out a few more of our favorites below!