Shipping containers don't have to be industrial! This lovely converted shipping container in Costa Rica proves you can add tons of finishing touches that will make you feel right at home. The finished interior, private bathroom, spa bedroom and open floor plan turn this into a destination you can't refuse.
One of the greatest challenges in a shipping container home is that they are a standard width, that while functional, is still smaller than many common tiny house designs. That makes creating a living space harder to manage.
Not in this brilliant use of space! One of the key features that makes this feel larger and more comfortable is the large open glass window on one side of the living space. Both window and door, it allows you to have added space by opening up to the outside patio area. It also gives the illusion of a larger area.
A small sofa on one end of the container home makes a great guest bed when folded down. A simple set of floating shelves is used for decor but could be used for storage. With such tall ceilings, you could even hang additional cabinets above and around the sofa if desired.
The living area is broken up by a nice sized kitchen counter. This space is partially a dining area and part kitchenette. You won't find full-sized appliances here, but that doesn't mean you can't enjoy a few meals in comfort.
A small dorm refrigerator under the counter will keep your drinks and cream for your coffee plenty cool. A toaster oven is ideal for fast breakfasts, or even a quick lunch. Bring in a few supplies, and take advantage of the local cuisine to give yourself a break from kitchen duties.
If building this style of home for yourself, you can see there is plenty of space against this wall to build out a galley style kitchen with full sized appliances. Only a few adjustments are needed to make that work!
The Helm—2-Story Container Home close to Magnolia Market
You can see from this view that while one side has large open door/window combination, the windows on the opposite side are just at the top of the room. This helps limit the hot sun in the day, but also provides good natural light as needed.
Beside the kitchen counter, you have room to add a table if desired. You could also put a small chair, another sofa, or even extend the kitchen out for a full refrigerator or added cook top if desired. It's truly an open floor plan with tons of possibilities.
I love the addition of floating shelves above the counters for storage. The bright teal color theme flows throughout the house giving you a little tropical feeling to the home. Of course, I am also loving the fake hardwood floors for easy cleanup when you get back from hiking or exploring the terrain and track in dirt or mud.
A small but tidy private bedroom at the end of the shipping container is all you need for a comfortable night sleep. If building out this style on your own, you can add larger space here and smaller living area if desired. A dresser or chest of drawers could fit on one wall, or a small closet be built in if desired.
This is a great bonus for added privacy during your stay in the container home. If traveling with kids, it's nice to have a little private space of your own. For those building or converted their own container, a private bedroom makes it a bit easier to entertain without feeling like everything is out on display.
The bathroom may not seem like much when you step in. It is functional with a toilet, sink, mirror, and storage. That's not all you'll find behind this door. The hidden secret is the spa shower. While it's a small space, it really is an amazing space for comfort and that little hint of luxury.
On the other side of the bathroom, you see this lovely tile surrounded shower. Tucked into the corner, it offers privacy and comfort you want, with a hint of a spa experience in the midst of the jungle.
The spa rainwater shower head makes you feel like you have taken a trip to your favorite spa. I love the idea of hanging fresh eucalyptus on the shower head for a real refreshing experience!
The inside of this container home destination isn't the only beautiful part of your stay. This is a grouping of tiny houses set up for vacationers, but each one has it's own private patio space with a table and chairs.
You can see how easy it would be to add an awning, porch swing, or additional chairs to this area.
You could even add in a fire pit or area with kids games if wanted. They have certainly made it feel like a little village with concrete walkways separating each home.
I adore this addition of destination signs! Couples have left their name and mileage to their home and tacked to the tree. What a fun way to mark a memory from your stay!
The twinkle lights strung between the trees and the tiny house add to the ambience and create a lovely inviting glow for an evening stroll or a nightcap under the stars.
in an infinite green oasis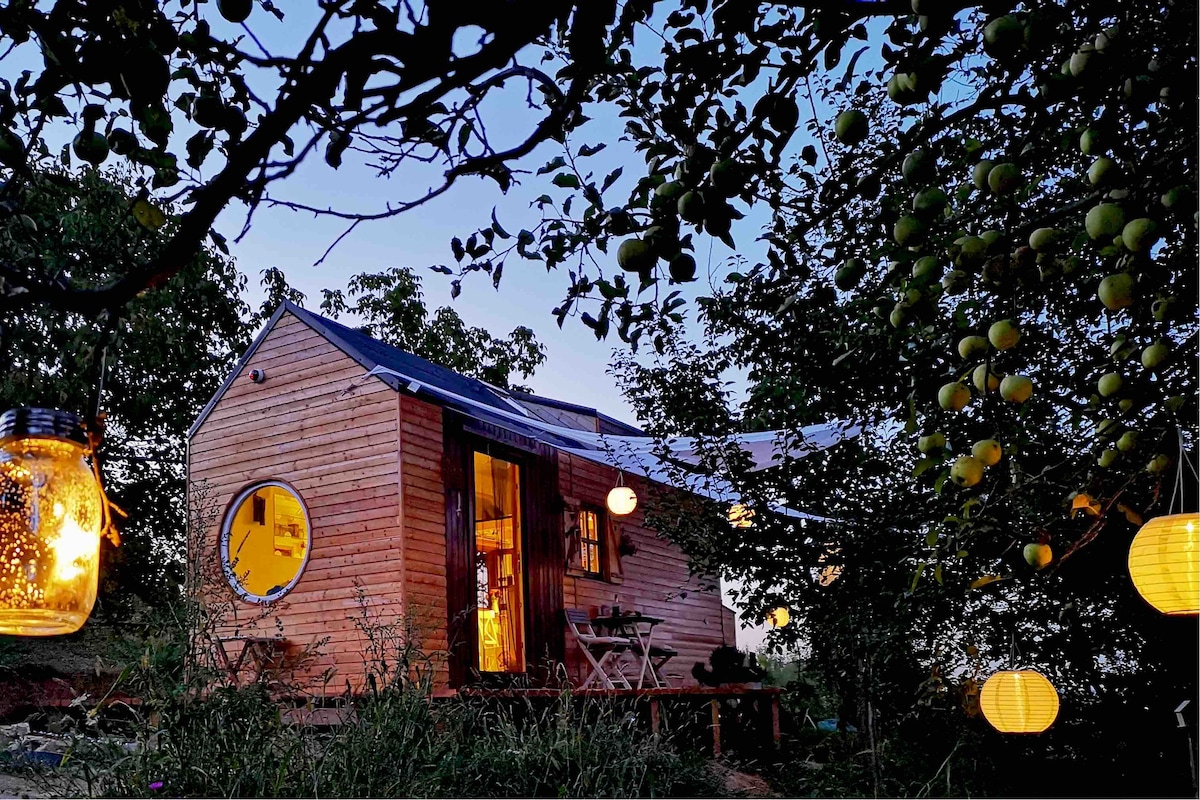 Tiny House on wheels
This is not just another bed you rest in overnight. It is a dazzling experience! Superhost Gabriella will amaze you with her cozy tiny house.
Entire house hosted by Robin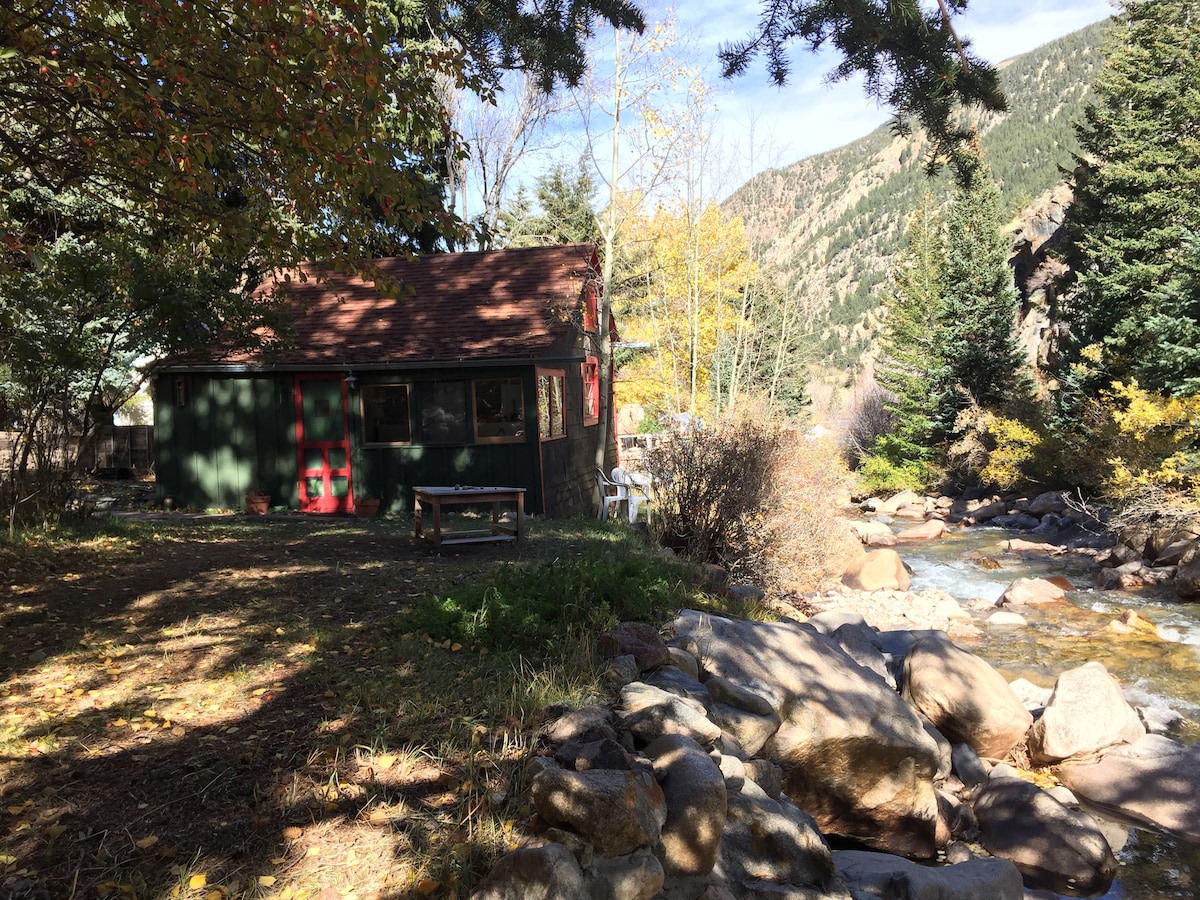 The Cricket- An amazing Tiny House!
The Cricket is a rustic historic cabin in a small neighborhood on Spring Street along side the rushing Clear Creek and nestled among an Aspen grove.
Tiny house hosted by Caroline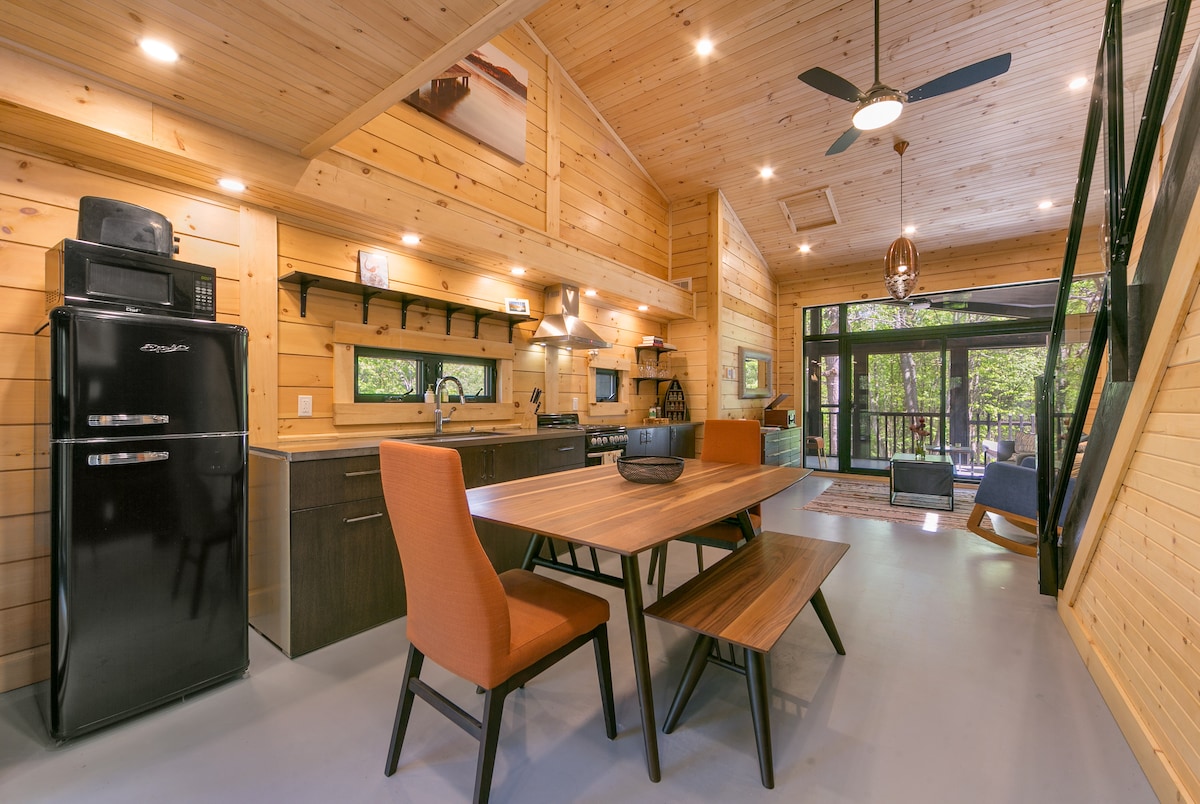 Muskoka's Luxury Tiny House
Serenely situated between Gravenhurst and Bracebridge, Tiny Haus has been custom built by an award winning architect to capture the beauty of the natural surroundings.
For more information about this shipping container home, check out more on managemyproperty While the original listing is no longer available, more details can show you how this home was built. Make sure you let them know that iTinyHouses.com sent you!
Interested in more tiny house plans? Check out more great tiny homes below!