The Lux is one of the tiny home styles that you are sure to fall in love with. Tons of modern industrial accents throughout with clean lines, blonde wood, and white paint make it welcoming and clean. A perfect choice for a minimalist lifestyle!
White shiplap walls and white brick surround this space. The stainless steel, chrome, and industrial accents throughout add character to an otherwise simple space. Whether it's the black pipe under shelves or the industrial faucet, you'll adore the little touches added to this home.
This space includes two loft sleeping areas. One featuring a metal pipe ladder and smaller space. The other side includes a deep traditional staircase up to a large "master" loft space. Both areas are comfortable for sleeping 2-3 people, but the master space is larger and more comfortable.
If cooking for your family is important, you'll love this kitchen. Marble counters, grey cabinets above and below, and a full flat top cook top and oven are ideal for family dinners.
A nice sized butcher block table against the wall allows for 2-3 to easily sit for dinner. This space could also double for a workstation if you happen to work from home or homeschool your children.
The Helm—2-Story Container Home close to Magnolia Market
The lights throughout this tiny house are a perfect combination of luxury and industrial style. They add tons of light to the room without sacrificing the overall style of the space.
From this angle, you will also notice the deep cabinets under the wide stairs, the full refrigerator, and the bathroom peaking out from behind the stairs.
One of my favorite features in this tiny house is definitely the wider stairs going to the loft. I often worry about the narrow stairs up to upper levels being hard to manage. This offers not just a wide step, but a combination of metal pipe and wooden railing up to the loft.
The large loft bedroom is a great space that while not 100% private, does allow some privacy from the rest of the house. You can add a curtain across the font to add more privacy if desired.
You'll love the multiple windows and additional lights to open up space with white shiplap walls all around. What might feel small is suddenly wide open with these accents.
Looking down from the loft, you can take a peek at the added beauty of the marble counters in the kitchen. This also gives you a better look at the overall space including the fake brick walls and windows along the sides.
The bathroom is a wonderfully large space at the back of the home. A corner shower, toilet, and sink are all traditional, but the clean white lines are stunning. Add your own accents around the space to make it unique.
My favorite part of the bathroom, however, comes in the form of a stacking laundry set. Just because you are in a smaller home space doesn't mean you can't keep things clean and orderly.
Whether you are looking for the slightly larger space of this tiny home or you are more focused on the style inside, you are sure to love this great layout. Tiny homes have so much to offer, and this one is a favorite home on wheels.
in an infinite green oasis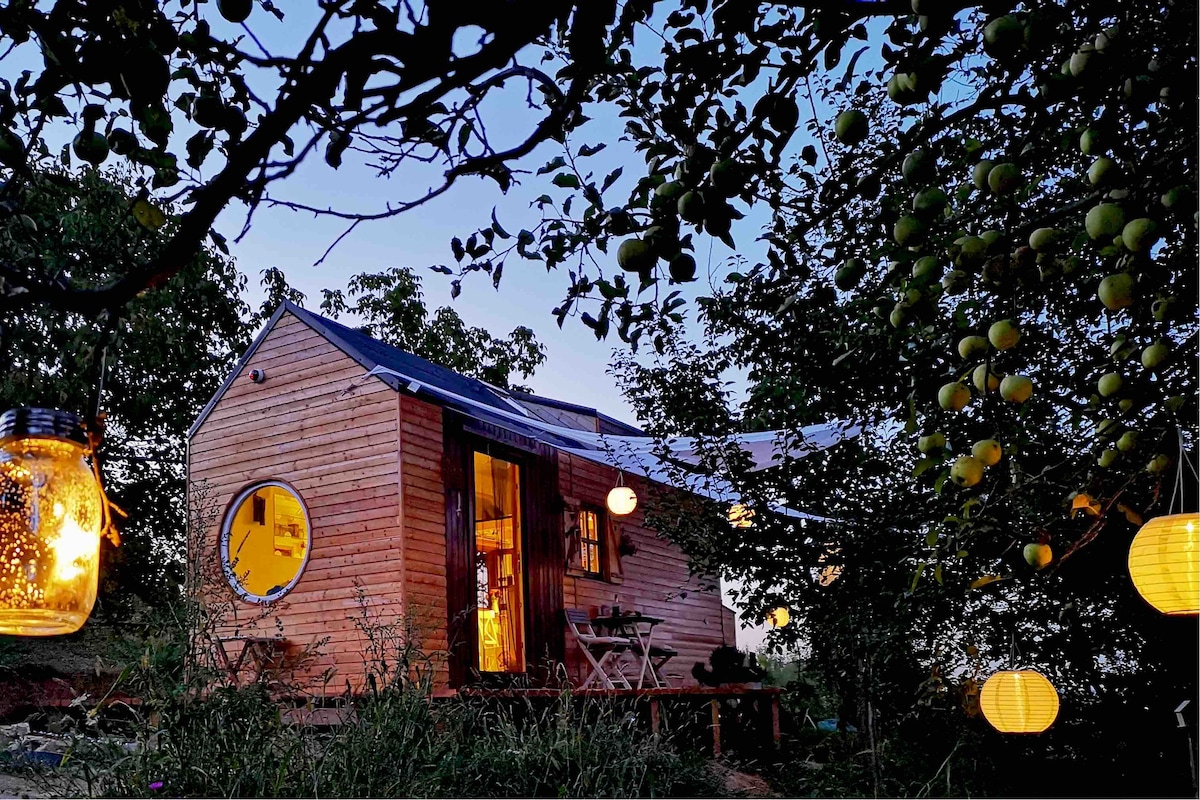 Tiny House on wheels
This is not just another bed you rest in overnight. It is a dazzling experience! Superhost Gabriella will amaze you with her cozy tiny house.
Entire house hosted by Robin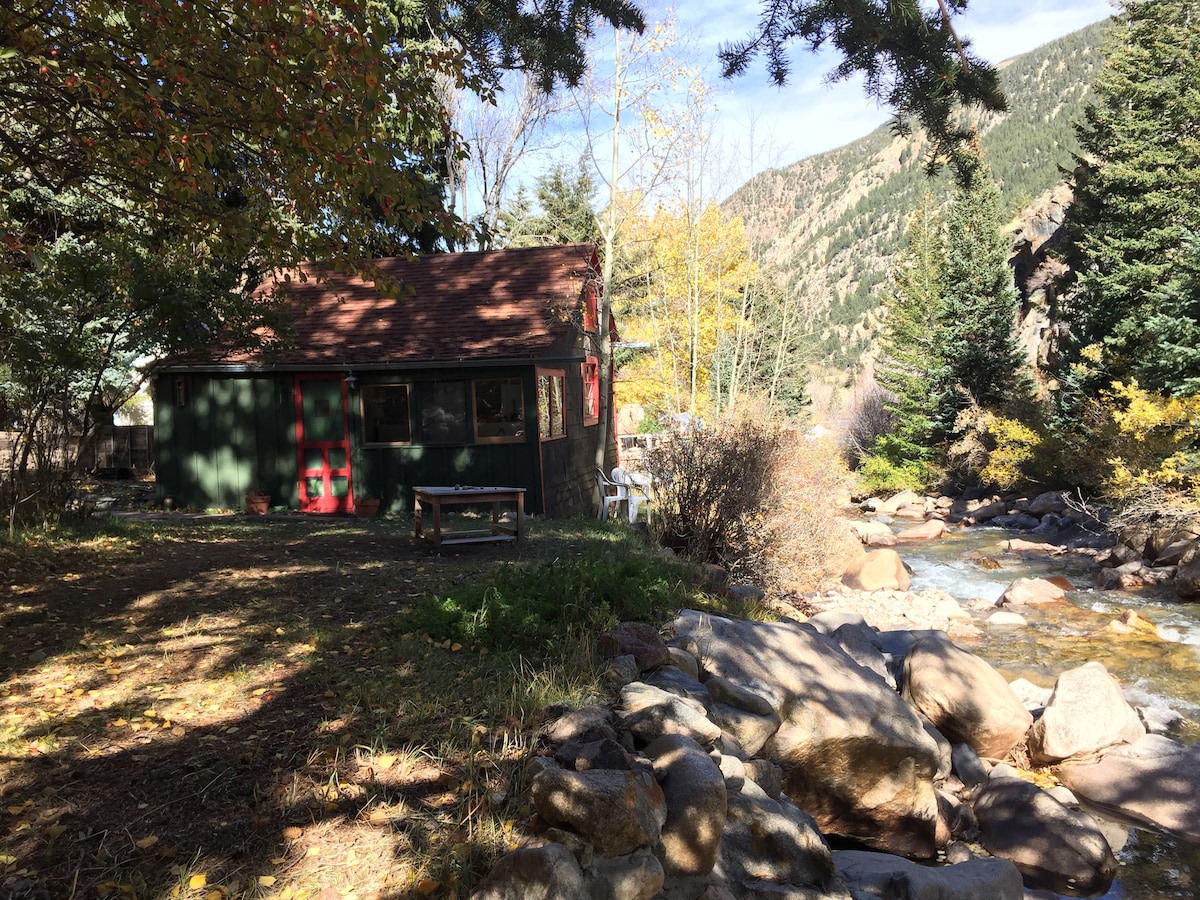 The Cricket- An amazing Tiny House!
The Cricket is a rustic historic cabin in a small neighborhood on Spring Street along side the rushing Clear Creek and nestled among an Aspen grove.
Tiny house hosted by Caroline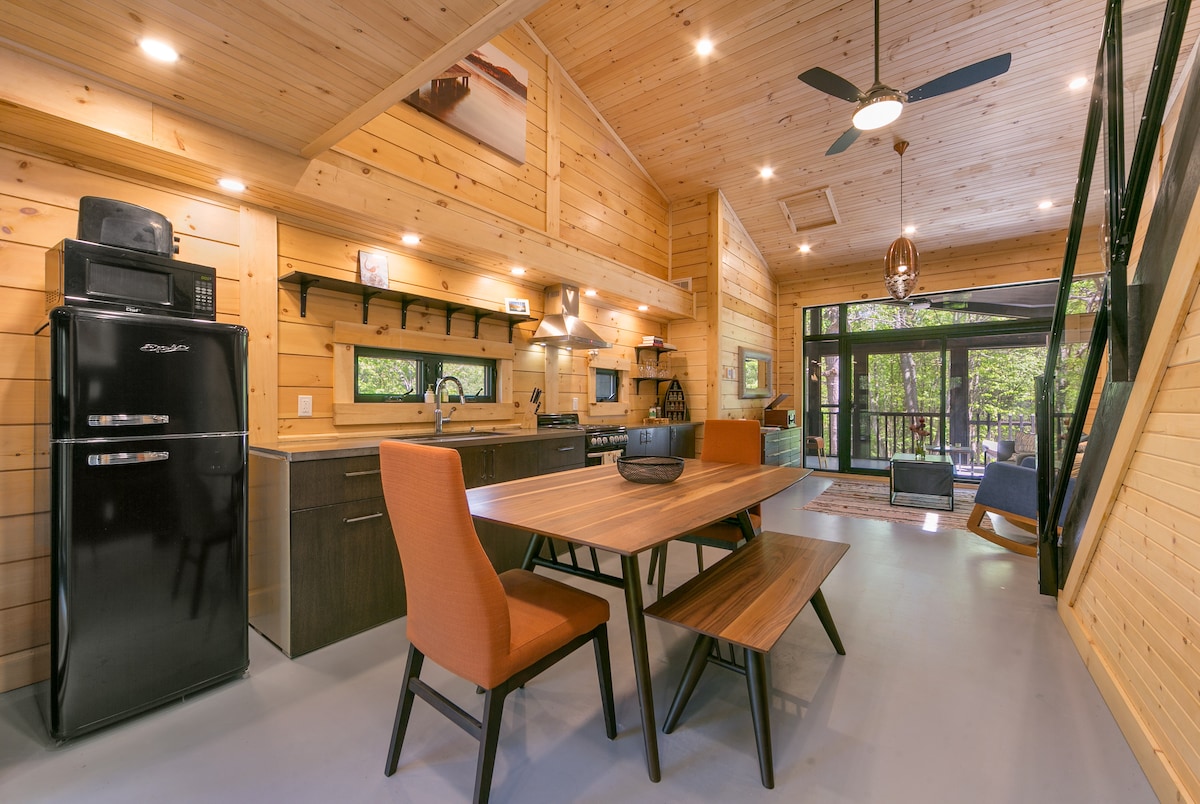 Muskoka's Luxury Tiny House
Serenely situated between Gravenhurst and Bracebridge, Tiny Haus has been custom built by an award winning architect to capture the beauty of the natural surroundings.
For more information about this tiny house, check out the full listing at KJE Tiny Homes. Make sure you let them know that iTinyHouses.com sent you!
Interested in more tiny house plans? Check out more great tiny homes below!