Love the rustic, woodsy style for tiny houses? The Redwood Cabin by Incredible Tiny Homes could just be the dream home you have been hunting for.

The gooseneck design consists of a 28-foot trailer with an 8-foot gooseneck. The home is 8 feet wide, for a total of 288 square feet.

This makes it one of the more spacious homes that Incredible Tiny Homes has designed. As this company is adept even at making homes under 200 square feet feel roomy, it isn't a surprise that there appears to be plenty of extra space to spare in this lovely rustic interior.

There is enough space for a couch across from the kitchen. It looks like this one likely doubles as a storage bench.

In the bathroom, we see an exposed sink with a medicine cabinet/mirror above. To the right is a washing machine. To the left is a beautiful shower with wood walls and a removable showerhead.

The toilet is located next to the shower.
The Helm—2-Story Container Home close to Magnolia Market

A hallway leads to a downstairs bedroom.

The bedroom is lovely and roomy and easily accommodates a large, cozy bed with overhead reading lights. And wait till you see what else it features …

There is a full-size closet for all of your attire. Even if you have a ton of clothes, you'll have no problem keeping them tidy and organized.

You will have all the storage space you need living in this amazing tiny house.

In this photo, you can get a good appreciation for the vertical space in the home.

Looking down from above on the kitchen and living room, what you notice most is the wide open hardwood floor.

An apartment-size fridge and freezer stand in the kitchen next to the farmhouse sink, which is small but deep.

Directly to the left of the sink is open counter space and drawers, and left of that is the stove. Butcher block countertops form a complement to the rustic decor and offer functional value as well.

Separated from the main set of counters and cabinets is a standalone set which appears to be a mobile kitchen island that can also double as a table when the flaps are extended.

The house features a covered porch on which you could set a couple of chairs to enjoy the outdoors, sheltered from the sun and rain.
in an infinite green oasis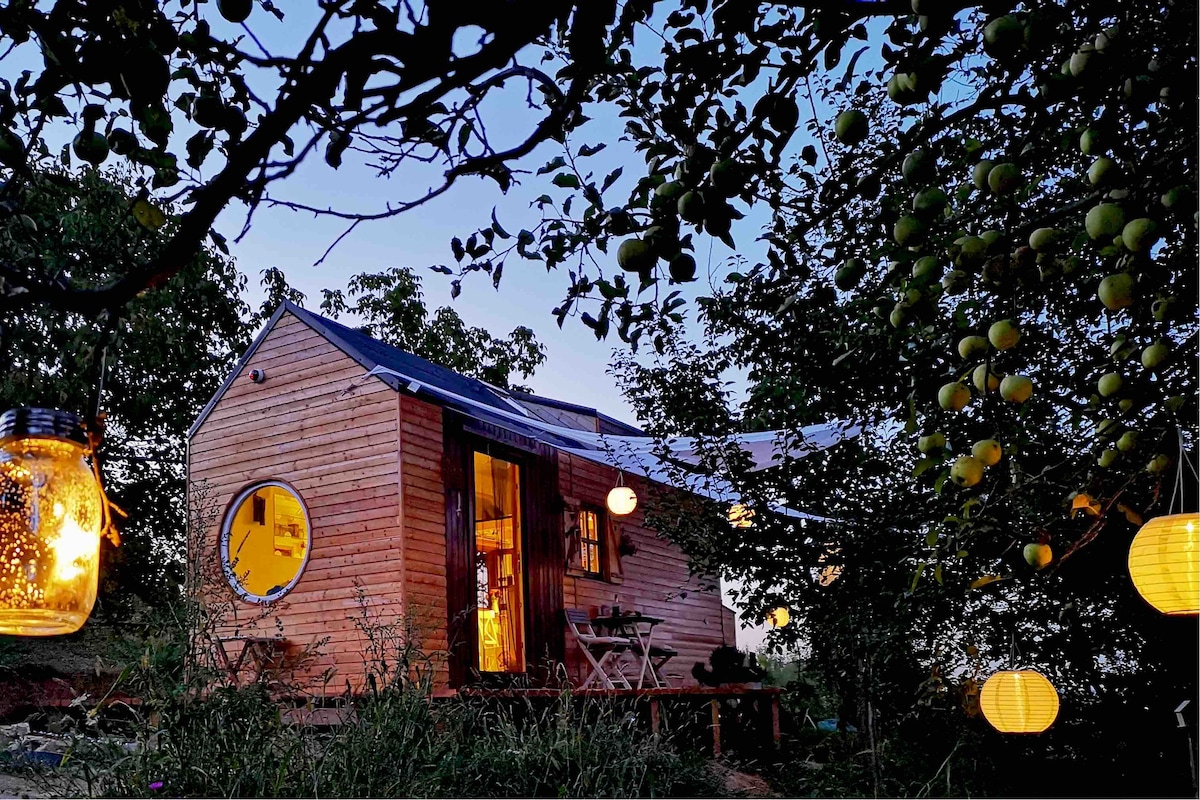 Tiny House on wheels
This is not just another bed you rest in overnight. It is a dazzling experience! Superhost Gabriella will amaze you with her cozy tiny house.
Entire house hosted by Robin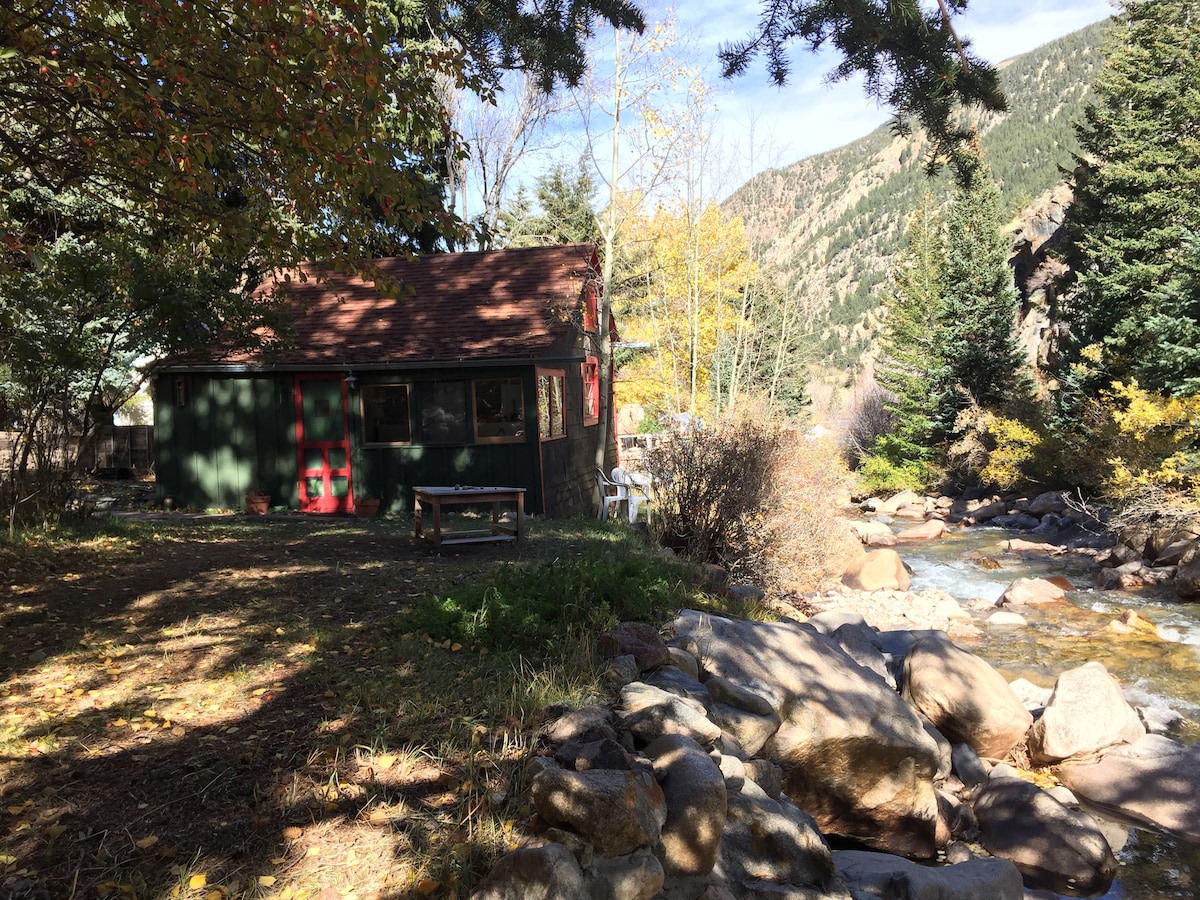 The Cricket- An amazing Tiny House!
The Cricket is a rustic historic cabin in a small neighborhood on Spring Street along side the rushing Clear Creek and nestled among an Aspen grove.
Tiny house hosted by Caroline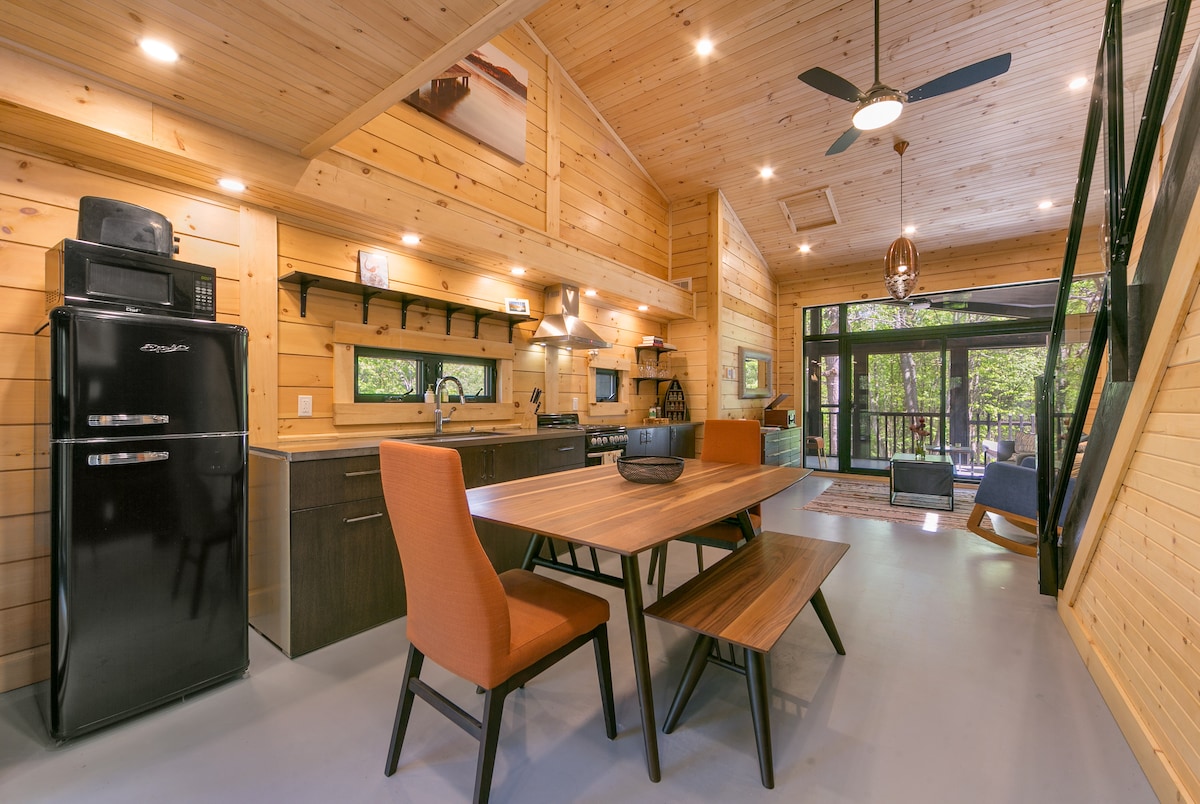 Muskoka's Luxury Tiny House
Serenely situated between Gravenhurst and Bracebridge, Tiny Haus has been custom built by an award winning architect to capture the beauty of the natural surroundings.

The red and brown color scheme of the exterior is a popular trend in rustic tiny-house design right now.

If you would like to learn more about the Redwood Cabin, visit this page on the Incredible Tiny Homes website.