The Alberta Arts is a unique tiny home nestled in a Portland community known for the incredible food scene, stunning mountain views, and eclectic music. A luxury vacation destination, this home is a shining example of how to create a beautiful oasis in a simple space.
Occasionally, I find a tiny home that is settled in among more traditional homes as a lovely little destination spot. This one is just that. A simple cottage of sorts, this one is ideal for staying for a visit to Portland. Whether you are there to explore local waterfalls and hiking trails, or for the food scene, this is a perfect place to stay.
Chic style is found throughout this cottage destination. Woven tapestries, macrame plant baskets, and wicker furniture add amazing finishing touches. These little pieces add not just style and beauty, but the comforts of home when you are spending a short time away.
This tiny space is behind a main house whose owners have designed this with comfort and eclectic style in mind. Warm wood floors, ceramic tiles, and a mixture of modern and vintage decor make this the perfect romantic getaway.
While you will likely be hitting up the local food scene for most meals, you can still whip up a simple meal in this space with ease. The little kitchenette area is so cozy!
Ceramic tiled backsplash with a deep farmhouse sink bring modern touches together with vintage accents of wood shelving and little succulents throughout to feel like home.
There may not be a large space, but the hot plate, pots, pans, and electric kettle make it easy to whip up some fresh eggs from the backyard coop for breakfast. I especially love the idea of sitting on the patio with a cup of coffee and watching the hens peck around the yard while I welcome the day.
The owners have outfitted the home with comfortable touches to welcome you to the area. You'll find fresh flowers and plants throughout for extra coziness.
The Helm—2-Story Container Home close to Magnolia Market
Below the kitchen counter, you'll find extra storage as well as a dorm sized refrigerator with a nice sized freezer. Easy to store snacks and drinks for between your hikes and exploration of the community.
A luxury queen sized mattress welcomes you at night for a great nights sleep. Additional tapestries above the bed bring a little of a Southwest theme with vintage flare.
Of course, a unique variety of lamps and books are there for your convenience to relax at the end of the day.
If you are a first time visitor to Portland, you will love the addition of some local guides. These give you great tips for where to eat, hike, visit, and explore during your stay.
Despite being a tiny home, this space feels large and welcoming with the tall ceilings and white interior. You definitely won't feel cramped when visiting here.
While there is no television in the home, you will have access to internet. I'm pretty sure you won't need it to stay occupied while visiting!
It's the little accents like unique coffee mugs, fresh flowers, and a guest book to leave your own message to the owners that remind you that this is your home away from home.
Of course, no vacation destination is complete without the bathroom, and this one is totally worth sharing. I adore the vintage sink and honeycomb tiled walls! So sleek with a simple retro feeling to the look.
Potted plants in every nook and cranny really add life to the space. I love this hanging vine! Simple beauty and decor with a live plant is always a favorite in my book.
Take a look out the door and find the owners chicken coop with free roaming hens and fresh eggs daily. This is that rustic suburban element that you will love in the Portland communities you visit.
Along with the chicken coops out back, you'll find a simple hammock and tree swing. A nice place to enjoy nature and relaxation on slower days.
At night, the twinkle lights out back and the simple private patio offer a perfect place to snuggle with a bowl of popcorn and a movie on your laptop, or a favorite novel.
While this is a guest house behind a local resident, you will feel like you have rented a private home. This place is comfortable, private, cozy, and most of all, a perfect unique tiny house you will adore.
in an infinite green oasis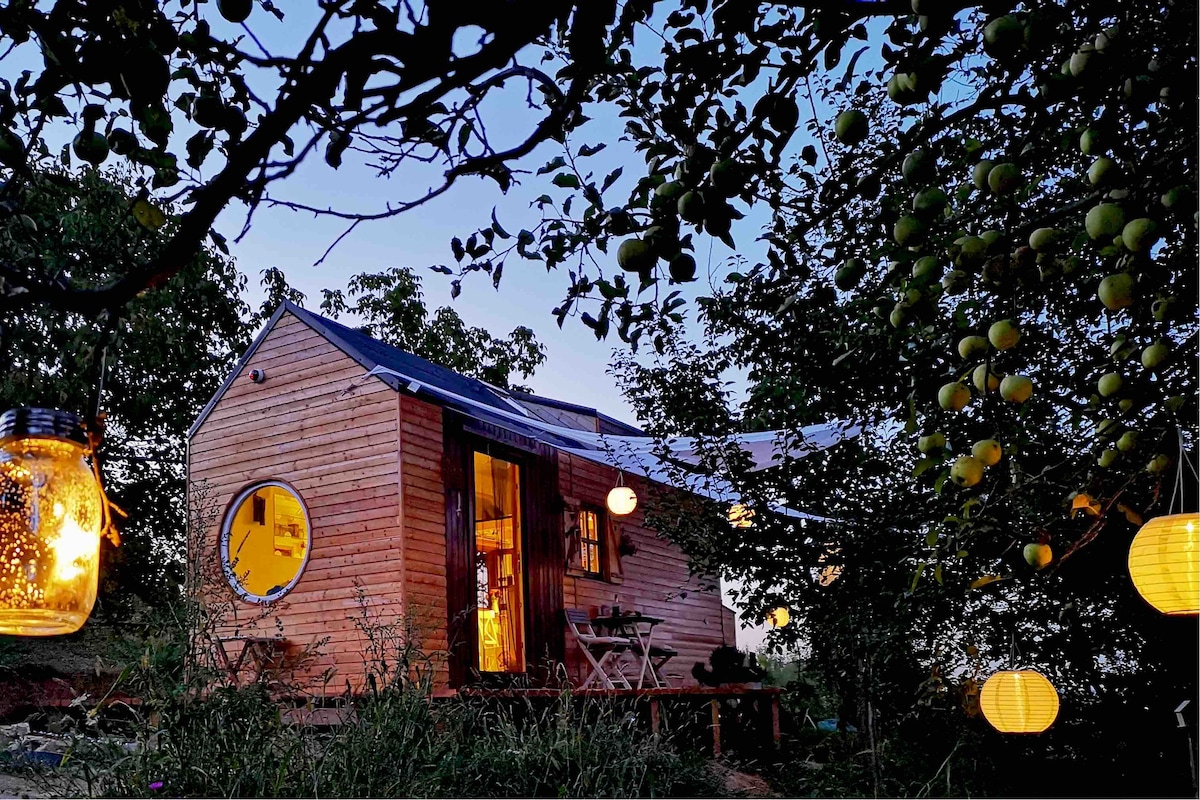 Tiny House on wheels
This is not just another bed you rest in overnight. It is a dazzling experience! Superhost Gabriella will amaze you with her cozy tiny house.
Entire house hosted by Robin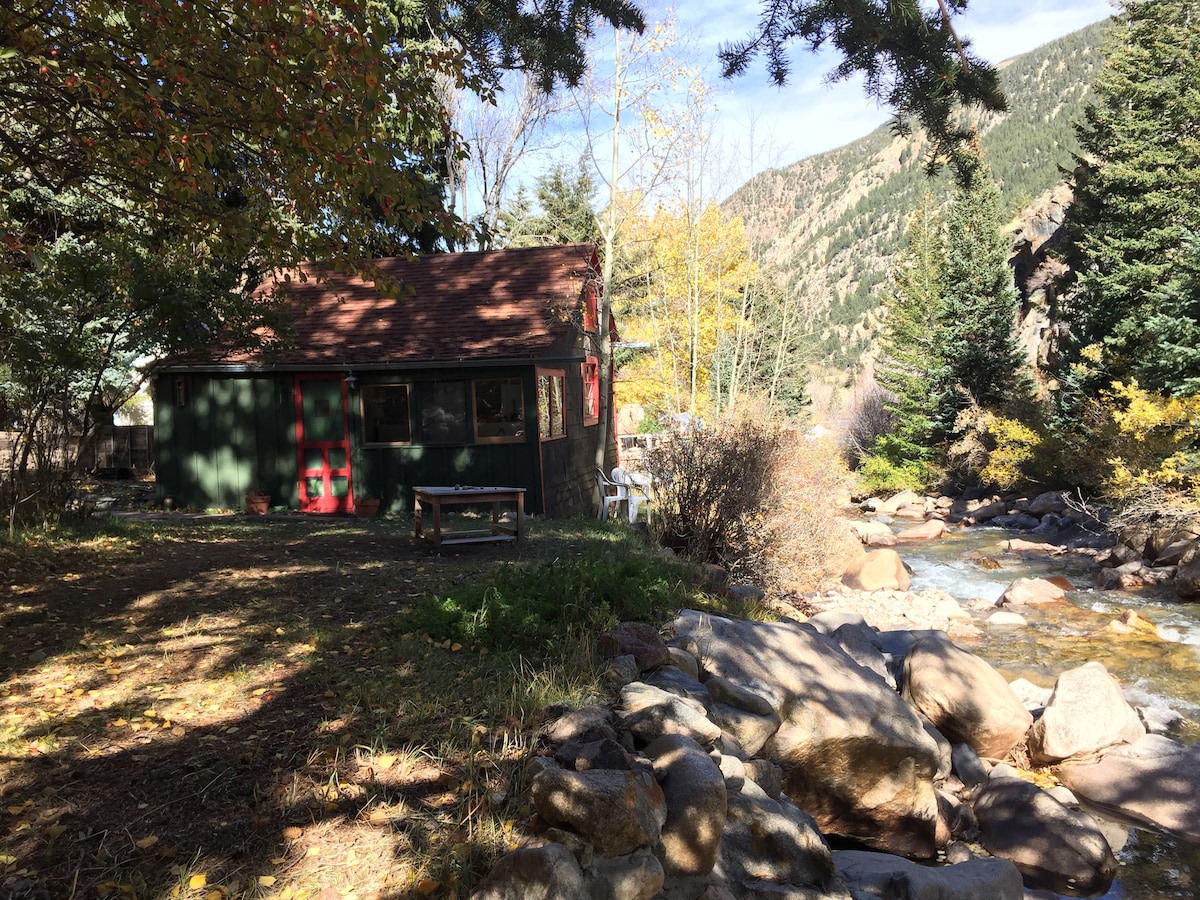 The Cricket- An amazing Tiny House!
The Cricket is a rustic historic cabin in a small neighborhood on Spring Street along side the rushing Clear Creek and nestled among an Aspen grove.
Tiny house hosted by Caroline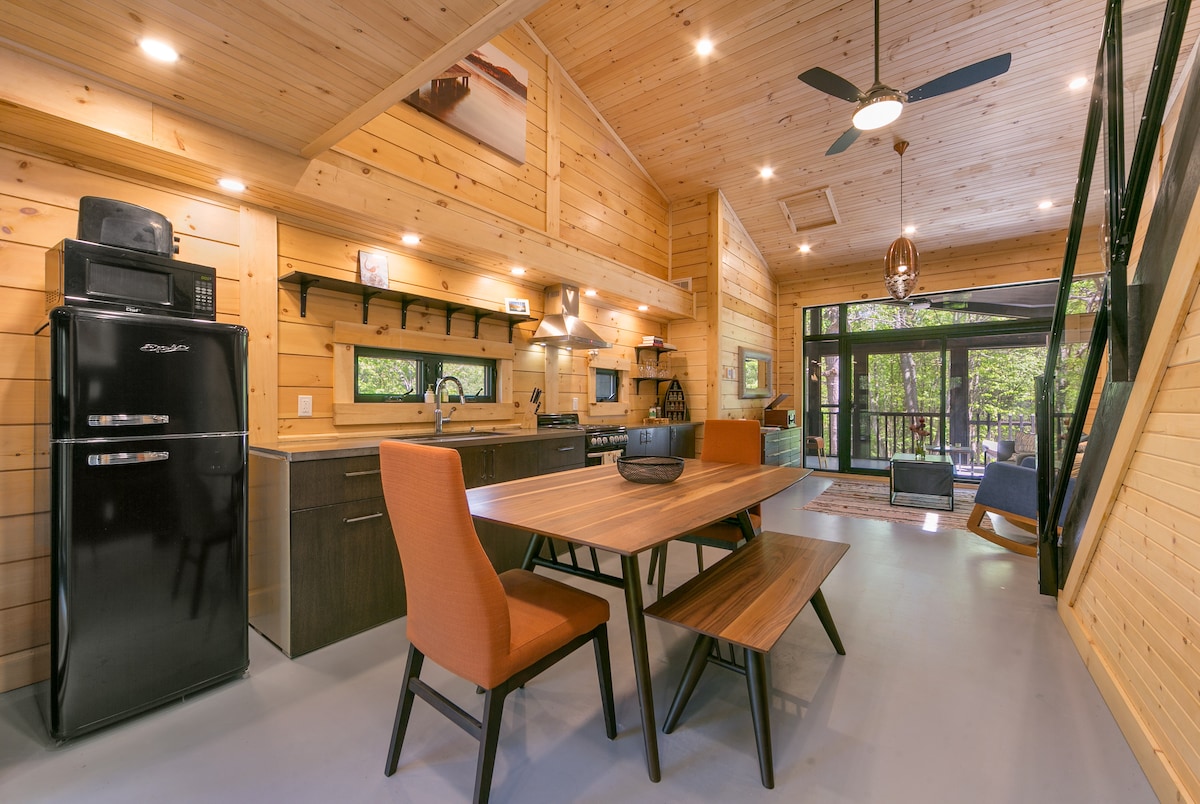 Muskoka's Luxury Tiny House
Serenely situated between Gravenhurst and Bracebridge, Tiny Haus has been custom built by an award winning architect to capture the beauty of the natural surroundings.
To see more about the Alberta Arts and surrounding area, check out the full AirBnB listing. You can't go wrong with a comfortable stay in Portland. When booking, let them know that iTinyHouses.com sent you.
Interested in more tiny house plans? Check out more great tiny homes below!