Step out onto the deck of The Grow to see breathtaking views of nature at it's best. This mountainside retreat has everything you want in a stunning tiny home destination. From large wrap around porches and deck chairs to a full kitchen this is the ideal home for any nature lover.
One of the most charming features of this rustic space is the kitchen. While a small galley kitchen, it has everything you need to prepare meals for yourself or the whole family.
One surprising feature of the wood paneled kitchen is the addition of a dishwasher. A regular stove, nice farmhouse style sink, refrigerator, and below counter storage space makes this ideal for any foodie to prepare gourmet meals.
This kitchen has two nice sized windows with stunning views. While not large, the counter space is efficient for regular daily use. A microwave adorns the corner and while there is a French press for your coffee, you could easily add a Keurig if preferred.
The living space is small but packed with nooks and crannies for storage. The loft over the front door and living space is ideal for holding added linens, a fold out bed, and even luggage.
Small but comfortable, there are added comforts like throw pillows, a thick rug with extra plush, and a few curtains hanging for extra privacy.
The Helm—2-Story Container Home close to Magnolia Market
The corner chair is a perfect reading nook or place for morning coffee. Added cushions housed above can be brought down to create a single bed in this space for extra sleep space. I love this for a comfy nook to relax after a long hike in the mountains.
Little accents around this home make it special. Beautiful carved map is framed on the wall for accent and knowledge of the area. The brick lower half of the room is perfectly accented by the raw wood look.
As you look through the front door toward the kitchen, you see a nice wooden ladder with railing on both sides to take you up to the loft bedroom. I love the use of this space for a safe way to get to your bedroom, but still match the rest of the home.
The comfy corner chair is great for guests, but also a nice place to relax with your glass of wine after dinner.
The added matte black pipes throughout are the perfect addition to add style to the rustic home. Limited but useful, they add both function and style to the Grow tiny home.
This home isn't without a luxury bathroom space. While small, it is just what you need. Wood lined luxury shower is ideal for a spa like experience after a hard day hiking the mountains.
The over the toilet storage includes the wood and matte black pipe additions to bring the homes style together easily. Functional for storage and beautiful, it's just what you need.
A comfortable night sleep greets you in the overhead loft bedroom. Tall ceilings make this easy to relax and prepare for bed each night. Recessed lighting and multiple windows bring extra light for bedtime reading and a beautiful view of the sunrise in the morning.
The show stopper of this tiny home is the view. A large wrap around deck is the perfect place to relax. Adirondack chairs near the grill make an evening cookout easy to manage.
Dine outside at this small table, or simply use it to hold your wine glasses while you chat after dinner. The space is comfortable and inviting. While near the other cabins, it offers tons of privacy and space.
The Grow is a stunning tiny home nestled int he mountains and surrounded by breathtaking views. While the space inside is limited, the wide open spaces, multiple decks, and fresh air in nature make it feel large.
in an infinite green oasis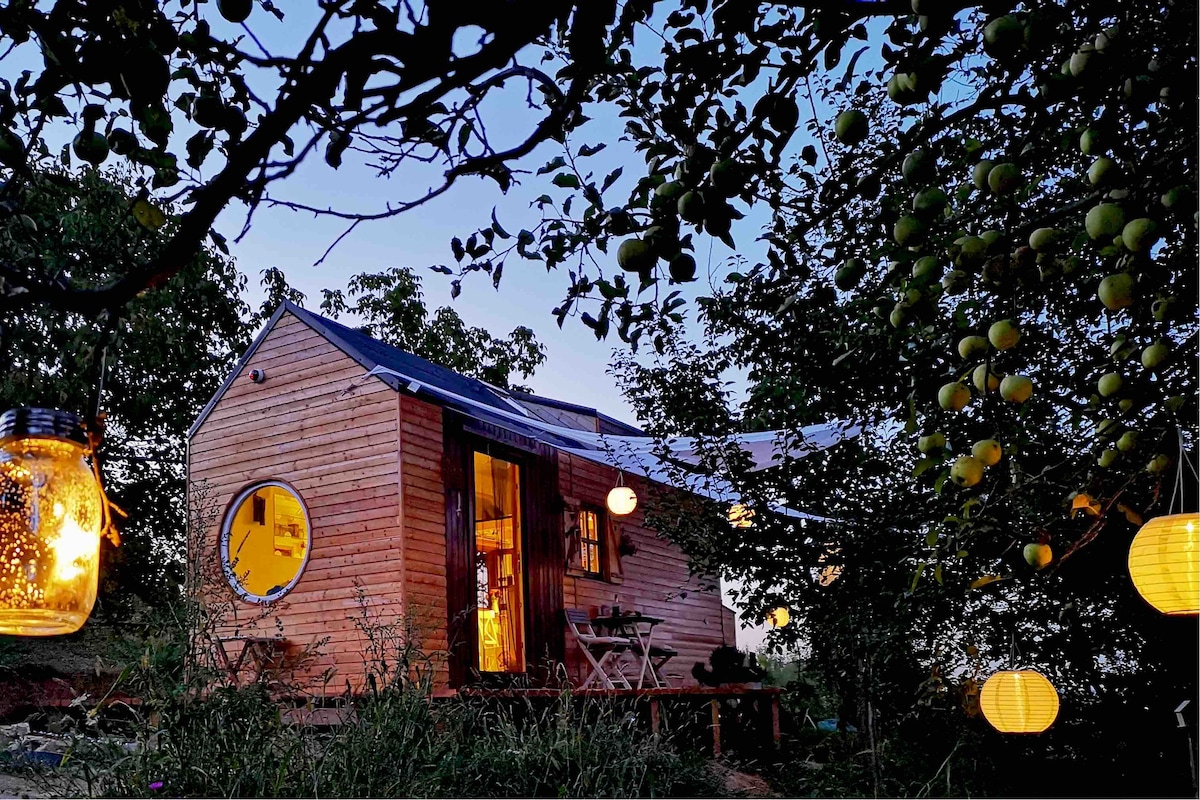 Tiny House on wheels
This is not just another bed you rest in overnight. It is a dazzling experience! Superhost Gabriella will amaze you with her cozy tiny house.
Entire house hosted by Robin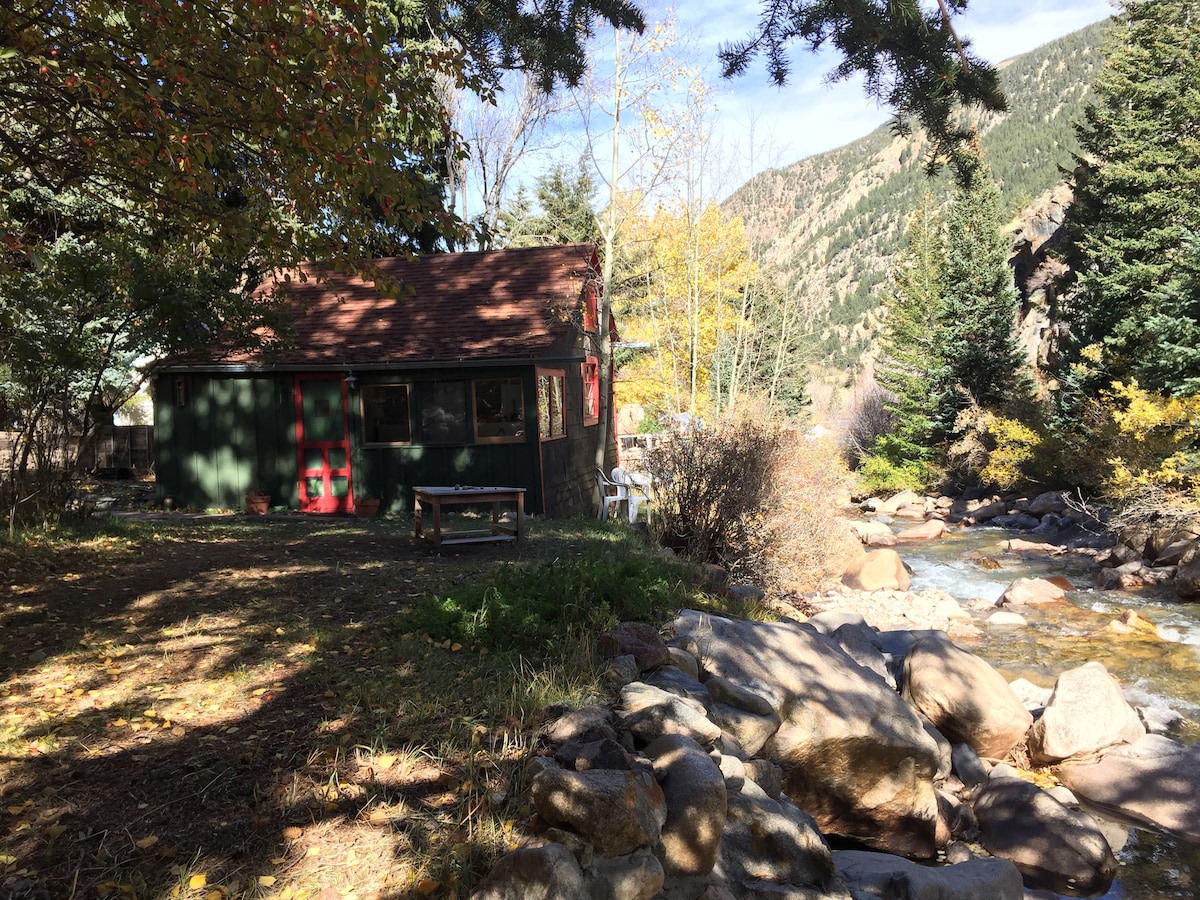 The Cricket- An amazing Tiny House!
The Cricket is a rustic historic cabin in a small neighborhood on Spring Street along side the rushing Clear Creek and nestled among an Aspen grove.
Tiny house hosted by Caroline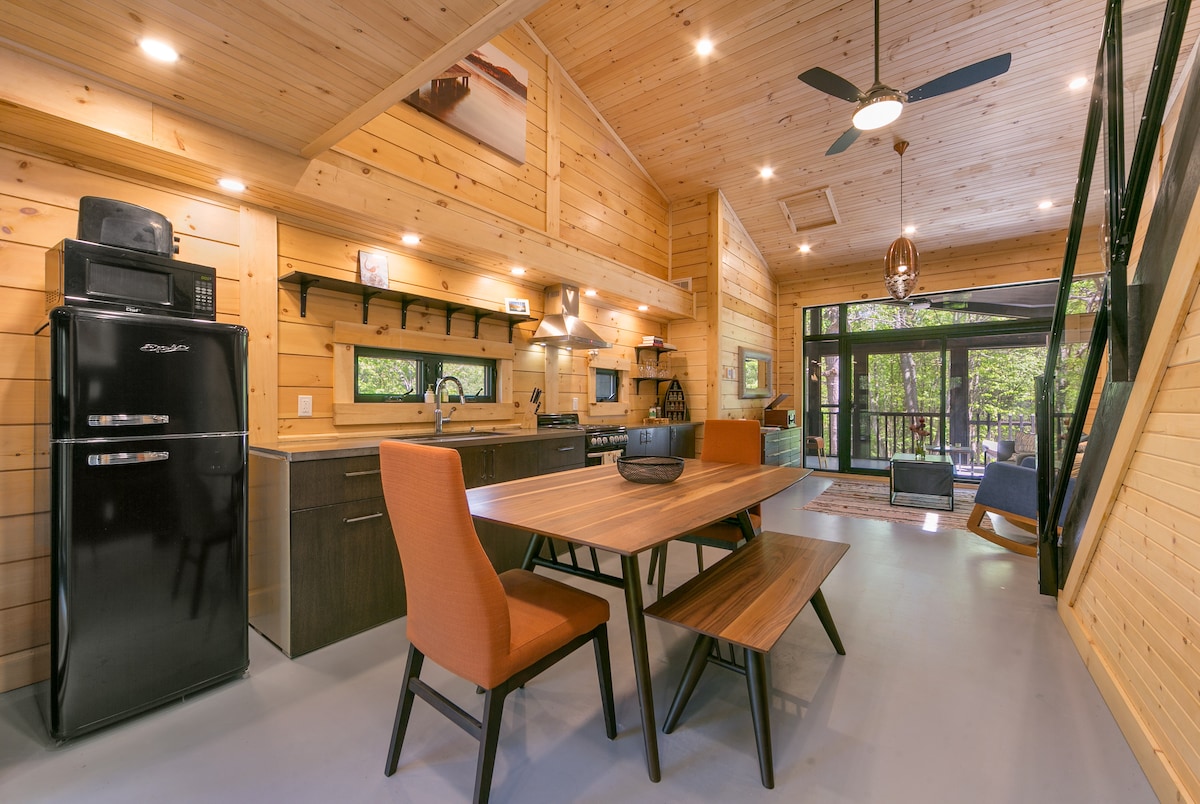 Muskoka's Luxury Tiny House
Serenely situated between Gravenhurst and Bracebridge, Tiny Haus has been custom built by an award winning architect to capture the beauty of the natural surroundings.
For more information on the Grow Tiny House, visit the Tiny Camp website. Make sure to let them know that iTinyHouses.com sent you.
Interested in more stunning tiny home plans? Check out the ones listed below!