If luxury is on your list of musts in your tiny home, look no further than this truly breathtaking Carpathian tiny home from Tiny Idahomes. As with many of their homes, this is a customizable option that offers multiple upgrades. One of the most popular parts of this gorgeous tiny house is that it easily sleeps up to 7 people! This is ideal for family getaways or a small family who wants to minimize their space!
The stunning entry of this home takes you right to important parts that will become your favorite spaces. A single little couch situated by the door and near the functional fireplace is ideal for a nook to read a book. It doubles as a single bed for an extra guest, but tucked into the nook keeps it out of the way giving the appearance of more floor space.
To the right, you'll notice a simple set of stairs to the loft, as well as many functional outlets, vents, and of course the thermostat in a convenient location.
On the opposite side of the entrance, you'll find the kitchen space including a full-sized refrigerator, pantry space, counter space for meal preparation.
To the left, you'll see the ornate railing of the staircase leading up to the full bedroom over the gooseneck. The door blends into the wood paneling beautifully but allows for easy access when bedtime arrives.
Step into the kitchen and a small but fully functional 4 burner stove with oven. A large farmhouse style deep kitchen sink is perfect for cleaning up, and the ample cupboards and pantry allow for plenty of storage between meals.
The Helm—2-Story Container Home close to Magnolia Market
Go through the door at the back of the kitchen, and you are transported to the luxury bathroom of your dreams. Did you think you couldn't have a tiny house with a bathtub? Think again!
The Carpathian tiny house proves you can fit both a shower and a bathtub in a small space, and still enjoy a luxurious bubble bath when desired!
Don't worry, on the other side of the bathroom you'll find the sink and laundry facilities. The toilet is hidden in a private nook behind accessible cabinets for storage and your wardrobe.
Remember those stairs to the loft bedroom with the hidden door? Hidden behind that door is a perfect bedroom escape. The rounded ceiling and recessed lighting offer extra space for comfort while coupling the shiplap style paneling and upscale fixtures to give the luxury retreat you want.
Windows on either side offer extra natural light, and while the space is small, a full-sized bed easily fits with room on either side.
On the same wall as the door, you will find a nice large closet for clothing and storage. Who said you can't have closet space in a tiny house? This definitely proves otherwise!
On the opposite side of the house, you'll find the other simple loft stairway leads to the bunk beds and kid's room. While small in space, the beds are roomy and the small shelf can double for storage and functionality as a desk if needed!
The bunk beds are perfect single sized spaces with plenty of headroom for sitting and reading or watching a movie. There is even extra space for adding personal decor or just making the room more like home with added pillows and blankets.
The biggest appeal of this home is that while it is compact for travel, much like a traditional RV, there is an abundance of slideout options!
in an infinite green oasis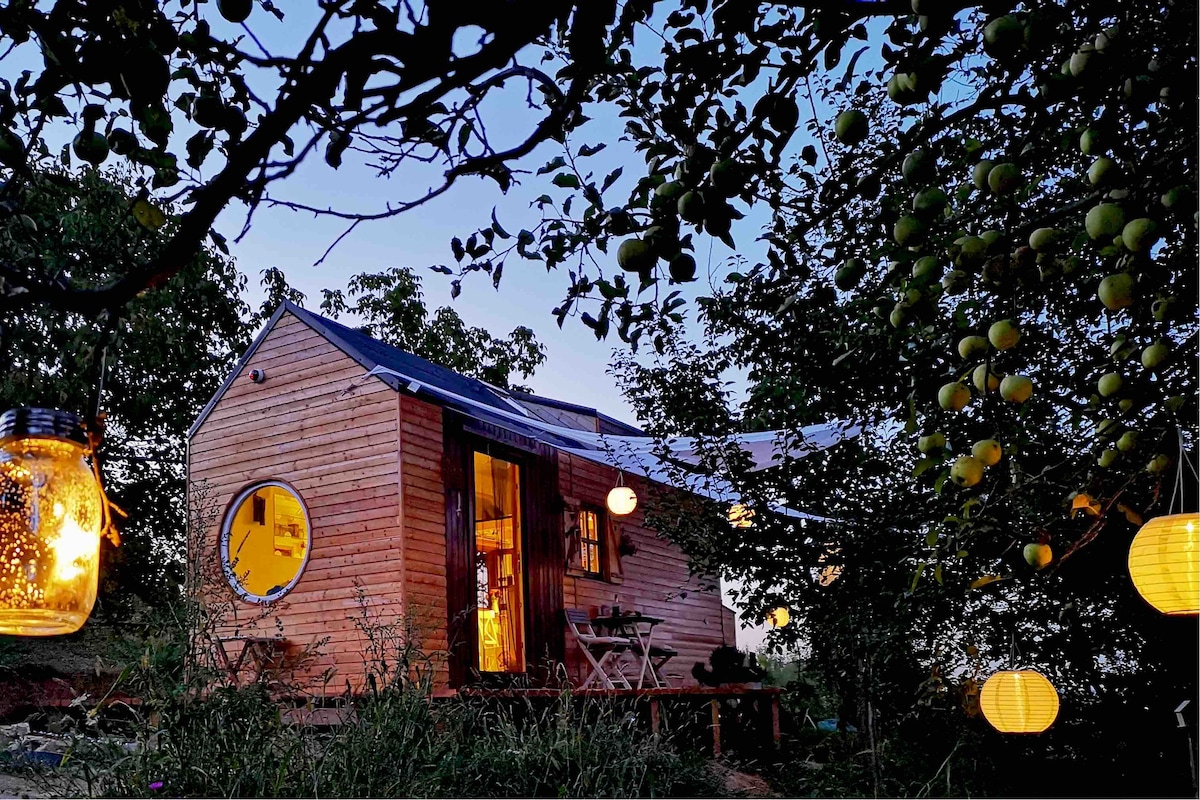 Tiny House on wheels
This is not just another bed you rest in overnight. It is a dazzling experience! Superhost Gabriella will amaze you with her cozy tiny house.
Entire house hosted by Robin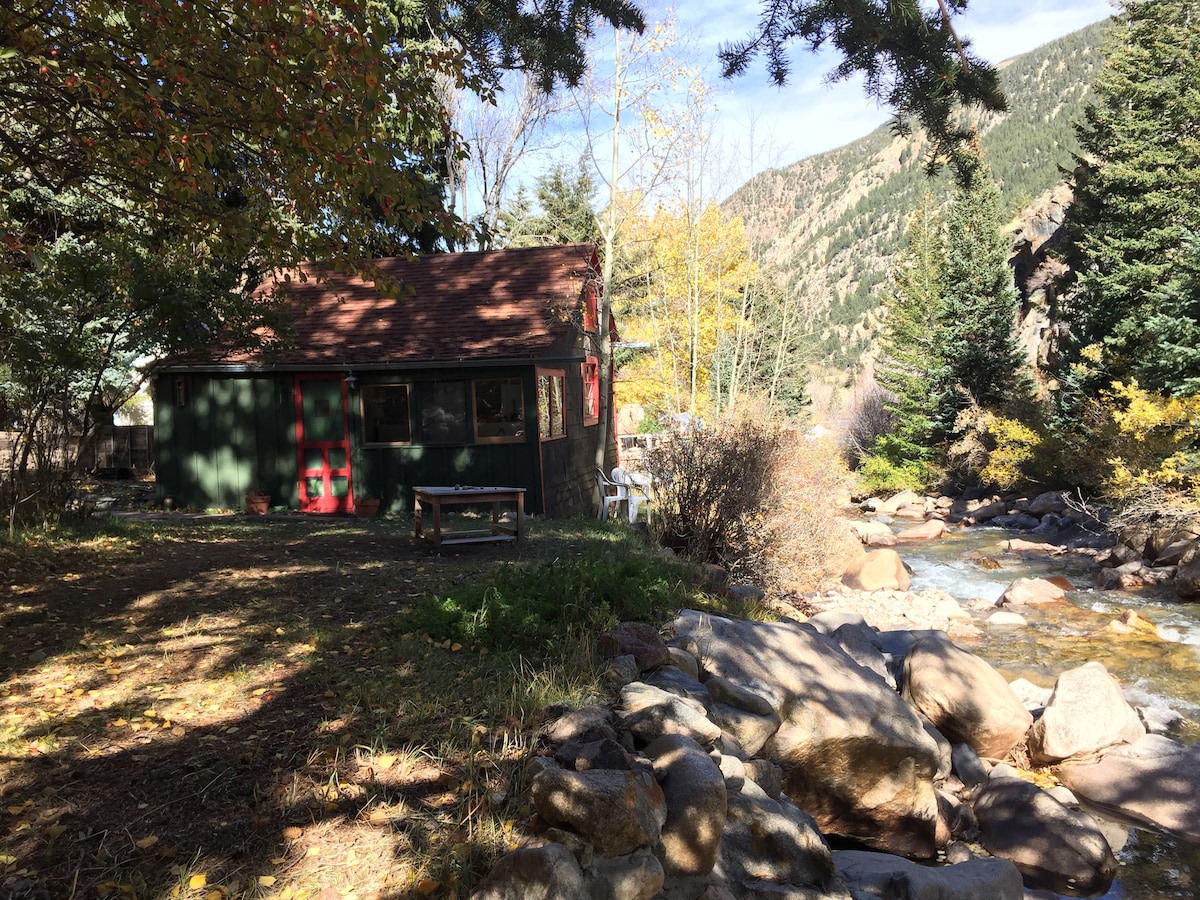 The Cricket- An amazing Tiny House!
The Cricket is a rustic historic cabin in a small neighborhood on Spring Street along side the rushing Clear Creek and nestled among an Aspen grove.
Tiny house hosted by Caroline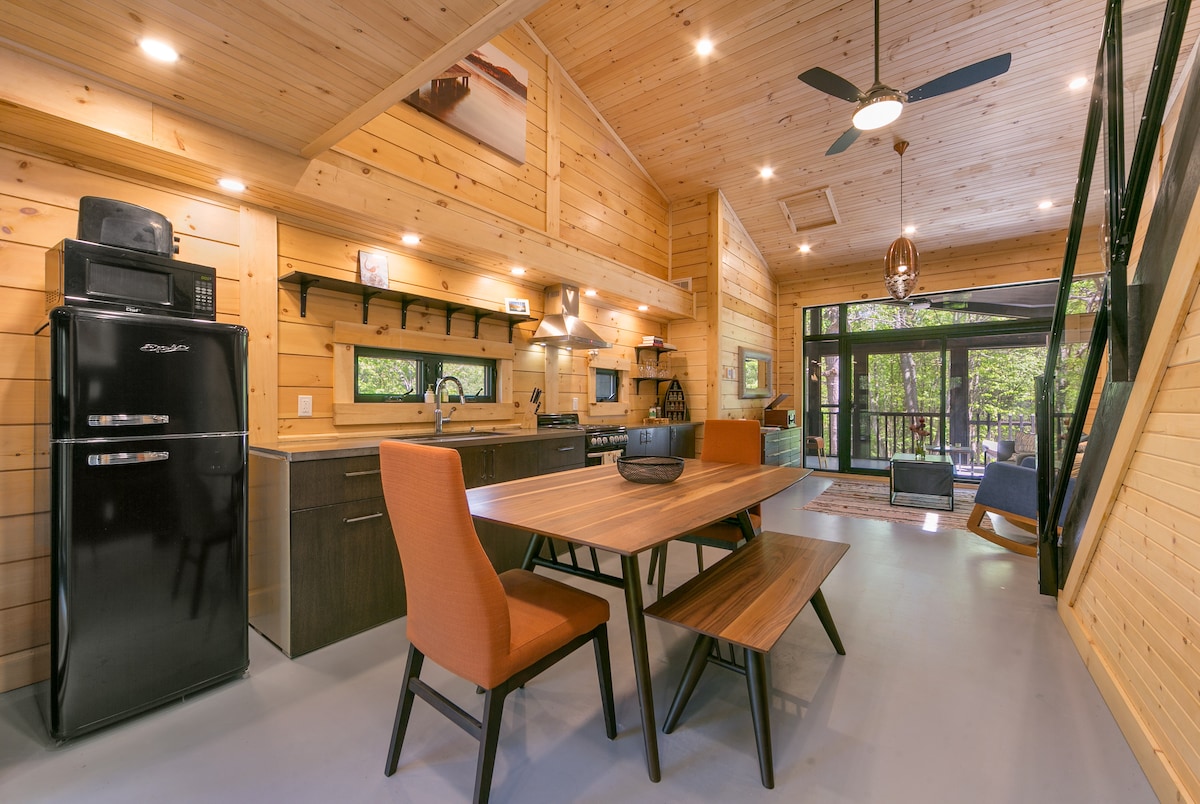 Muskoka's Luxury Tiny House
Serenely situated between Gravenhurst and Bracebridge, Tiny Haus has been custom built by an award winning architect to capture the beauty of the natural surroundings.
This home is 350 square feet and 35 feet long without accounting for the loft. Add to this a 13 foot slide out off the living room, a 6 foot slide out off the reader, and an 18 ft electric awning installed on the outside, this is a stunning home with plenty of space for everyone.
The loft bedroom is 8 feet, and the 7-foot gooseneck bedroom is large enough for the full-sized bed and ideal for a master bedroom. Compact and luxurious, there are numerous options for making this home fit your family.
Find out more about this luxury tiny home in the Tiny House Marketplace or via Tiny Idahomes directly. Make sure to let them know iTinyHouses sent you!