The Breathe is a breathtaking mountainside retreat that is ideal for those seeking a getaway in the tiny house style. With a wrap around porch for relaxation, outdoor fire pit, and indoor rustic but comfortable living quarters, it's a perfect destination to test out your desire to live the tiny lifestyle.
This tiny house is a bit different from others featured by Tiny Camp at this location. As you step through the front door, you are faced with a living space on one side and kitchen on the other with the bathroom and loft sleep space on the far end nearest the kitchen.
The drywall walls are simple compared to some other home decor, but the wood paneling and trim throughout make it feel rustic for the setting while sticking with clean lines and comfortable spaces.
A small sofa and TV trays are located on one end of the space with a TV mounted above. The TV is placed perfectly for viewing from the loft sleep space.
Turn toward the other end of this tiny home and find a beautiful kitchen space. A simple built-in oven and cook top along with large counter space and deep sink make preparing meals easy to manage. There is limited storage space, but more than enough here for a vacation. If you planned to use this layout for a permanent home, you can see plenty of space around the home to add more cabinets and shelving for storage.
The Helm—2-Story Container Home close to Magnolia Market
Above the bathroom at the back of the cabin is a lofted sleep area. This is a small comfortable space that is surrounded by windows and a large sunlight for natural light. What better way to wake up to the sunrise or enjoy a sunset than snuggled in bed!
Below the sleep space is a gorgeous bathroom. A stunning corner shower on one side is paired with a traditional toilet and vanity. While the vanity space is small, the bowl sink adds a modern flare and the lights all around are ideal for those putting on makeup in the morning.
I love these glass enclosed corner showers as they have built in space for your shampoo, conditioner, shower gel, and other items. This one also includes a rainwater style shower head that is great for that spa experience.
I love the little details Tiny Camp adds to their cabins and tiny houses. Rustic Southwest themed items like pillows or the upholstery on the storage bench. This, along with things like a few books, extra throw blankets, and all of the little touches make these cabins comfortable for a short or extended stay.
The exterior of the Breathe tiny house is also beautiful. I love the large windows on all sides letting in sunlight and allowing for beautiful views of the mountains around the camp area.
Since there are many tiny houses in this location, each one has their individual name so you can find your cabin with ease, even when not familiar with the layout of the area.
One of the best parts of this tiny house camp is that the outdoor spaces include so many areas where you can gather together with other campers or friends and family to enjoy the fire pits, lounge areas, and gorgeous sunsets over the mountains.
For more information about booking your stay at this amazing tiny home, check out the full listing on Tiny Camp. Make sure you let them know that iTinyHouses.com sent you!
in an infinite green oasis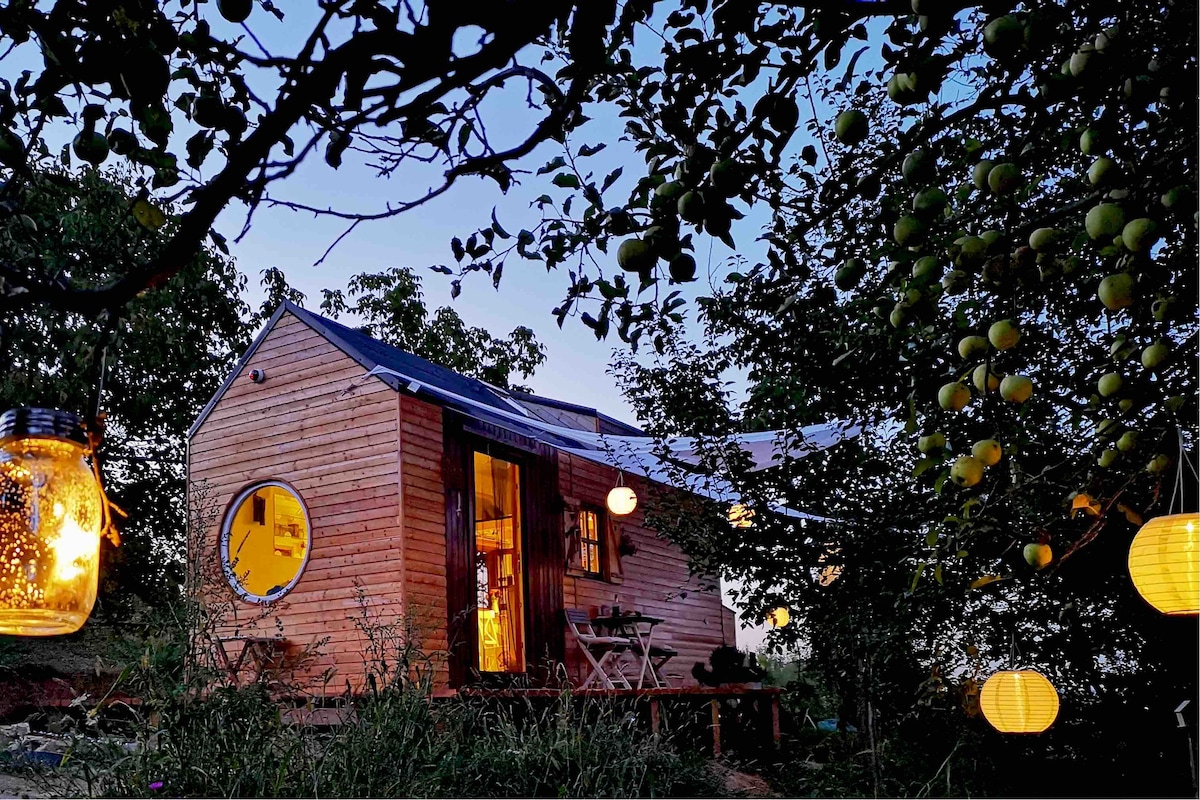 Tiny House on wheels
This is not just another bed you rest in overnight. It is a dazzling experience! Superhost Gabriella will amaze you with her cozy tiny house.
Entire house hosted by Robin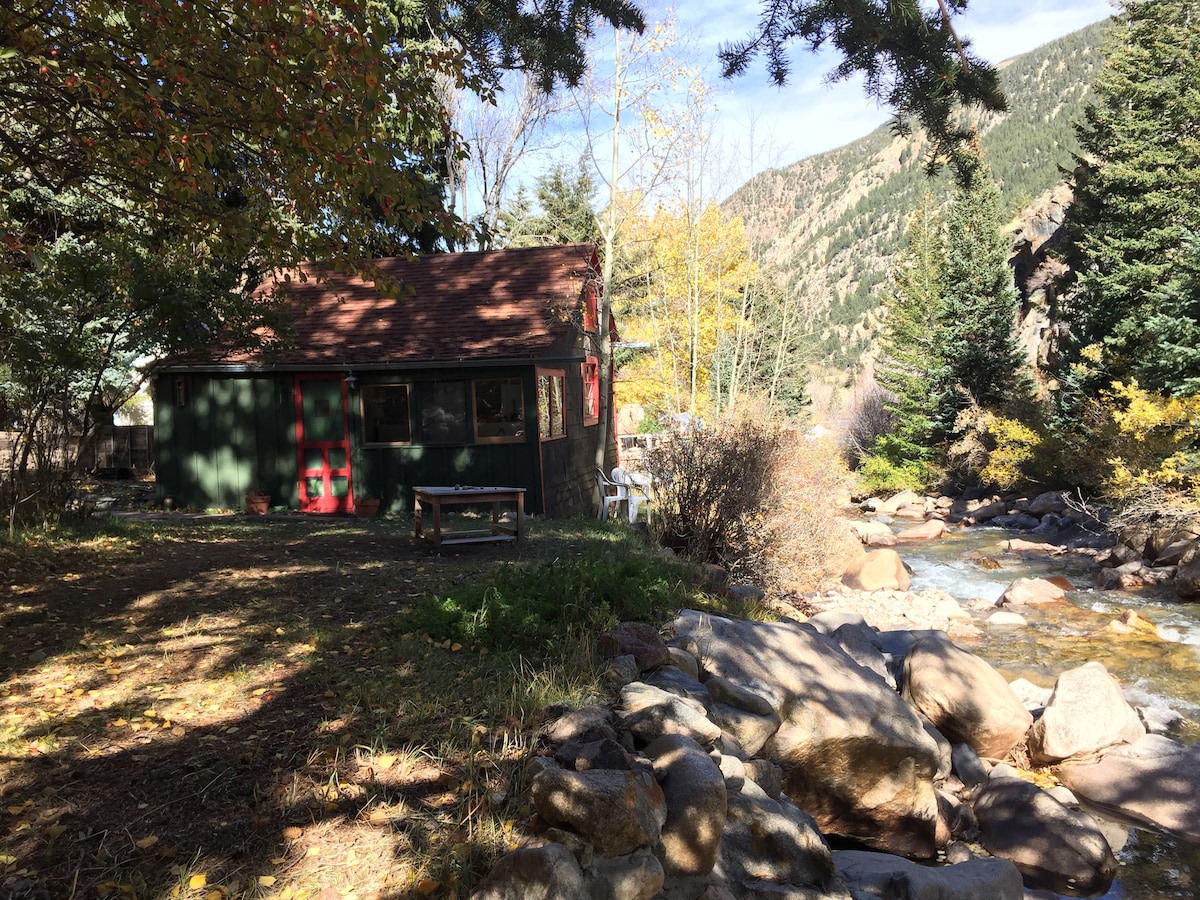 The Cricket- An amazing Tiny House!
The Cricket is a rustic historic cabin in a small neighborhood on Spring Street along side the rushing Clear Creek and nestled among an Aspen grove.
Tiny house hosted by Caroline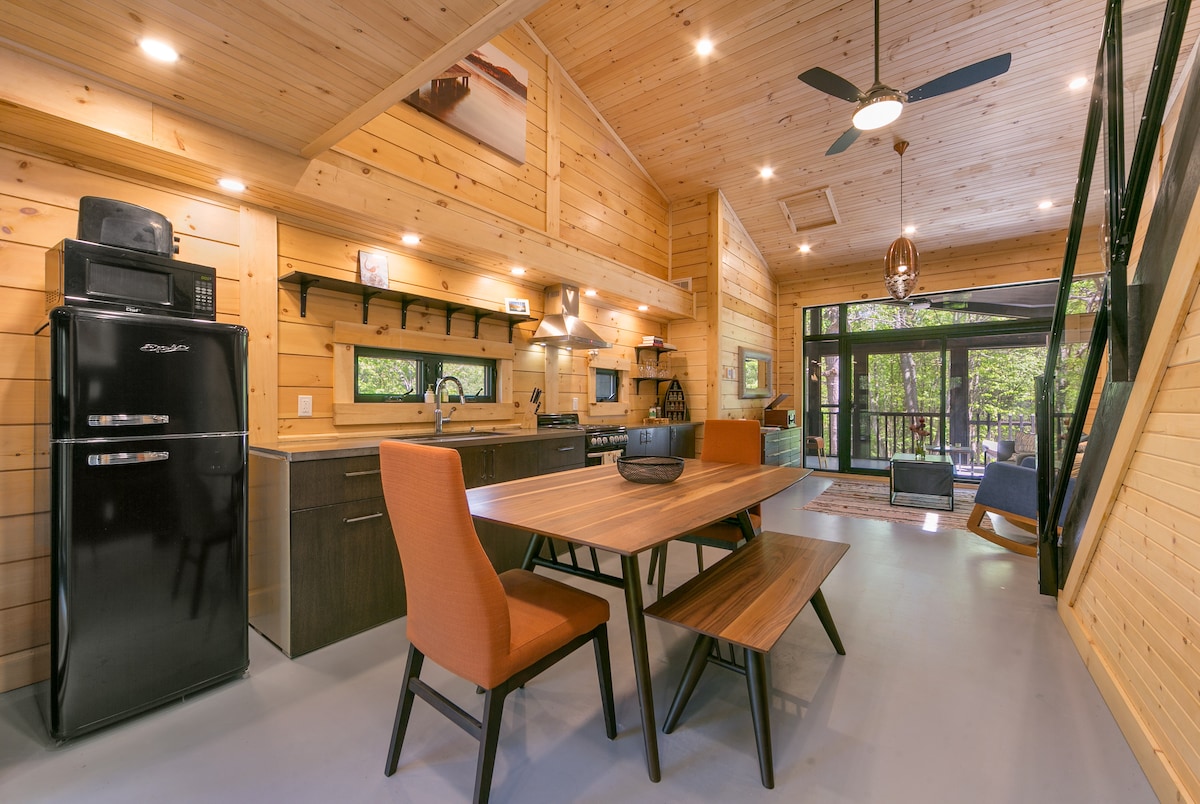 Muskoka's Luxury Tiny House
Serenely situated between Gravenhurst and Bracebridge, Tiny Haus has been custom built by an award winning architect to capture the beauty of the natural surroundings.
Interested in more tiny house plans? Check out more great tiny homes below!