I love these smaller homes like this adorable Woodland Escape by Lil Bear Tiny Homes! A beautiful 20-foot space with loft beds, kitchen, bathroom, and seating room all ready for you to add your own finishing touches. Such a great choice for those wanting to start the tiny home life but who don't have time to build from the ground up.
The first thing to catch my eye as you step through the door of this home is the full sized gas cookstove and oven front and center in the kitchen. For any family, meal time is of importance, and this home makes sure you can feed your family with ease.
Gorgeous rustic wood paneling accents the walls all around you as you step in to find a small but functional counter surrounded by 4 barstools. This simple workspace or dining area is attached to the kitchen while offering a division between the two living spaces. A small sofa lines the wall and you will see a bathroom at the end and wooden ladder leading up to the loft sleeping areas.
To the left of the entrance and one end of the home is the small but fully functional kitchen. As mentioned, you'll love the full-sized gas range, but you also find a nice sized refrigerator, great microwave, cabinets, and shelves for storing your food items.
The real kitchen star, in my opinion, is this gorgeous deep sink with high faucet for easy convenience when washing up after meals. Every kitchen needs this when a dishwasher isn't present due to size restrictions. This one is one of my favorite features with built-in pull out hose for easier cleaning.
While the kitchen takes up a good percentage of the space in this woodland escape themed home, it's worth it when offering you the comforts of a full-sized home. I love all of the hidden storage and cabinets that use up all extra space available for ultimate convenience.
The Helm—2-Story Container Home close to Magnolia Market
Going back toward the other end of the home, I love the simple sofa with built-in cup holders that so easily turns into a bed when needed.
On the wall opposite the couch, you have a functional stone fireplace for those old nights and romantic evenings in with your spouse. Hanging just above the fireplace you will TV has been mounted already to make Netflix and movie watching easy to manage even in the smaller space.
Take note of the beautiful stonework and custom wooden mantle on the wall holding the fireplace and TV. Such beautiful craftsmanship is hard to come by! The black matte railing and finishes really compliment the coloring perfectly.
The 30″ corner shower with sliding glass door, takes up less floor space while being large enough to comfortably bathe. This is just what you need for functionality without sacrificing space in the smaller floorplan.
While not pictured, there is an area beside the shower for the toilet and is easily customized with a traditional or compost toilet upon your preference.
The bathroom even includes a vanity and mirror alongside a small but useful closet space for storing your wardrobe. The hidden sliding barn door to the room takes up less space while allowing for much needed privacy.
Looking back out from the bathroom, lift your eyes up to see the loft bedroom above the kitchen. This small but functional space easily fits a King-sized bed, while the one above the bathroom functions well for a queen-sized bed.
The single ladder attached near the kitchen allows you to easily go up to the bed as needed, and the mall crawl space or above the couch trasnsport you to the opposite loft space as desired.
The loft above the bathroom is small but efficient for your needs. To the right, you'll notice an extra shelving space along the edge of the wall just above the TV. While not functional for use while driving, it's a great place to store extra items once your tiny home is parked and secure for a stay.
This 20′ long home has a beautiful spacious kitchen and functional bathroom that give you all the comfort of a larger home. With sleeping space for up to 7 people, it's the perfect getaway retreat for a family.
A natural stone fireplace, installed TV, customized bathroom options, and the stunning live edge maple shelves, you will feel like this small but efficient home is a luxury vacation every day.
in an infinite green oasis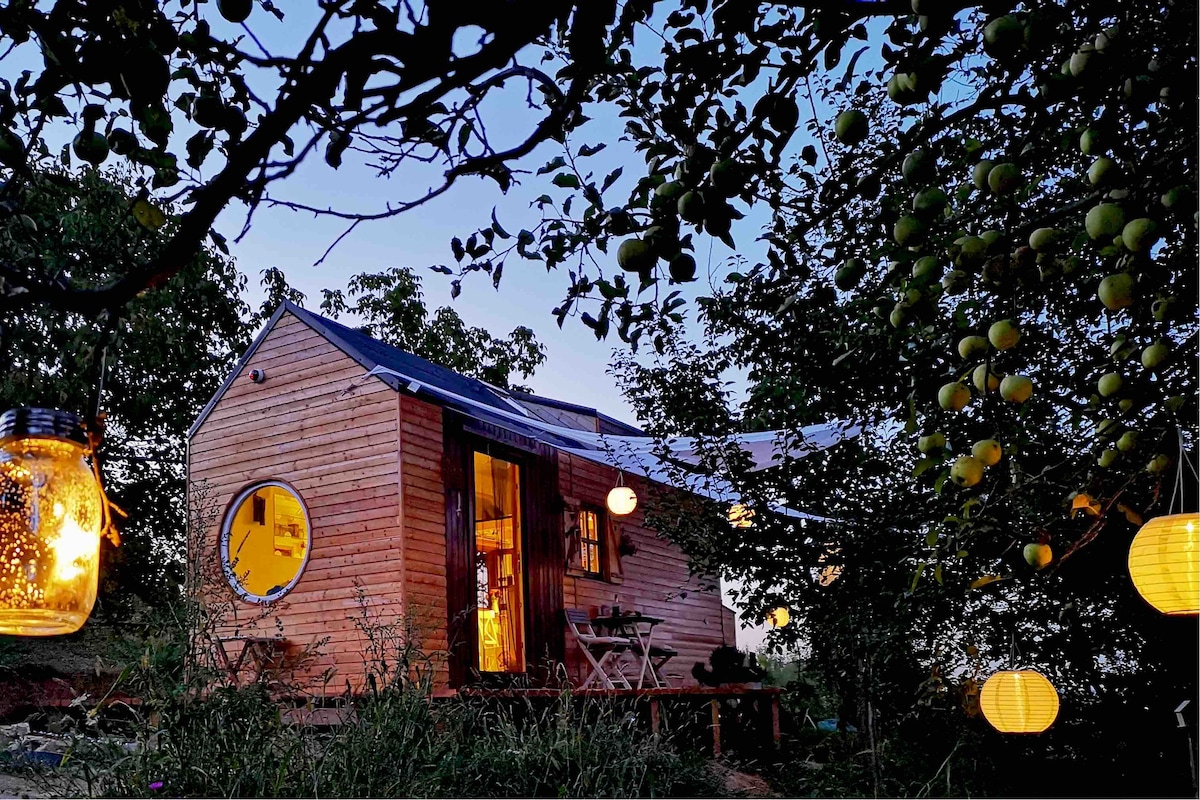 Tiny House on wheels
This is not just another bed you rest in overnight. It is a dazzling experience! Superhost Gabriella will amaze you with her cozy tiny house.
Entire house hosted by Robin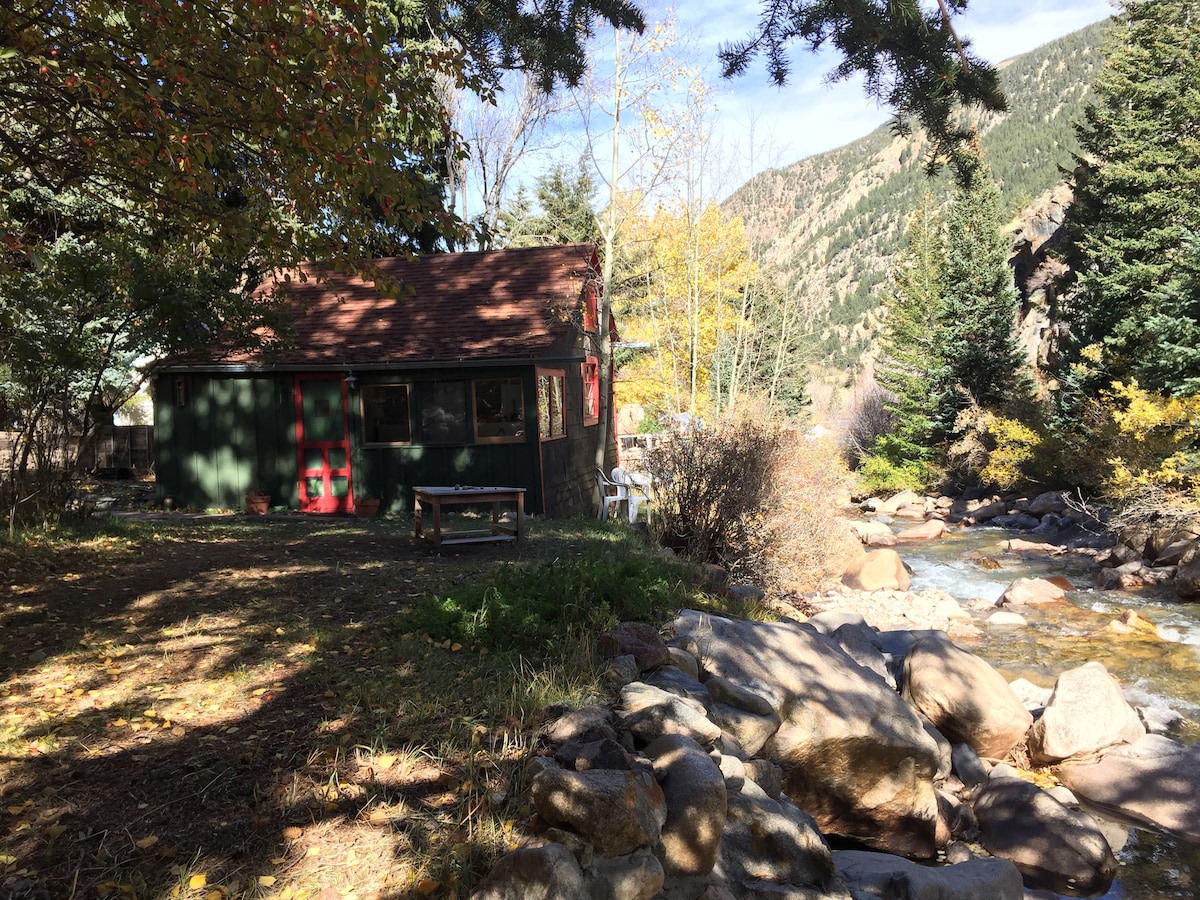 The Cricket- An amazing Tiny House!
The Cricket is a rustic historic cabin in a small neighborhood on Spring Street along side the rushing Clear Creek and nestled among an Aspen grove.
Tiny house hosted by Caroline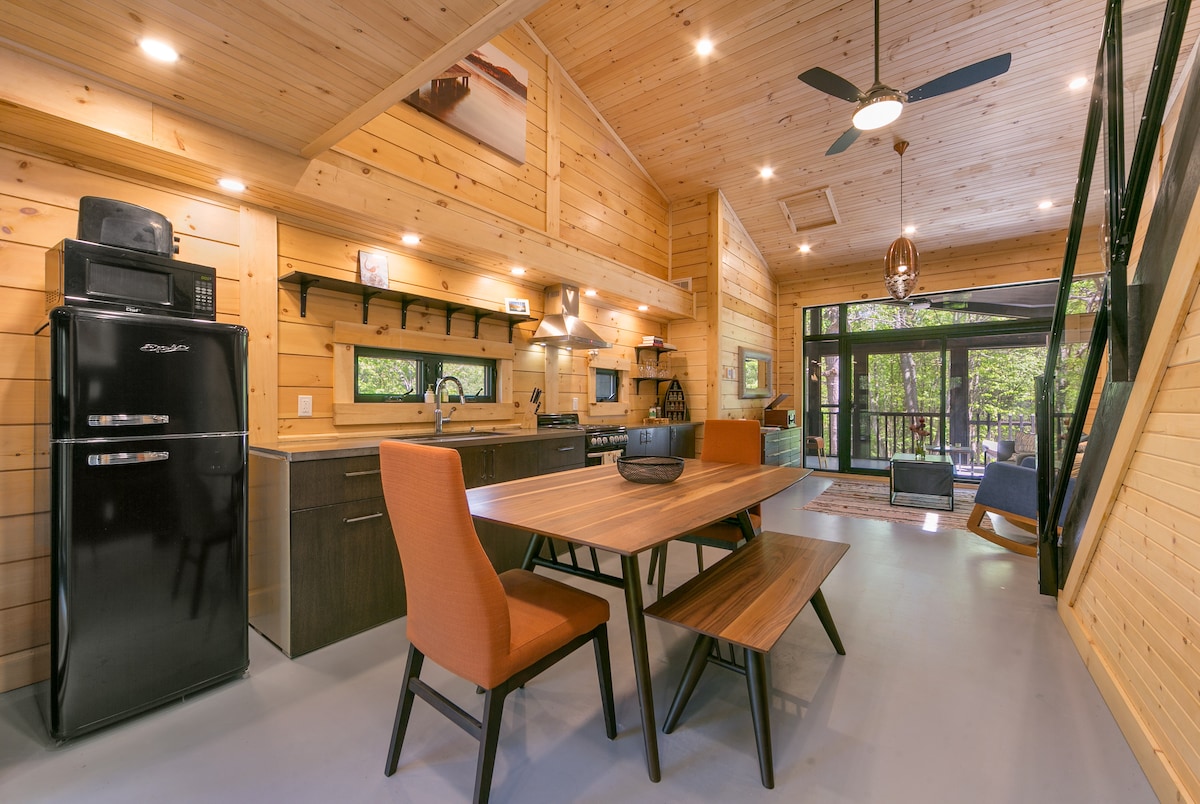 Muskoka's Luxury Tiny House
Serenely situated between Gravenhurst and Bracebridge, Tiny Haus has been custom built by an award winning architect to capture the beauty of the natural surroundings.
For more information or to buy this luxury tiny home, make sure to check out the listing on Tiny House Marketplace and let Lil Bear Tiny Homes know iTinyHouses.com sent you!
Curious about other tiny house options to buy? Check out this 20′ Florida tiny house for sale, or this fun 204 square foot tiny home in Lafayette. Such great options for your tiny home desires.