We've heard it time and time again: tiny homes cannot work with a growing family! Well, we hate to argue but we simply must disagree and we have the family to prove it! This couple lives in a cozy 400 square foot tiny house with their baby and a dog!
Video:
Taking a look into their living area, it's not hard to imagine a family living comfortably in this house. The floor plan is nice and open and those huge floor-to-ceiling windows make the space seem even larger than it already is!
The home was designed by Idaho-based builder Tiny Portable Cedar Cabins and is based on their 12×28 foot model called the Urban Cabin. It's a unique blend of rustic and modern qualities and while it can be moved by a semi-truck, it's not really made to be portable.
The living spaces all flow into one another with ease and there's plenty of storage in the kitchen thanks to closed cabinets and open shelving over the fridge and sink.
The countertops are made from recycled glass and they have a full-sized fridge.
The Helm—2-Story Container Home close to Magnolia Market
The living room is big enough for a full-sized couch and chair as well as a cushy rug for the baby to play on. And have you noticed those ceilings? They're blue pin and absolutely gorgeous! The simple color scheme leaves things unfussy and the massive windows make you feel like
you're living outdoors.
Here's another shot of that ceiling!
On the other side of the living room, there's the bathroom which has a large shower and a composting toilet.
We love that they used subway tile for a fresh look!
If you have a baby, you have to have a nursery and this tiny home has a great one! The room is even big enough for when the baby grows up.
The stairs lead up to the loft where mom and dad sleep.
While the ceiling is definitely low, the windows help the loft feel more open.
in an infinite green oasis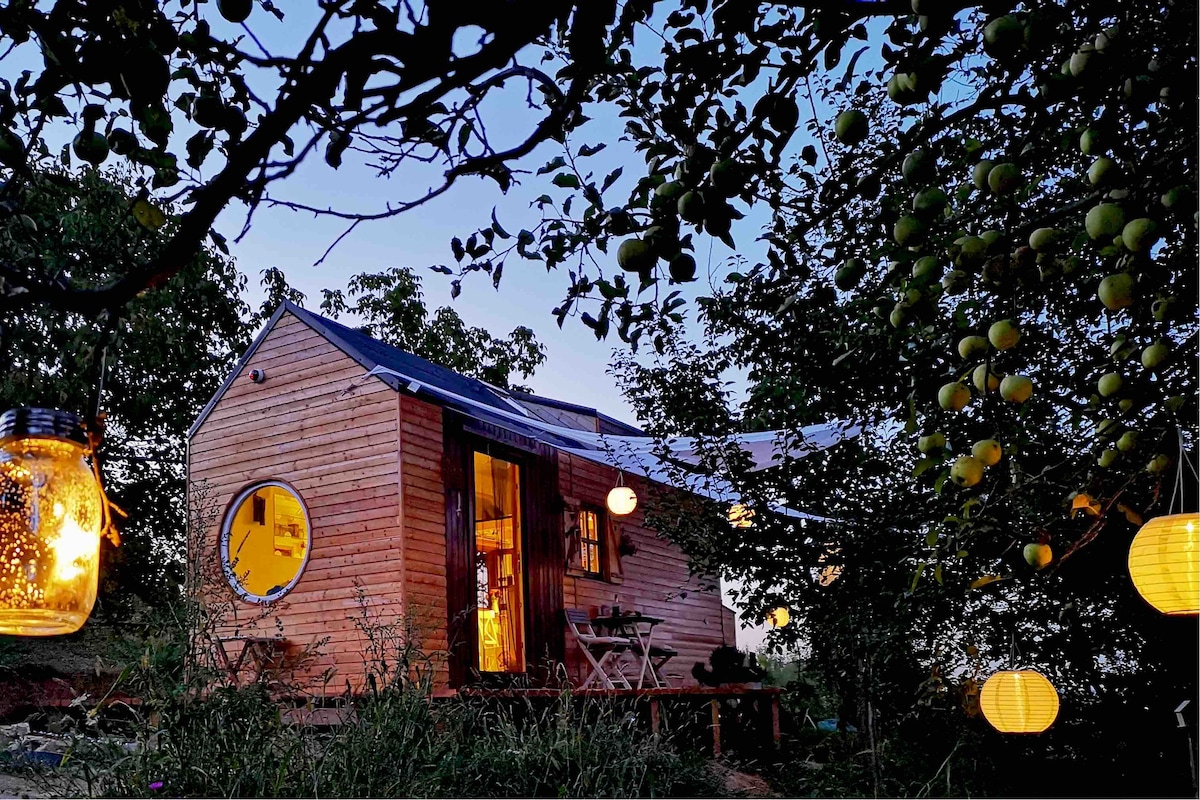 Tiny House on wheels
This is not just another bed you rest in overnight. It is a dazzling experience! Superhost Gabriella will amaze you with her cozy tiny house.
Entire house hosted by Robin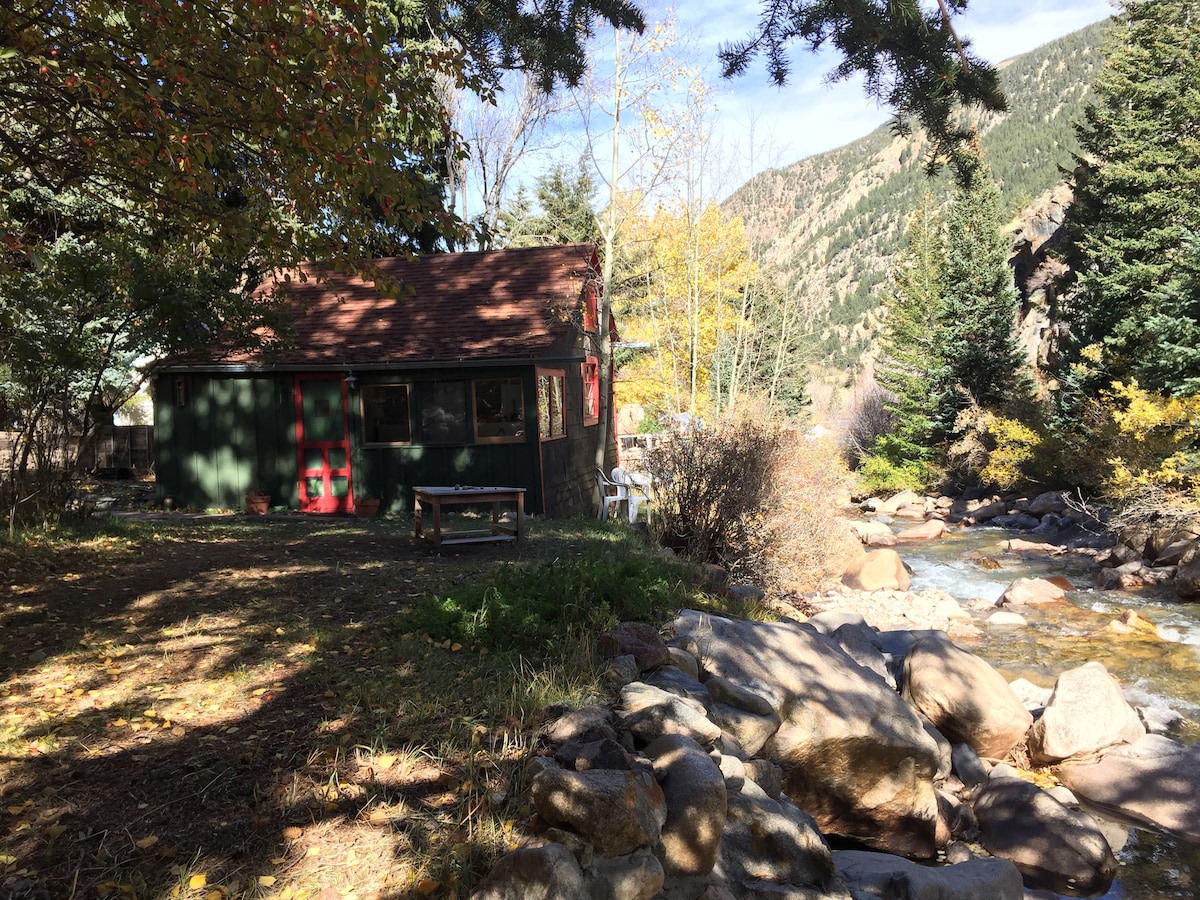 The Cricket- An amazing Tiny House!
The Cricket is a rustic historic cabin in a small neighborhood on Spring Street along side the rushing Clear Creek and nestled among an Aspen grove.
Tiny house hosted by Caroline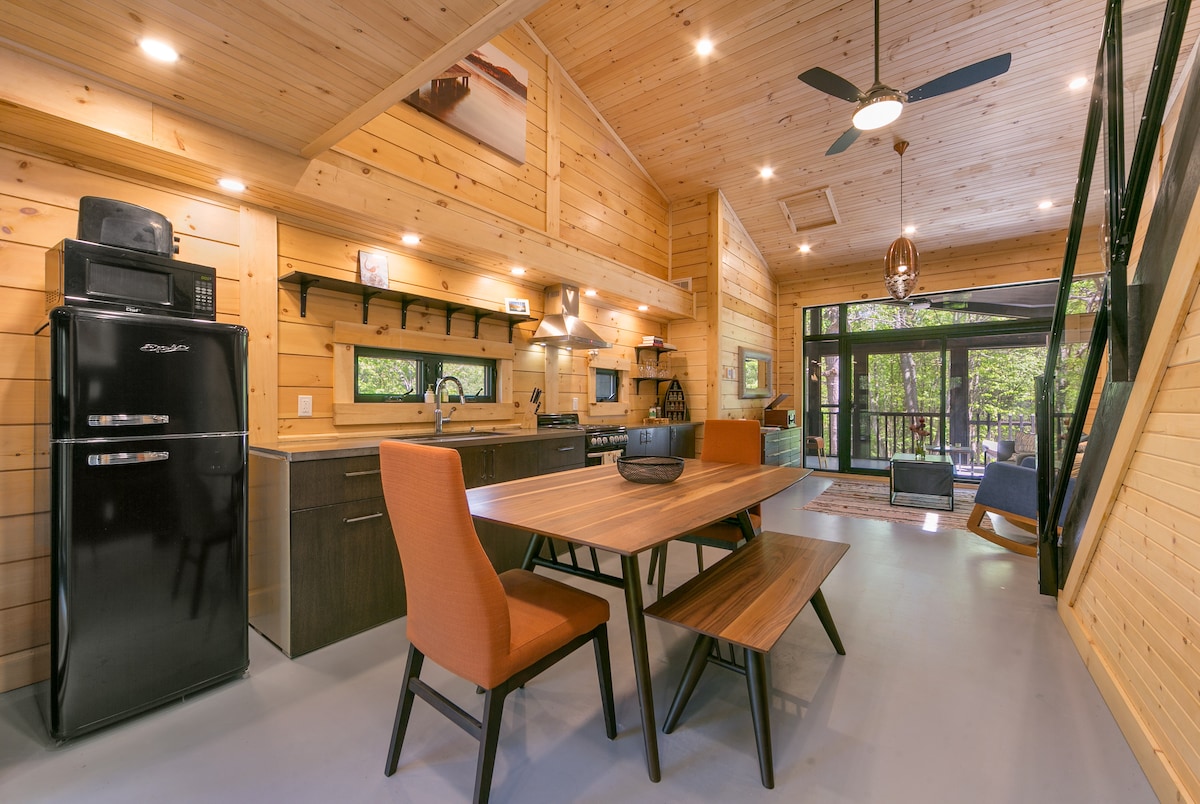 Muskoka's Luxury Tiny House
Serenely situated between Gravenhurst and Bracebridge, Tiny Haus has been custom built by an award winning architect to capture the beauty of the natural surroundings.
After feeling cramped in the loft, it's time to go outside! The exterior is finished in dark-stained cedar and has a metal roof perfect for rainy nights!
We think this family created a great home for their young family and they're going to create plenty of wonderful memories in it! If you'd like to check out the builder, visit their website at http://www.tinyportablecedarcabins.com/.