Tiny In A Box creates custom tiny homes that are designed to please. Their West End model certainly does that…and more. The starting cost for this model is $60,000, but you can get the blueprints for $5,000. What makes it really special is the interior is made from recycled, sustainable, and organic materials and finishes.
The model includes a full-service bathroom, and one that's bigger than some I've seen in regular houses, as well as an open kitchen and living room area, a large bedroom, and a lot of windows to let that natural light in and create the illusion of a much larger space.
Here's a great shot of the exterior. Note how big it looks from the outside. You'll really be surprised when you go inside!
And here's another great exterior shot. This one shows the deck that wraps around the front and side, giving you loads of outdoor living space that actually expands your home space. On warm days, you can eat or entertain on this huge deck.
The Helm—2-Story Container Home close to Magnolia Market
Check out this large living room and kitchen area. The wood flooring is gorgeous and the red and white interior décor gives it a really nice clean and organized look.
There's enough room in here to play Dance Dance Revolution – or you know, any other games that take up space.
Here's an up-close of the kitchen. Note that the stove and refrigerator aren't included in the company's cost.
The stainless steel appliances that they show here really go well with the white and red, giving the entire kitchen a clean, organized look.
The bedroom is huge! It's got so much storage and closet space and check out the size of the bed that you can get in there!
Here's a shot of the bathroom. This is honestly bigger than some bathrooms in regular mobile homes and apartments, plus it's got loads of storage space.
And here's a look at the floor plan. Note how much space you actually have. This tiny house is larger than some apartments in Manhattan, and comes at a much lower cost, too!
in an infinite green oasis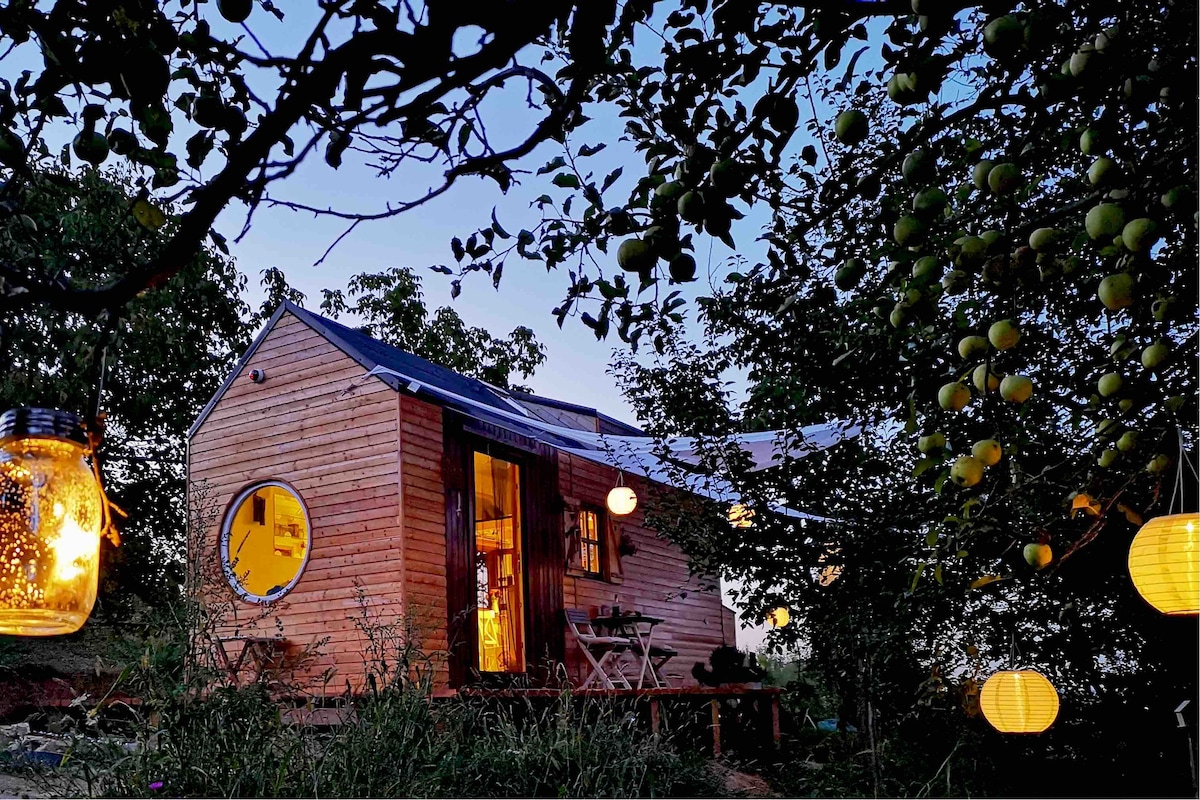 Tiny House on wheels
This is not just another bed you rest in overnight. It is a dazzling experience! Superhost Gabriella will amaze you with her cozy tiny house.
Entire house hosted by Robin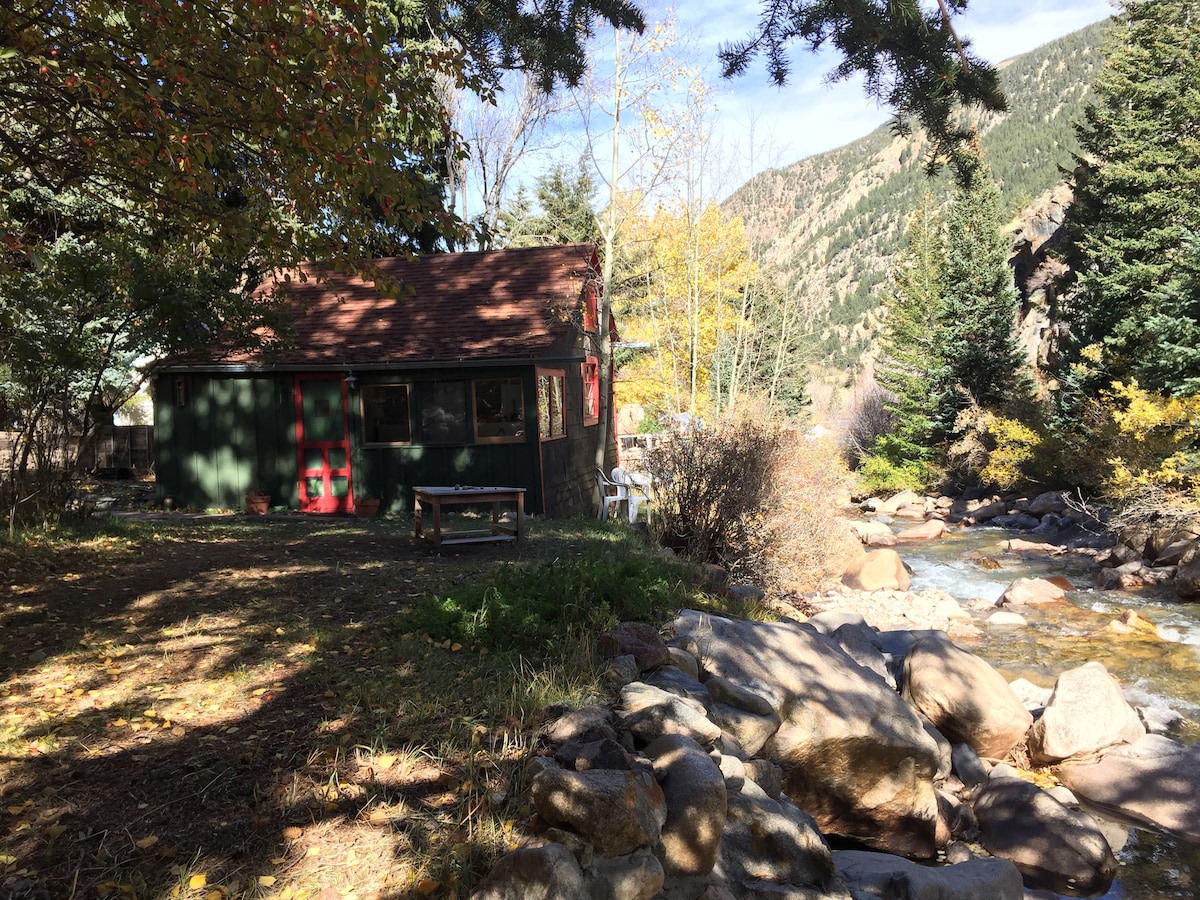 The Cricket- An amazing Tiny House!
The Cricket is a rustic historic cabin in a small neighborhood on Spring Street along side the rushing Clear Creek and nestled among an Aspen grove.
Tiny house hosted by Caroline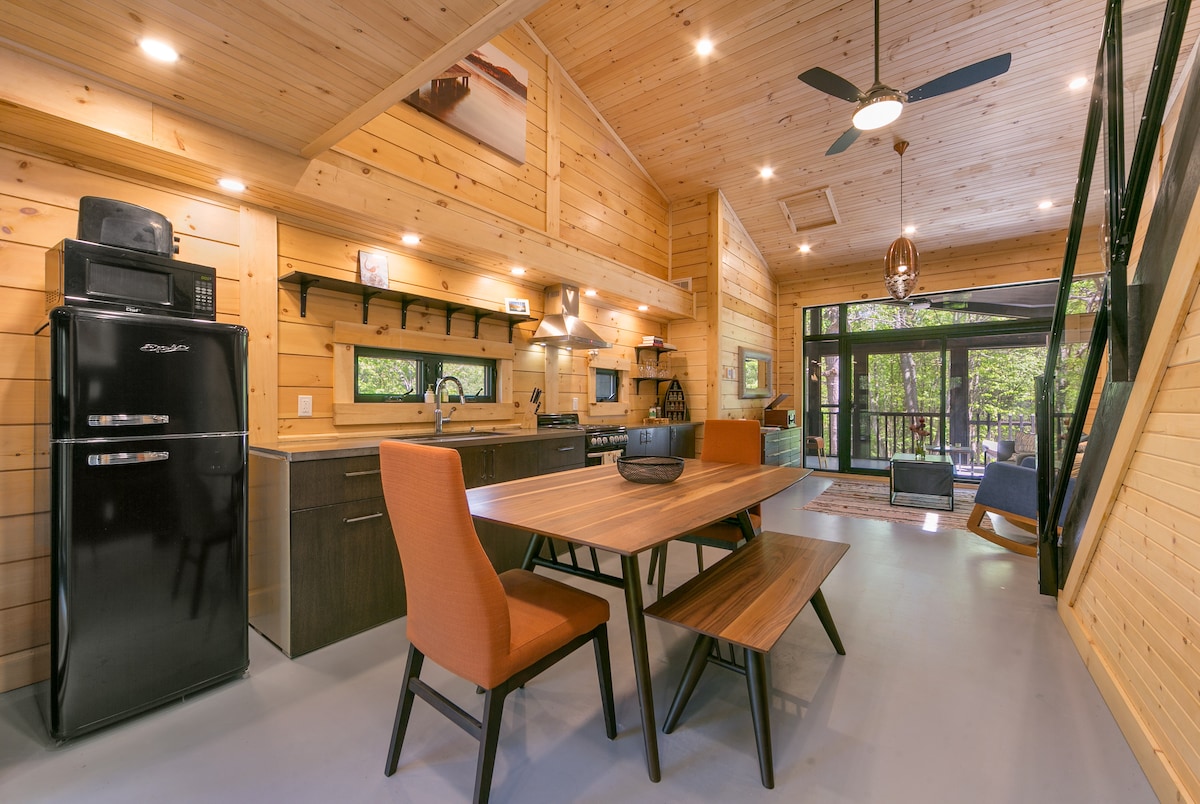 Muskoka's Luxury Tiny House
Serenely situated between Gravenhurst and Bracebridge, Tiny Haus has been custom built by an award winning architect to capture the beauty of the natural surroundings.
What I really love about this West End model is the clean look. The wood integrates beautifully with the clean lines and white interior. Plus, for a tiny house, this one has a lot of room and living space. The deck is definitely a plus as it gives you a real homey look and loads of outdoor living space. Check out the manufacturer's website at https://tinyinabox.com/.