Relax in comfort in this nature-inspired home by Tiny Idahomes. A simple exterior masks a stunning interior. Wall to wall natural wood makes you feel like you've stepped into a cabin in the woods for a weekend getaway. Shaker-style cabinetry and accents bring the look together to create a comfortable home reminiscent of many mid-century vacation homes.
Just look at that gorgeous natural wood! Paneling, ceiling, and exposed rafters full of the rustic style reminiscent of your favorite cabin in the mountains.
While this tiny home is small, there is plenty of room for all of your needs to be met, a few great windows for natural light, and room for comfortable lounging.
This kitchen includes a full-sized refrigerator, small 4 burner stove, tons of counter space, and an absolutely breathtaking 25″ antique rosed copper hammered sink. Such a gorgeous addition to what otherwise feels like a simple space.
While the counter is perfect for preparing meals, you'll notice the end features a flip-up table for easy dining for one or two!
The Helm—2-Story Container Home close to Magnolia Market
The Shaker-style cabinets are a dream come true. They fit the home perfectly and provide a ton of storage space. The full pantry is great for all of your food needs, and the open space above the bathroom is ideal for housing the heat and air system and extra storage below a large skylight.
The designer included a large over sink window to let in natural light and used the open space above the vent hood for extra shelving. It's a perfect space for canisters and your favorite spices!
Step into the bathroom for a large natural wood space that includes a stunning 35″ shower, plenty of added vanity space, and a simple pocket door for privacy. Even though only a 3-foot space, this bathroom feels luxurious.
This home comes with a 50-gallon freshwater tank so dinner and a long shower are easy to manage even when off-road!
The small compost toilet is functional and easy to manage. Of course, make note of the large window letting in light and the addition of an outlet for charging electronics or just curling your hair.
At the opposite end of the tiny home is the open bedroom. While this space can be walled in with a door for privacy, this owner chose an open floor plan to make this space feel larger.
Windows surround the bed, and the tall ceilings make for a gorgeous place to view both the sunrise and the sunset. While this owner added a single bed, you can move or remove the added table and use this space for a larger bed built for two.
Decorate with added wall hangings, tapestries, or window treatments to fit your preferences. This home is full of comfort, rustic appeal, and modern design. One small package offers everything you want, and more!
in an infinite green oasis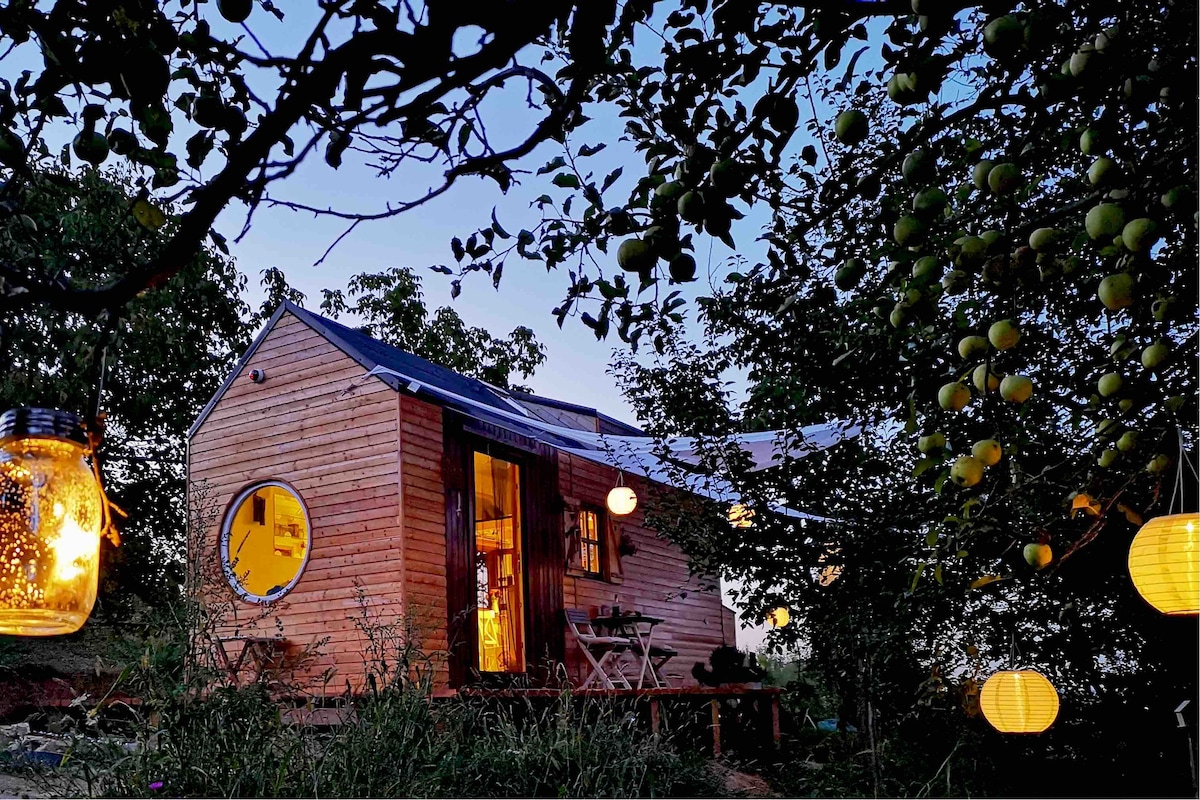 Tiny House on wheels
This is not just another bed you rest in overnight. It is a dazzling experience! Superhost Gabriella will amaze you with her cozy tiny house.
Entire house hosted by Robin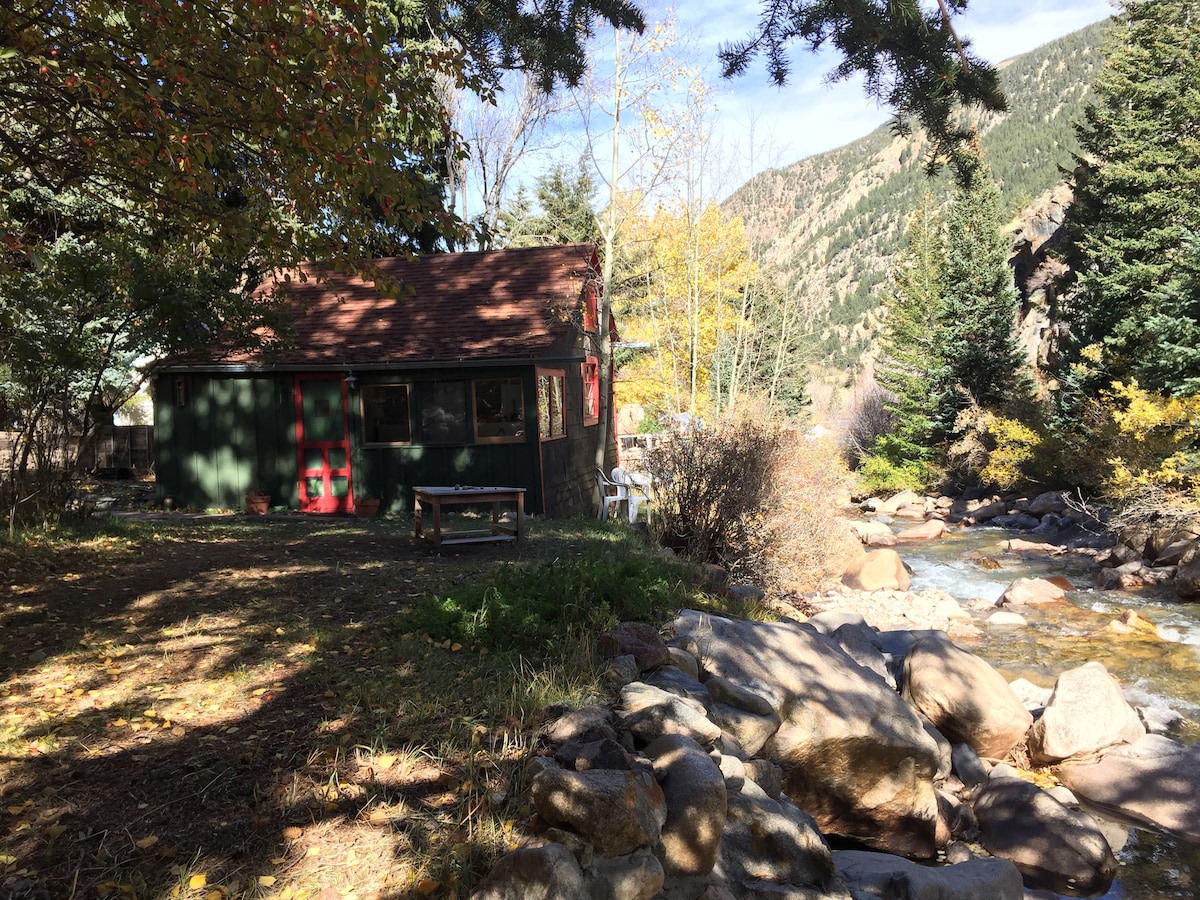 The Cricket- An amazing Tiny House!
The Cricket is a rustic historic cabin in a small neighborhood on Spring Street along side the rushing Clear Creek and nestled among an Aspen grove.
Tiny house hosted by Caroline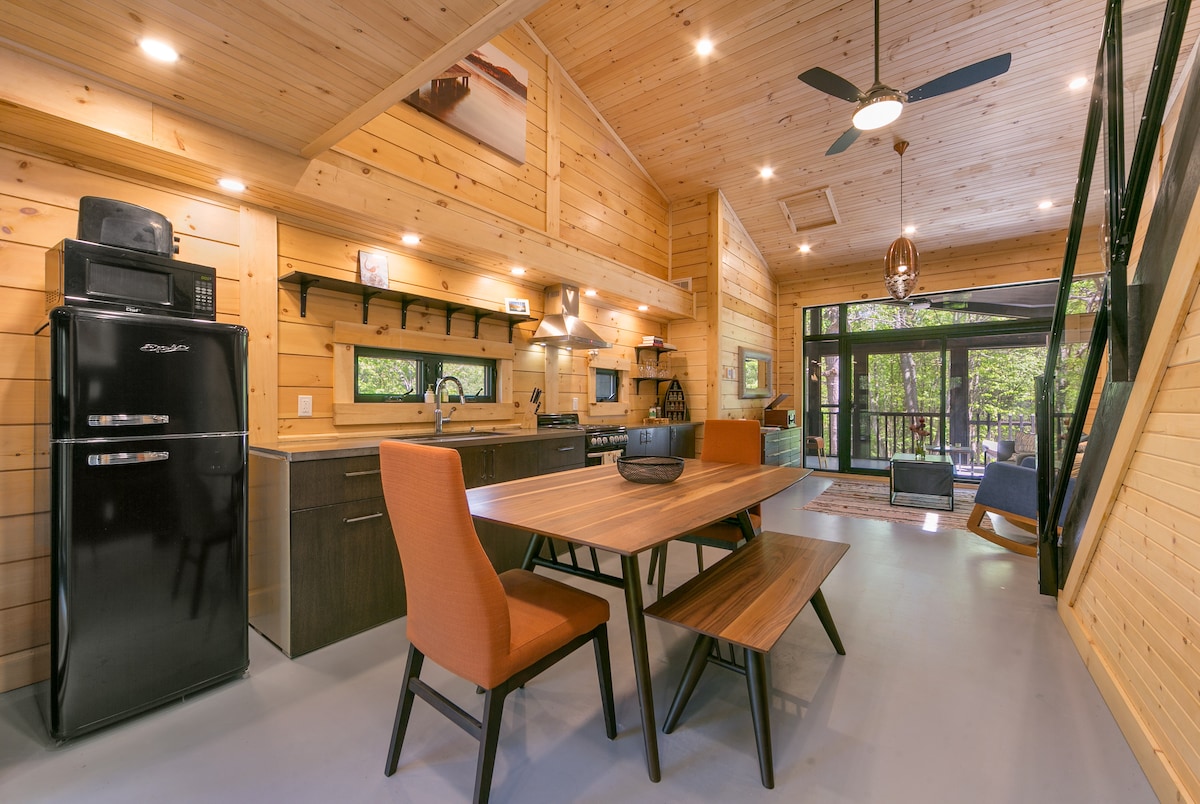 Muskoka's Luxury Tiny House
Serenely situated between Gravenhurst and Bracebridge, Tiny Haus has been custom built by an award winning architect to capture the beauty of the natural surroundings.
For more information about this gorgeous home, connect with Tiny Idahomes and their listing in Tiny House Marketplace. Make sure to let them know iTinyHouses.com sent you!
Looking for more tiny home inspiration?