Trying to find a project that appeals to people of all ages for a college construction program can be rather difficult. The Construction Technology Program at Frontier Community College (FCC) in Fairfield, Illinois has found a project that not only interested college aged and above students, but also drew the interest of area high school students as well. The program, which began just three years ago, has grown into a popular career and technical program for FCC. Eight FCC students, as well as eight dual-credit students from Fairfield Community High School worked to complete the project since September 2016. Unique to Southern Illinois, the tiny house project has generated interest around the area as many have seen the shows on TV and viewed websites such as this. Following an open house on April 22 & 23, the tiny house will be auctioned off in some fashion to raise funds to be used on one (or two!) tiny houses to be built in the 2017-2018 school year.
The exterior of the house is complete with Western red cedar exterior siding, a standing seam metal roof, and a small deck leading to the front door.
The 80 square foot loft is move-in ready with electrical outlets available and a moveable wooden staircase leading to the sleep oasis.
Staged by B-Way Design & Decorating in Fairfield, Illinois, the interior makes you feel right at home as you step through the front door to your 256 square feet of space downstairs. The walls are adorned with stained tongue and groove car siding.
The Helm—2-Story Container Home close to Magnolia Market
The double pane and double hung windows provide plenty of natural light, as shown here in the dining area with the Haier 10.1 cubic foot top freezer refrigerator shown in the background. All appliances in the tiny house will be included in the sale of the home, with the décor available for purchase if desired.
A Danby 20" electric range with 2.4 cubic feet oven capacity allows homeowners to cook in the open style kitchen, complete with carriage house kitchen cabinets.
The Kenmore 24" 1.5 cubic foot Electric Laundry Center hides away in the back end of the tiny house, sitting just below the Rheem 10 gallon residential hot water heater – 120V.
The bathroom is complete with all the necessities, including a walk-in shower!
Complete with a 150 amp panel electrical service, 3.5" insulation in the floor and walls, 6" insulation in the ceiling, and Dimplex 40" baseboard heaters, this beautiful tiny house has made Frontier Community College proud of the work our Construction Technology Program completed!
For more information on the Frontier Community College Construction Technology Program or the tiny house, contact FCC at (618) 842-3711.
Website: http://www.iecc.edu/fcc
in an infinite green oasis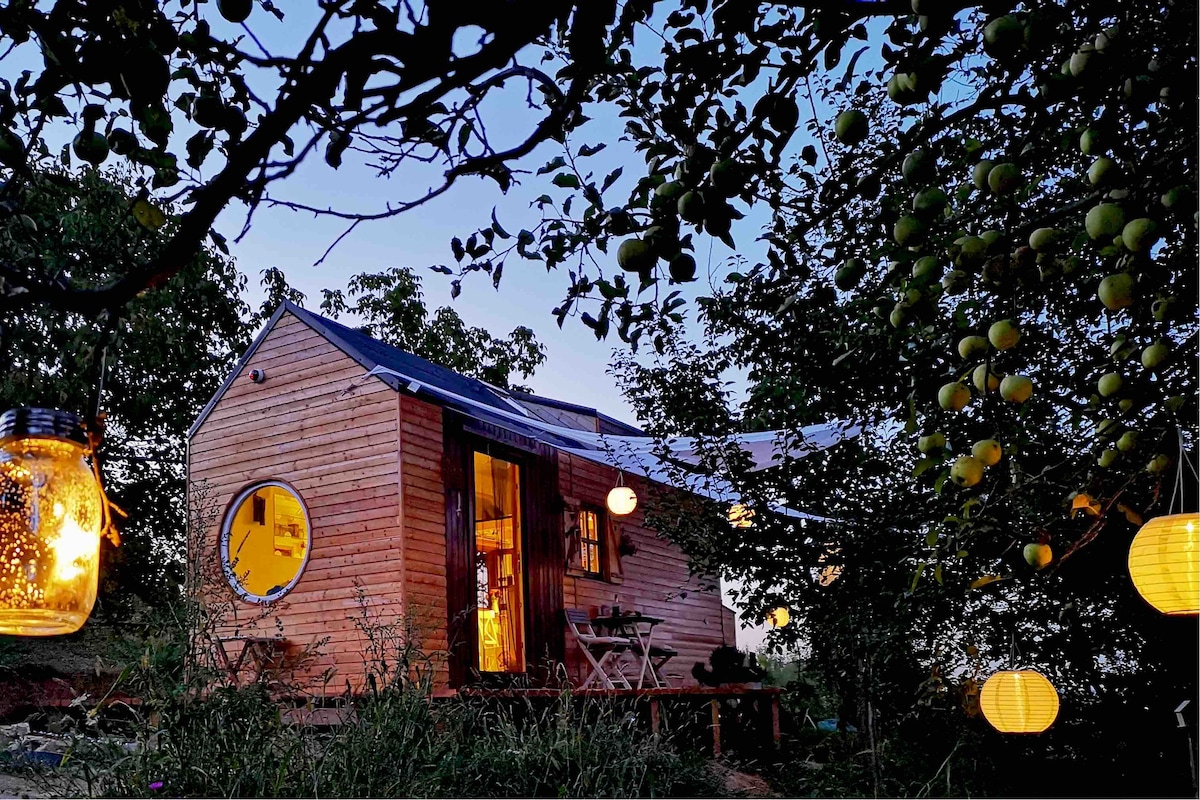 Tiny House on wheels
This is not just another bed you rest in overnight. It is a dazzling experience! Superhost Gabriella will amaze you with her cozy tiny house.
Entire house hosted by Robin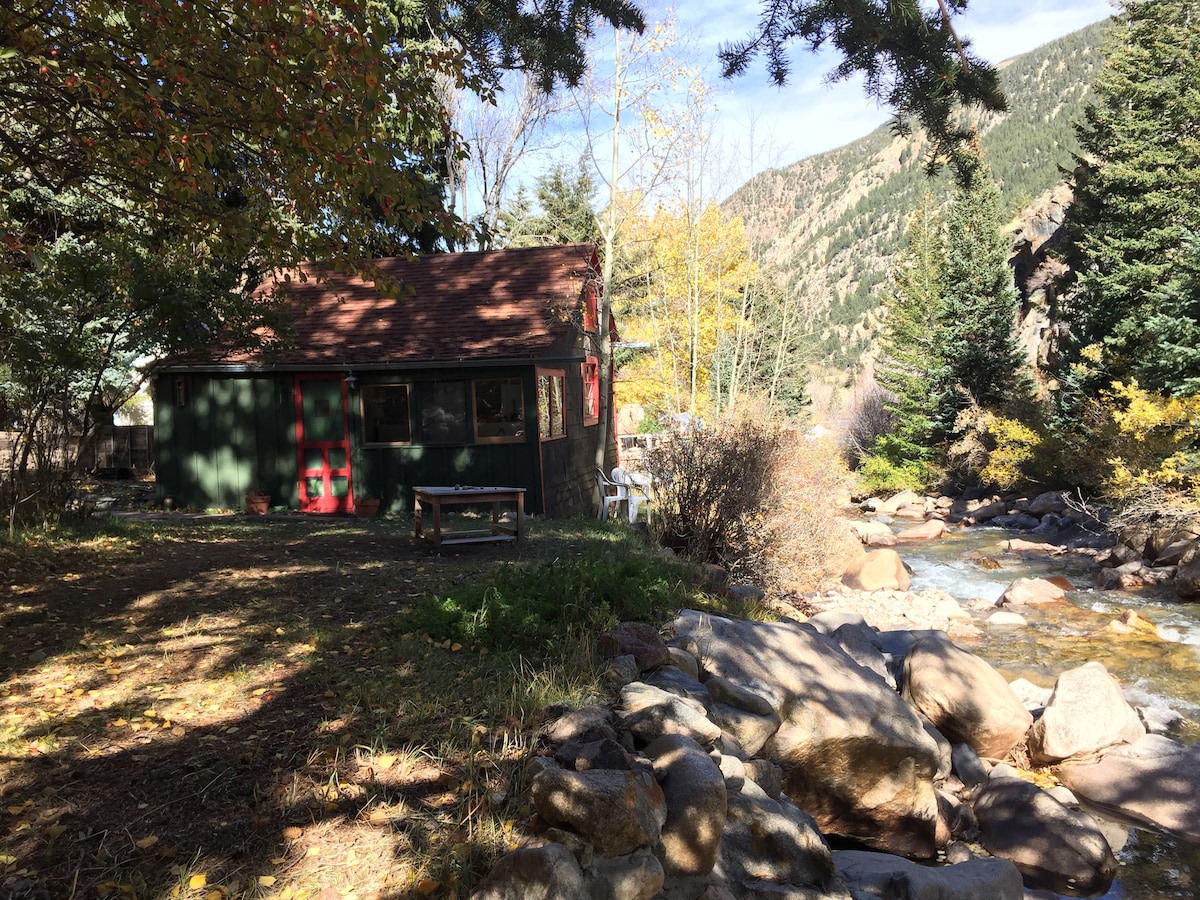 The Cricket- An amazing Tiny House!
The Cricket is a rustic historic cabin in a small neighborhood on Spring Street along side the rushing Clear Creek and nestled among an Aspen grove.
Tiny house hosted by Caroline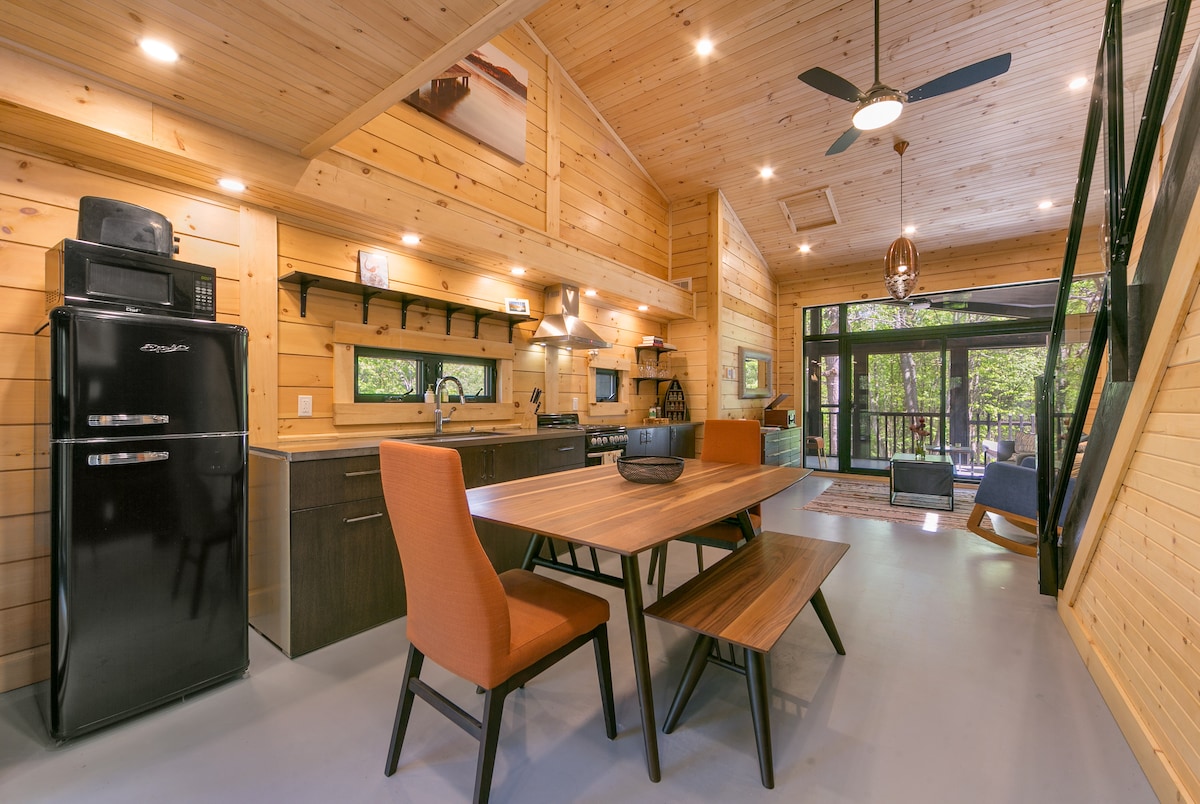 Muskoka's Luxury Tiny House
Serenely situated between Gravenhurst and Bracebridge, Tiny Haus has been custom built by an award winning architect to capture the beauty of the natural surroundings.
Facebook: http://www.facebook.com/frontiercommunitycollege
Twitter: @FrontierCC1976