Fairytales and magic are all I think of when I see the Chapelle tree house. This stunning tiny vacation home is a paradise in the trees. A one bedroom and one bathroom luxury vacation destination, this home overlooks the water and is located in Utopia, Texas, just a little more than an hour from San Antonio.
The moment you step inside the French doors into this magical treehouse, you are astounded by all of the unique touches. Just inside the door you find the guestbook that shows you where the many vacationers are from. I love looking through guestbooks, and this one is sure to have surprising statistics.
The large picture window and delicate curtains remind you of a castle, but also bring in that fairy house feeling you know and love.
My favorite part of the home in this fairy house is the bedroom area. As most tree house tiny homes, this is an open floor plan. The bedroom space is a larger room of the rustic home with an absolutely stunning bedroom.
From the ornate headboard to the crown styled hanging curtain behind the bed, this screams royalty. Shades of gold and red throughout this room easily match the theme. You'll fall into bed each night in comfort surrounded by a style unique only to this home.
Just look at the detail not only in the fabric, but the detailed crosses on these chairs. They remind me of the Knights of Templar from days of old. These are perfect for sitting down to put your shoes on in the morning, or sitting back with a cup of tea or a nightcap.
The Helm—2-Story Container Home close to Magnolia Market
Now, this is by far the most beloved piece of this tree house. The bathroom here is absolutely incredible.
From the large claw foot bath tub made perfect for a nice bubble bath, to the stained window accent on the wall, this room is one I want to duplicate in my own home.
Not shown, but on the other side of this room, is a large glass door shower that you are going to fall in love with. It's absolutely breathtaking.
Check out the detail of that stained glass window and the ornate frame around the mirror! So much detail in this home really comes together to make this tree house feel just like you are in a magical fairy home in the garden.
When you are ready to have dinner, there is a small table overlooking a beautiful yard and river. I love the idea of indulging in a nice hot cup of coffee and some avocado toast while watching the sunrise from this space.
You can't miss the lovely features around the room. From the large chandelier with candle style lights, to the hundreds of candles all around the room, this is such a lovely place to relax.
These comfy chairs are made just for a nice book and cup of tea on a relaxing day. I love that these have the large windows all around so you get the feeling of being outside, but you are comfortable inside in a climate controlled room.
For those wanting more sunshine, all you have to do is step out onto the large deck space! This matching patio set follows the red and gold theme set indoors.
This area is rustic in style with unique railing and the gorgeous view of the river behind the tree house. Such a gorgeous way to spend a day in comfort!
This is also an ideal place to welcome friends for a small meal or a glass of wine and great discussion.
Surrounded by the beauty of trees, a peaceful river, the gorgeous blue Texas sky, and the fairytale style makes this a new favorite vacation destination. It truly is a place of fairies and magic.
in an infinite green oasis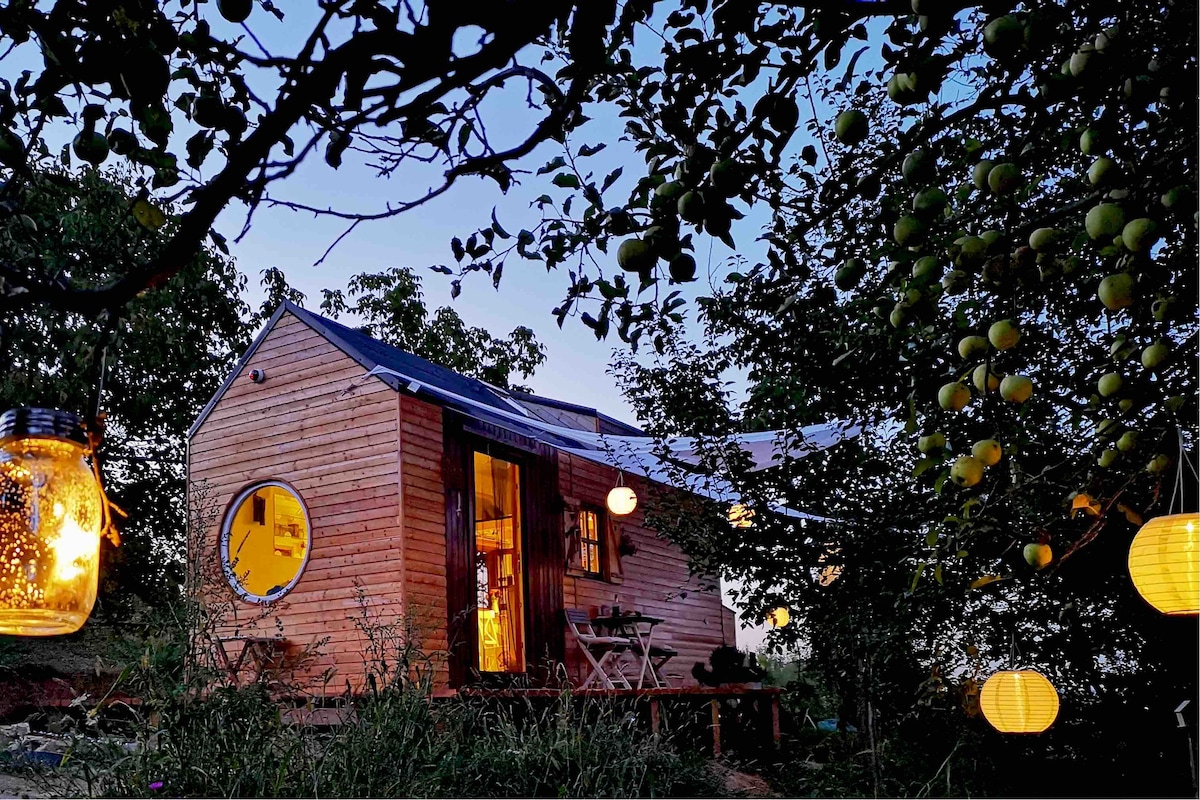 Tiny House on wheels
This is not just another bed you rest in overnight. It is a dazzling experience! Superhost Gabriella will amaze you with her cozy tiny house.
Entire house hosted by Robin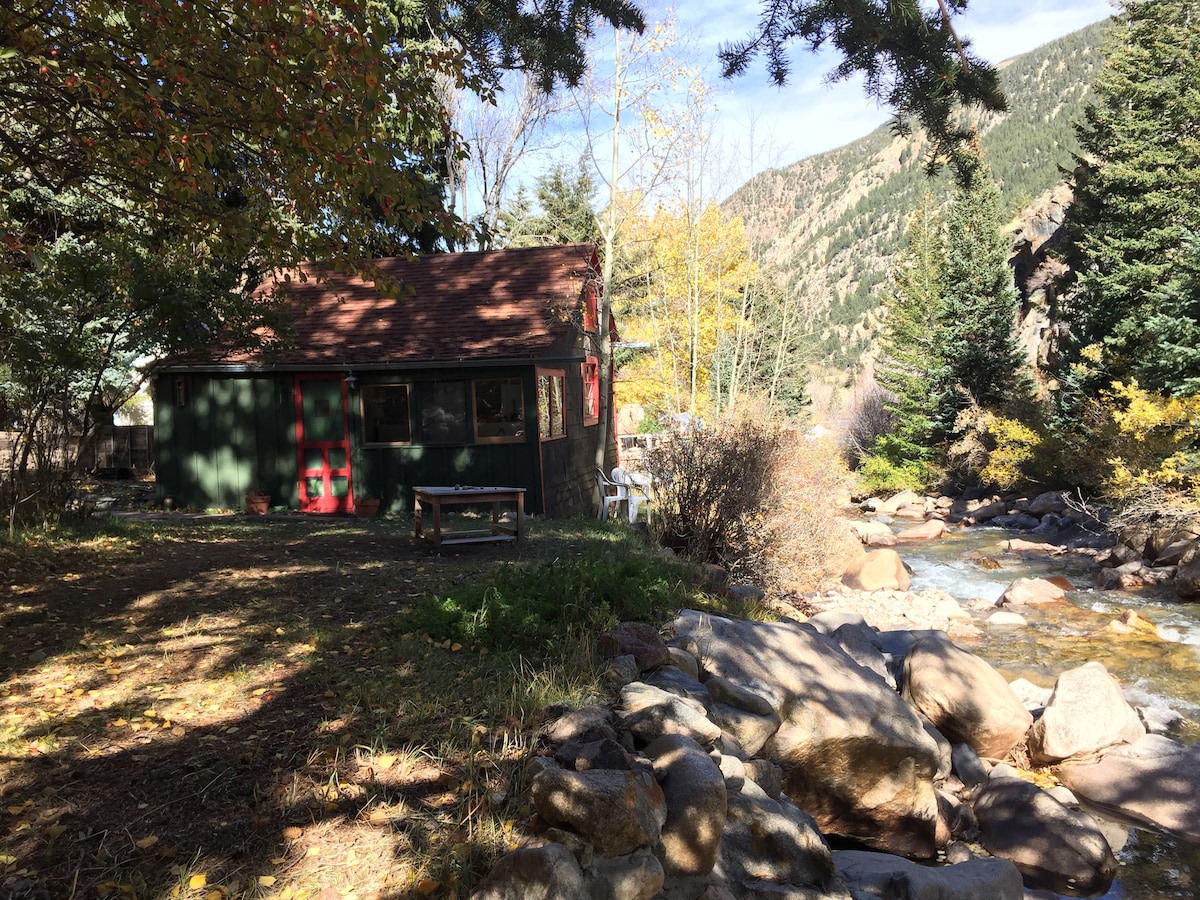 The Cricket- An amazing Tiny House!
The Cricket is a rustic historic cabin in a small neighborhood on Spring Street along side the rushing Clear Creek and nestled among an Aspen grove.
Tiny house hosted by Caroline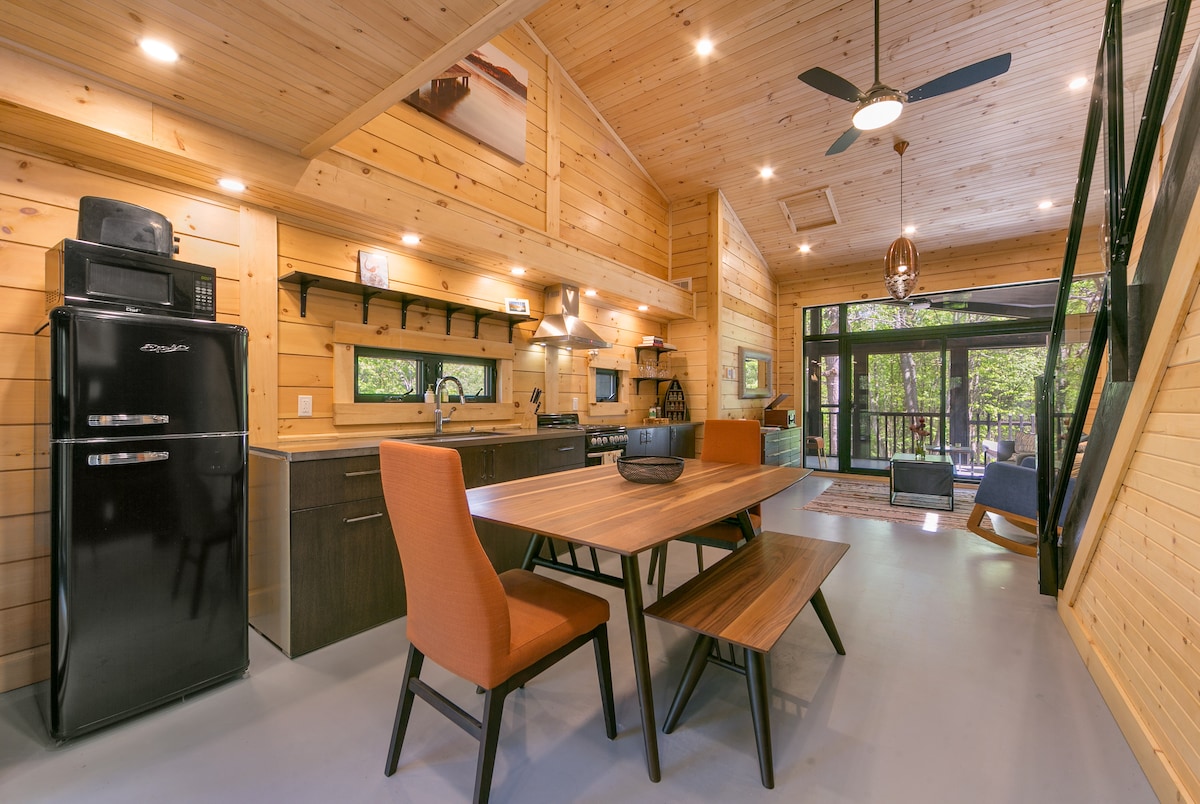 Muskoka's Luxury Tiny House
Serenely situated between Gravenhurst and Bracebridge, Tiny Haus has been custom built by an award winning architect to capture the beauty of the natural surroundings.
If you are interested in booking a stay at the Chapelle, check out all of the details on the Treehouse Utopia website for this and all of their tree house luxury stays. Make sure you let them know that iTinyHouses.com sent you.
Looking for more tiny vacation homes? Check out some of our favorites below!