We've seen homes by Tex Zen Tiny Home Co. before and we're always impressed by how cozy and modern they are without coming across like they're trying too hard. Their single loft model is no exception with 260 square feet on a 28-foot long footprint. The eye-catching exterior is wrapped in western red cedar and even has a small covered front porch with a window. Pricing for the Single Loft model starts at $65,000.
The home has two entrances so it works on any lot that you choose. You can enter through the side door or through the double sliding glass doors on the porch. Both are entirely glass so they let natural light flood into the home.
Inside, the home has neutral wood siding with light gray trim and dark hardwood floors for a clean and classic look. The living room is on the front of the home with enough space for a small couch.
A dining table is between the living room and kitchen with stools that can be pulled into the living room for extra guest seating.
The Helm—2-Story Container Home close to Magnolia Market
The tiny house's kitchen is in the center of the home with a staircase extending up one wall to the loft. High-end appliances were chosen for the kitchen including a dishwasher drawer, refrigerator drawer, wine storage and oven.
Open shelving was chosen for above the beautiful quartz countertops giving you a pretty place to store dishes and glasses.
The home's bathroom is also luxurious with a subway tiled tub and shower combo and a custom sink vanity with a bowl sink quartz countertops.
Upstairs, the loft is spacious with room for a king-sized bed and it also has built-in storage around the mattress with a unique light fixture attached to the wall.
We love the fun vibe that this tiny house has and can imagine invited friends over for drinks on the porch.
If you'd like to see a tour of this model with slightly different décor and finishes, check out https://www.youtube.com/watch?v=ulMAZuILaF8.
And be sure to visit Tex Zen Tiny Homes to learn more about their models and choose your favorite! Got to http://texzentinyhomes.com/ and you can also follow them on social media at:
in an infinite green oasis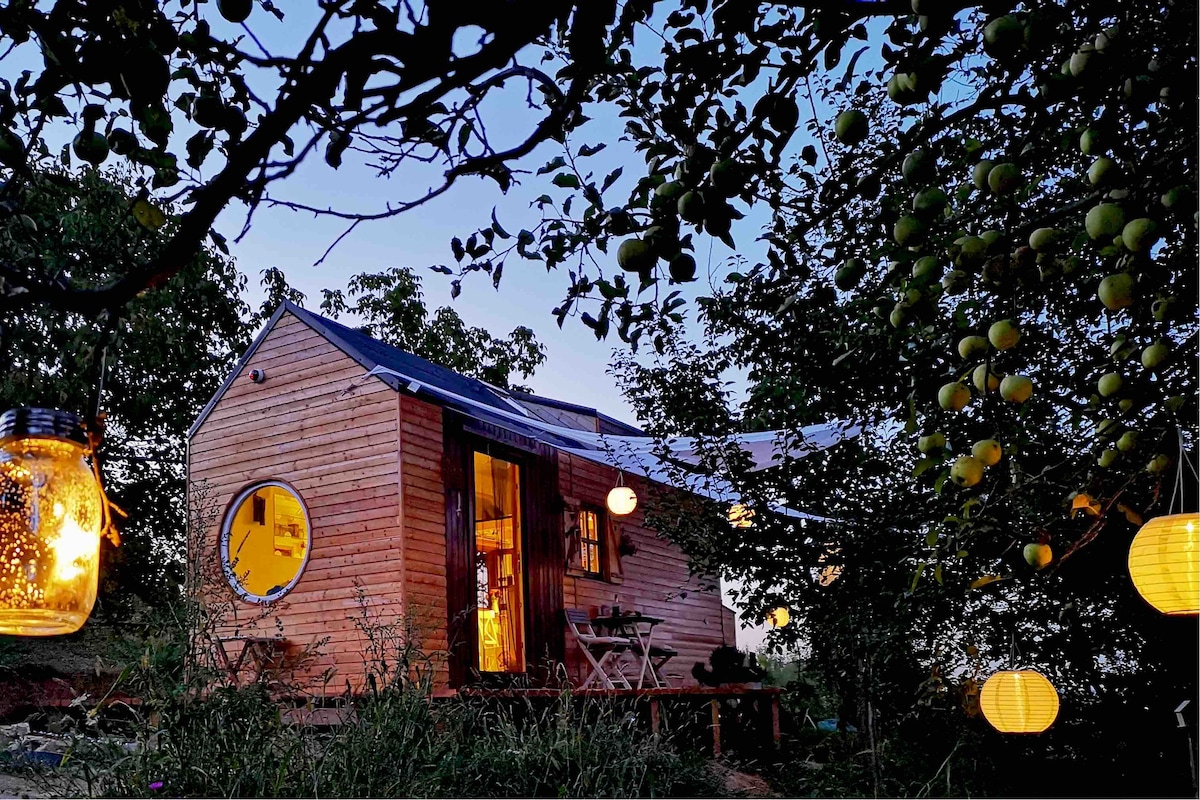 Tiny House on wheels
This is not just another bed you rest in overnight. It is a dazzling experience! Superhost Gabriella will amaze you with her cozy tiny house.
Entire house hosted by Robin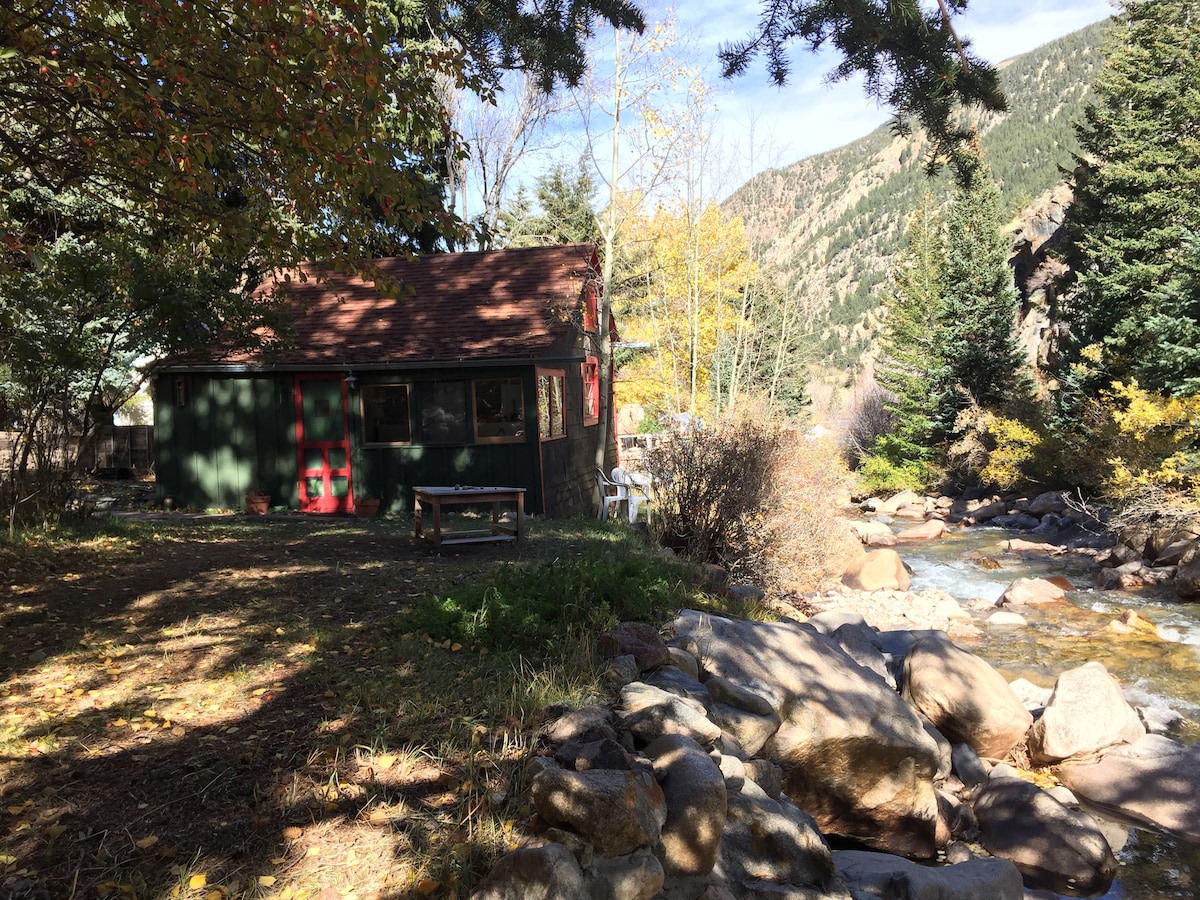 The Cricket- An amazing Tiny House!
The Cricket is a rustic historic cabin in a small neighborhood on Spring Street along side the rushing Clear Creek and nestled among an Aspen grove.
Tiny house hosted by Caroline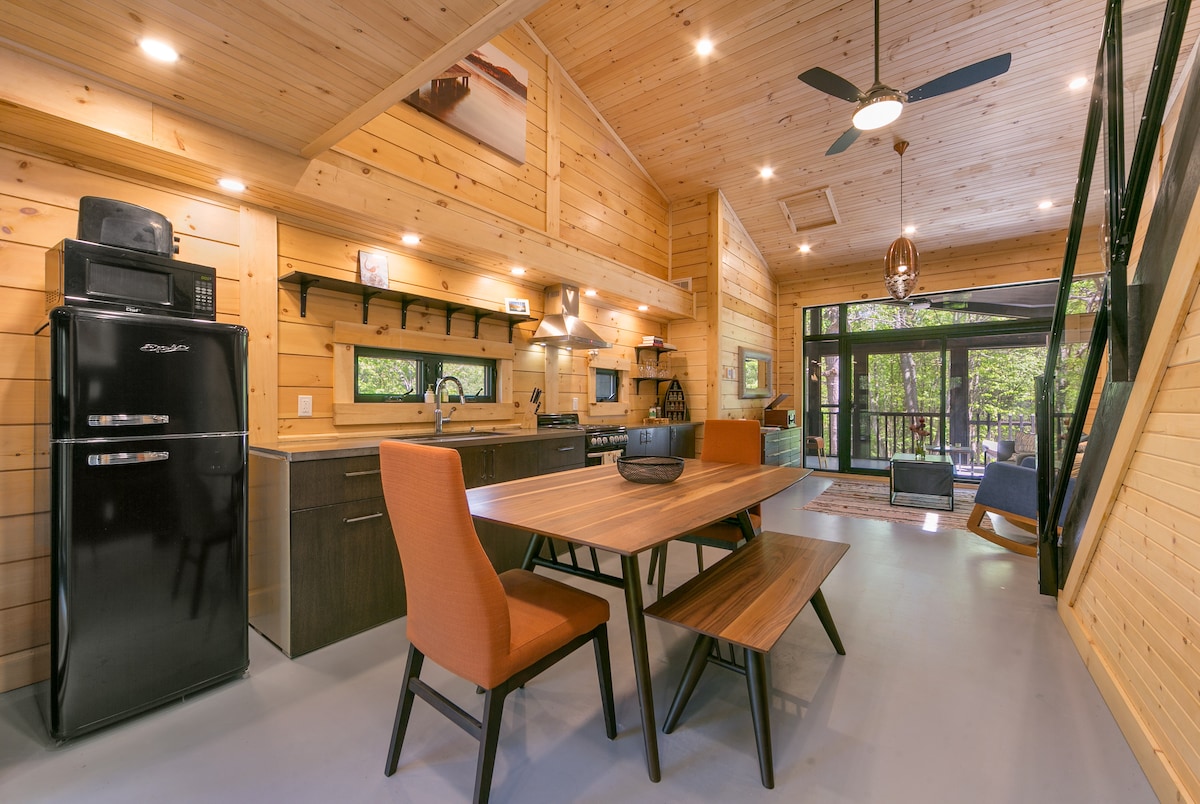 Muskoka's Luxury Tiny House
Serenely situated between Gravenhurst and Bracebridge, Tiny Haus has been custom built by an award winning architect to capture the beauty of the natural surroundings.
Facebook: https://www.facebook.com/TexZenTinyHomes
Twitter: https://twitter.com/TinyHomeCo