When I first thought of tiny houses, immediately a little cabin in the woods came to mind. This Big Bear log cabin is the perfect embodiment of the tiny house cabin. From the picturesque landscaping to the wood features throughout, you will feel taken back in time.
Don't fear, the modern amenities are throughout this home including 2 bedrooms and an incredible backyard complete with hot tub. While small in space, it offers more than enough to keep you comfortable and feeling right at home.
As you drive up to this cabin, you'll love how it blends in with the trees. The wood railings on the porches along with the doors and shutters add just enough contrast against the dark green paint to stand out. If you've ever imagined a picture book cabin as your dream home, look no further!
As you step into this cabin, you are met with classic features you expect. Wood paneling and beams on the walls and ceiling feel welcoming. The dark green carpet and rustic decor and rugs really bring that "cabin" feeling to life.
One of the best features in this cabin is the fireplace in the living area. Ideal for those cold snowy winter nights, this bricked fireplace is a great addition that will keep you warm and offer that classic ambiance you want from a cabin.
A ceiling fan helps circulate air year round. While a functional element, the contrasting colors of stain on the walls add depth to the room.
The living room leads right into the open dining room and kitchen. This helps the small space feel larger while still adding a homey feeling.
As you can see, the bedroom doors lead off the living area to provide privacy for yourself and guests.
Large windows surround the living space for great natural light, but the installed blinds also help keep the cooling costs down in summer months by blocking some of the sunlight if needed.
The Helm—2-Story Container Home close to Magnolia Market
Step into the master bedroom and find a rustic wooden bed frame that fits the overall cabin theme. While a small room, there is more than enough space here to relax for sleep.
Added features in this room that are both functional and decor include the stunning end table and lamp at the bedside.
In the second bedroom you find another set of rustic wood beds. This bunk bed setup allows for another 3 people to comfortably sleep. So, feel free to bring the kids or invite a few guests for a weekend getaway!
While this bedroom is small, you still have room for a little closet for storage. That, along with the bedside table make this plenty of room to live every day or use just for those occasional weekends away.
The bathroom in this Big Bear cabin is small but offers all everything you need. A traditional bathtub and shower combination is great for an evening bath or a quick shower before you start your day.
I love the large bowl sink and added storage drawers in the vanity You may prefer the over toilet storage shelves or find other ways to keep your toiletries handy.
Stepping back out to the dining area there is plenty of space for a full-sized table to seat 8 comfortably. While this table suits the room well, I would love to see a set that matches the rustic styling of the bedroom furniture.
As you peak into the kitchen, you see a nice full-sized refrigerator leading in with cabinets surrounding for storage. Such a luxury in a small space!
The table offers an excellent view of the outdoors with two large windows made perfect for opening to let the light shine into your cabin.
While this kitchen is small and fashioned in the traditional galley style, you have all of your needs met within easy reach. The stove and workspace are on one side with your sink and refrigerator on the opposite side of the kitchen.
The same rustic wood is featured here with cabinets both above and below the counters. You won't lack for kitchen storage space for food or utensils.
A gas burning stove with oven makes it easy to prepare any meals your family desires. I personally love the large double sink. Despite the lack of dishwasher in this space, the kitchen offers everything you need to keep things comfortable and tidy.
Step outside to find a sizable deck with a simple grill and picnic table for weekend entertaining. This is great for grilling burgers for the family, or hosting guests for a traditional barbecue.
The backyard to this cabin is one of my favorite features. Under the shade of tall pine trees, you can relax and swing next to your spouse on the cedar swing. Of course, you can't miss that featured hot tub!
in an infinite green oasis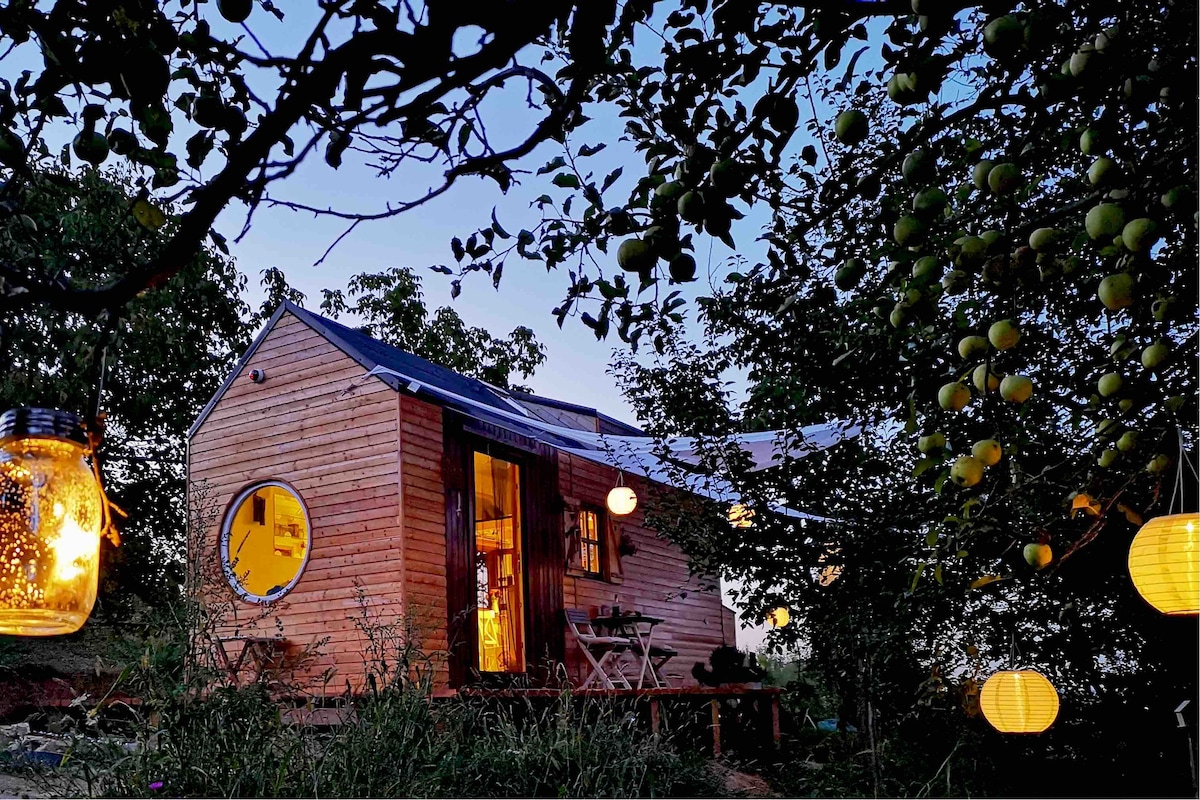 Tiny House on wheels
This is not just another bed you rest in overnight. It is a dazzling experience! Superhost Gabriella will amaze you with her cozy tiny house.
Entire house hosted by Robin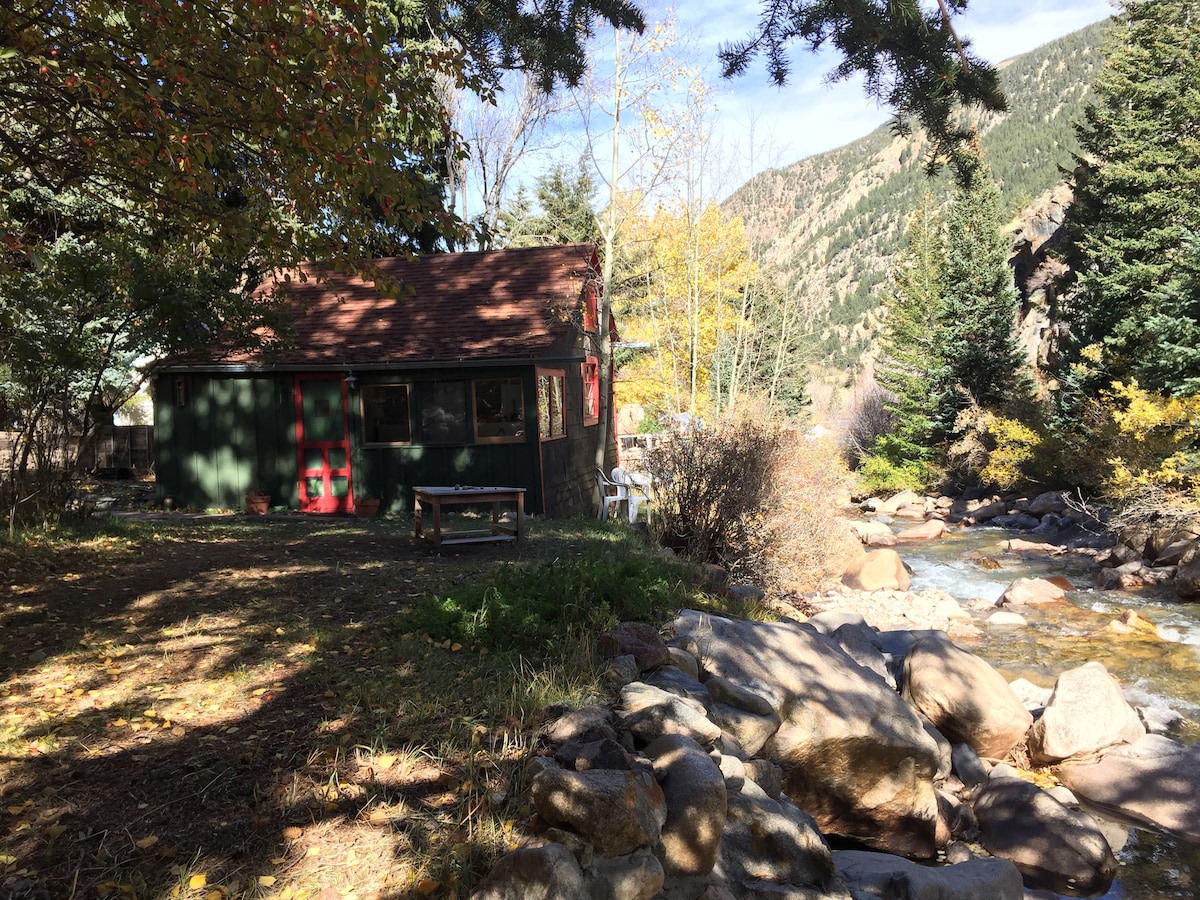 The Cricket- An amazing Tiny House!
The Cricket is a rustic historic cabin in a small neighborhood on Spring Street along side the rushing Clear Creek and nestled among an Aspen grove.
Tiny house hosted by Caroline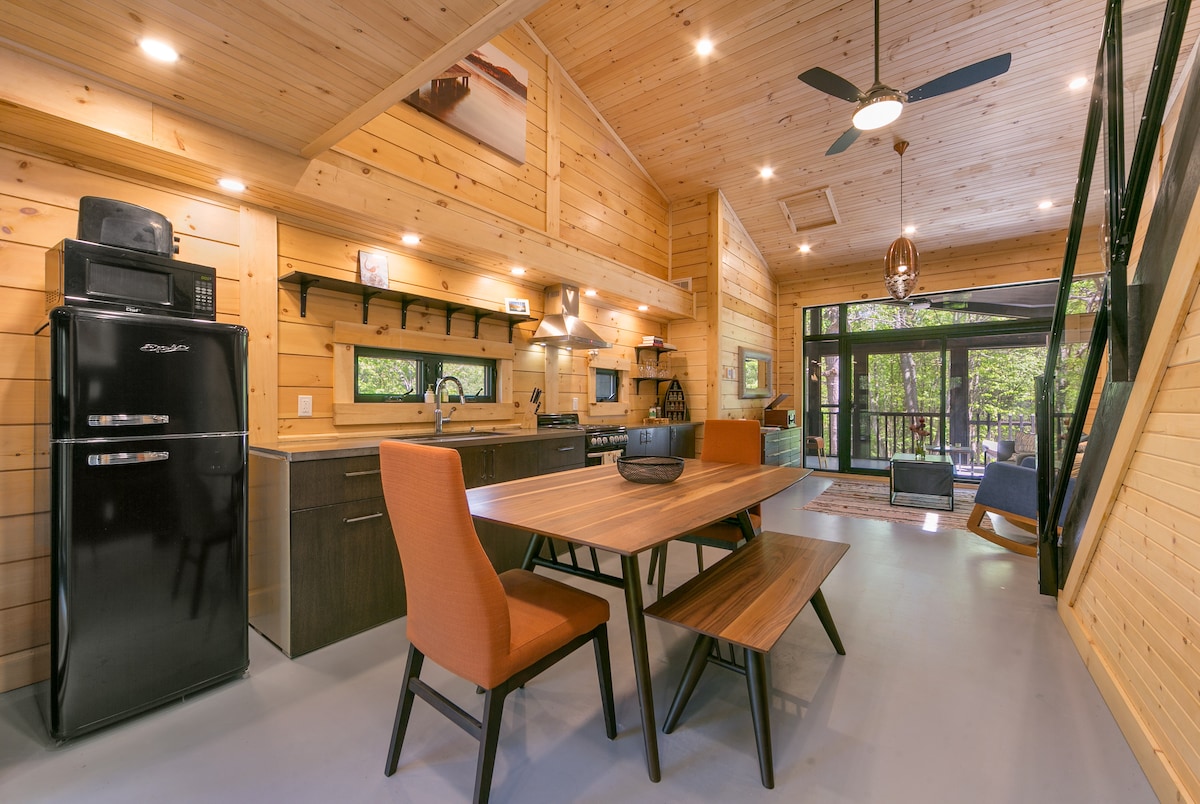 Muskoka's Luxury Tiny House
Serenely situated between Gravenhurst and Bracebridge, Tiny Haus has been custom built by an award winning architect to capture the beauty of the natural surroundings.
The biggest selling feature to mention is the large hot tub on site. This makes a great way to relax sore muscles after a long mountain hike, or a fun way to warm up on a cold winter evening.
Whether you love the location, the cabin appeal, or the traditional tiny home minimalism, you will surely fall in love with this Big Bear cabin. Step onto the large front deck and find not just a welcoming front door, but benches surrounding the railing to relax and enjoy the beauty surrounding your new home.
For more information about the Big Bear cabin, see the full listing on Realtor.com. When connecting with the listing agent, let them know that iTinyHouses.com sent you!
Interested in more tiny house cabin floor plans? Check out some more of our favorites!