Hidden in Texas, you'll find an absolutely incredible converted container home for your relaxation and escape from the outside world. This home features a large living area, full galley kitchen, and a private bedroom and bathroom. The beautiful wall of windows and glass doors makes it ideal for those who enjoy a view.
Stepping inside this container home you'll find the traditional narrow container you expect, but the layout has made use of this space wonderfully. You'll find a compact but comfortable living space, dining area, full kitchen, and of course, the private bedroom and bathroom.
The living area offers room for not just a chair, but a sofa, chairs, coffee table, and a few bits of decor. This is a great place to add a pull out sofa or larger chaise lounge for extra sleep space for guests.
I love how the owners added an accent wall to pull the colors together. The little chalkboard sign is a fun touch announcing this rental locations hashtag, but you could add your own favorite message.
If a remote desert location is your idea of relaxation, this view says it all! Wall to wall picture windows and sliding doors let you enjoy the view from any vantage point in the home.
A galley kitchen often feels cramped, but this layout makes it easy to navigate in comfort. By using one wall of the home for the kitchen and the other side opening to the outside, it makes the space feel larger and less cramped.
The Helm—2-Story Container Home close to Magnolia Market
This kitchen includes all of the needed tools. A full sized refrigerator and stove provide you the place to store and prepare foods. A double sink is perfect for cleaning up dishes, and while there is no dishwasher, you do have the microwave, coffee pot, and tons of shelving for storage of any other tools.
On the opposite end of the home from the living space in the "l" part of this unit is the beautiful and welcoming bedroom. With floor to ceiling windows along with glass doors, this opens right up to the desert view and patio with tables.
A king-sized bed could fit easily in this space, or for those with a family, you could even place 2 sets of bunk beds here to sleep more individuals.
They have included bedside tables, wall lamps, a few books for convenience, and of course the heating and air conditioning units help control the temperature despite hot days and cold nights.
The slanted roof makes this space feel more open and welcoming. You also have a ceiling fan in the room to keep the air circulating so it never feels stuffy.
I love the addition of the chair and reading nook in the corner. You may also notice how they used the back wall for an extra window for natural light, and to hold a wardrobe for clothing storage.
Outside you get to enjoy the views from under the pergola on an attached concrete patio. With an abundance of rocking chairs, benches, and tables in this area, you have a comfortable space to lounge and read, eat, or chat with family.
The view at night is one you will absolutely adore. The wide open spaces of the Texas sky are ideal for stargazing. With plenty of lights around the house and patio, you can relax outside in comfort with a roaring fire in the fire pit.
in an infinite green oasis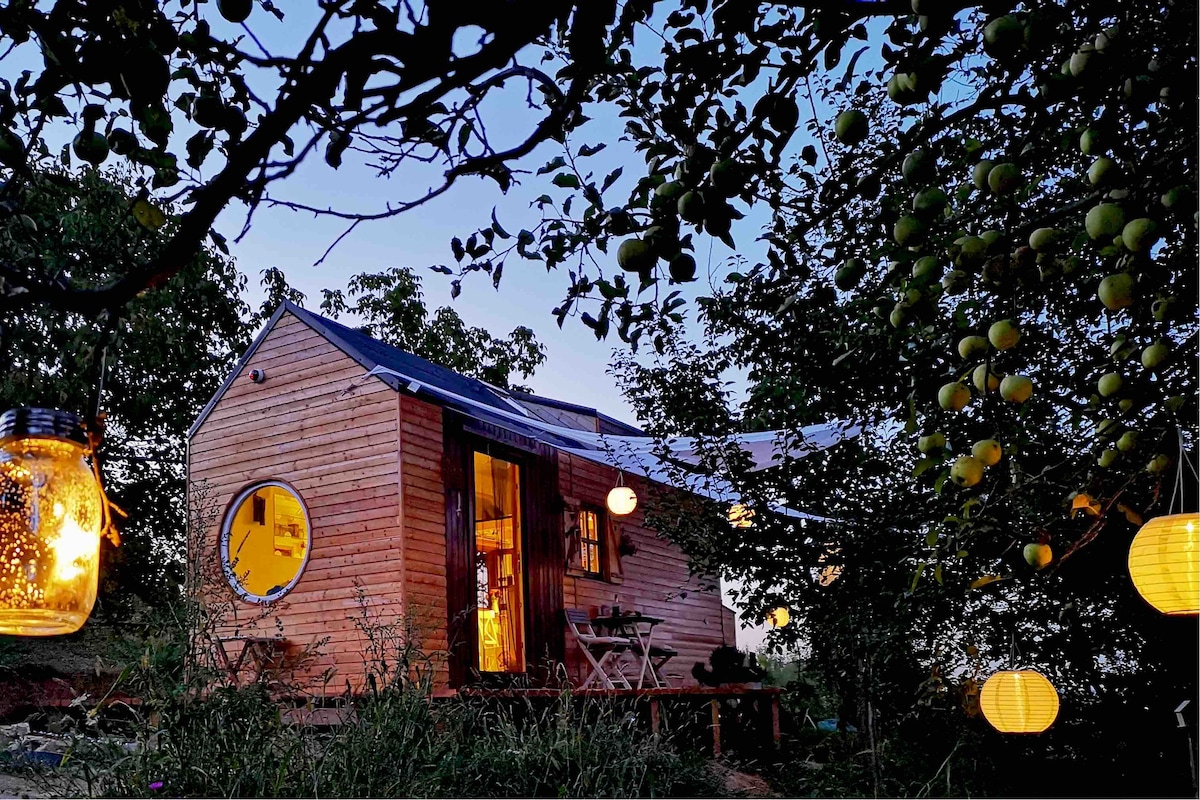 Tiny House on wheels
This is not just another bed you rest in overnight. It is a dazzling experience! Superhost Gabriella will amaze you with her cozy tiny house.
Entire house hosted by Robin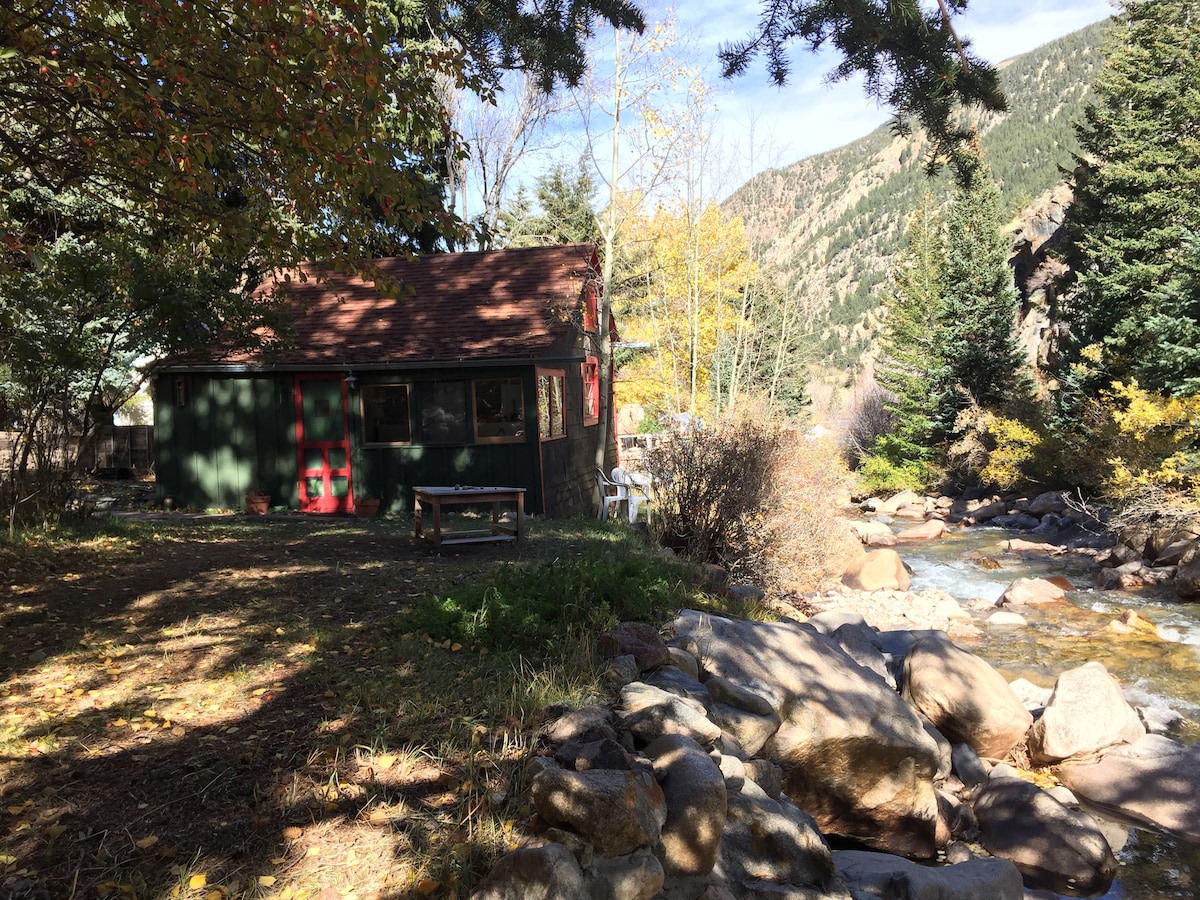 The Cricket- An amazing Tiny House!
The Cricket is a rustic historic cabin in a small neighborhood on Spring Street along side the rushing Clear Creek and nestled among an Aspen grove.
Tiny house hosted by Caroline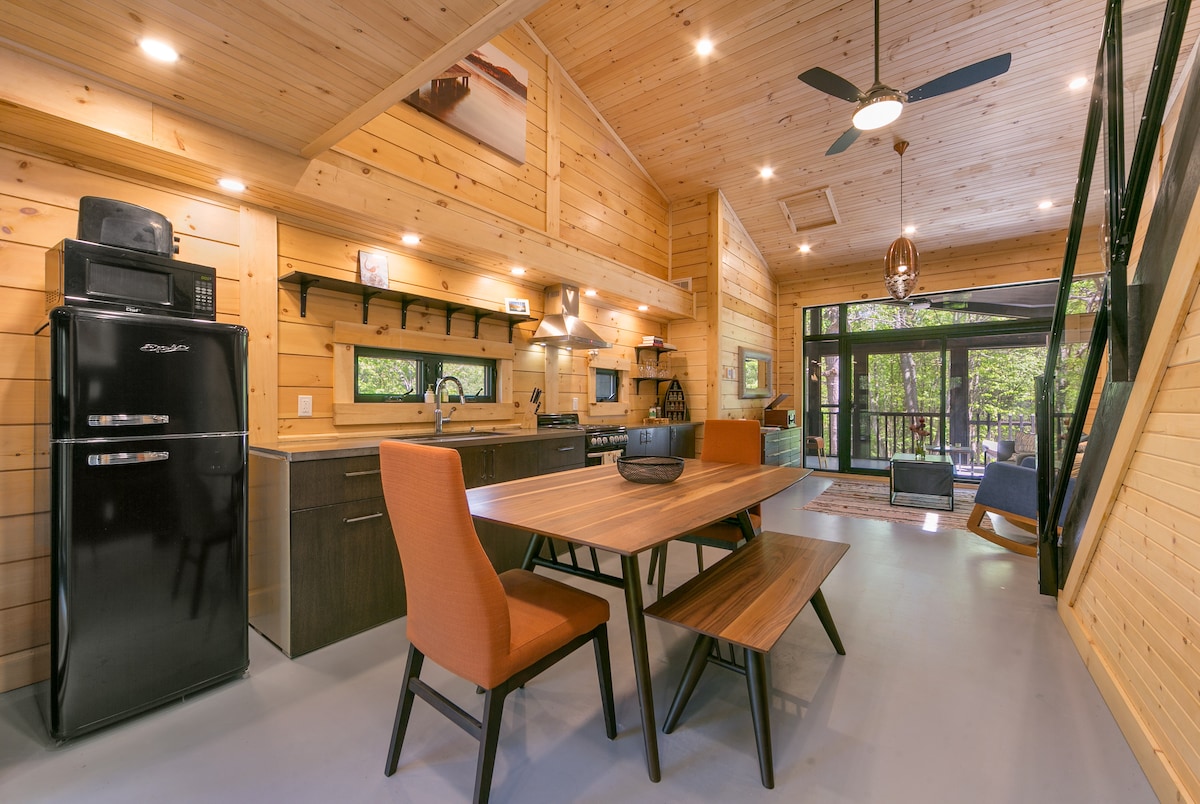 Muskoka's Luxury Tiny House
Serenely situated between Gravenhurst and Bracebridge, Tiny Haus has been custom built by an award winning architect to capture the beauty of the natural surroundings.
This container home and more can be found on Fossil Knob Ridge. You'll love the unique designs!Make sure to let them know that iTinyHouses.com sent you.
Interested in more tiny house plans? Check out more great tiny homes below!