Explore the jungle and the luxury and comfort all in this beautiful and unique Eco-friendly jungle tiny house made from a converted shipping container! With open walls, stunning views, and lush vegetation, this space is inviting and comfortable.
Recycling shipping containers into living space has become more and more popular, especially in the tiny house communities. The sturdy walls offer ideal support for a home that you'll find useful when creating a budget friendly home in a tiny space.
One of the features of this home is that there are minimal walls. Despite bedrooms being separated and folding doors to allow privacy, the back side of the home is completely open allowing natural light and airflow in around the clock.
There are wonderful additions like floating bookcases, rustic wooden benches and tables, alongside the modern light fixtures, fans, and comfortable chairs. It's the ideal combination of rustic meets modern for a bohemian style look.
Each bedroom features a comfortable bed with flowing canopy. While the canopy is beautiful to look at in the home, it also offers protection at night from pesky bugs.
Alongside the large comfortable beds, each room also has built in shelving for clothing storage and an open closet style you'll love. There are also windows and open wall slats to provide air flow and light in each of these spaces.
While this is a jungle home, that doesn't mean it is without modern and useful amenities. You may not find air conditioning here, but you will find electricity, plenty of lamps for light at night, and tons of outlets thorough for your electronics.
The bathroom is one you are sure to fall in love with when you enter. Yes, there are the standard toilet, sink, and showers in this space, but it's the little extras that make it feel even more amazing.
The Helm—2-Story Container Home close to Magnolia Market
Extra shelves around the sink are ideal for things like washcloths, lotions, or knick knacks while the space below is great for larger items like towels or toiletries.
The shower is a unique space surrounded by concrete and curtains that keep it private from outside, but still allow the feeling of "showering in the outdoors".
Little accents throughout the home make it even more welcoming. Bright pink walls are beautiful against the lush green foliage outside. Mirrors and modern fixtures expand the space and add more to that bohemian feeling you desire.
One wall in the outdoor space is a way to connect the two areas and make them feel cohesive. This wall is ideal for adding a bookshelf, modern art, lamps, or other prized possessions that help make it feel like home.
The living space inside offers tons of open space that is ideal for personalizing with your own pick of fixtures, lamps, flowers, plants, and as you can see here, speakers to create your own surround sound experience.
Tucked away upstairs is a quiet little reading nook. This small space is an addition that is open on all sides and designed for relaxation.
Look out over the space and see the view while relaxing with a new or old favorite book to read. It's even more ideal on rainy days with the pitter patter of rain overhead on the metal roof.
The kitchen is both inside and outside at the same time. The open walls mean it feels like you are cooking outside on the patio, but it's also inside and next to your living space and bedrooms for convenience.
A picnic style table offers plenty of seating, but you can also pull up to the counter with some bar stools that make this functional for dining, working, or using to prepare meals.
This large kitchen is an ideal place to practice your cooking skills. Surrounded by deep counters, you can mix up a batch of cookies or present a buffet of fresh fruits from the backyard.
The 6 burner stove is the envy of most home chef's, but the real feature I love is that view. Imagine cooking and asking your kids to go grab fresh fruit straight from the tree out back!
A deep sink makes cleanup easy, even without the convenience of a dishwasher. You can clean your kitchen while feeling the fresh air, hearing the chirping of birds, or perhaps even spotting wildlife in the area watching from the distance.
One amazing feature of this home is the space for hanging a hammock. Just look at that view inside when you are lounging in the hammock.
Of course, the view looking out into the yard is even better. I can practically feel the wind blowing around me and smell the fresh flowers.
The backyard is a beautiful path of fresh fruits growing for your use. Grab an avocado to whip up fresh guacamole with the garlic and limes growing right out the door. How incredible is that?
in an infinite green oasis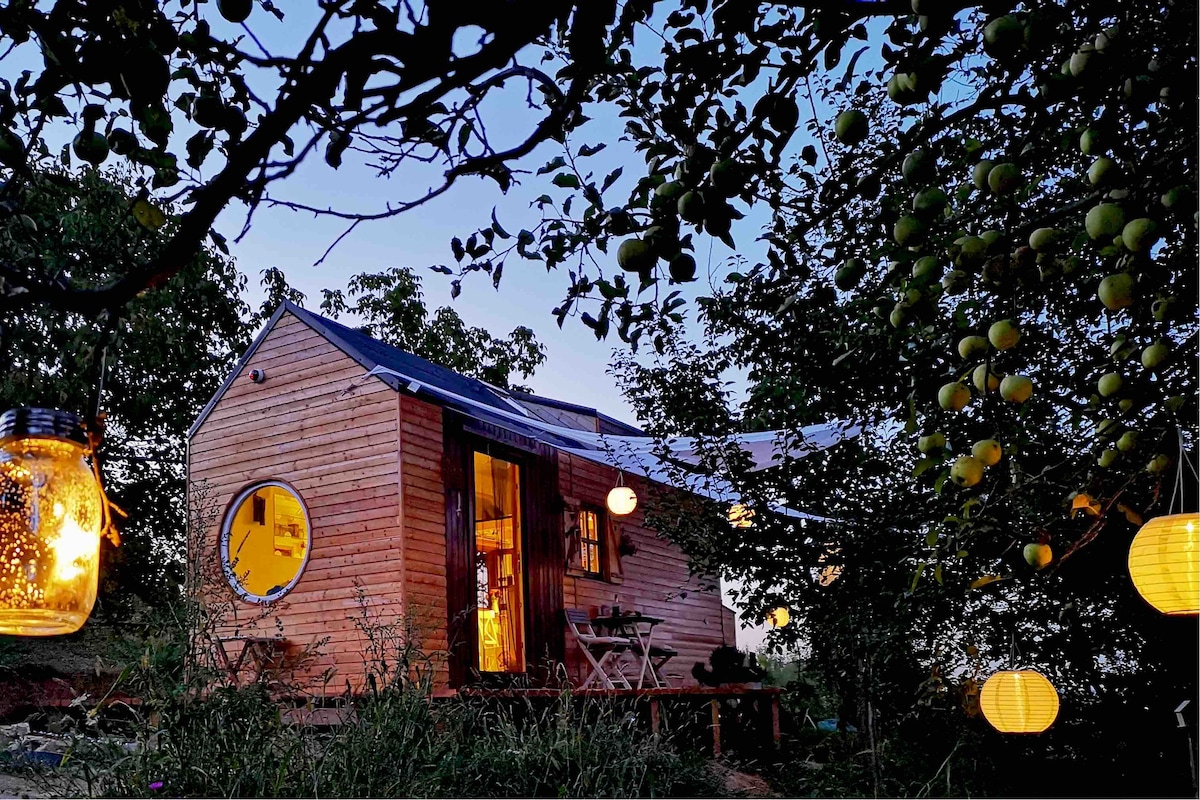 Tiny House on wheels
This is not just another bed you rest in overnight. It is a dazzling experience! Superhost Gabriella will amaze you with her cozy tiny house.
Entire house hosted by Robin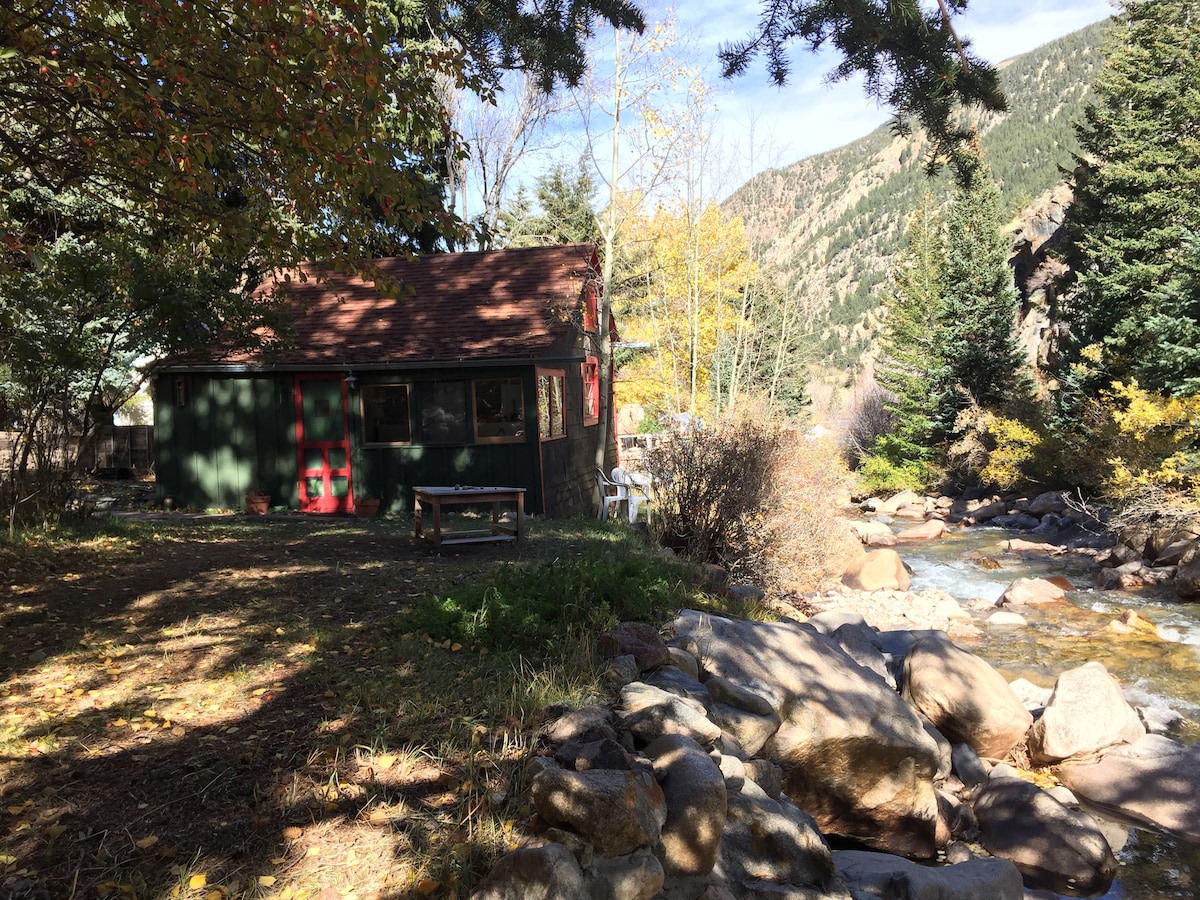 The Cricket- An amazing Tiny House!
The Cricket is a rustic historic cabin in a small neighborhood on Spring Street along side the rushing Clear Creek and nestled among an Aspen grove.
Tiny house hosted by Caroline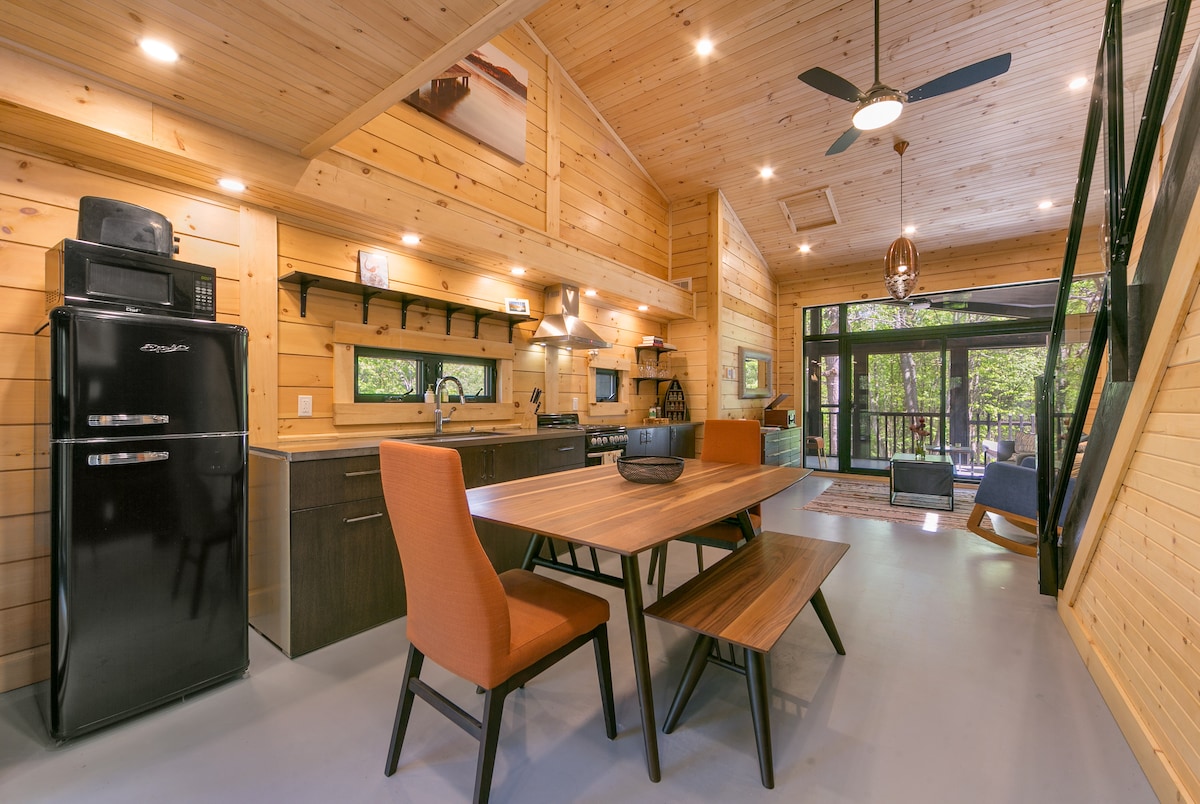 Muskoka's Luxury Tiny House
Serenely situated between Gravenhurst and Bracebridge, Tiny Haus has been custom built by an award winning architect to capture the beauty of the natural surroundings.
I love the detailed edging around the home. It offers extra space for flowers, vegetables, or herbs to grow year round.
The front door at night with glowing lights all around turns this into the tropical vacation destination of your dreams.
Interested in more tiny house plans? Check out more great tiny homes below!