Have you ever dreamed about building your very own cute little cabin out back, but wondered if you could afford it? Well, maybe you can! One intrepid builder named Alla Ponomareva decided to make her dream come true, and set about building a simple A-frame cabin measuring just 80 square feet. The total cost for the project? $700 in materials (many upcycled) and three weeks of work.
The result is simply breathtaking, and is a perfect complement to the Montana woodland setting.
This structure might feel cramped if not for the fact that this entire wall lets in sunlight and offers picturesque views of the woods. Also notice the solar panel in the upper right. That was included in the $700 cost.
The porch offers some additional outdoor space to relax and enjoy the fresh air and the rustle of leaves. That deck was originally going to be thrown away. It belonged to Alla's sister-in-law, who had thrown it into a scrap pile.
Here's a surprise you might not expect. That transparent wall opens up!
The Helm—2-Story Container Home close to Magnolia Market
This creates a seamless flow of indoor and outdoor space. What a way to enjoy Montana summers.
After debating for some time about the colors to use in the interior, Alla decided on coral and mint for a beautiful and distinctive effect.
Such a cozy spot to curl up with a book or just gaze out at the lovely scenery.
There's room to invite a friend to hang out with you. A third person could feasibly sleep on the floor if necessary. So not only would this make a nice private getaway in your own backyard, but you could also use it as a guest house.
The beds can easily be pushed together too.
A couple of hammocks make it easy to relax under the shade of the trees during the day and stare up at the stars at night. Restroom facilities are outdoors; there is a portable toilet and solar shower nearby.
in an infinite green oasis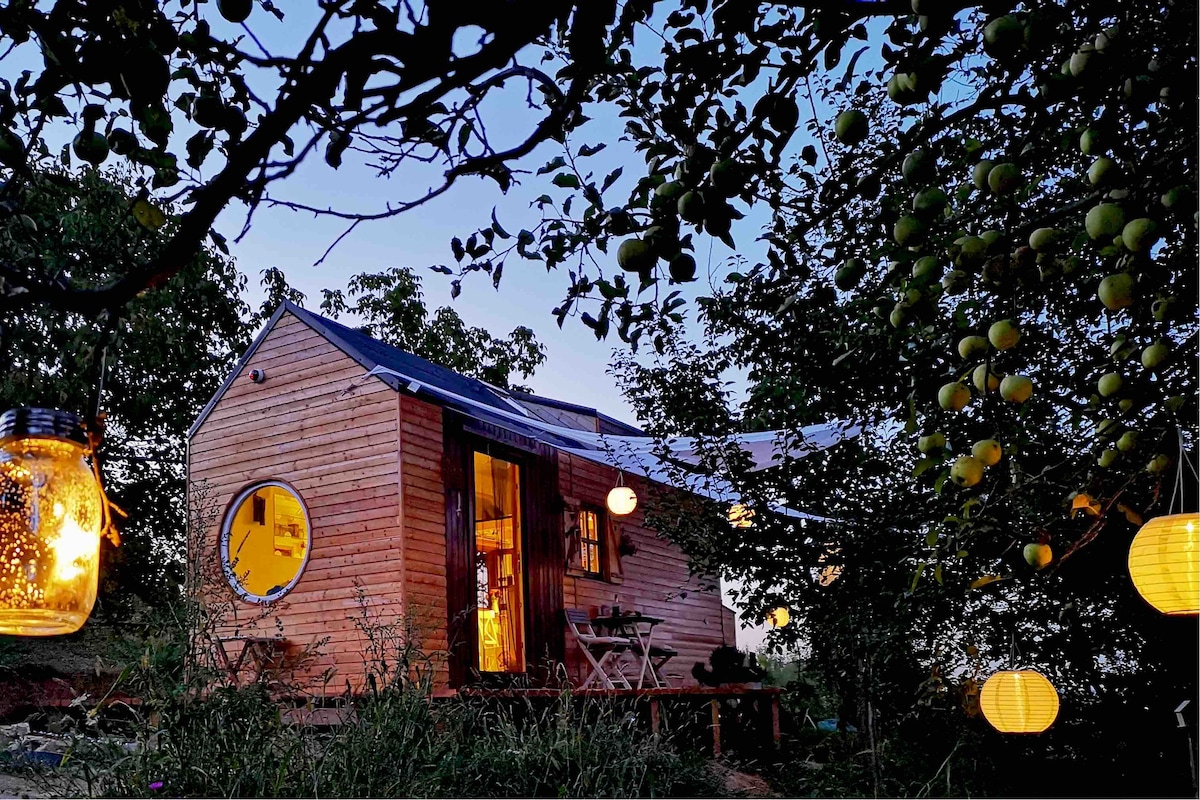 Tiny House on wheels
This is not just another bed you rest in overnight. It is a dazzling experience! Superhost Gabriella will amaze you with her cozy tiny house.
Entire house hosted by Robin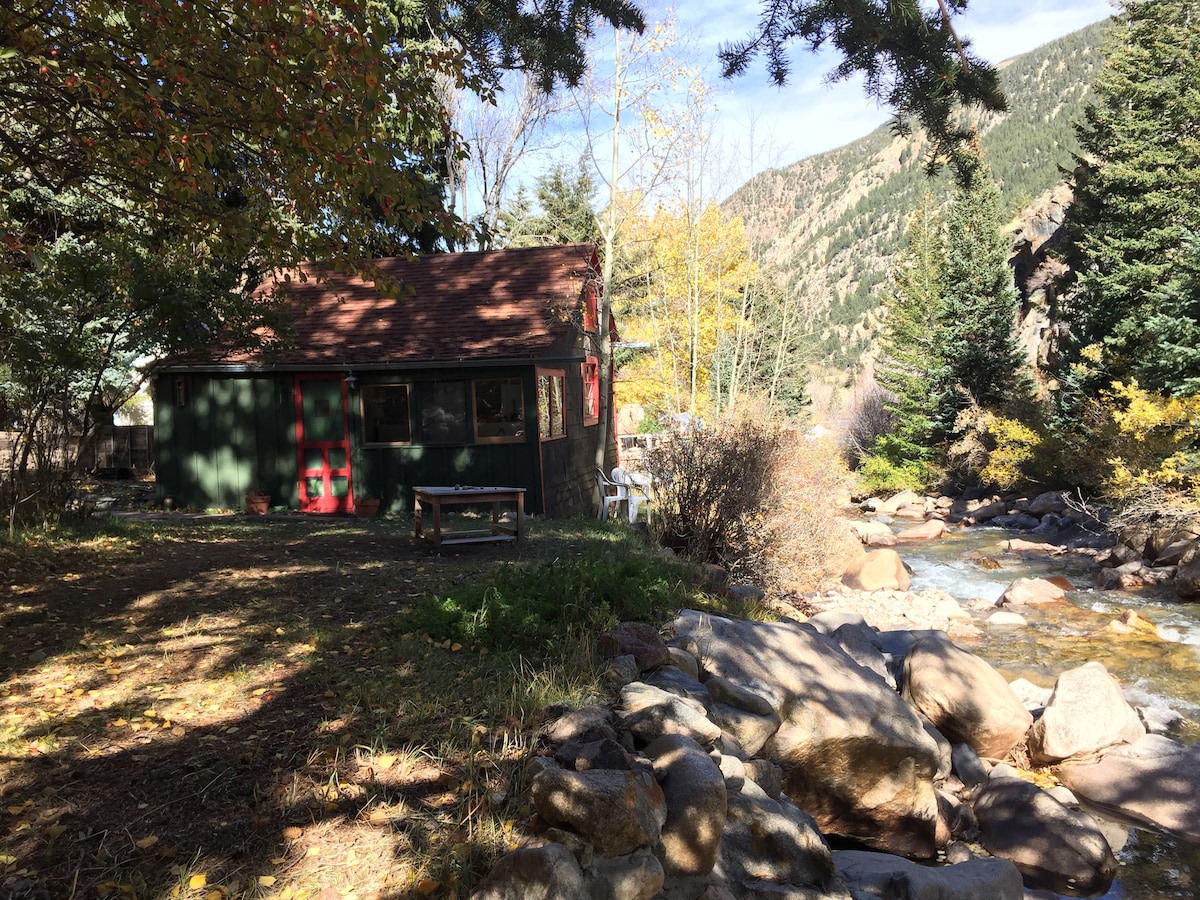 The Cricket- An amazing Tiny House!
The Cricket is a rustic historic cabin in a small neighborhood on Spring Street along side the rushing Clear Creek and nestled among an Aspen grove.
Tiny house hosted by Caroline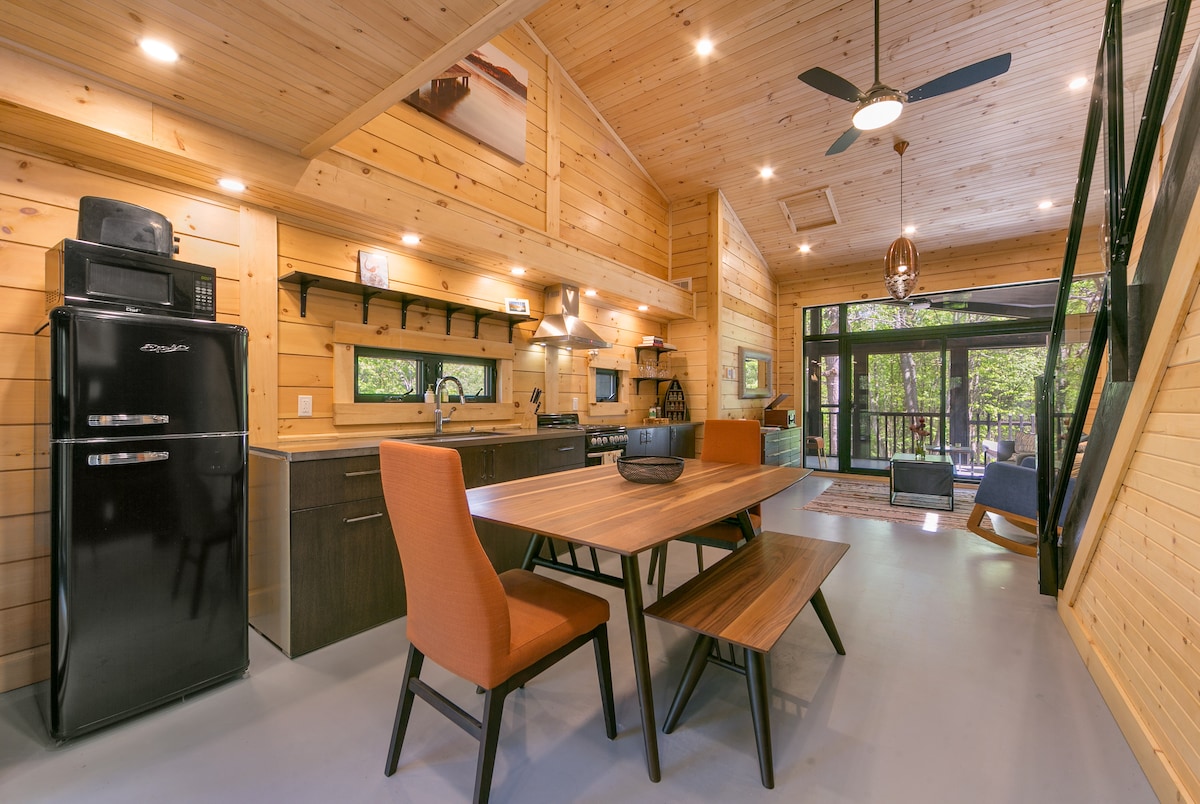 Muskoka's Luxury Tiny House
Serenely situated between Gravenhurst and Bracebridge, Tiny Haus has been custom built by an award winning architect to capture the beauty of the natural surroundings.
Wow, Alla! You have really done an incredible job with just $700 and three weeks of work. It just goes to show what is possible with some imagination, upcycled supplies, and a little can-do attitude.
If you enjoyed Alla's A-frame cabin, check out more details of her project on her website. http://www.allaponomareva.com/the-making-of-a-tiny-a-frame-cabin-part-2/