These days I seem to keep running into cool tiny houses for sale in Nevada. I suppose that makes sense. With its wide open spaces, there are probably a lot of beautiful, affordable plots of land which would be ideal for small homes.
This house is currently located in Yerington, and was custom-designed. It is listed for $73,000. Let's take a look.

The house rests on a trailer measuring 24′ by 8'6″. The height is 13'3". With just 192 square feet of ground floor space plus a loft adding on 96 square feet, you might think it would be cramped, but it is the farthest thing from it …

The colors of the house are really eye-catching. The gray is neutral and the purple trim is muted enough that it doesn't seem "loud" or "eccentric" in any way—yet purple is a pretty unique hue.

It makes the house stand out in a crowd without clashing with any other homes which might be around it.
The Helm—2-Story Container Home close to Magnolia Market

The colors on the interior are entirely neutral, with beautiful wood comprising the walls, the floor and the cabinets.
A couple of features stand out in this photo. First of all, the corrugated metal ceiling is not what you'd expect. I don't think I've ever seen this material on a ceiling before. It's unique and unusual, but very cool.
Secondly, I really, really like how the kitchen cabinets and the steps leading up to the loft are merged together as a single unit! It is a sophisticated flow of function with the storage underneath the steps flowing right into the kitchen drawers. This is made possible by switching from steps to a ladder above the countertop. What a smart idea! As you might have guessed, the cabinets are entirely custom-made.

Looking back from under the loft, you can see the living room, and you can appreciate all the light which comes in through the side doors. While the other windows are small, this is not necessarily a bad thing. A bit of privacy in a tiny house is nice.

The listing mentions that this is a "tile bathroom." I cannot get a good look at the floor, but I am assuming that this is what this is referring to since the walls of the bathroom are wood. You can see an aesthetically pleasing sink basin in here, a toilet, a hook for a towel, and the shower stall to the left. Apparently if you want to put a washer/dryer unit in here, you can do that. Otherwise, you can just leave it open for storage.

Ah, okay—the walls of the shower are tile, so that must be what the tile reference is about. This is great, because this makes the shower easy to keep clean.

My perspective was momentarily thrown off by this shot, probably because I am so used to seeing corrugated metal on walls and not the ceiling! But what you are looking at here is the loft. It looks like it is very roomy with lots of windows! In fact, the house boasts 14 in all.
in an infinite green oasis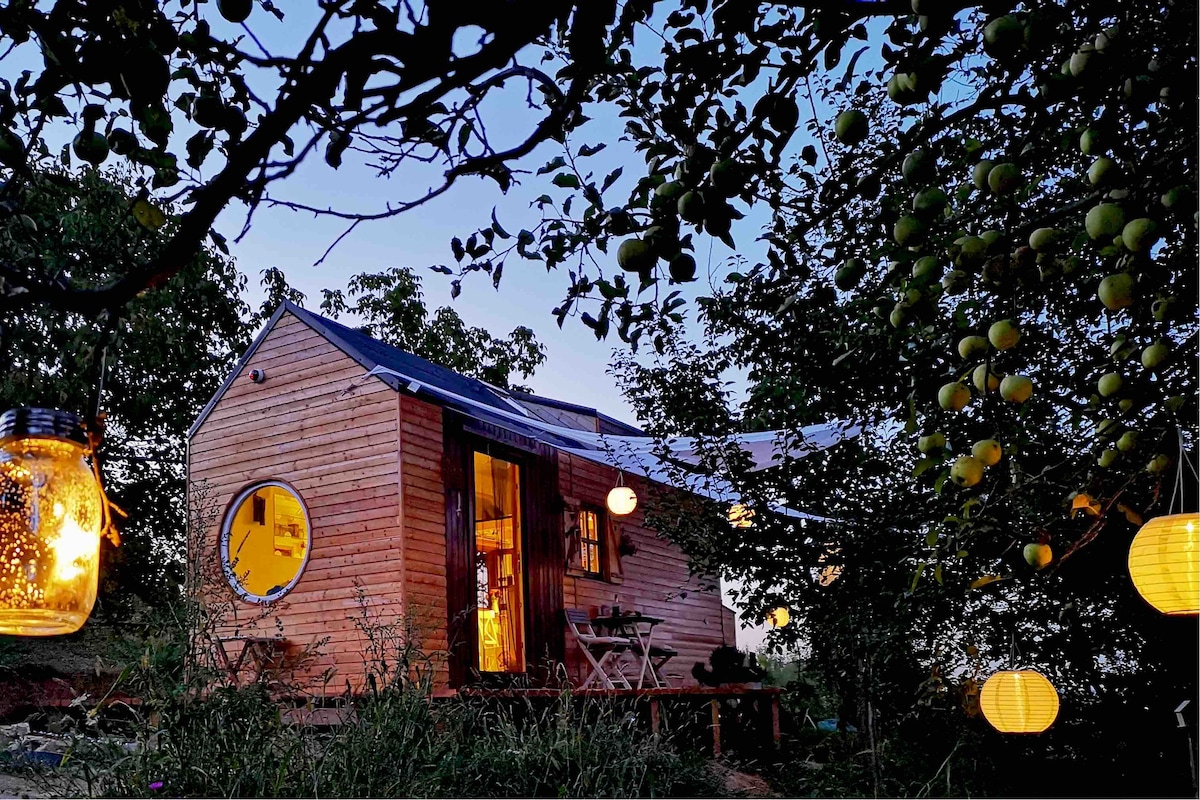 Tiny House on wheels
This is not just another bed you rest in overnight. It is a dazzling experience! Superhost Gabriella will amaze you with her cozy tiny house.
Entire house hosted by Robin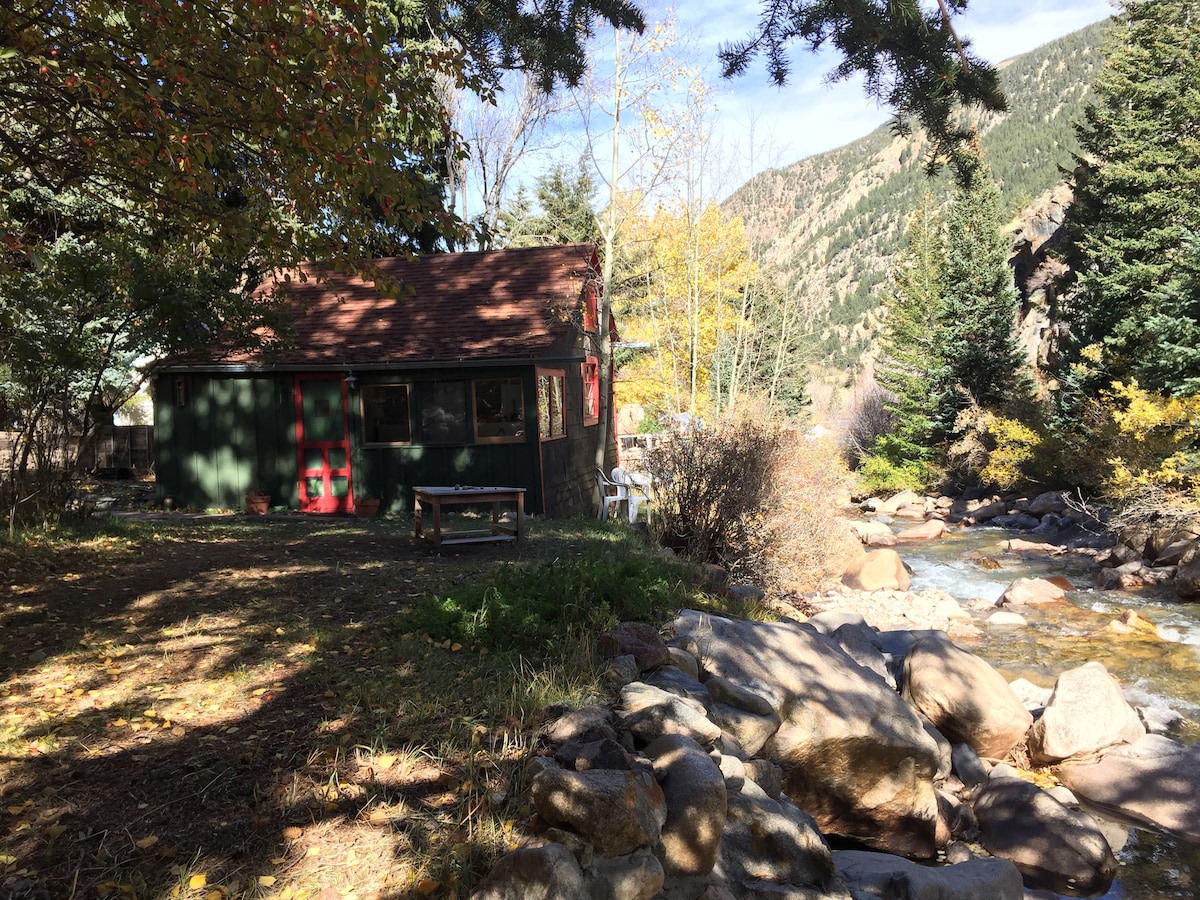 The Cricket- An amazing Tiny House!
The Cricket is a rustic historic cabin in a small neighborhood on Spring Street along side the rushing Clear Creek and nestled among an Aspen grove.
Tiny house hosted by Caroline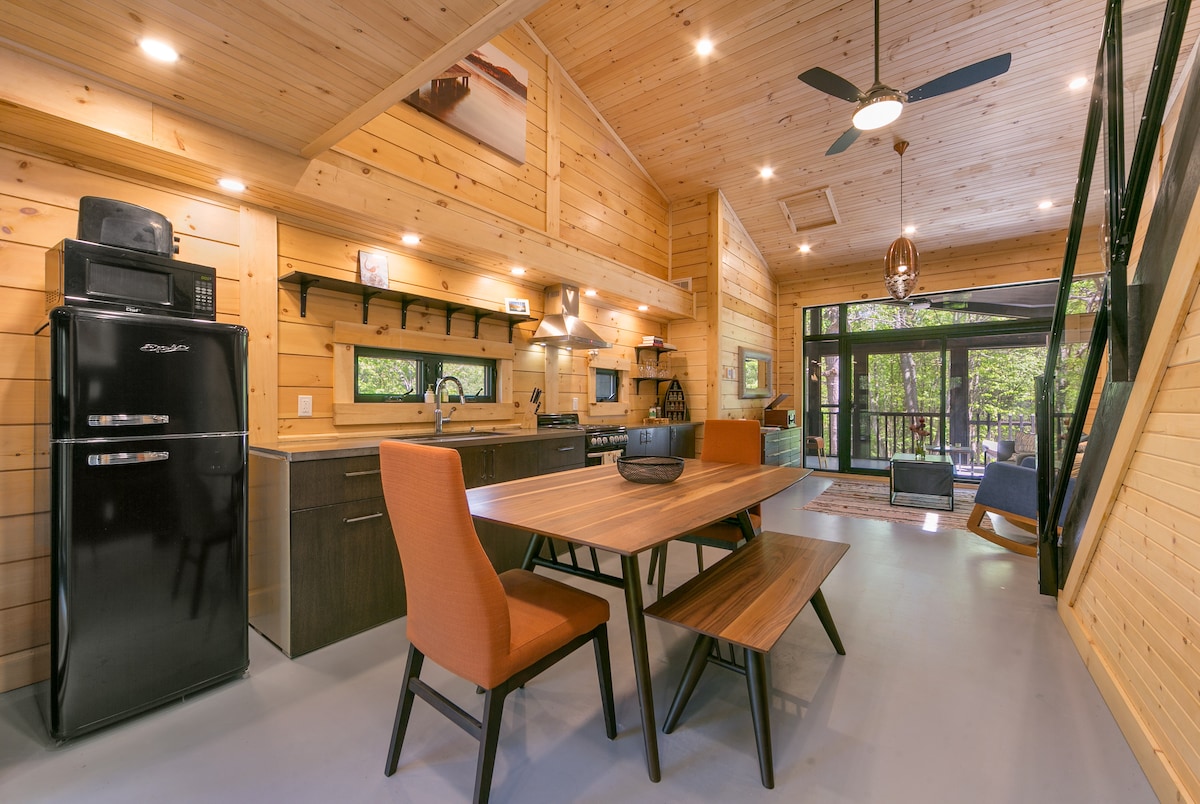 Muskoka's Luxury Tiny House
Serenely situated between Gravenhurst and Bracebridge, Tiny Haus has been custom built by an award winning architect to capture the beauty of the natural surroundings.
Love the house? Find out more in the listing on Tiny House Marketplace on Facebook.