When a company names itself "Tiny Innovations," you expect to see some innovations in their tiny house designs. One house by this builder which really delivers on that promise is the Vashon. The Vashon measures 24', offering 272 square feet of living space, complete with an 80-square-foot loft. To understand why this house really shines, we'll need to take a tour. So let's begin.

From the outside, you can see that the Vashon is already somewhat unusual. Usually tiny houses feature a lot of big windows, but here you see only a few small, narrow windows. Don't let this fool you though, because the house is hiding some big windows which you cannot see from this angle.
Like all of their homes, Tiny Innovations protects this one with DuPont Tyvek HomeWrap or WeatherSmart. The siding you see is Hardi Panel, and the insulation is closed cell spray foam.

The kitchen, while roomy and appealing, is common enough. Features include butcher block countertops, a farmhouse sink, a stainless steel apartment-sized fridge, and a propane oven and cooktop. A hookup has been implemented for a washer and dryer. Over the counter, cabinets and shelves aplenty offer all the room you need for dishes, spices and more.
The Helm—2-Story Container Home close to Magnolia Market
This house does have a loft, which you can reach via a ladder. It is pretty small, but you shouldn't let that alarm you, because it is not the home's main sleeping area, as you will see momentarily.

Check this out! It's like a proper bedroom! Seriously, this is something I feel like is a huge drawback of a lot of other tiny house layouts—the fact that there is no actual bedroom, just lofts. To me, a space to relax and feel is "yours" is important. And you actually have that here, complete with a huge window! It feels both cozy and open in all the right ways.
But there is a secret you don't know yet …

Ah hah. While this is a distinct space, it is not only a bedroom. The reason it is possible to have a bedroom in this tiny house is that it doubles as a dining nook! The bed can be collapsed, and a table and benches can be set up when it is time to eat. Then, when you want to lie down, you can get the benches and table quickly and easily out of the way, and fold the bed back down.
in an infinite green oasis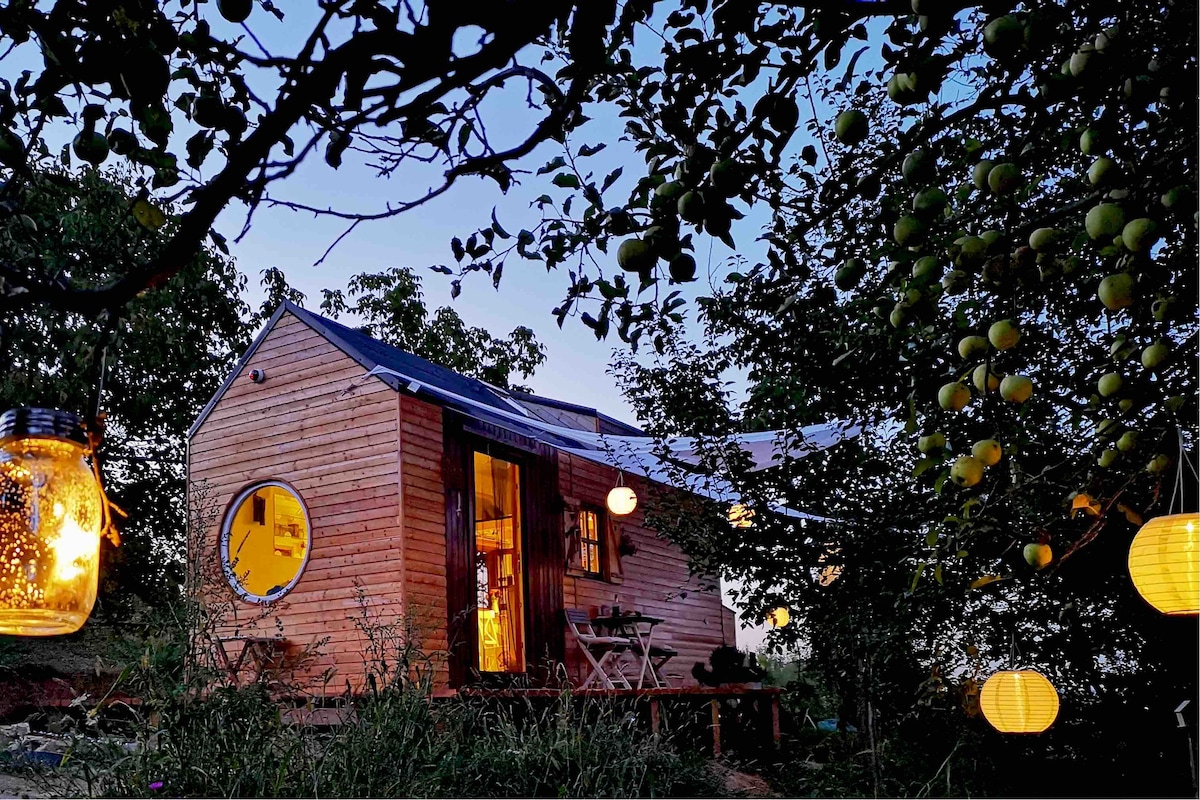 Tiny House on wheels
This is not just another bed you rest in overnight. It is a dazzling experience! Superhost Gabriella will amaze you with her cozy tiny house.
Entire house hosted by Robin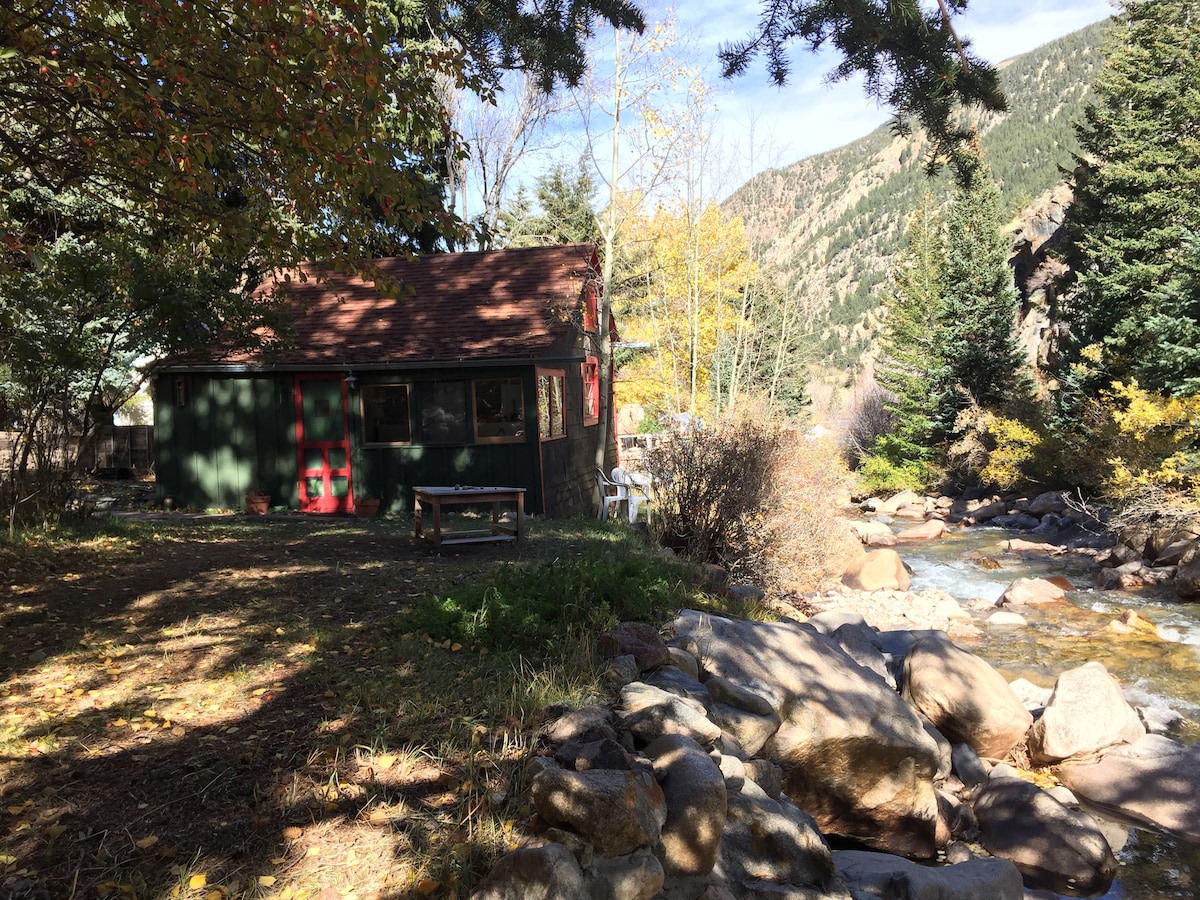 The Cricket- An amazing Tiny House!
The Cricket is a rustic historic cabin in a small neighborhood on Spring Street along side the rushing Clear Creek and nestled among an Aspen grove.
Tiny house hosted by Caroline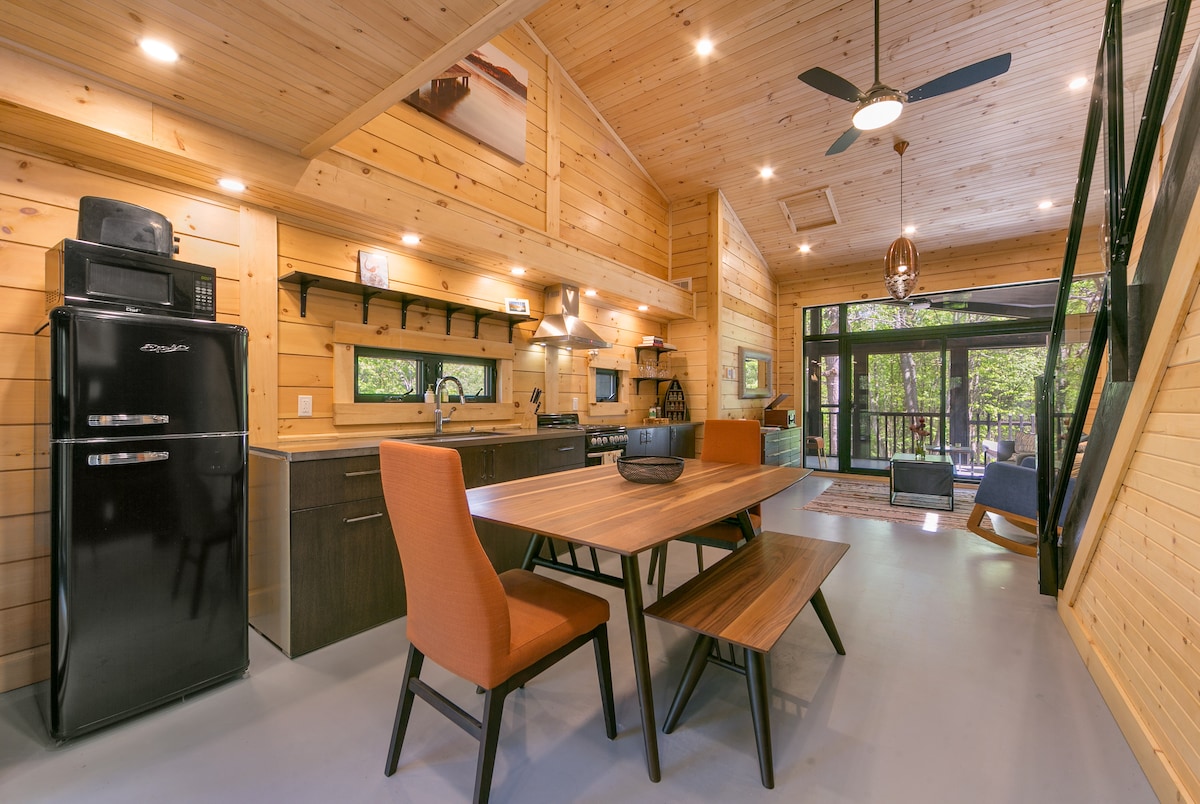 Muskoka's Luxury Tiny House
Serenely situated between Gravenhurst and Bracebridge, Tiny Haus has been custom built by an award winning architect to capture the beauty of the natural surroundings.
If you would like to learn more about this configurable tiny house, visit Tiny Innovations. You can purchase the Vashon starting at only $65,000, though the specialized furnishings you see above are an add-on with an additional cost.