Ever wonder what it would be like to live in the White House? Okay, so you probably are never going to find that out (unless of course you visit D.C. and take the tour). But you can live in the "White House" tiny house designed by Sun Bear Tiny Homes. With such a stately name, it has a lot to live up to—and it delivers. Let's check it out.

As you can see, "White House" isn't simply a literal name. The façade of the home is not white at all. It is quite clearly gray.

The rustic doors are an odd but delightful touch of rustic design in an otherwise contemporary-looking home.

The house measures 24' x 8.5', and was built to last using 20-gauge structural steel studs and 24-gauge metal siding with a metal roof. With the D ring tie-downs and stabilizing jacks at the trailer's corners, it is structurally sound and built to stand the test of time. Meanwhile, closed cell spray foam insulation helps maintain the interior temperature while 24-gauge galvanized sheet metal protects the bottom.

The exterior of the house is pleasing to the eye, but it is a little generic. So it did nothing to prepare me for how stunning and distinctive the interior was going to be …
Wow! Those Brazilian Pecan hardwood floors are beautiful! And yes—that is the same wood you see on the countertops. Nothing went to waste here!

The custom cabinets provide you with a total of 14 drawers to store all of your stuff. Pretty impressive. Cabinets doubling as stairs lead up to a roomy loft. Underneath the loft is the bathroom.

The bathroom is so efficiently and seamlessly worked into the design that it almost looks like more hidden storage itself! Notice the cool sliding barn door—another rustic embellishment.
The Helm—2-Story Container Home close to Magnolia Market

This spacious closet is a luxury all in itself.

There is plenty of clearance for the ceiling in the loft, a nice divergence from the low-ceilinged lofts which predominate the tiny house world.

There is even room in the White House for a washer and a dryer. How cool is that?

Wow … I can't believe I'm seeing this. There is a second loft, and it's larger than a lot of the primary lofts I have seen in other tiny houses.

I think this home features a nice blend of the type of contemporary décor which you see in many suburban homes (and which we naturally associate with comfort as a result), but with those rustic touches which give it a more authentic vibe. And you have got to love that roomy sink!

With three burners, you can cook anything your heart desires in this beautiful kitchen.

The simple color scheme which emphasizes greys and browns has a calming effect.

From this shot, you can see that the secondary loft isn't huge, but it's not tiny either.

The storage here really is awesome. And look at all that space you have for food!

There is artistry in every detail here, even the shower.

The cabinet space is just incredible.

Storage … storage … and more storage!

Here is what the kitchen area looks like with the sliding barn door to the bathroom closed.
Here's a better look at the bathroom:

There are a lot of other impressive features which make the White House even more luxurious. These include a satellite TV, an exterior faucet, ports for six exterior cameras, built-in blinds for the front door (maintenance-free), an oscillating fan on the ceiling, warm and cool tones for the lights, and so much more.
in an infinite green oasis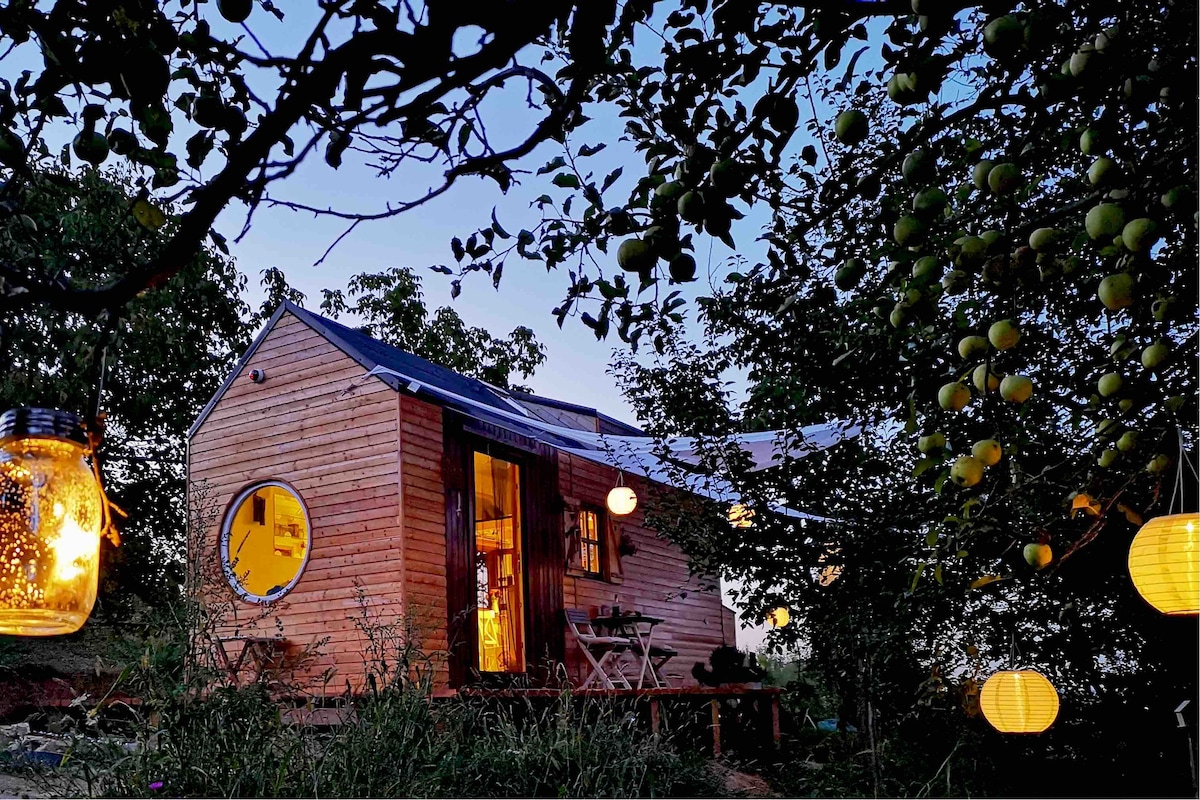 Tiny House on wheels
This is not just another bed you rest in overnight. It is a dazzling experience! Superhost Gabriella will amaze you with her cozy tiny house.
Entire house hosted by Robin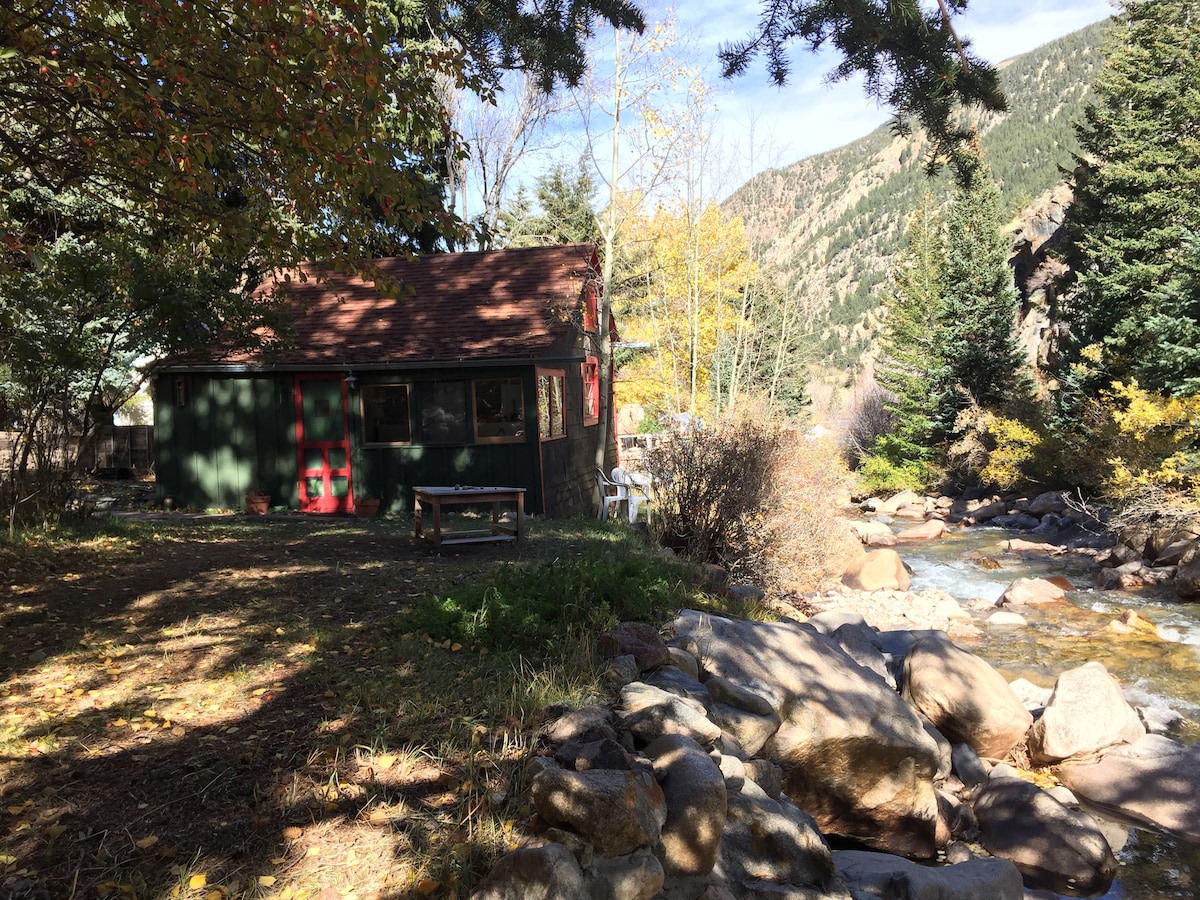 The Cricket- An amazing Tiny House!
The Cricket is a rustic historic cabin in a small neighborhood on Spring Street along side the rushing Clear Creek and nestled among an Aspen grove.
Tiny house hosted by Caroline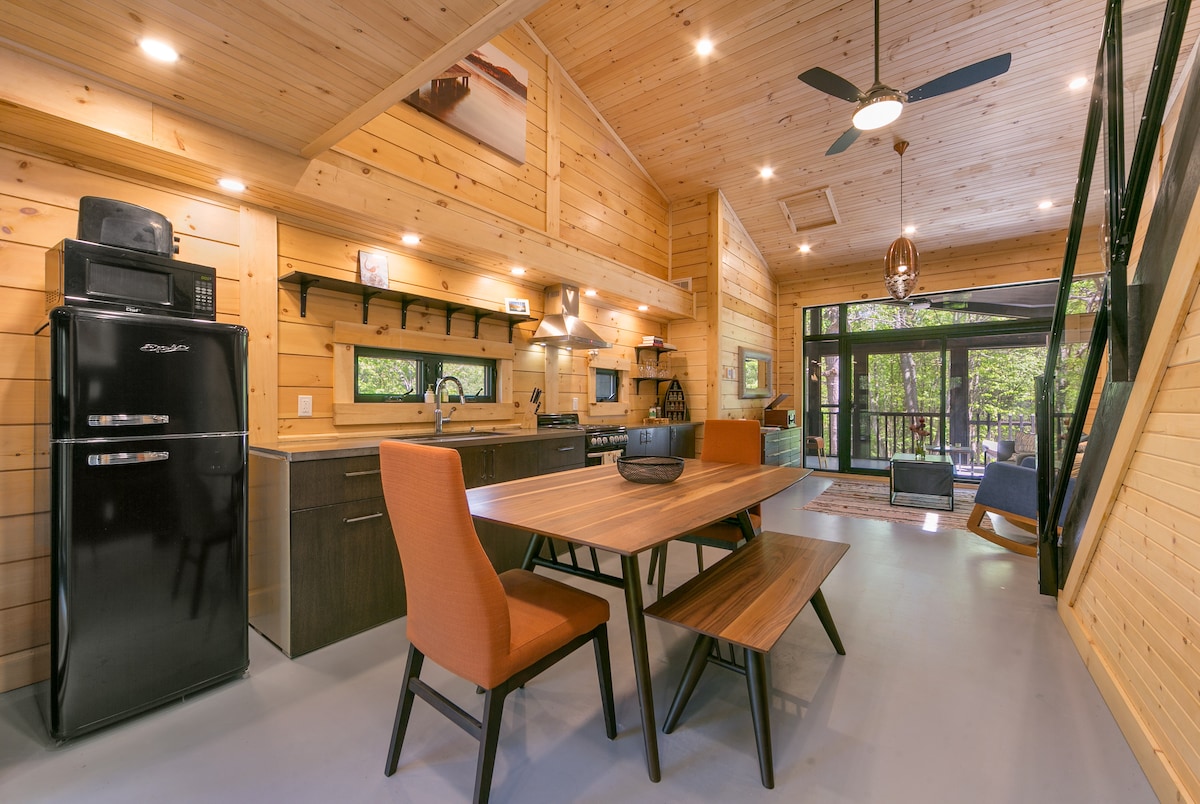 Muskoka's Luxury Tiny House
Serenely situated between Gravenhurst and Bracebridge, Tiny Haus has been custom built by an award winning architect to capture the beauty of the natural surroundings.
There are a lot more photos on the Sun Bear Tiny Homes website, so you should swing by and take a look. The home measures 335 square feet in total, and costs $75,000. That is a bargain considering how many luxury features are packed in. With your own tiny White House, you'll never need to dream about living in a DC mansion ever again. You'll have your own little private palace with all you could ask for in one tiny space!