Who doesn't dream of living in an amazing home on Cape Cod? And what better idea than to build a tiny house? This gorgeous little home makes the most of the beautiful natural scenery which Cape Cod has to offer. A minimalist design with plenty of windows invites spectacular views and lots of light. Let's take a tour.

The house is situated in the woods, and measures just 570 square feet. That is larger than a lot of the tiny houses that we feature on this site, but still a small profile. Design studio Alchemy Architects refers to it as the "penthouse in the woods." Interestingly enough, it actually includes a basement. This was done so that the owner has the option of expanding the structure later.

Stairs lead up to a wide deck which effectively expands the floor space of the home. It flows right into the interior through the large glass doors.
The Helm—2-Story Container Home close to Magnolia Market

The wood used for the exterior of this home is just breathtaking, isn't it?

The house was designed for an author and professor. It is easy to imagine him relaxing here on the sheltered porch after a day of writing.

The color scheme inside the home mirrors the design in its simplicity. Natural wood is the main hue, offset by some bright pops of red. I like the kitchen shelves, since you can see into them, but they are not fully transparent, so they have a "clean" look rather than a messy one.

570 square feet is enough to provide a spacious, luxurious bathroom complete with a full-size shower. This bathroom is actually roomier than some I have seen in full-size homes.

An overhead drawing shows the layout of the home with the living room, bedroom, bathroom, and porch.
in an infinite green oasis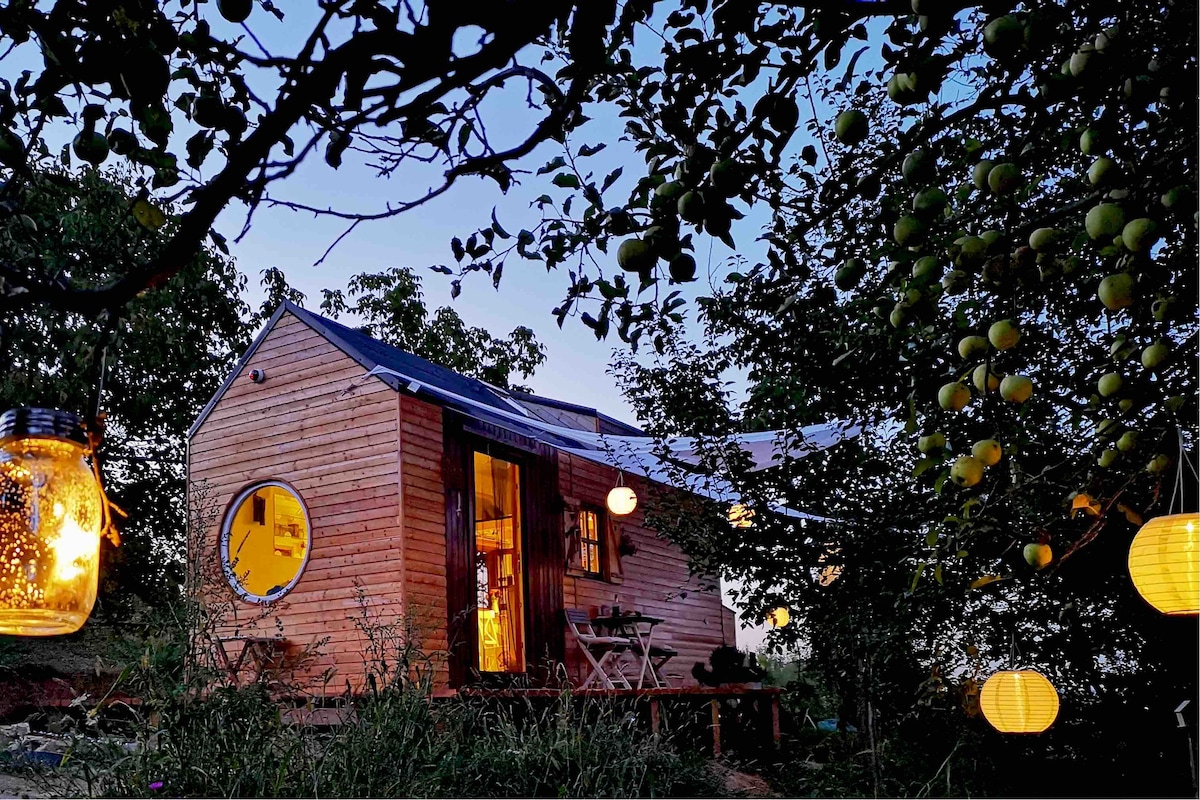 Tiny House on wheels
This is not just another bed you rest in overnight. It is a dazzling experience! Superhost Gabriella will amaze you with her cozy tiny house.
Entire house hosted by Robin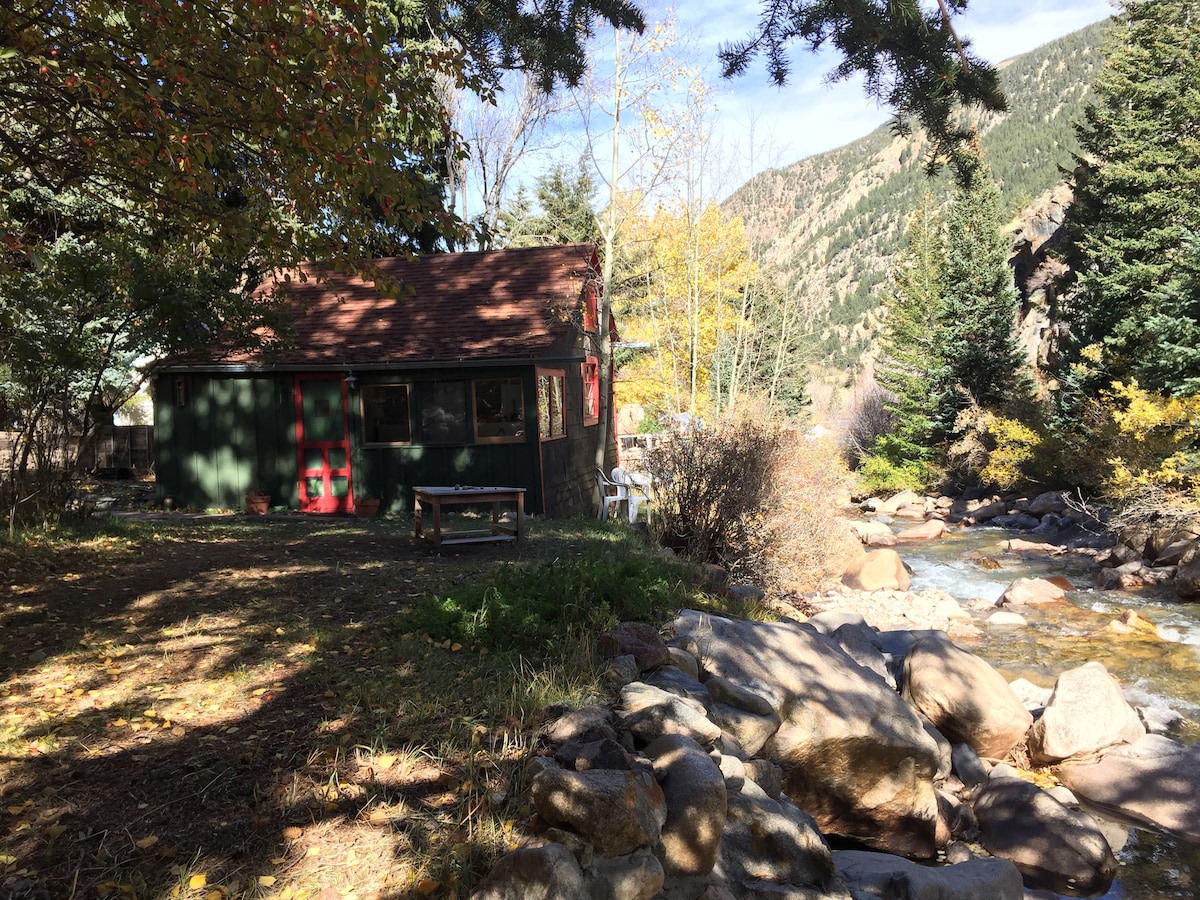 The Cricket- An amazing Tiny House!
The Cricket is a rustic historic cabin in a small neighborhood on Spring Street along side the rushing Clear Creek and nestled among an Aspen grove.
Tiny house hosted by Caroline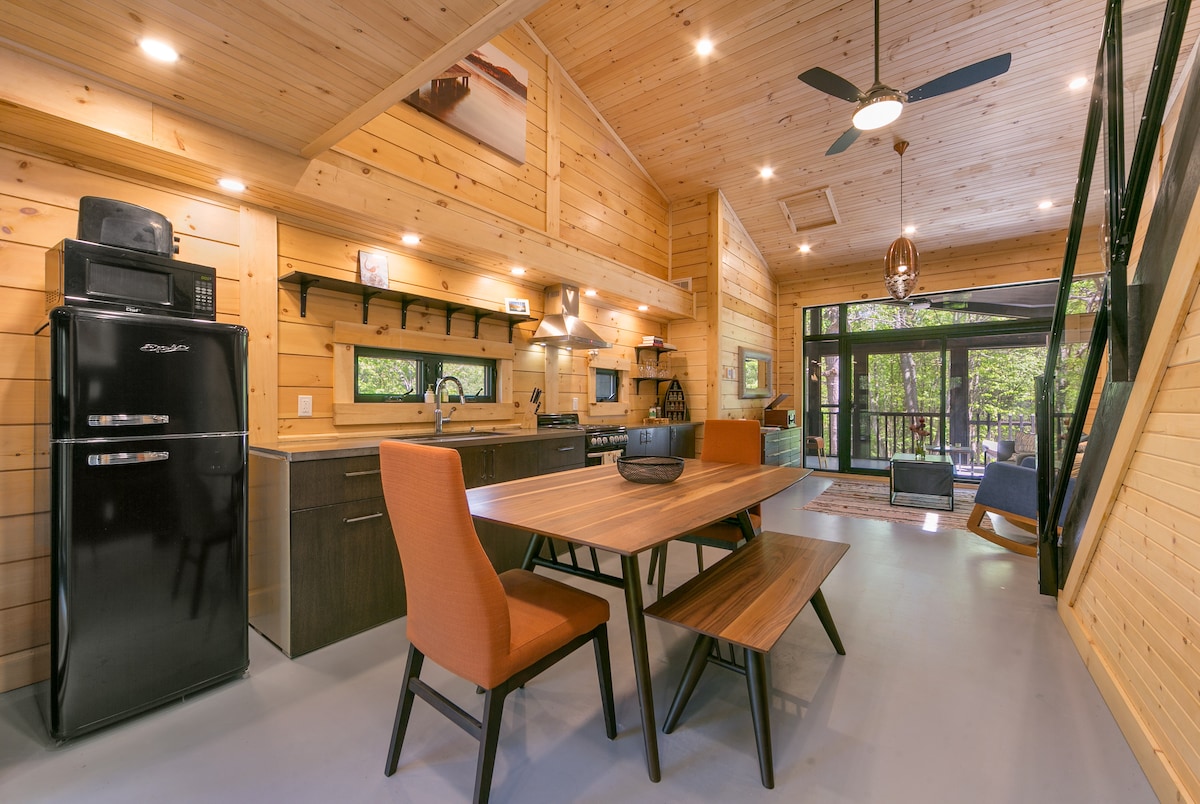 Muskoka's Luxury Tiny House
Serenely situated between Gravenhurst and Bracebridge, Tiny Haus has been custom built by an award winning architect to capture the beauty of the natural surroundings.

What a stunning tiny home! Alchemy Architects has done it again—they've crafted an unbelievable gem amidst some of the most beautiful scenery imaginable. Find out more at their official site.