What would it be like to live in a tiny treehouse surrounded by a beautiful forest? You can answer that question for yourself firsthand by booking a stay at the Modern Treehouse at Coldwater Gardens in Florida. This tiny accommodation lifts you up above the ground where you will find yourself surrounded by spectacular foliage in refreshing solitude.

Raised up on stilts above the forest floor, this treehouse can be reached by climbing a flight of stairs. The appealing modern design features a covered balcony between the two indoor sections of the structure.

Here is what it is like to stand out on the beautiful deck, looking in through the wide-open doors at one section of the treehouse.

This is where the two queen-size beds are located. Each has a large window next to it so that the views can be enjoyed to their fullest.
The Helm—2-Story Container Home close to Magnolia Market

A private restroom in the treehouse provides a toilet, shower, and sink.

The kitchen is located in the other section of the treehouse. What a view! Cooking in this room would be downright magical.

Once you finish cooking, you can bring your meal out to enjoy on the patio. You also can go back downstairs to find a fire pit waiting for you on the ground.

Sometimes the simplest layouts are the smartest ones. Because this patio is shaded on two sides and covered, you would probably be able to avoid direct rays for much of the day.

There is heat and air conditioning in the treehouse so that it is ready for every season.
in an infinite green oasis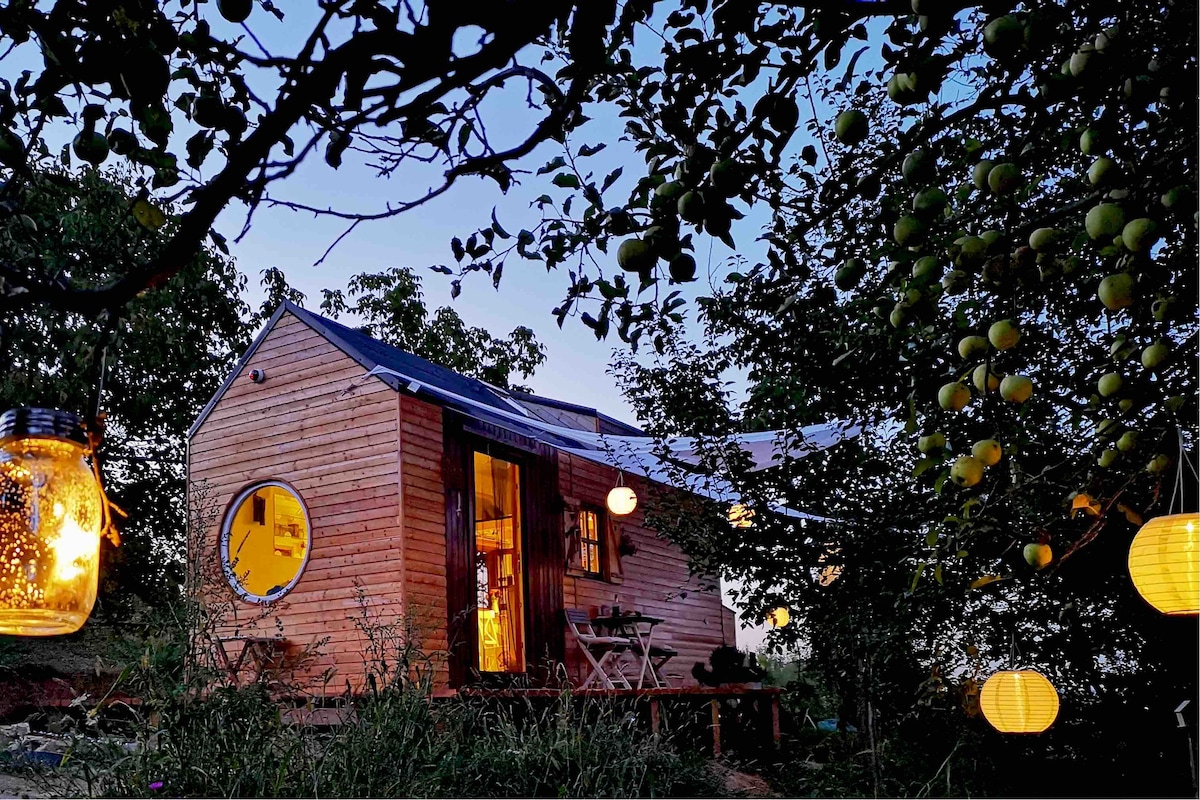 Tiny House on wheels
This is not just another bed you rest in overnight. It is a dazzling experience! Superhost Gabriella will amaze you with her cozy tiny house.
Entire house hosted by Robin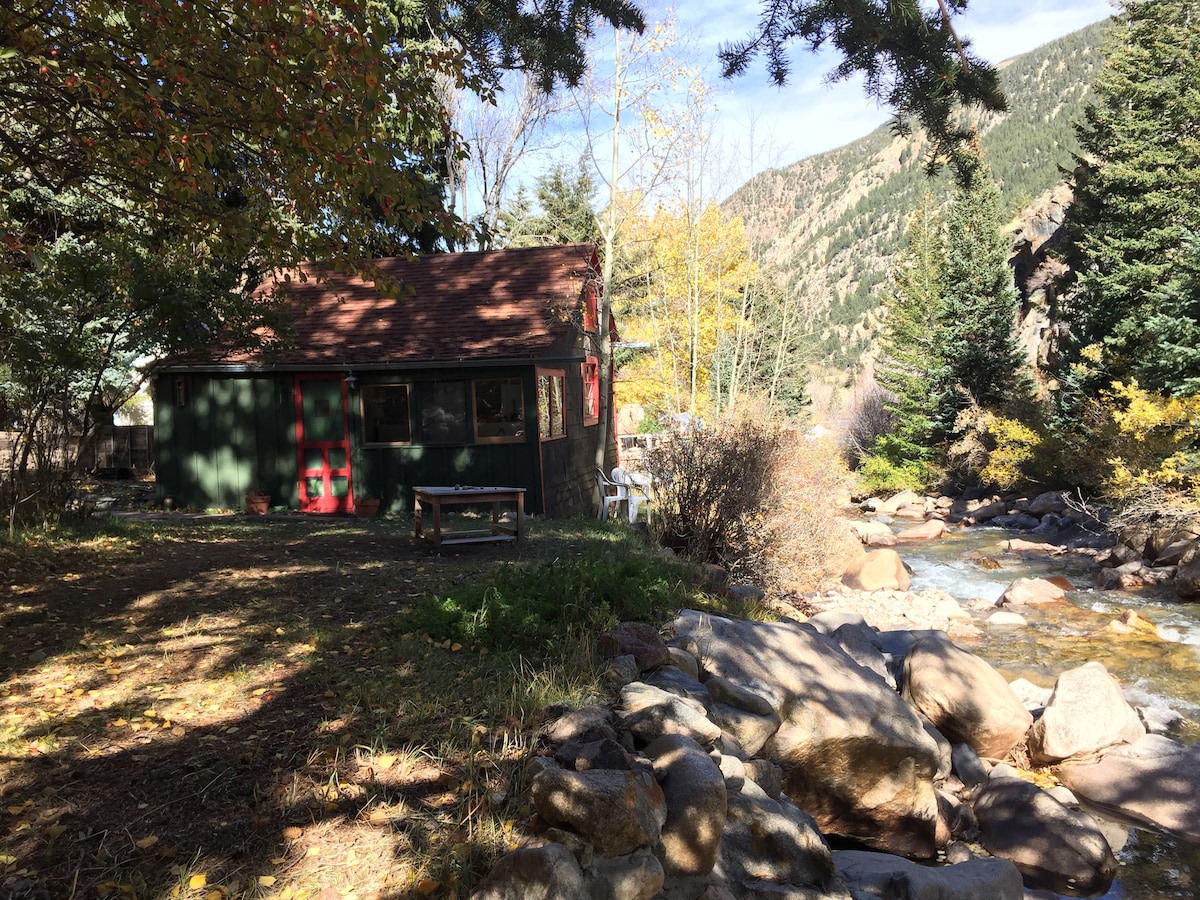 The Cricket- An amazing Tiny House!
The Cricket is a rustic historic cabin in a small neighborhood on Spring Street along side the rushing Clear Creek and nestled among an Aspen grove.
Tiny house hosted by Caroline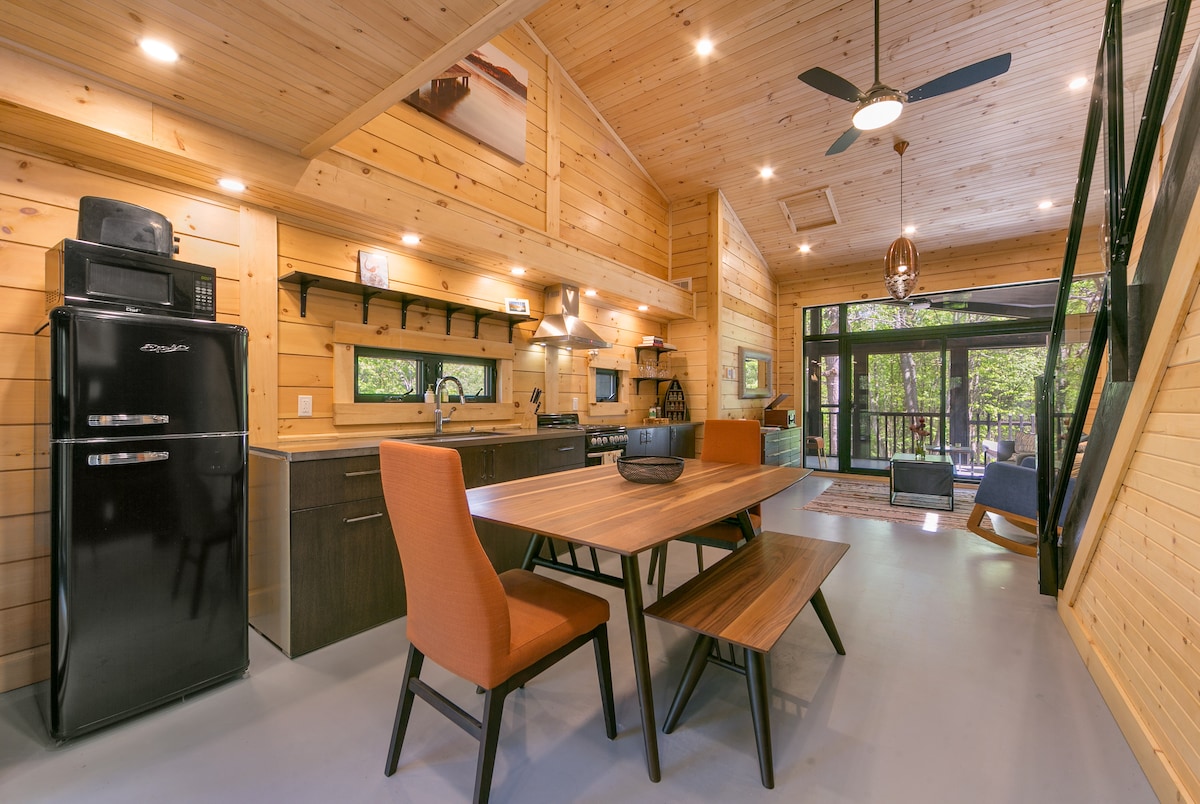 Muskoka's Luxury Tiny House
Serenely situated between Gravenhurst and Bracebridge, Tiny Haus has been custom built by an award winning architect to capture the beauty of the natural surroundings.

If you would like to book a stay, the price is $190 a night on weekends or $170 a night on weekdays. There is enough room for four people to sleep comfortably in the treehouse. Visit Coldwater Gardens to book a reservation.