Park Model Homes creates tiny houses which are beautiful, open, sturdy, and frequently more accessible than those designed by competitors. Recently, they decided to knock $10,000 off the price of this gem.

The first thing you'll notice is just how many windows this tiny house boasts. If daylight and expansive views are what you are looking for, you have certainly found them.

From this angle, I swear that the windows look even more amazing.

Most tiny houses feature wood flooring. While that look is rustic and beautiful, sometimes it is cool to see something a little bit different. I just love the contemporary vibe that this flooring provides along with the other design choices in the interior. The dark trim around the windows and ceiling does a lot to make every feature of this room stand out in an elegant and striking fashion.

The vaulted ceiling makes the room feel even more spacious and grand. Large curtains allow you to screen out the light or maintain your privacy when you need to.

Standing in the living area with the big windows behind us, we have the kitchen positioned ahead of us.
The Helm—2-Story Container Home close to Magnolia Market

The kitchen feels a bit more enclosed than the living room, but there is still ample counter space on which to work and lots of light coming in through the window over the sink. An oven, cooktop and microwave are already installed.

There are also a refrigerator and freezer offering plenty of food storage space.

A definite selling feature of the home is its large shower, which looks like it might double as a bathtub. Tiny house showers often are about half this size, and usually do not include any sort of tub. It looks so comfortable to stand in here! Like the rest of the house, the bathroom also has a very pleasant ambiance.

There is a full-size room in the back which could serve as a bedroom. So many tiny houses have nothing like this. Park Model Homes puts an emphasis on it in many of their designs, which is welcome news for those who want to avoid staircases and ladders.

You can really appreciate the spectacular effect of the trim and its contrast with the walls and doors in this photo.

Wow! A tiny house with an actual coat closet right by the front door. This is not something you see every day.

Something else that Park Model Homes excels at is providing more than enough cabinet and drawer space for all your belongings. There is also a ceiling fan with a contemporary design which fits well with the rest of the interior, and which can help to keep your cooling costs down in the summertime.

You can fit a large bed in here between the floor cabinets and underneath those on the ceiling. This provides plenty of handy storage spaces which are accessible when you are sitting on the bed. It also gives you a bedside table on either side.

Strolling back through the house, here is another angle of the kitchen.

When you are working in the kitchen, you get to enjoy all of the light flowing in through the big windows, and you can look out at whatever beautiful views greet you from outside.
in an infinite green oasis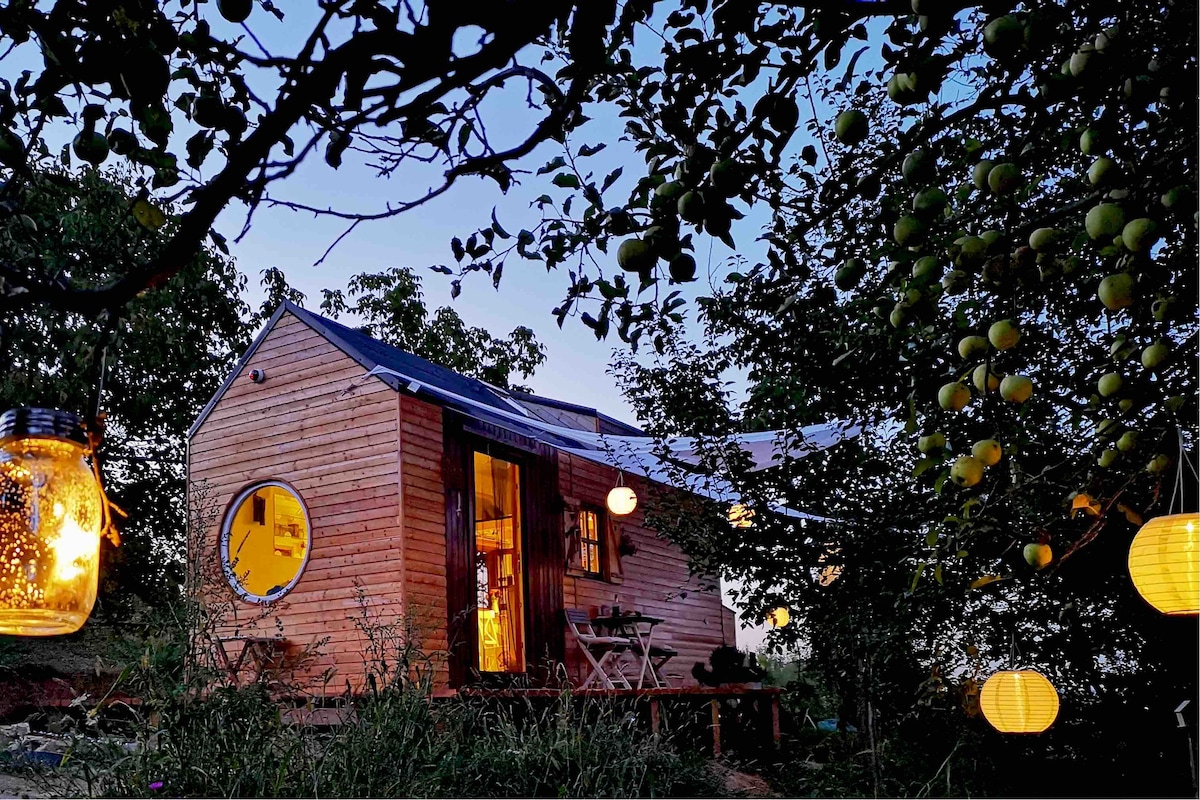 Tiny House on wheels
This is not just another bed you rest in overnight. It is a dazzling experience! Superhost Gabriella will amaze you with her cozy tiny house.
Entire house hosted by Robin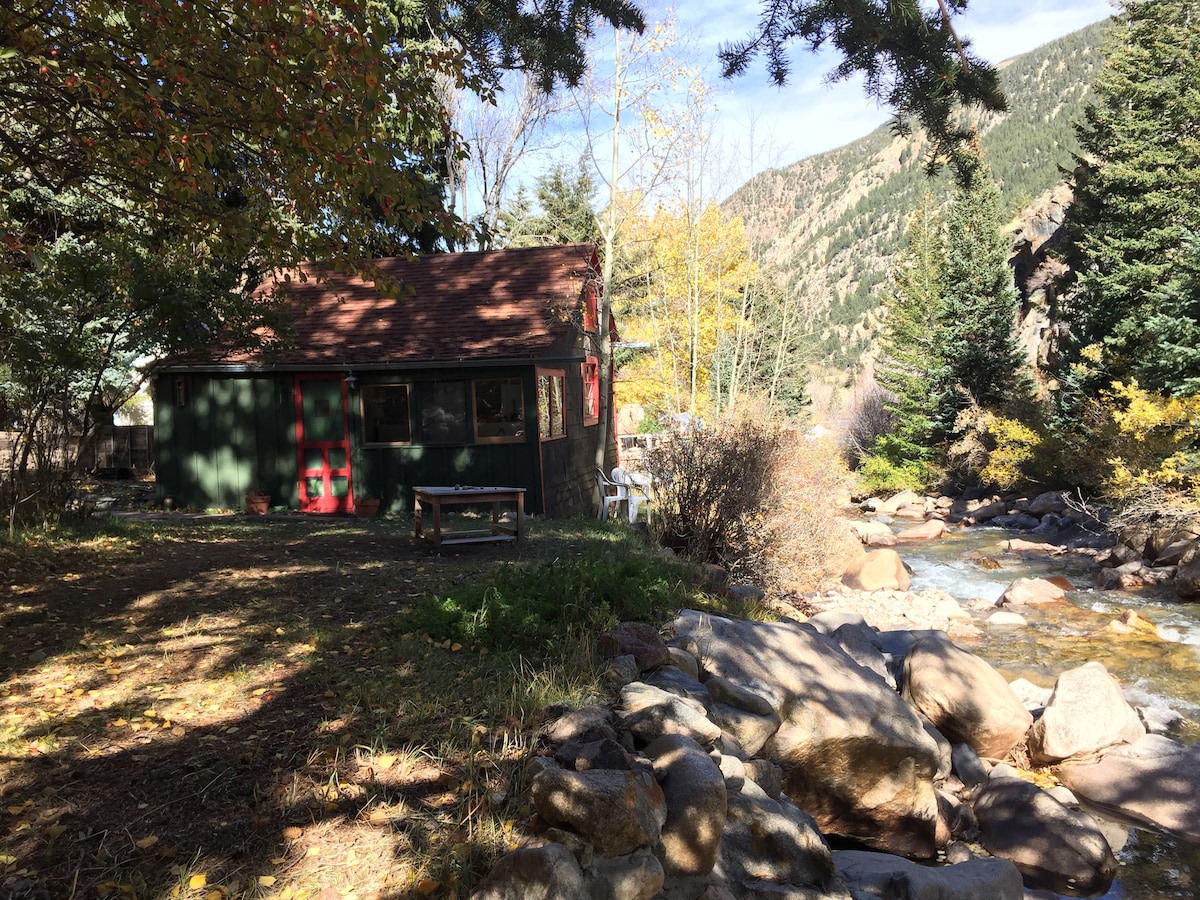 The Cricket- An amazing Tiny House!
The Cricket is a rustic historic cabin in a small neighborhood on Spring Street along side the rushing Clear Creek and nestled among an Aspen grove.
Tiny house hosted by Caroline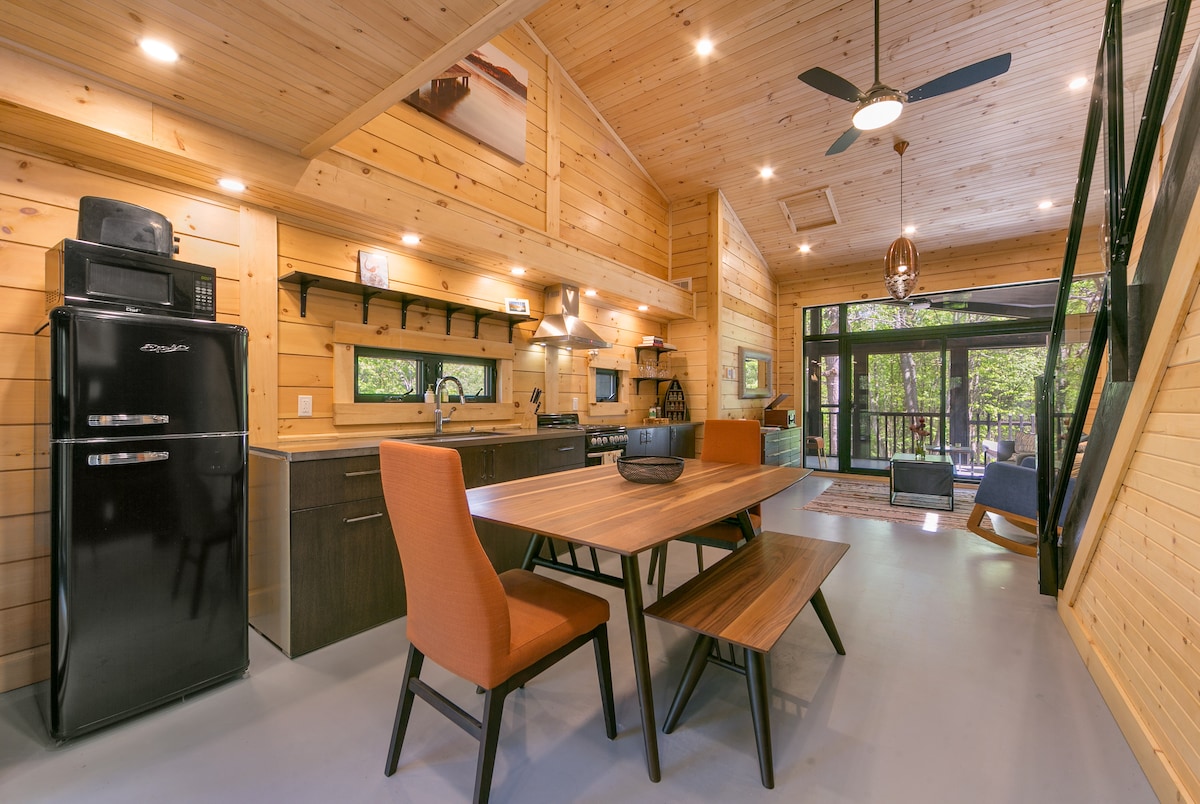 Muskoka's Luxury Tiny House
Serenely situated between Gravenhurst and Bracebridge, Tiny Haus has been custom built by an award winning architect to capture the beauty of the natural surroundings.
This really is a stunning tiny house with an abundance of useful features and a distinctive contemporary interior with minimalist but eye-catching design accents. If you would like to make it your own, Park Model Homes is able to ship it anywhere in the USA.
Please send all inquiries to: Park model homes – website here. You can also call Joey Nelson directly at 888-222-2699. Please let him know that itinyhouses.com sent you!