Love gypsy wagons, and want a tiny house that looks a bit like one? Then this 205-square-foot house which is currently for sale in Agawam, MA, will catch your eye.

You can see how the overall shape of the house is very much inspired by a gypsy wagon, though the house itself is not a wagon at all, and has a lot of homey suburban touches to its design.

The interior of the tiny wagon-inspired house is all warm wood and simple, homespun design. Features the seller lists are, "Beautiful, roomy, Queen Murphy bed, full bath, on-demand water heater, all electric, sewer ready. 50 amp."
You see seating and a small table on the right, a dresser on the left, and what looks to be (but isn't) a huge cabinet/closet on the way to the kitchen in the back. The seller writes that you can have the furniture included without paying extra for it. If you do not have furnishings already for the house, this is an offer which I would jump on, considering that the furnishings are unique, beautiful, and look to be very functional as well. Plus, it would save you the time and effort (and backaches) of getting the new furnishings inside the house.
The Helm—2-Story Container Home close to Magnolia Market

As I mentioned, this isn't a cabinet or a closet at all, but rather the home's Queen Murphy Bed. You can fold it down into the center of the home when you want to relax or sleep, and fold it right back up out of your way to have a large functional living space when it is not needed.

The furnishings look like they are beautiful antiques or something. I wonder where they came from.

For such a tiny home, this one provides a lot of counter space in the kitchen! It should be super easy to prepare your meals in here.

The bathroom is more spacious than you might have expected given the small size of the house, but you can see how much space is saved in a layout simply by having a bed you can collapse against the wall. All of that extra floor space is available to use in other areas of the home like the bathroom. So you end up with plenty of room for a nice big shower.

Next to the shower is a flush toilet.

This won't, of course, be "Shirley's House" anymore, so you'll be replacing that sign. But you can perhaps already visualize the sign you'll put up above the door declaring that this unique abode belongs to you.

If you were going to leave the bed down all of the time, it actually wouldn't impinge as much on the living space as you might think. You'd have to get around it to get to and from the kitchen from the front door, but you can see that there would still be adequate room for seating in the living room.
in an infinite green oasis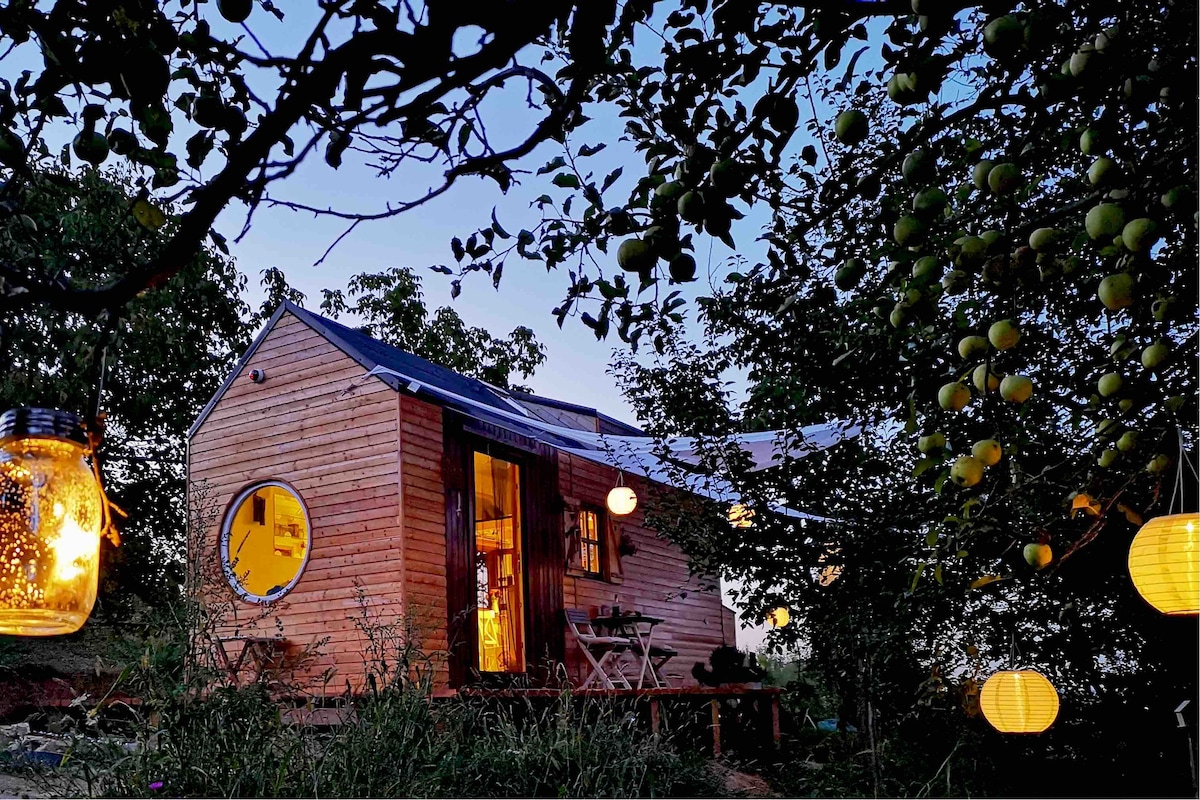 Tiny House on wheels
This is not just another bed you rest in overnight. It is a dazzling experience! Superhost Gabriella will amaze you with her cozy tiny house.
Entire house hosted by Robin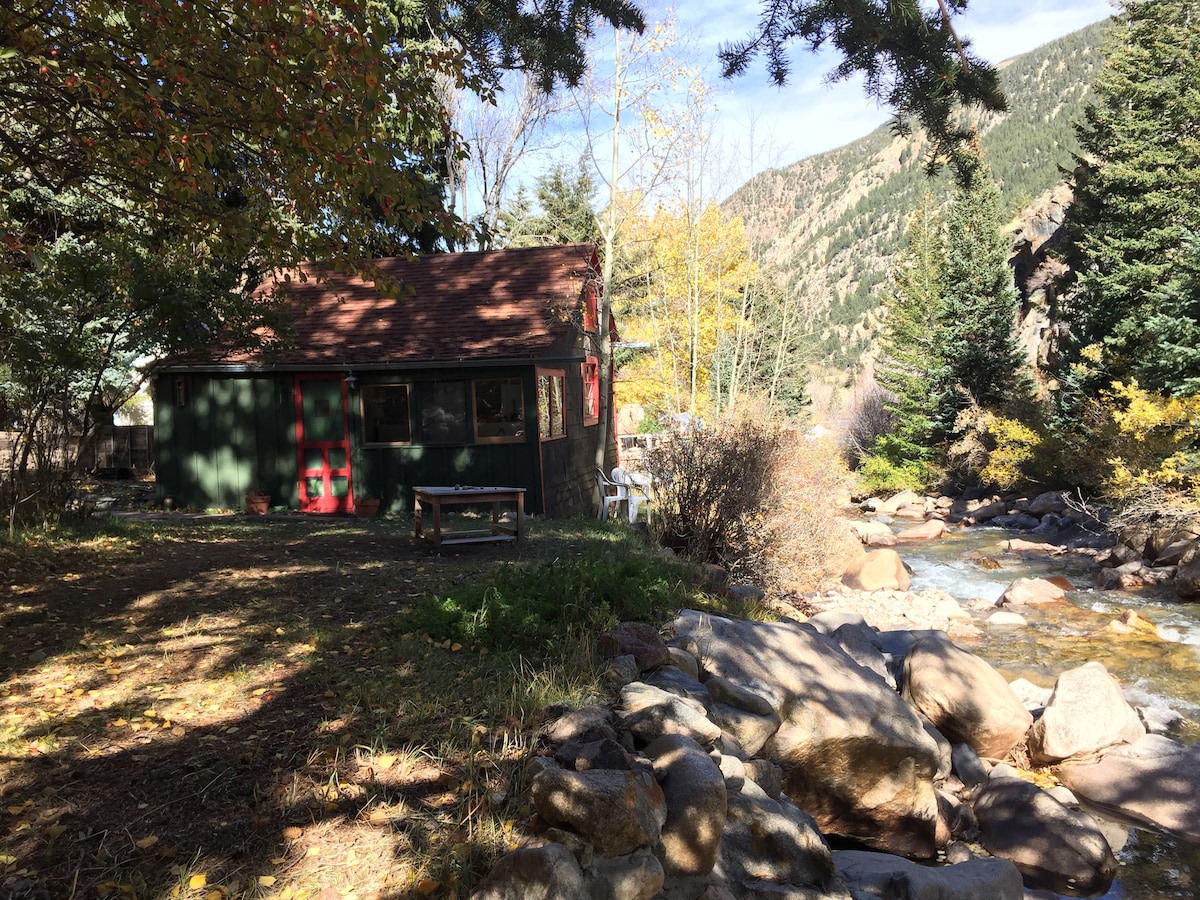 The Cricket- An amazing Tiny House!
The Cricket is a rustic historic cabin in a small neighborhood on Spring Street along side the rushing Clear Creek and nestled among an Aspen grove.
Tiny house hosted by Caroline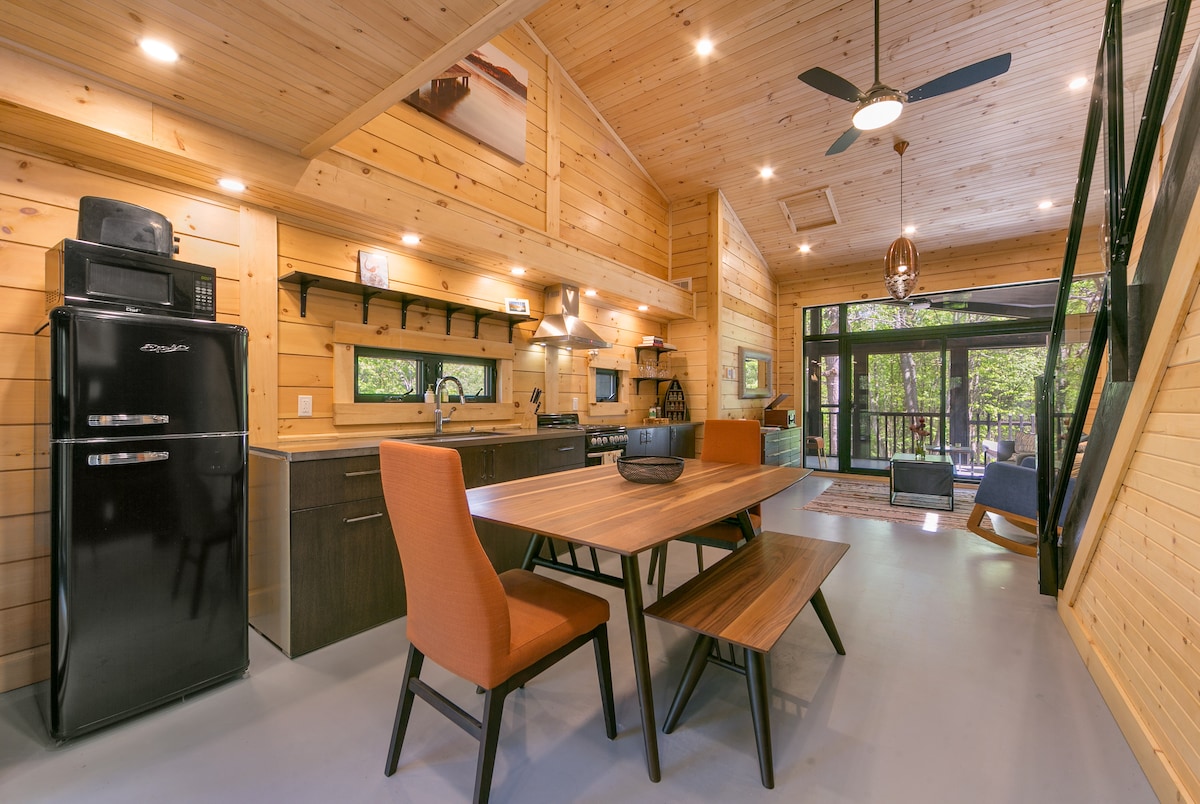 Muskoka's Luxury Tiny House
Serenely situated between Gravenhurst and Bracebridge, Tiny Haus has been custom built by an award winning architect to capture the beauty of the natural surroundings.
Do you want to own this adorable tiny house? You can purchase it for $38,000. From the sound of things, a number of interested parties have already contacted the seller, so I wouldn't wait too long to act. You can reach the seller at the Tiny House Marketplace post, and mention itinyhouses.com sent you.