Most tiny houses are more or less patterned on the standard layout for a motorhome. But does it follow that this is the only viable approach? Maybe not. The innovative Tiny Traveler by Tiny Smart House is a gorgeous little home patterned off of the layout for an ordinary truck camper.

It sure looks like a regular truck camper when you only consider the profile! But when is the last time you ever saw a truck camper made out of cedar? Probably never. It's even got a homey porch!

From this angle, it sure looks a lot like a traditional house! In fact, if this was the only shot you saw, you wouldn't expect it to be a truck camper. The cedar wood walls are lined with rigid foam insulation for comfort year-round. An aluminum frame ensures strength.

The porch is quite clever. The steps go up between two benches where you can sit and relax. They open up to reveal spacious storage areas.

With views like this, you would want to spend a lot of time relaxing under the shade of the awning …
The Helm—2-Story Container Home close to Magnolia Market

The interior walls, like the exterior walls, are cedar. Vinyl plank flooring completes the luxurious look.

The cabinets are made of lightweight plywood, and in the kitchen, you have a sink featuring a pull-out faucet, a 4.7 cubic foot refrigerator, and a 2-burner stove.

The bed is located in a cozy little nook off of the main area. A skylight ensures that it is well-lit.

The bathroom fits into a little nook as well.

It's actually pretty astonishing that a shower and a toilet both fit into this tiny space.

Here is some comfortable seating which looks like it can also be used as a bed in the main living space.

Is this home tiny? Yes—it is very tiny. The overall length of the house is just 17'5", with the floor measuring a mere 8'10". The exterior width is 7'7", and the exterior height is 8'5". The interior height is 6'1". Lighting inside is provided by LEDs, and powered by solar panels.
in an infinite green oasis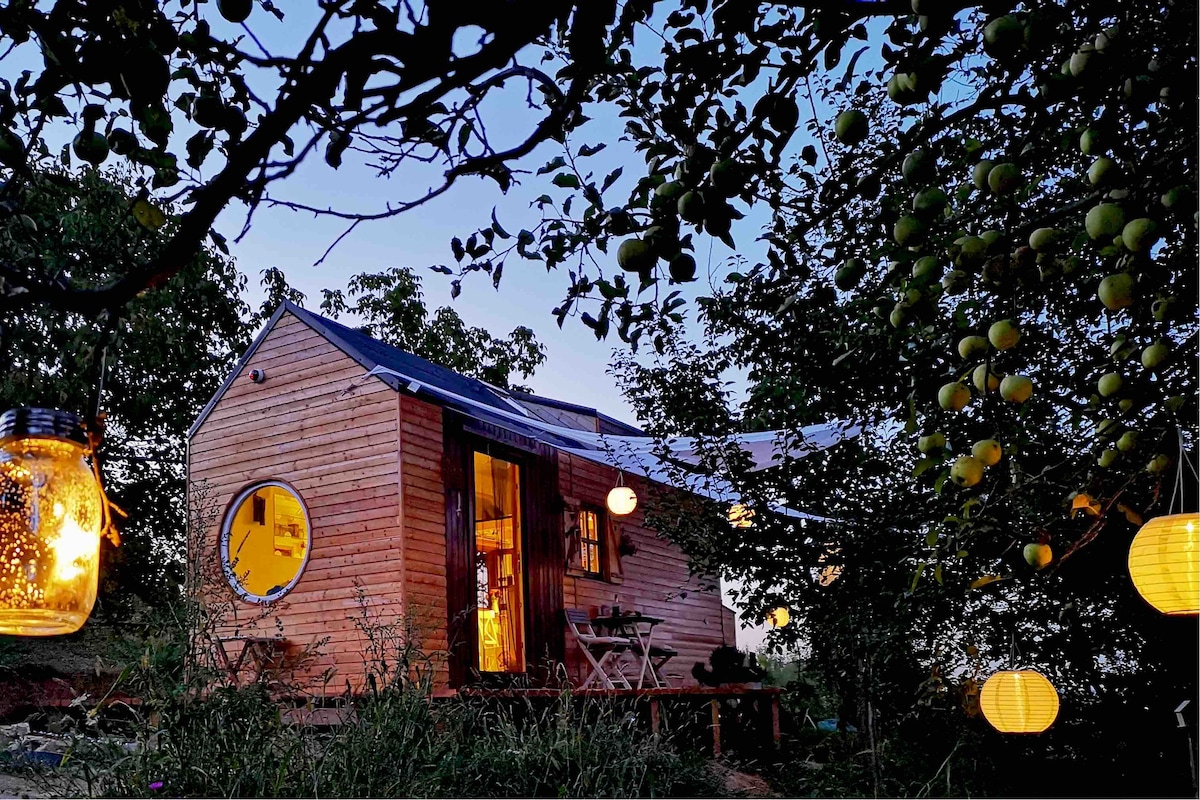 Tiny House on wheels
This is not just another bed you rest in overnight. It is a dazzling experience! Superhost Gabriella will amaze you with her cozy tiny house.
Entire house hosted by Robin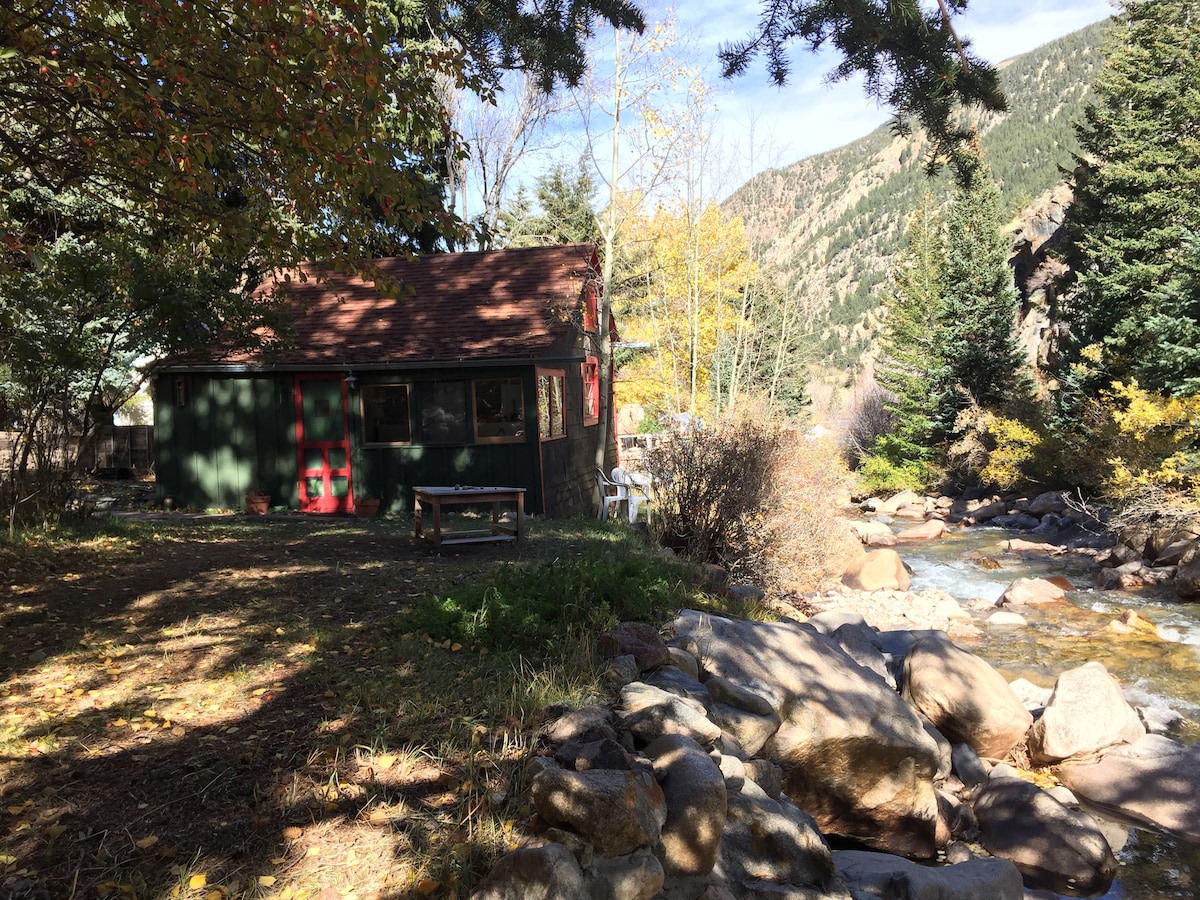 The Cricket- An amazing Tiny House!
The Cricket is a rustic historic cabin in a small neighborhood on Spring Street along side the rushing Clear Creek and nestled among an Aspen grove.
Tiny house hosted by Caroline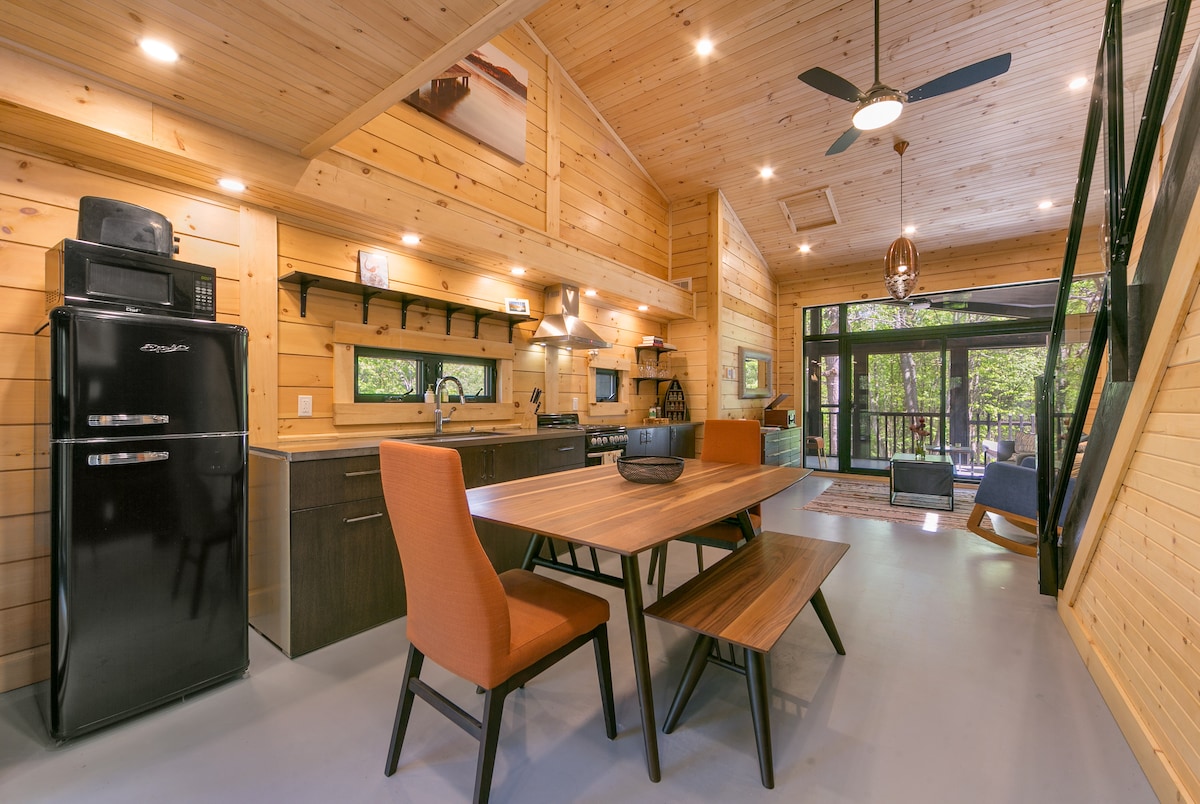 Muskoka's Luxury Tiny House
Serenely situated between Gravenhurst and Bracebridge, Tiny Haus has been custom built by an award winning architect to capture the beauty of the natural surroundings.
There is a preorder special for the first 25 buyers, who have a chance to purchase the Tiny Traveler for just $42,500. I have no idea if that offer is still available, but it seems like an outstanding deal for such a beautiful and unique tiny home. Do you want to learn more or reserve your own? Visit Tiny Smart House.