If you are looking for a tiny house that has a very small square footage and you want it to be artfully designed and reasonably priced, look no further than Incredible Tiny Homes. Let's take a look at their model called "the Serenitas."
The home is 8' x 18', weighing only 8,640 pounds. That is only 144 square feet—tiny indeed!
If you have plans to move regularly, taking your tiny house with you on a mobile lifestyle, it is in your interest to pick one which is lower in weight.
Here you can see the same model house, but with a different finish for a different look.

And here is the original finish again from a different angle.

Stepping inside the tiny house, we see a flight of steps leading up with a railing.

Shifting just slightly to the left, we see that the flight of steps leads up to a loft. Beneath it is a door leading to another room.

In this photo, we are standing in roughly the same spot, but you can see what the house looks like with additional finishing.

We're climbing up the stairs …
The Helm—2-Story Container Home close to Magnolia Market

The high windows to either side and the large one in the back are characteristic of many Incredible Tiny Homes houses.

The window would offer a lovely view to bed's occupant. What does the loft look like with the bed in place?

The bed takes up almost the entire loft, so there isn't much in the way of room on either side of the bed. But a couple of high shelves provide you with "bedside tables." A curtain drawn over the window can offer extra privacy when needed. Otherwise, you can leave it open if you want to let in the sun and take in the view.

This is what you see looking down from the loft.

Just like this one, many of the homes in this builder's catalog feature stunning wood throughout.

Here is what you see with the door closed.

A walk-in closet isn't something you expect to find in any tiny house, especially one so small. It is a very exciting sight for anyone who loves clothes.

The toilet is in a sort of stall. In a tiny house, this could actually be a more useful privacy feature than a lot of people might realize.

The showerhead is built in overhead.

Shelves! Many shelves.

I am so glad to see this builder incorporating sliding barn doors into so many tiny houses. They truly are a logical design choice.

A door which slides across will never get in the way of small spaces.

There are custom cabinets built into the steps.

The loft situated above the kitchen can be reached via a ladder.

The ceiling fan includes a light fixture.

There is an impressive amount of counter space to work with and there is a custom cutting board which fits over the sink so that the entirety of that wall can be used for food prep if necessary.

This builder tends to favor open shelving in kitchens to keep them from feeling overcrowded.
in an infinite green oasis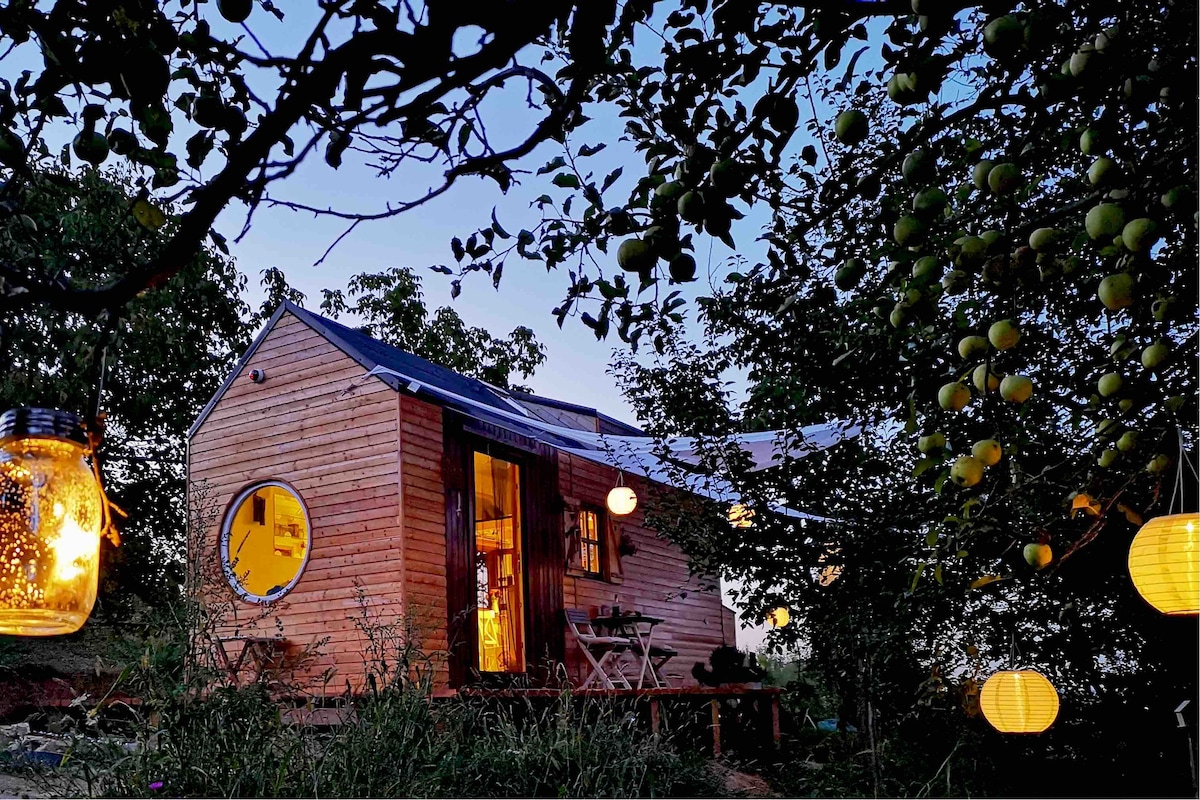 Tiny House on wheels
This is not just another bed you rest in overnight. It is a dazzling experience! Superhost Gabriella will amaze you with her cozy tiny house.
Entire house hosted by Robin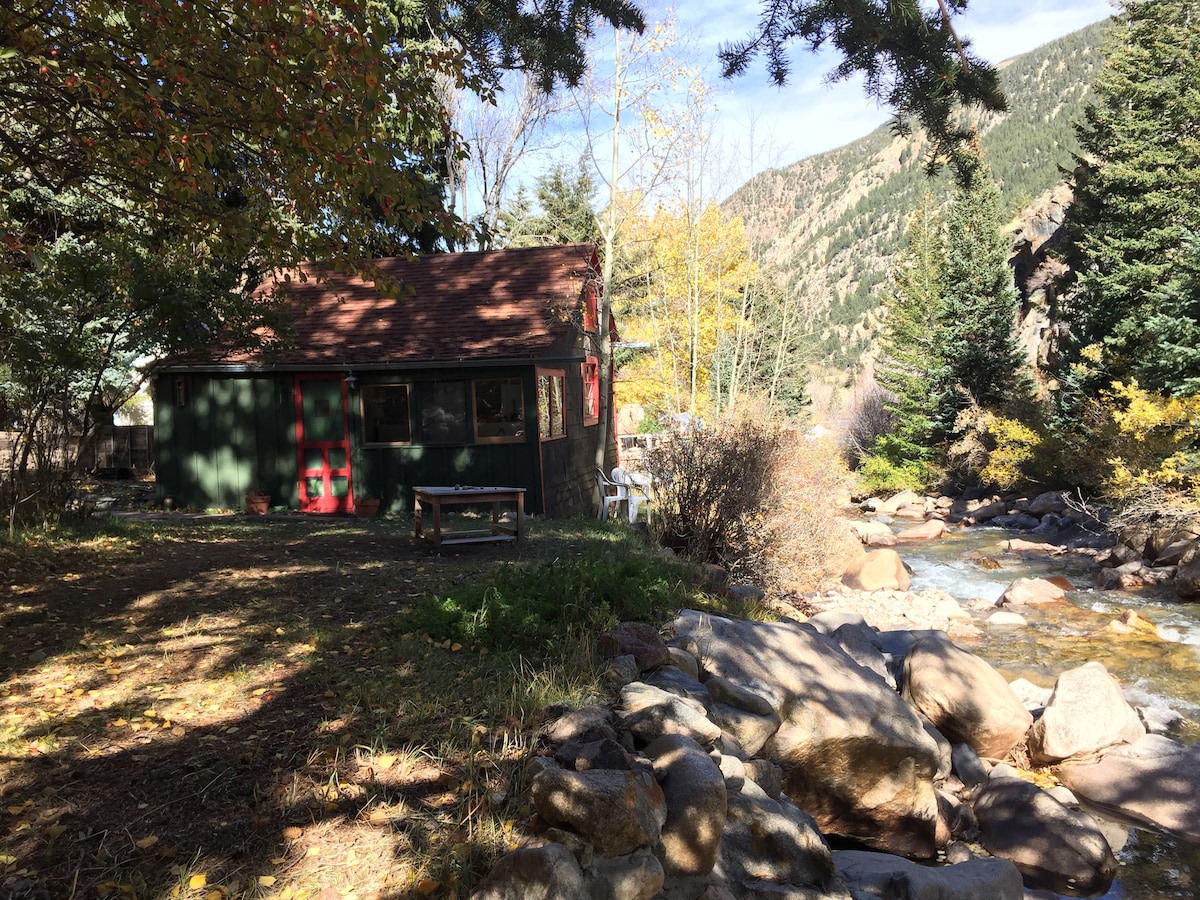 The Cricket- An amazing Tiny House!
The Cricket is a rustic historic cabin in a small neighborhood on Spring Street along side the rushing Clear Creek and nestled among an Aspen grove.
Tiny house hosted by Caroline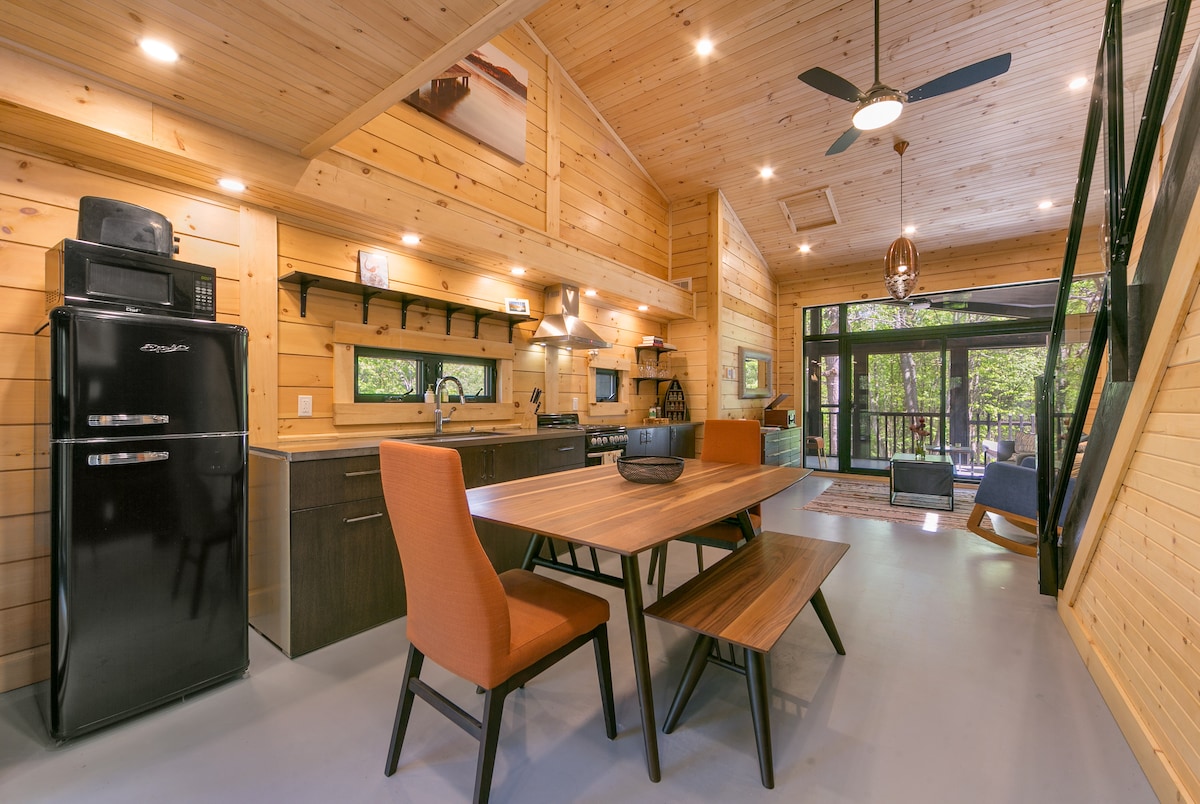 Muskoka's Luxury Tiny House
Serenely situated between Gravenhurst and Bracebridge, Tiny Haus has been custom built by an award winning architect to capture the beauty of the natural surroundings.

It looks like you could install additional shelves if you needed them. There seems to be plenty of wall space left open.

A mini-fridge is incorporated along the right-hand side of the kitchen. I am not seeing a place for an oven, but a portable cooktop could fit easily on the counter with lots of room to spare.

Want to find out more about the Serenitas, or commission one for yourself? Visit Incredible Tiny Homes.