Looking for an off-grid tiny house that is jaw-droppingly beautiful and available at a reasonable price? The K2 model by Tiny Idahomes may just be one of the most astonishing tiny houses I have seen to date, and I am confident it is going to be love at first sight for you as well. Let's take a tour!

What an eye-catching house! Between the blue-and-brown siding, the massive awning, the solar panels, and the unique shape of the loft, you can tell you are in for a treat.

There is so much light flooding the interior of this house you would swear that "sunlight" was one of the main building materials! The set of stairs you see on the left leads up to that same loft which I pointed out when we were outside the house. You can tell from this angle that the loft's ceiling really is uniquely-shaped.

Oh, wow. What was not evident from the angle we were at outdoors was that there are two uniquely-shaped lofts which are full of sunlight. The second one can be reached via a ladder that fits into a little slot in the wall made for it. Underneath this second loft is a downstairs room which could be used as a bedroom, study, seating area, etc.
A table is integrated on the left. If more dining space is needed, it can be expanded by flipping up the extension.
The Helm—2-Story Container Home close to Magnolia Market

Currently, the downstairs room is set up as a living room with a couple of seats and a TV. The TV is mounted near the ceiling right now, but it looks like you could easily move it down to a more comfortable viewing angle without removing it from that wall.

Another unique and delightful design choice was putting the stove in a little nook underneath the steps that lead to the loft. Right beside it is the fridge (I think? It might be a pantry), and above it is a microwave. The beautiful backsplash completes the look.

By positioning the stove under the steps where it is, more room has been made available for counter space, cabinets and drawers across from it. The same lovely backsplash extends around the walls. Warm and cool neutral tones play beautifully off of each other for a soothing, tranquil effect.

The bathroom has a luxurious atmosphere, thanks in large part to the granite tile shower walls, which almost look like marble. There is also a washing machine in this room, so you do not need to head out to a laundromat to do your wash.

Approaching the loft, you can see just how distinctive its design is.

The shape of the ceiling and the huge windows provide a marvelous sense of openness. If not for this unique shape, this loft would probably feel pretty tight and cramped. But instead, it feels deliciously airy.

I think this may just be about the coolest tiny house loft I have ever seen.
in an infinite green oasis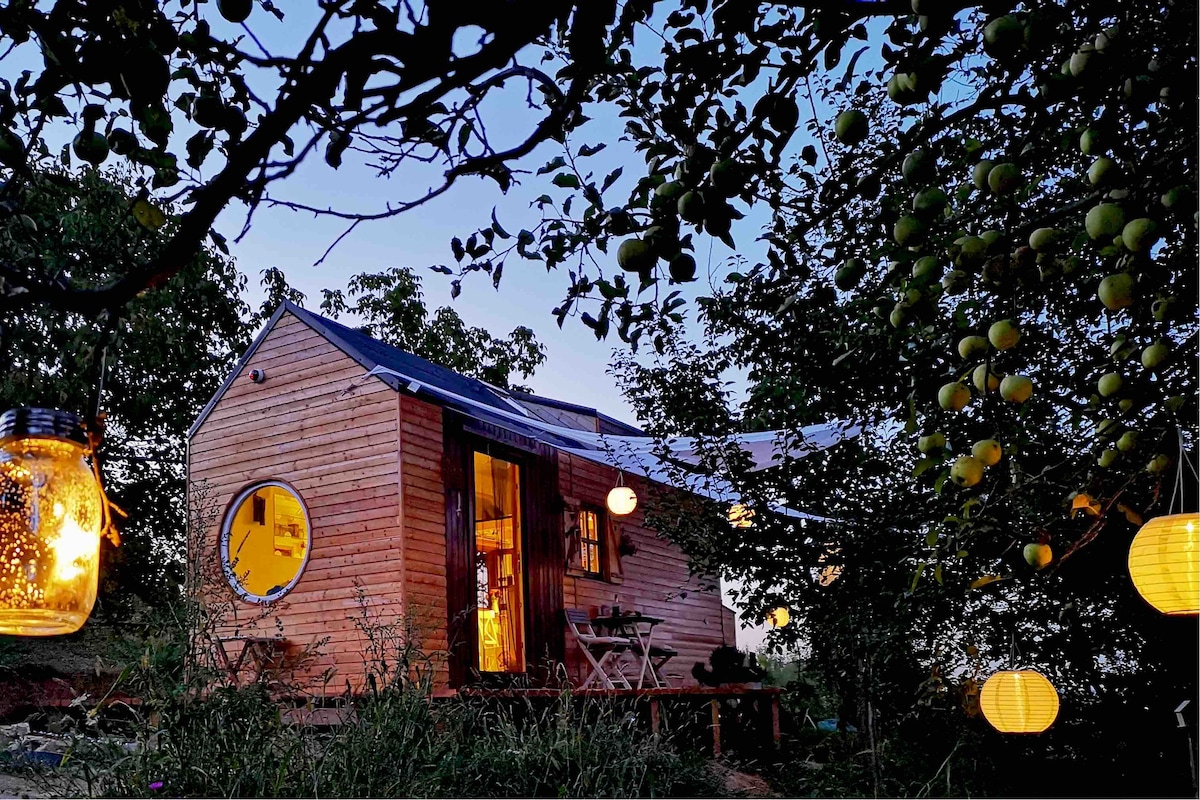 Tiny House on wheels
This is not just another bed you rest in overnight. It is a dazzling experience! Superhost Gabriella will amaze you with her cozy tiny house.
Entire house hosted by Robin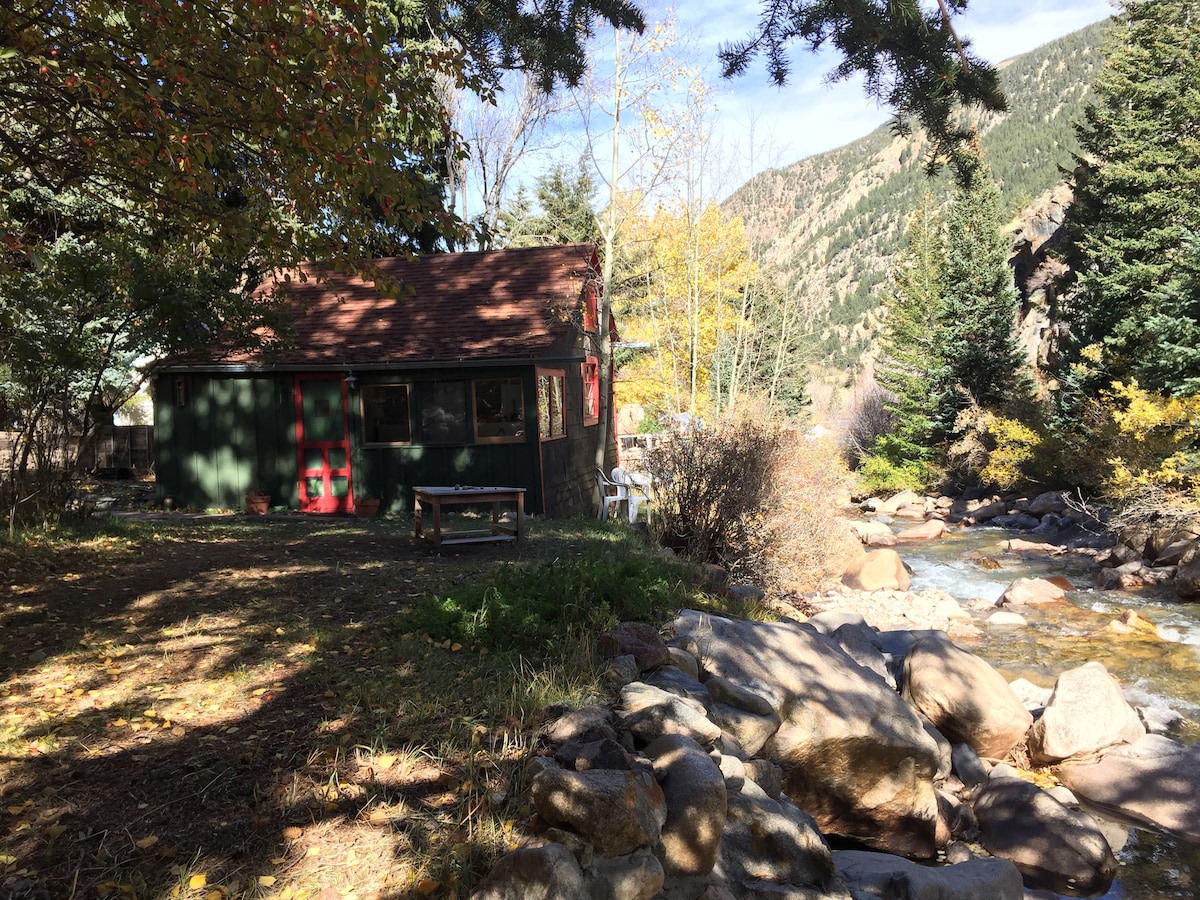 The Cricket- An amazing Tiny House!
The Cricket is a rustic historic cabin in a small neighborhood on Spring Street along side the rushing Clear Creek and nestled among an Aspen grove.
Tiny house hosted by Caroline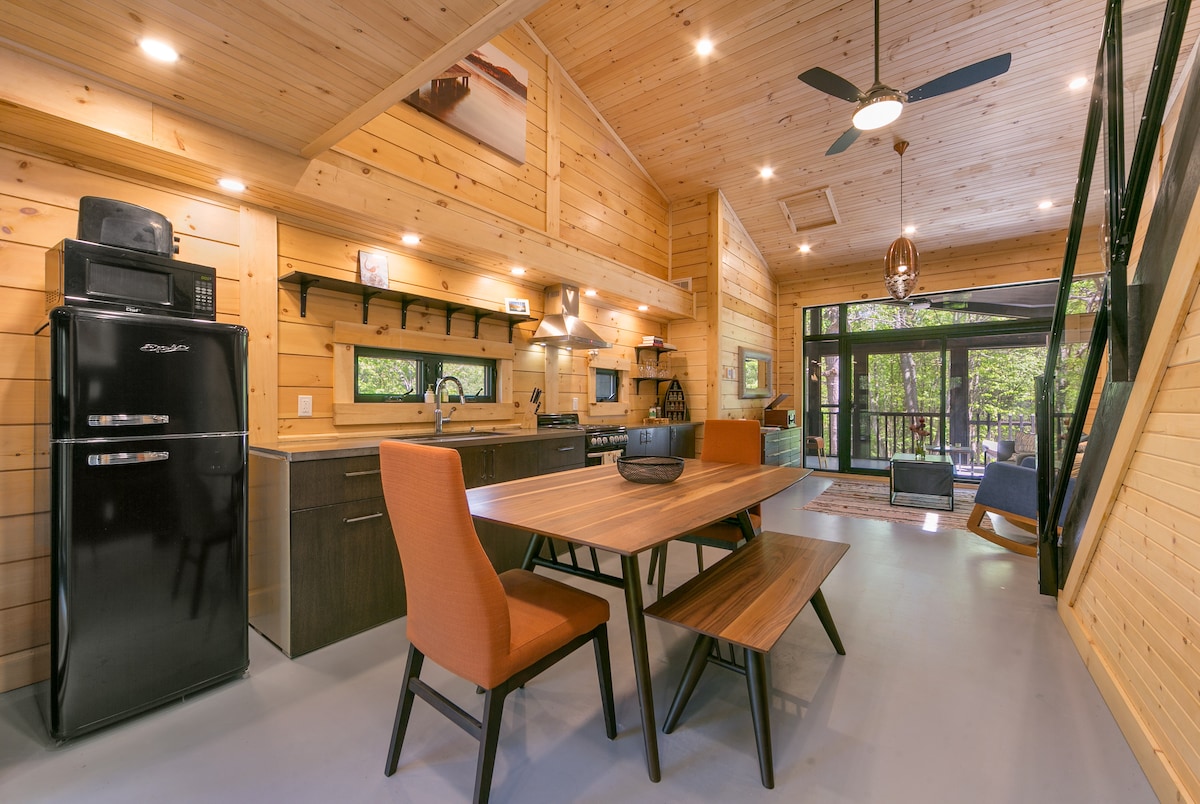 Muskoka's Luxury Tiny House
Serenely situated between Gravenhurst and Bracebridge, Tiny Haus has been custom built by an award winning architect to capture the beauty of the natural surroundings.
The version of the house you see here with all the included features sells for $70,125. But if you are on a tighter budget, the starting price for this home is only $48,950. If you love this off-the-grid home and want one of your own, you can contact the builder or learn more here.