If you're in the market for a tiny house that feels like a smaller version of a standard home, you should look for one which features contemporary décor and a full-size bedroom. The Jade tiny house by Pratt Homes is just such an abode.

On its raised foundation, this tiny house could fit in easily among other manufactured homes in a suburban setting. There is a covered porch complete with a fan overhead to keep things cool on hot summer days.

The interior features contemporary furnishings and decorative embellishments, like the interesting artwork above the flat-screen TV.

In a lot of tiny houses by Pratt Homes, the kitchen is located entirely along one wall. This kitchen is a little bit different, wrapping around the corner to provide additional counter space. It also has a kitchen island to offer even more room to work. So compared to the other houses in the company's catalog, this one is ideally suited to those who love to cook.

Here's a look inside the bathroom. At first, I actually thought for just a moment that I was still looking at the kitchen. The countertop and cabinetry are a complete match with those in the kitchen, making the transition into this room an utterly seamless one. There is a flush toilet and a large shower with a sliding glass door.
The Helm—2-Story Container Home close to Magnolia Market

You can get a better look at the bathroom cabinets in this photo. There is significantly more storage space in this bathroom than there is in many other tiny house bathrooms.

Here is the downstairs bedroom! Everything about it is just amazing. You get a large, comfortable bed, bedside tables to either side with full-size lamps, and a beautiful hardwood floor under your feet.

Something has to be said about the color scheme of this house. But I have a hard time putting into words what I find so appealing about the coffee-colored walls and the tans, browns and whites. All I can say is that making the walls this color gives each room a very "finished" feel. Making the walls contrast with the ceiling also brings definition to each space. There is a subtle sense of luxury exuding from every room.

Sliding barn doors can be pulled aside to reveal a chest of drawers with a mirror above it.

Let's pop back into the kitchen to get a closer look.

There appears to be no full-size oven in this home. I have noticed that this is a trend lately. There is, however, a microwave, as well as a cooktop below.

With two sink basins, it is easy and comfortable to wash and dry your dishes.

There is storage space underneath the flat-screen TV which you can use for DVDs, video games, and other media.

I'm not sure why the TV has been positioned as it has in this shot.
in an infinite green oasis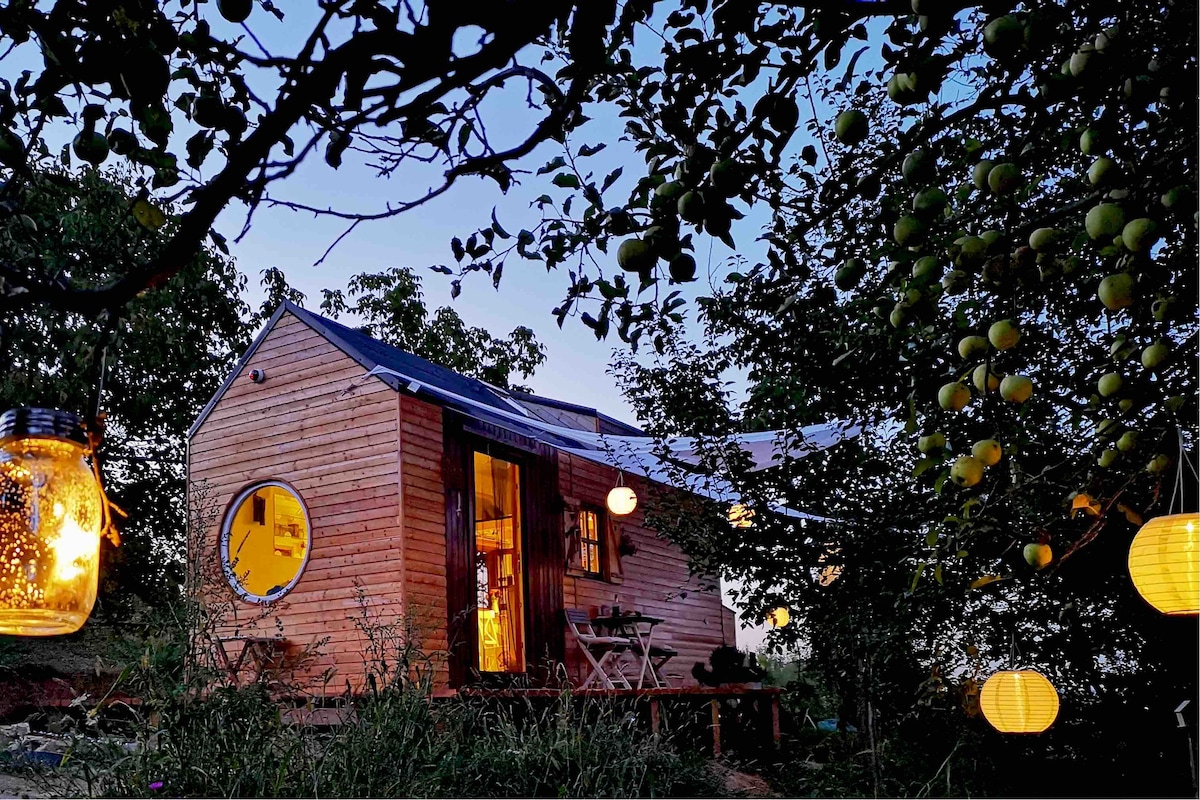 Tiny House on wheels
This is not just another bed you rest in overnight. It is a dazzling experience! Superhost Gabriella will amaze you with her cozy tiny house.
Entire house hosted by Robin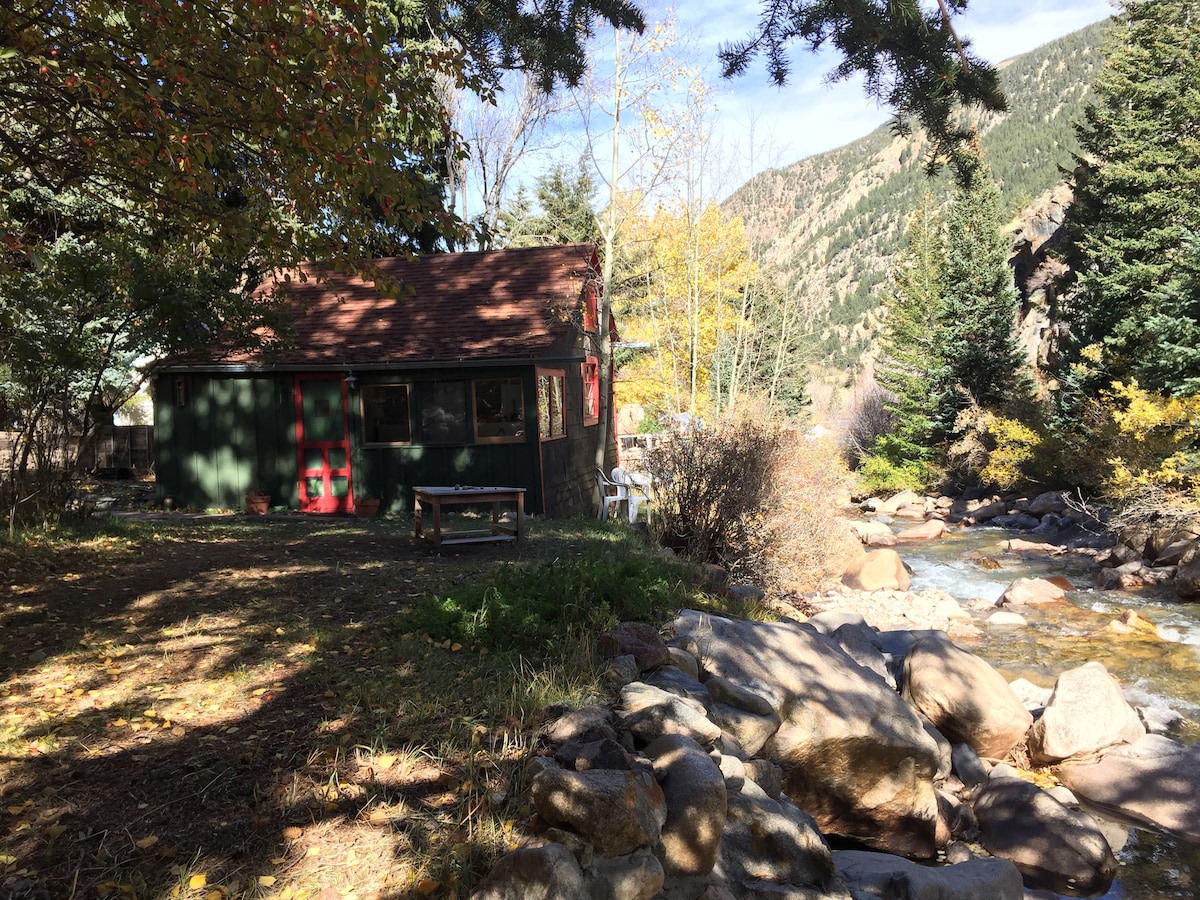 The Cricket- An amazing Tiny House!
The Cricket is a rustic historic cabin in a small neighborhood on Spring Street along side the rushing Clear Creek and nestled among an Aspen grove.
Tiny house hosted by Caroline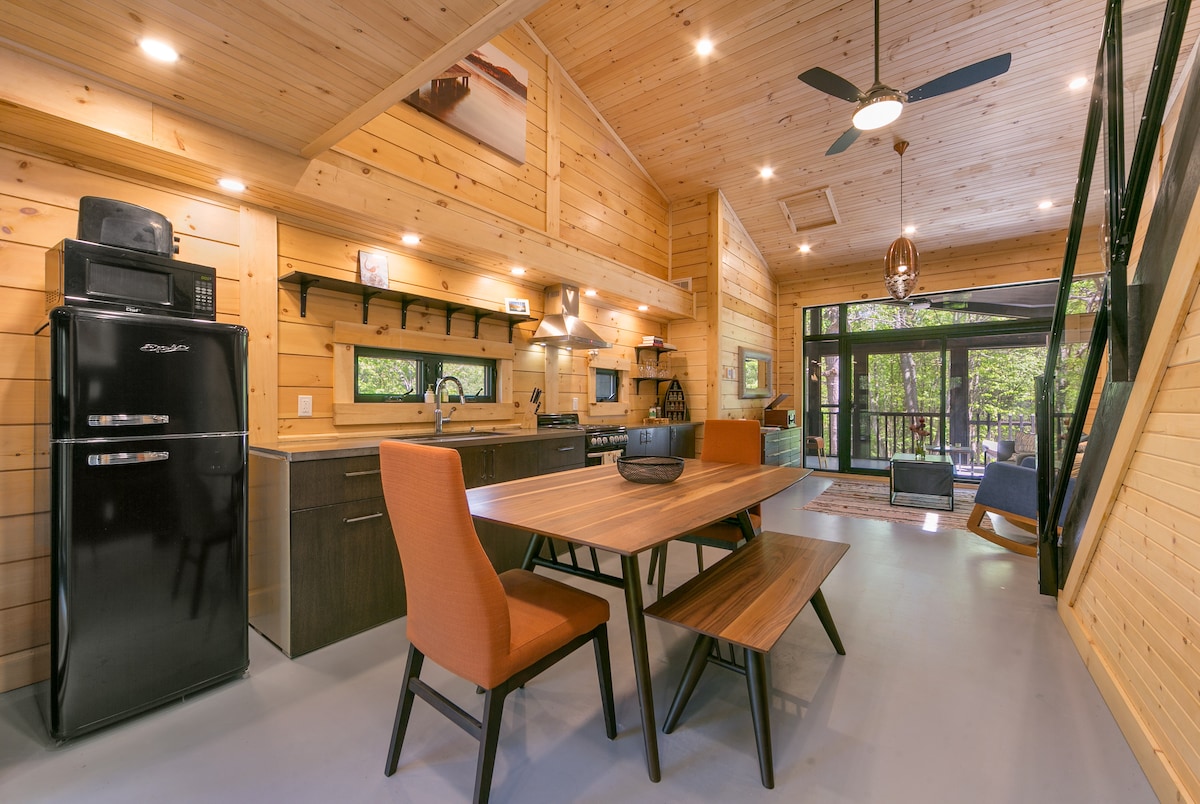 Muskoka's Luxury Tiny House
Serenely situated between Gravenhurst and Bracebridge, Tiny Haus has been custom built by an award winning architect to capture the beauty of the natural surroundings.

If I could move into this tiny house tomorrow, I totally would! If you feel the same way, you can request more information from the builder by visiting Pratt Homes.