I've been checking out Pratt Homes' tiny house catalog, and have found quite a few homes worth sharing. Today, let's take a look at the Innsbruck tiny house.

It's hard to say for sure what the exterior colors are (gray and brown?), but they do form an interesting contrast of warm and cool tones. The large, sheltered porch with the front columns is a common feature on homes from this builder.

This photo showcases another feature which is common in Pratt Homes layouts. The entire kitchen is located along one wall, leaving the space across from it free to function as a living room. The kitchen contains an apartment-size fridge, oven and stovetop, microwave, double sink, and a tremendous amount of cabinet space. There is not a great deal of counter space, but there is enough to work with.
The Helm—2-Story Container Home close to Magnolia Market

This shot of the living room shows off its pleasing symmetry. Check out the way the lines of the layout direct the eye right down toward the couch, calling you to take a seat, kick back, and relax. The room features a fun color scheme as well, with the bright red accents standing out against the neutral gray and tan.

This color scheme is repeated in the bathroom. The standout feature is the shower, which is large enough to accommodate two seats, and which features an easy-to-clean glass door. There are pictures of pigs on the wall, part of a barnyard theme that is expressed subtly throughout the interior.

Further adding to the appeal and accessibility of this tiny home is a downstairs bedroom. Even with a large, comfy bed, there is ample floor space around it. A ceiling fan is installed right above the bed to keep the sleeping space cool on warm summer nights.
in an infinite green oasis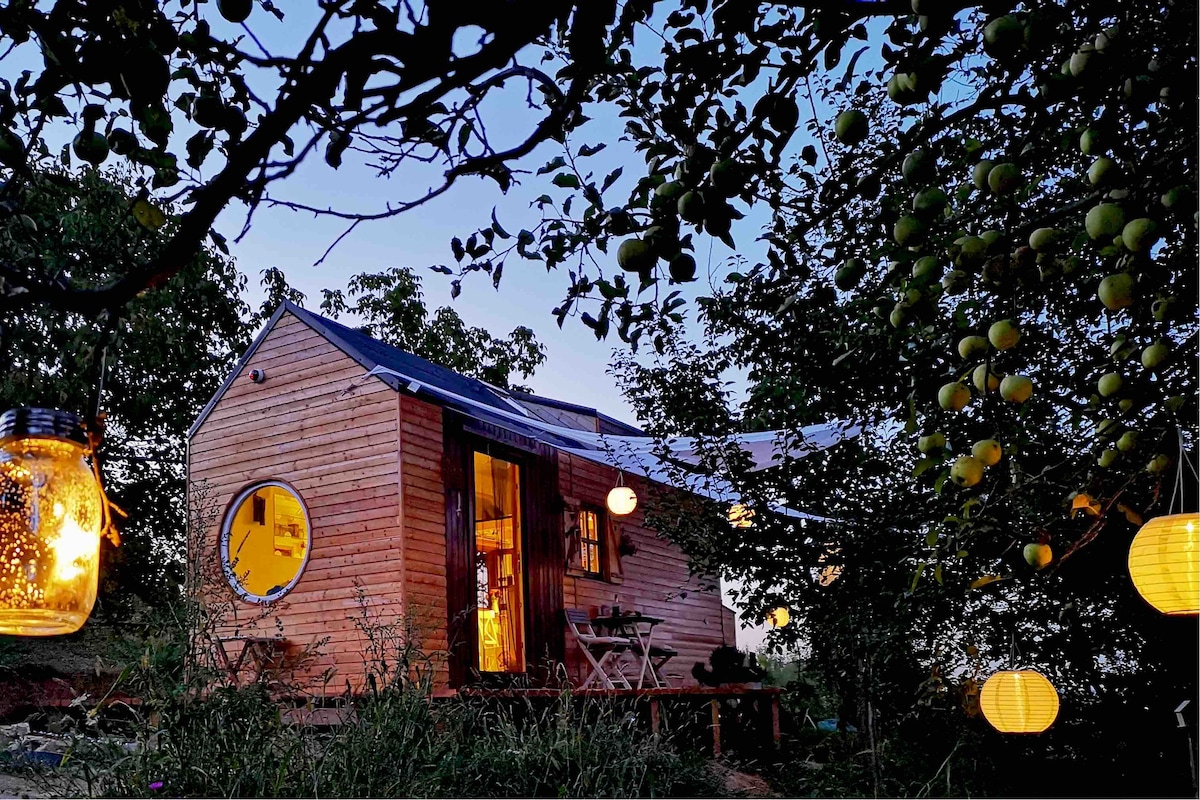 Tiny House on wheels
This is not just another bed you rest in overnight. It is a dazzling experience! Superhost Gabriella will amaze you with her cozy tiny house.
Entire house hosted by Robin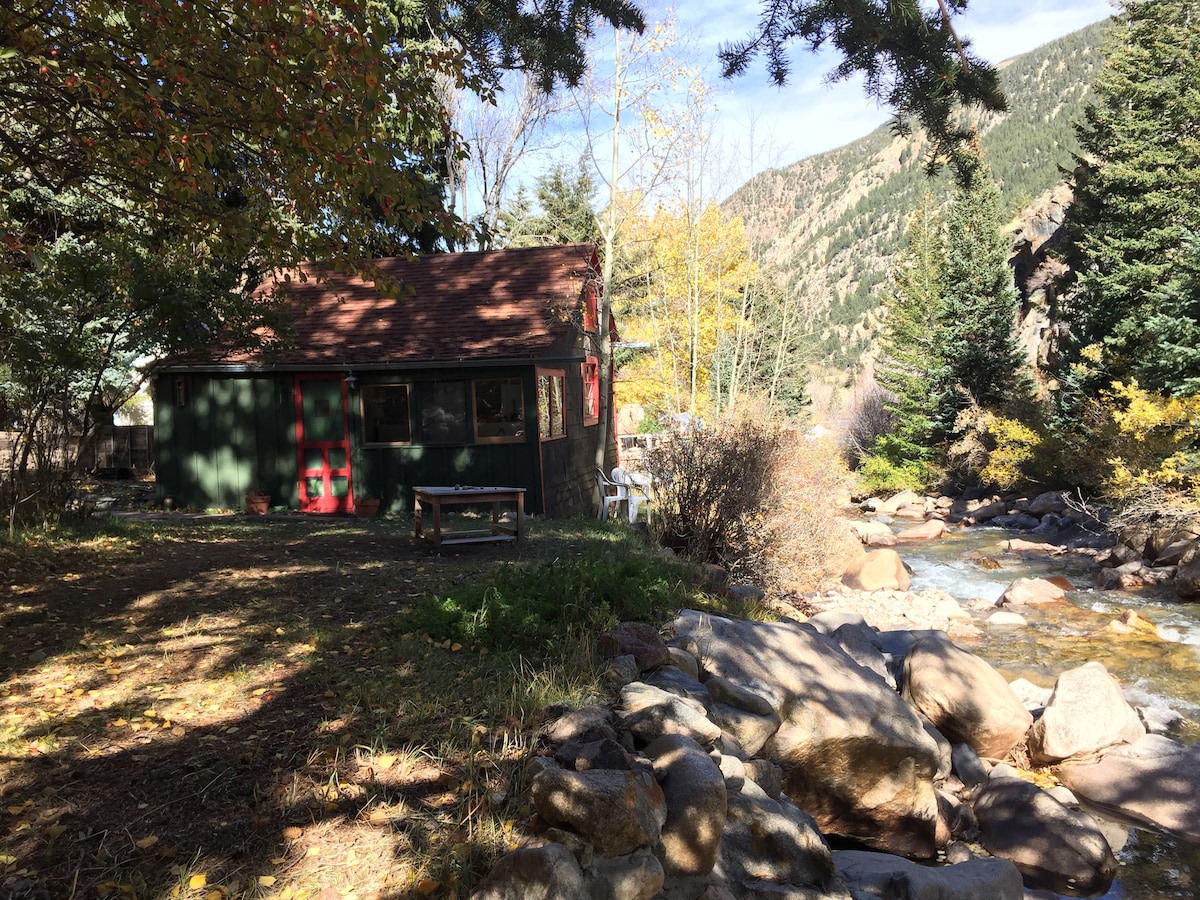 The Cricket- An amazing Tiny House!
The Cricket is a rustic historic cabin in a small neighborhood on Spring Street along side the rushing Clear Creek and nestled among an Aspen grove.
Tiny house hosted by Caroline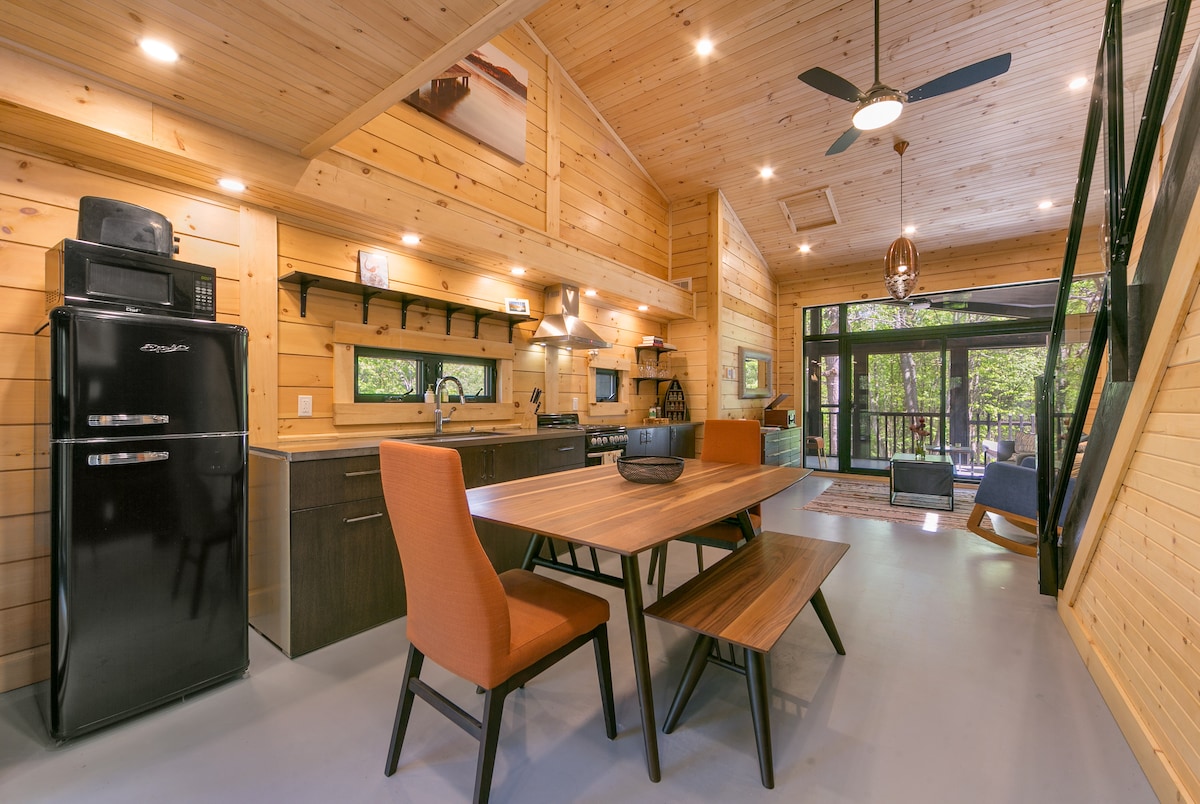 Muskoka's Luxury Tiny House
Serenely situated between Gravenhurst and Bracebridge, Tiny Haus has been custom built by an award winning architect to capture the beauty of the natural surroundings.
If you would like to get in contact with Pratt Homes about ordering your own Innsbruck tiny house, visit the builder here. Also be sure to check out some of their other homes either in their catalog or here on our site.