You may have noticed I've been featuring quite a few houses by B&B Micro Manufacturing. If so, you probably aren't wondering why; the amazing designs by this company speak for themselves.

Named for the Hudson River, this house is 8 1/2' wide, 13 ½' tall, and 26' long. If you are looking for something smaller, you can also opt for a version that is just 20' in length.

This house combines the living room and the bedroom in a single space. While this is not as popular a move as adding a loft for the bed, I actually prefer this layout. It keeps the ceiling high, and makes for a more comfortable, human-scaled living experience. For singles or couples, it is perfect.

With the winter landscape visible through the window, this bed sure looks warm, cozy and comfortable.

The couch has a sumptuous look to it, and moreover it has an added function. It can be converted into a full-size bed, perfect if you are entertaining a guest.

The angled ceiling really adds to the vertical dimension of the room, something which B&B excels at.

The soft colors of the interior work together beautifully. The bold contrast of the couch offsets them with exquisite elegance.
The Helm—2-Story Container Home close to Magnolia Market

Keeping the décor minimalist helps to draw attention to the details in the design of the house.

A baby blue color has been chosen for the kitchen cabinets, which frame a window that brings natural light in for the cook.

The cooktop takes up scarcely any space on the counter, leaving the rest free for food prep. If you prefer a full-size oven and stove, you can purchase one as an upgrade. The kitchen also comes with a mini-fridge. If you have always had a full-size fridge in the past, this may take some getting used to, but most people can get by just fine with a smaller unit like this.
Deep drawers ensure that you have cabinet space for everything. I can't think of a handier way to store saucepans! Grabbing one from this drawer would be so much easier than reaching overhead into one of the cabinets every time.

Rustic sinks and faucets are really in vogue right now. Those looking for an aesthetically pleasing faucet for their kitchen will not be disappointed.

Here's another industrial touch.

Next to the kitchen is the entrance to the bathroom.

The sink faucet in here matches the one in the kitchen, which is a lovely detail.

A roomy shower with shelves in the corner is another sumptuous feature of the Hudson tiny home.

The house features recessed lighting. Other amenities include a mini-split for heating and cooling, a water heater, and freshwater and blackwater tanks.
in an infinite green oasis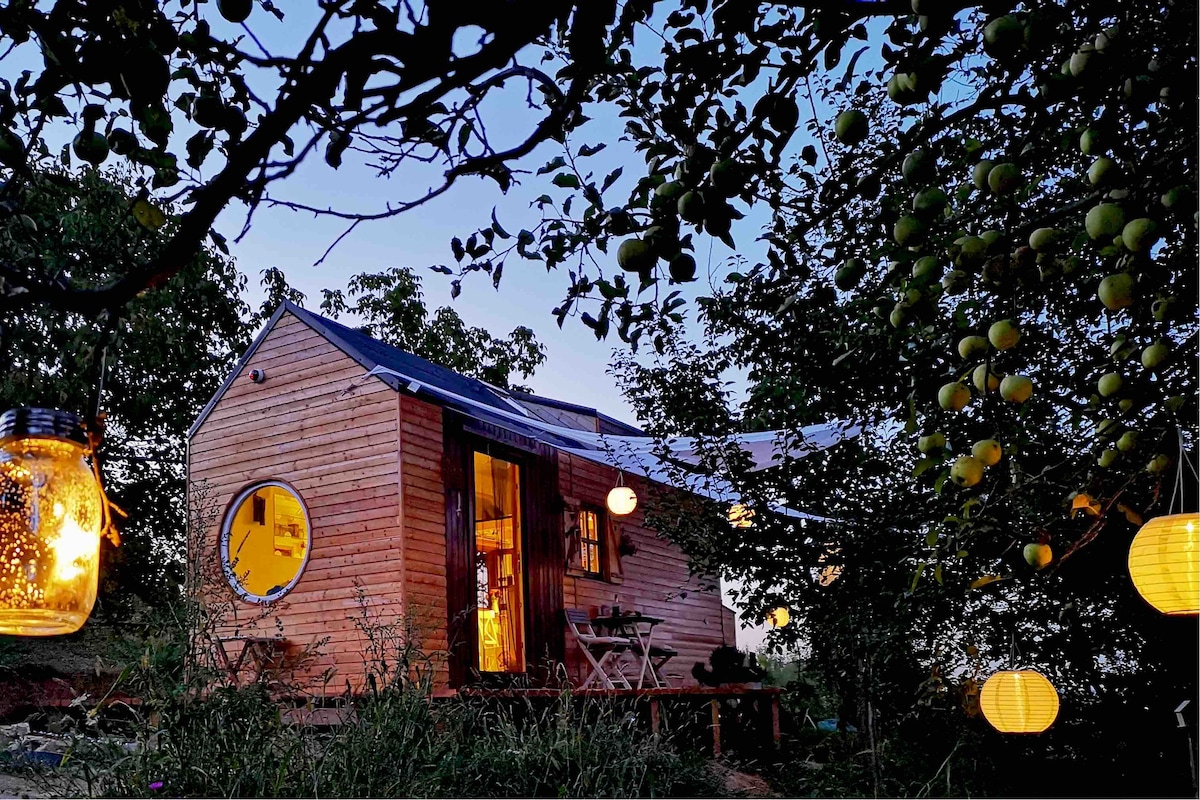 Tiny House on wheels
This is not just another bed you rest in overnight. It is a dazzling experience! Superhost Gabriella will amaze you with her cozy tiny house.
Entire house hosted by Robin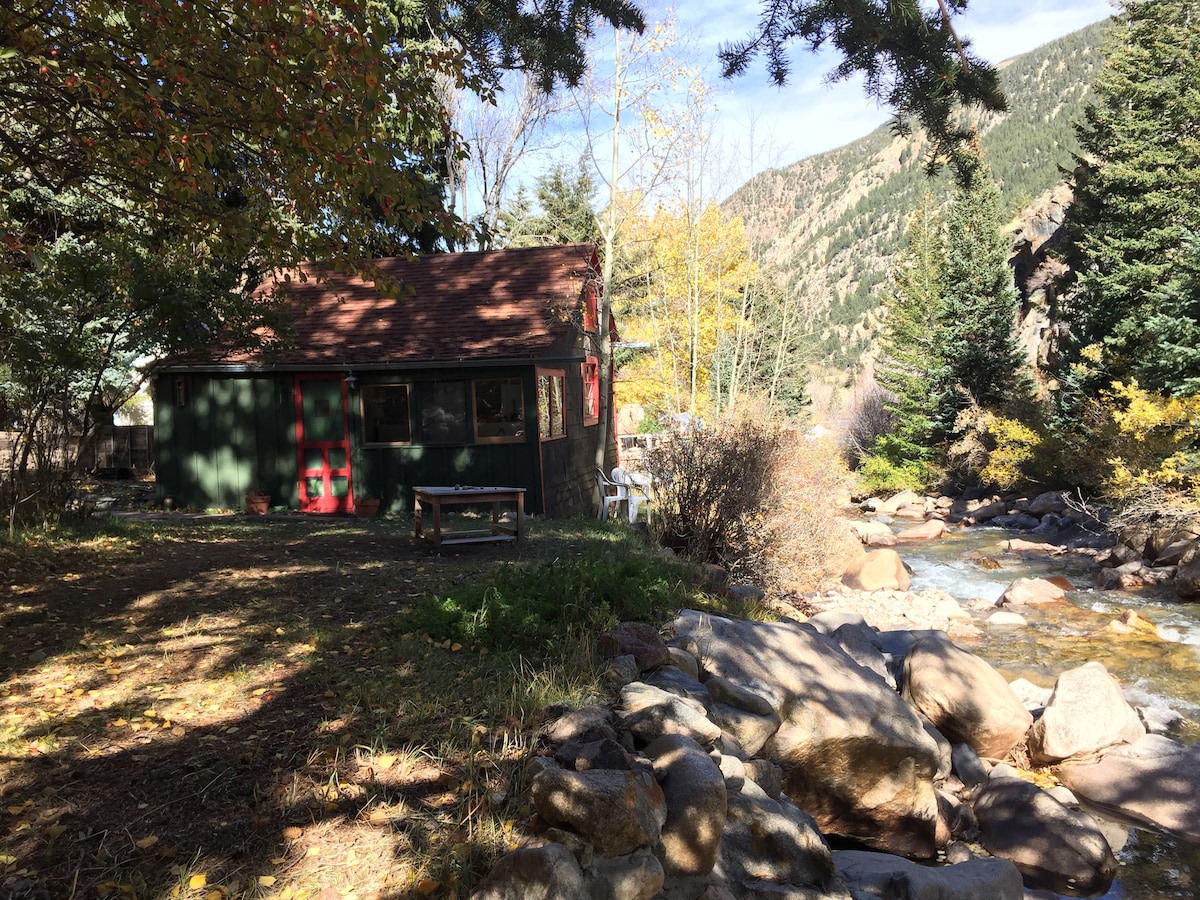 The Cricket- An amazing Tiny House!
The Cricket is a rustic historic cabin in a small neighborhood on Spring Street along side the rushing Clear Creek and nestled among an Aspen grove.
Tiny house hosted by Caroline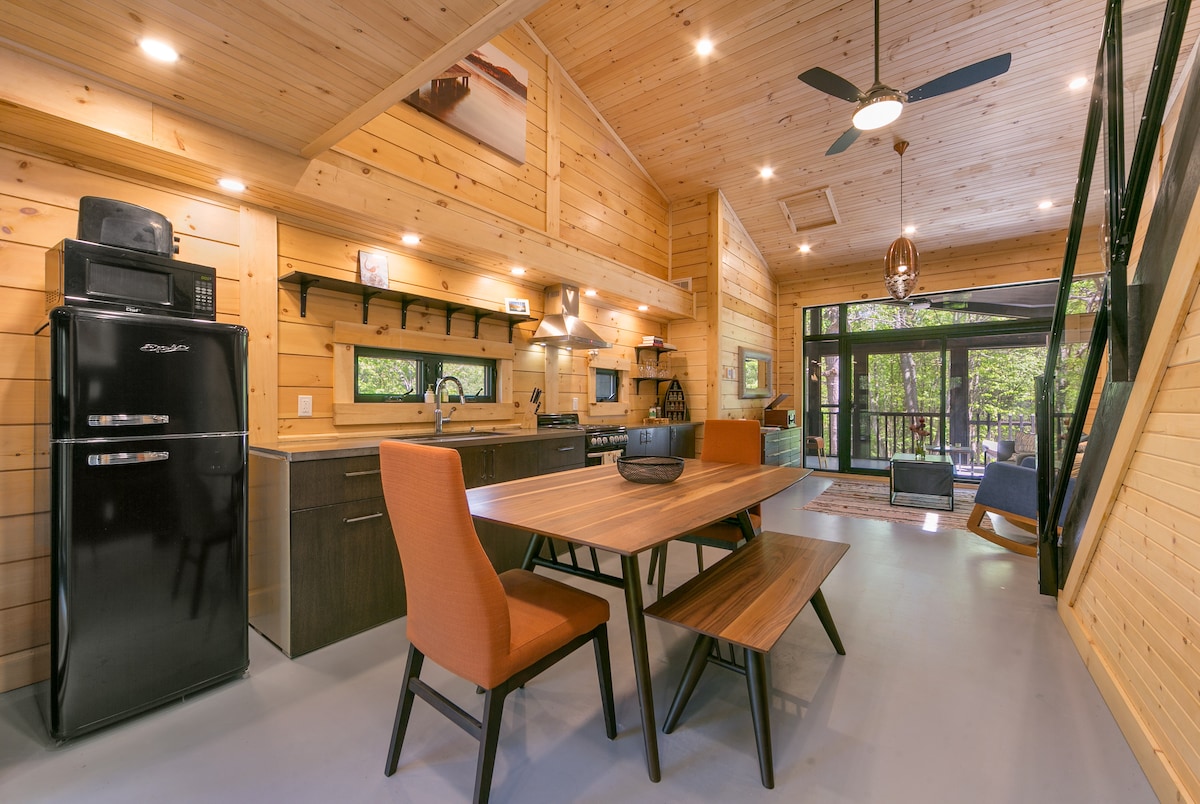 Muskoka's Luxury Tiny House
Serenely situated between Gravenhurst and Bracebridge, Tiny Haus has been custom built by an award winning architect to capture the beauty of the natural surroundings.

Roomy layouts and artful attention to quality and detail are what defines the B&B tiny house experience.

Thinking about buying the Hudson? You can learn more about it or contact B&B Micro Manufacturing yourself on their website. The Hudson 26' starts out at $44,000, while the 20' version starts out at $39,000. I recommend while you are there that you take a look at their other lovely tiny homes as well!