Some tiny houses catch your attention the instant you see them. This one from Park Model Homes is one such example. The moment you see its spacious, elegant sheltered porch, you will immediately fall in love.

It looks like sitting under this awning, you'd get just the right amount of sun and shade.

Not the best photo given the poor lighting, but you can get a glimpse at the kitchen in this shot.

Here's a much better view of the kitchen with better lighting as well. The layout of the countertops keeps all of your working space within easy reach as you prepare your meals, but doesn't make the kitchen feel cramped or enclosed. The loft is located overhead, and is fronted by a simple but beautiful wood railing.

Another photo of the outside of the house gives you a different view of the porch while also showing you the overall shape of the home.

The colors are neutral and unobtrusive.
The Helm—2-Story Container Home close to Magnolia Market

The bathroom looks pretty standard for a tiny house in terms of dimensions and features, but pleasant and functional. A large window offers light while a shade offers privacy.

There is plenty of room to take a shower, and lots of space for your soaps and hair products.

There are no furnishings in the loft in these photos, but it is easy to envision that there would be many ways you could structure this space to your needs.

The back end of the tiny house is covered in windows.

Like quite a few other tiny houses built by Park Model Homes, this one features a full-size back bedroom.

While the bed is not yet installed, everything else is waiting and ready.

Here we are standing in the back bedroom looking out through all those beautiful windows that we saw from outside.
It is an interesting design choice, because typically when one end of a tiny house is covered in windows, you find that end in the living room, not the bedroom. But for someone who spends a lot of time in their bedroom, I imagine that this would be the preferred layout.
in an infinite green oasis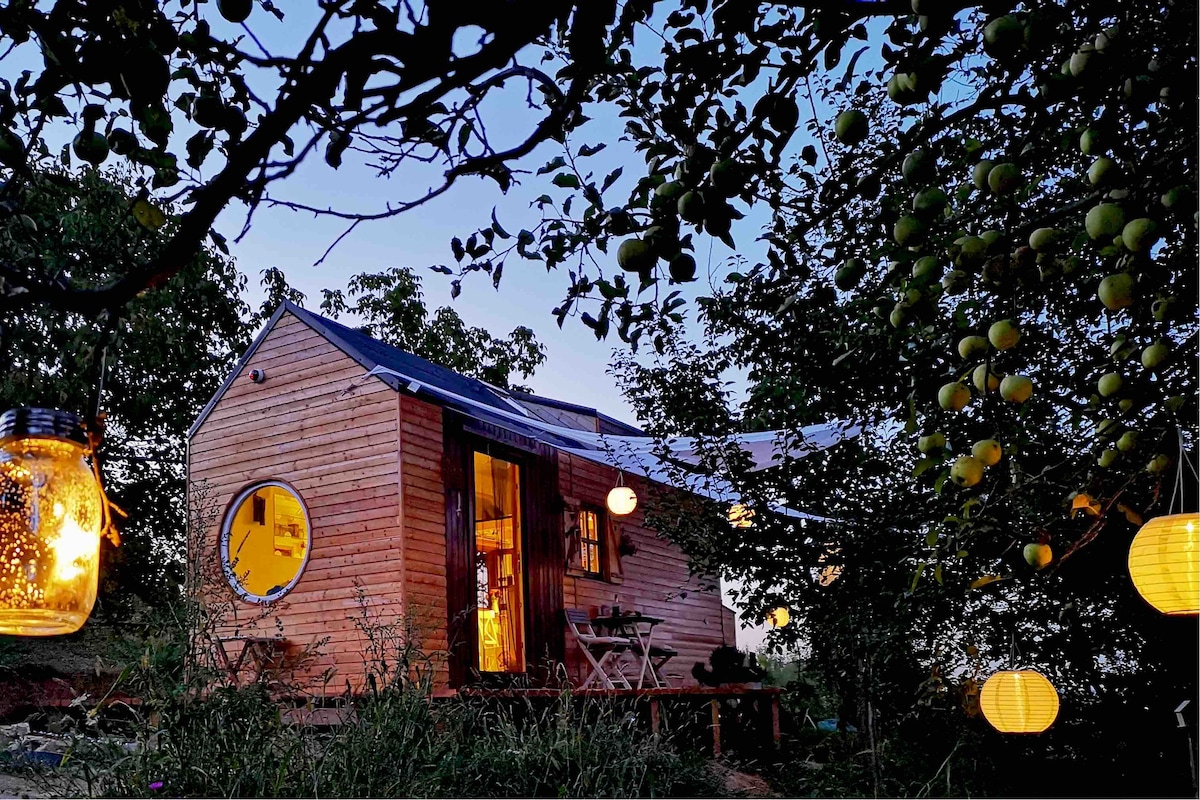 Tiny House on wheels
This is not just another bed you rest in overnight. It is a dazzling experience! Superhost Gabriella will amaze you with her cozy tiny house.
Entire house hosted by Robin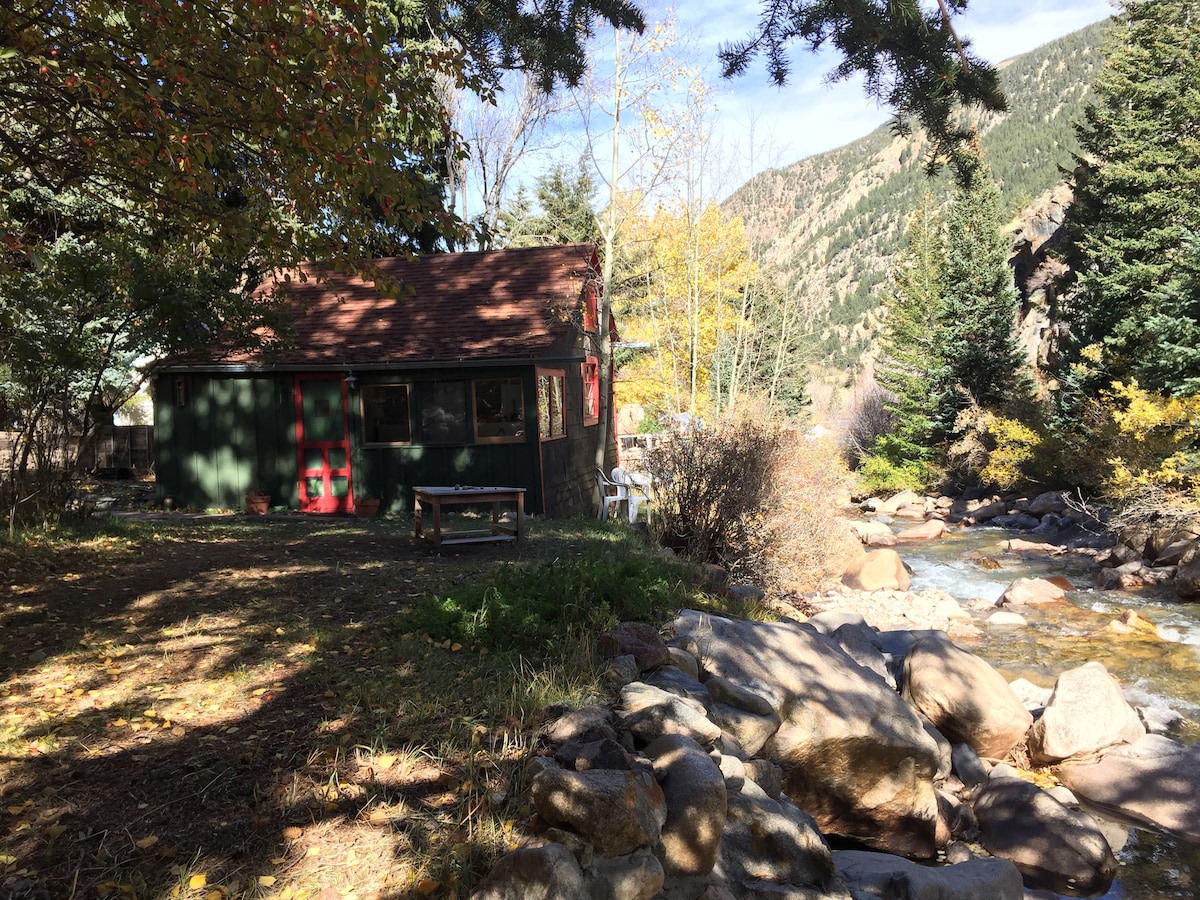 The Cricket- An amazing Tiny House!
The Cricket is a rustic historic cabin in a small neighborhood on Spring Street along side the rushing Clear Creek and nestled among an Aspen grove.
Tiny house hosted by Caroline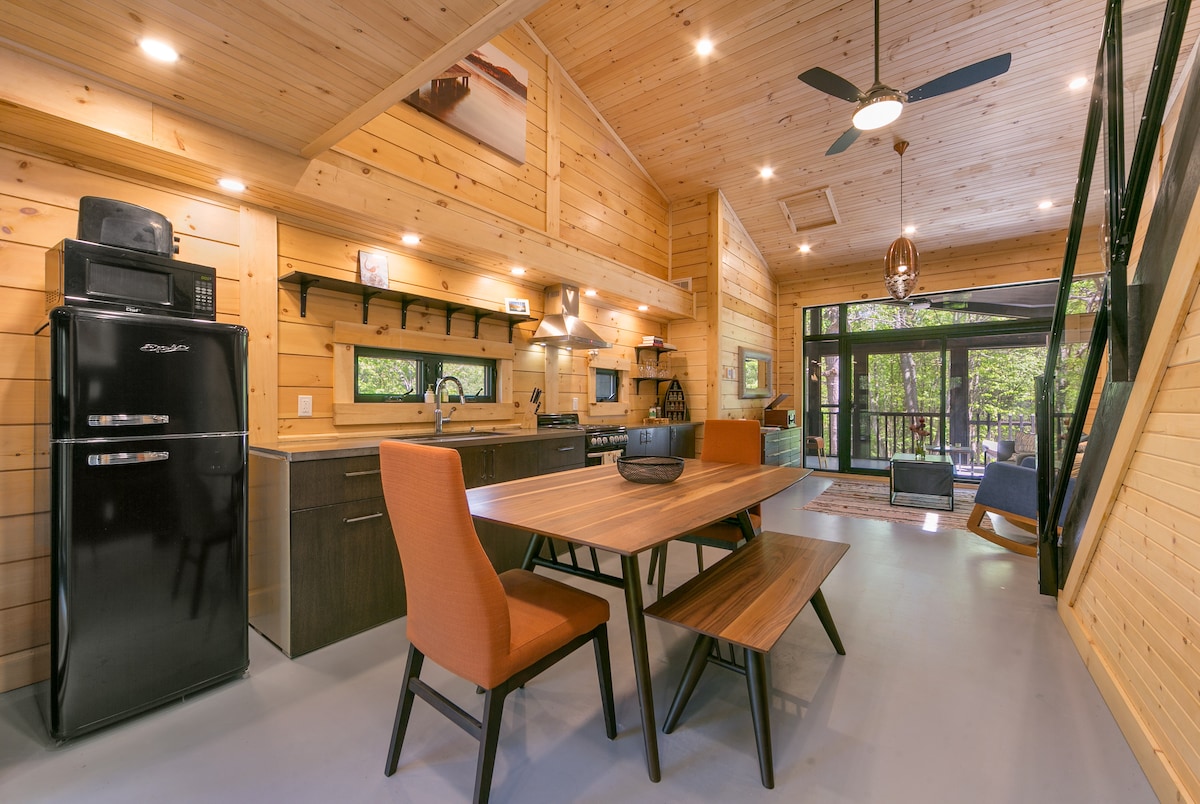 Muskoka's Luxury Tiny House
Serenely situated between Gravenhurst and Bracebridge, Tiny Haus has been custom built by an award winning architect to capture the beauty of the natural surroundings.
To learn more, please see Park Model Homes. Please send all inquiries to:
Please send all inquiries to: Park model homes – website here. You can also call Joey Nelson directly at 888-222-2699. Please let him know that itinyhouses.com sent you!