If you've been looking for a tiny house which offers a roomy feel inside along with plenty of livable space outdoors, the Flat Head Lodge from Park Model Homes is sure to blow your mind. This tiny house also includes other exciting features like a full-size bedroom and the option for an outdoor fireplace.
Video House Tour:

The Flat Head Lodge has a very unique shape to it. This makes it possible to provide a porch which is a partial wraparound, but which also offers ample sheltered sitting space with plenty of shade and amazing views.
You might think that this emphasis on outer space would make the interior cramped, but you will see that it is anything but.

Here's another angle looking directly at the front door. This can help you to further visualize the innovative layout of the home.

You probably have been longing for a closer look at the sheltered area of the porch. Here's what it looks like underneath the shaded area. It's easy to imagine pulling up a chair next to the fire and looking out at the stars, isn't it?

Here you can see the lovely brickwork of the fireplace.

This is what the porch looks like if you were standing with the fireplace behind you. The large windows create a flow of light and continuity of space between indoors and outdoors.

You can see that despite the spaciousness of the porch, the main living area is quite roomy and open with lots of floor space. The light colors of the walls and furnishings help to contribute to this effect, as does the upward angle of the ceiling.
The Helm—2-Story Container Home close to Magnolia Market

There's lots of space for comfortable seating throughout the home. Although much of the wall space is taken up by windows, there is still enough room for decorative accents like this artwork.

Look at all that sunlight streaming in! The couch and those footrests sure look comfortable.

One of the cool things about the way that the home is laid out in order to provide outdoor spaces is the fact that it also ends up creating distinct indoor spaces as well. Even though the living area and the kitchen are combined, there's a partial separation between them. This is rare and very nice to see in a tiny house design.

The kitchen cabinets have a simple design which looks somehow classic and contemporary at the same time. There's a huge farmhouse sink to make doing your dishes easy.

This may be a tiny house, but it certainly is not a tiny kitchen. There is more than enough room to prepare even the most complex meals.

Park Model Homes can install a full range of appliances in your kitchen, including an oven and stovetop, microwave, and more.

The windows above the sink shed light on your work while also offering you a view outside as you cook or clean.

Now for one of the most exciting elements of this tiny home's design: the full-size, ground-floor bedroom. If this is a feature you have been looking for in a tiny house, you already know how hard it is to come by. Most tiny homes have lofts rather than full bedrooms. This design offers for privacy and accessibility.

Inside, the bedroom is stunning in its simplicity. The soft, neutral colors help to define the room and its contents without being overwhelming in any way. The tone they create is one of harmony and relaxation. The sliding barn doors add a rustic touch and save space over traditional closet doors.

This shot shows you that there is no shortage of light coming in through these tall windows, which also prevent the bedroom from feeling at all cramped despite its tiny size.

Another feature which many homebuyers are concerned will not fit inside a tiny house is a washer and dryer set. As you can see, the Flat Head Lodge had no problem fitting this in.

Like every other room in this house, the bathroom is surprisingly spacious. The beautiful finishes on the floor and walls as well as the countertop give the bathroom a feeling of luxury. The full-size shower with glass doors is also a great feature.
Also, notice the clever way that the mirror over the sink has been integrated into the cabinetry.

This certainly isn't your average cramped shower stall in a tiny house; look at all the room!

I really am just crazy about the color scheme of this house. The company that makes this home allows you to customize it, however, so you can choose a color scheme which fits your personality. Just think on the possibilities!
in an infinite green oasis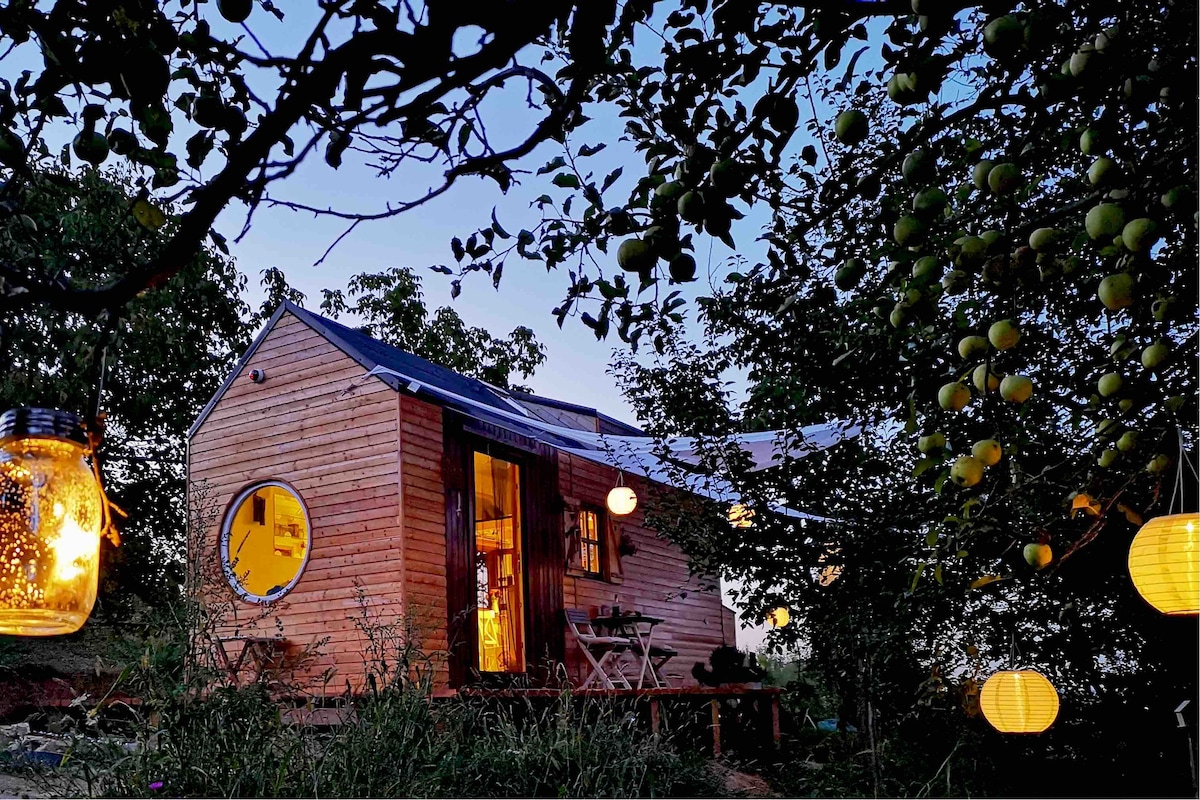 Tiny House on wheels
This is not just another bed you rest in overnight. It is a dazzling experience! Superhost Gabriella will amaze you with her cozy tiny house.
Entire house hosted by Robin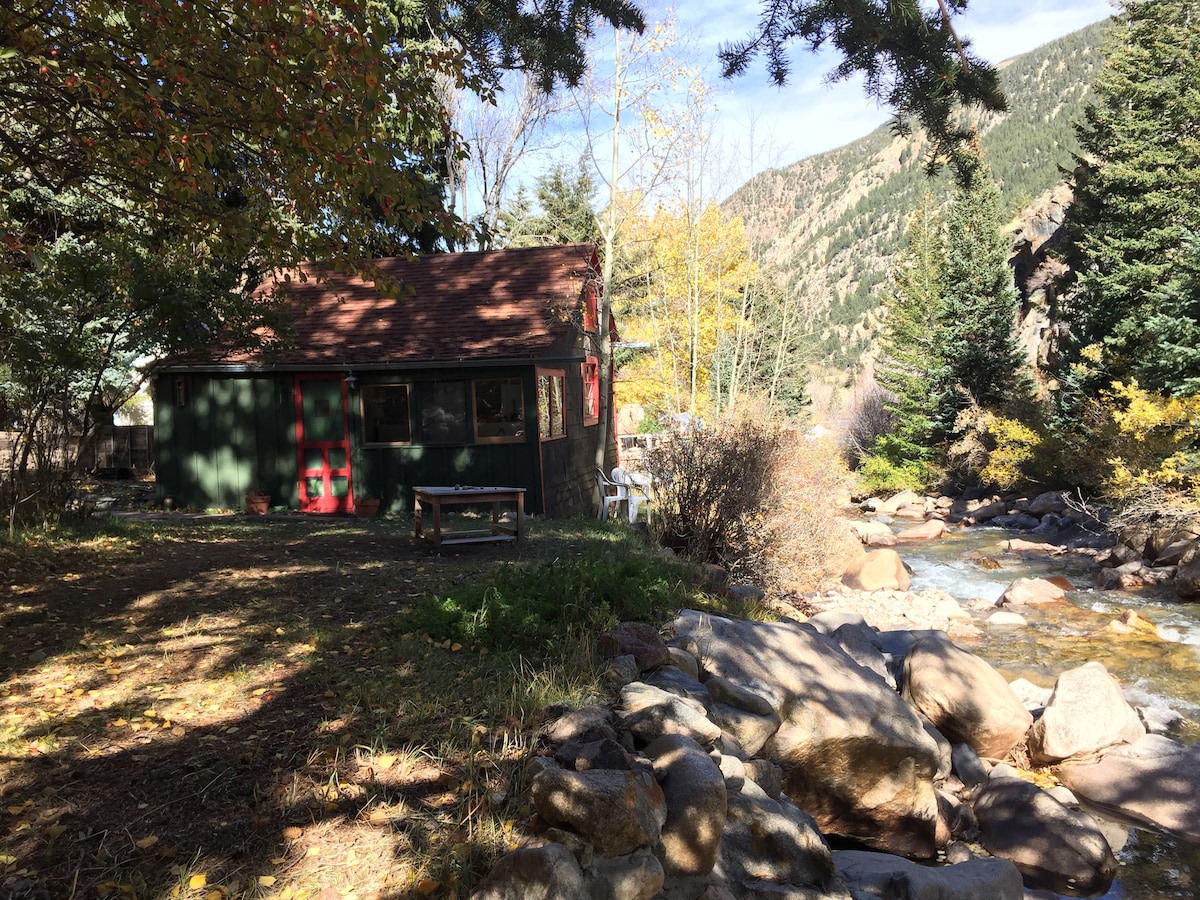 The Cricket- An amazing Tiny House!
The Cricket is a rustic historic cabin in a small neighborhood on Spring Street along side the rushing Clear Creek and nestled among an Aspen grove.
Tiny house hosted by Caroline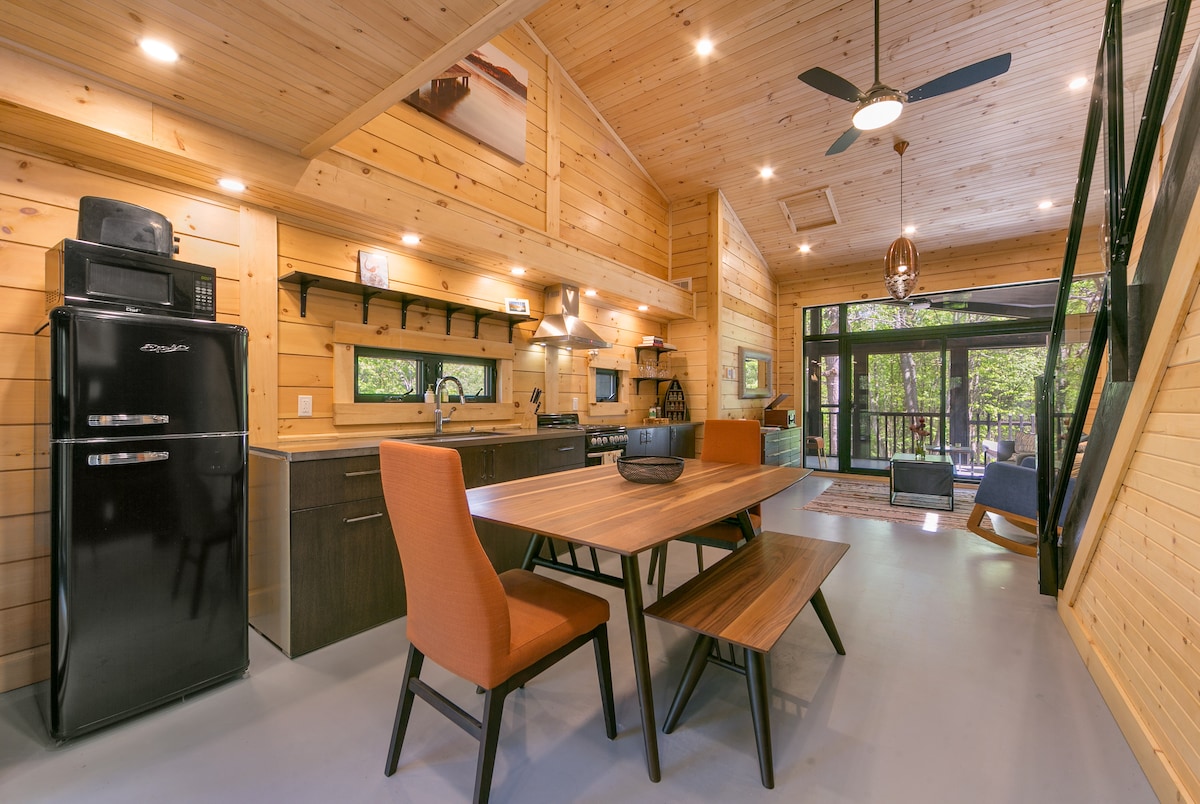 Muskoka's Luxury Tiny House
Serenely situated between Gravenhurst and Bracebridge, Tiny Haus has been custom built by an award winning architect to capture the beauty of the natural surroundings.

The bathroom's proximity to the bedroom is wonderfully convenient. It really is like a traditional master bedroom.
Please send all inquiries to: Park model homes – website here. You can also call Joey Nelson directly at 888-222-2699. Please let him know that itinyhouses.com sent you!