In Pratt Homes' catalog of tiny houses, one home which particularly stands out is the Elizabeth. While it looks fairly ordinary (though perfectly lovely) from the outside, the interior is amazing.

The exterior of the home is a pleasing tan color with white columns fronting the covered porch.

Entering the house, you can see that it has a very distinctive color scheme. Various browns and tans, black, and white repeat themselves throughout the living room and kitchen.

The double sink with its high faucet is framed by a countertop which, frankly, is just breathtaking.

The living room is supremely cozy with a flat-screen TV mounted across from the comfortable sofa. But what really grabs my eye is that amazing carpet! Its contrasts really help to define the color scheme, and they also draw emphasis to similar contrasts throughout the home (like the dark trim around the windows, door and ceiling). I also love that recessed fan with the dark trim.
The Helm—2-Story Container Home close to Magnolia Market

The little table next to the couch with the lamp on it is pretty cool. I like that it functions as a set of shelves. The lamp itself is also a perfect complement to it.

What's funny about that rug is that I feel pretty sure that I have seen it in another tiny house before.

I love the simple, decorative way the TV is framed.

While the living room and kitchen of the home are impressive, the bedroom is easily just as striking. It features the same high contrast colors and offers a lot of space.

The mirrors over the dresser are functional, but also serve as artwork.

The bathroom is aesthetically consistent with the rest of the house, featuring the same colors and decorative style.

Those who prefer flush toilets to composting toilets will be glad to see that this home features one.

Like other homes designed by Pratt Homes, the Elizabeth features a large shower with a glass door and an interior bench.

A nice, clear floor plan makes it easy to visualize the layout of the home.
in an infinite green oasis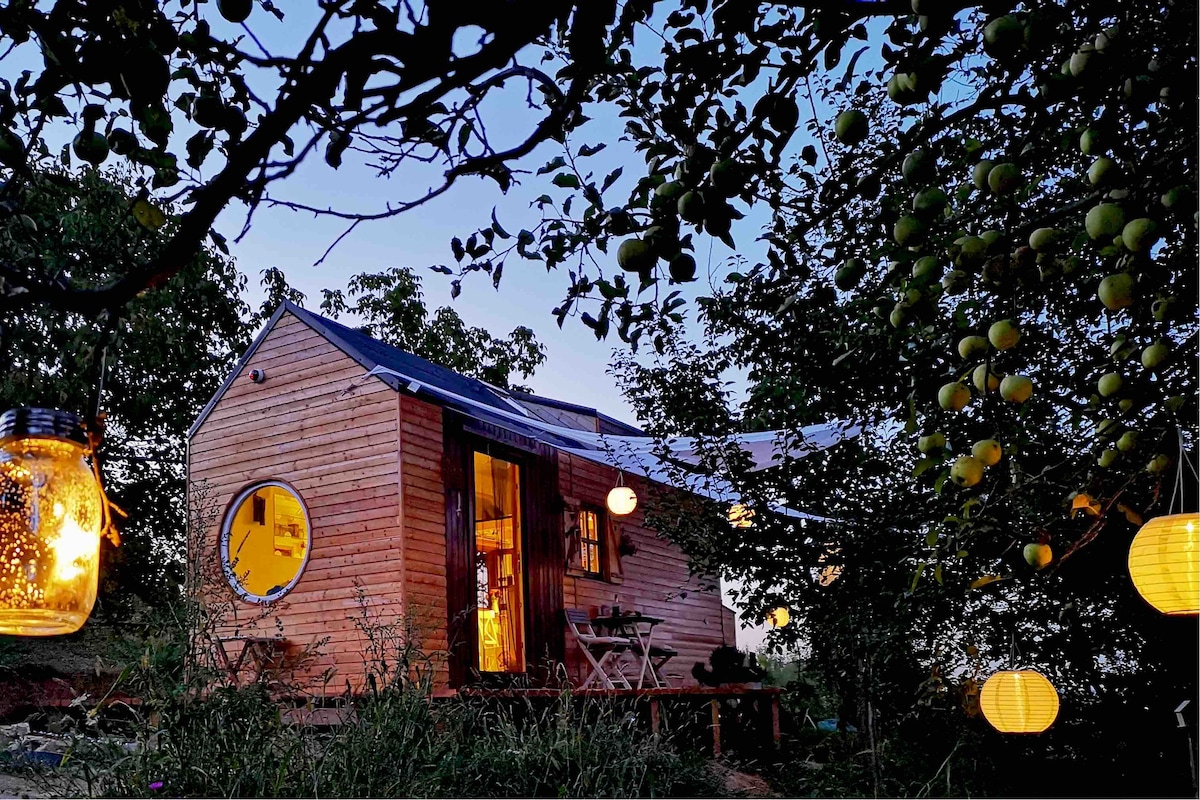 Tiny House on wheels
This is not just another bed you rest in overnight. It is a dazzling experience! Superhost Gabriella will amaze you with her cozy tiny house.
Entire house hosted by Robin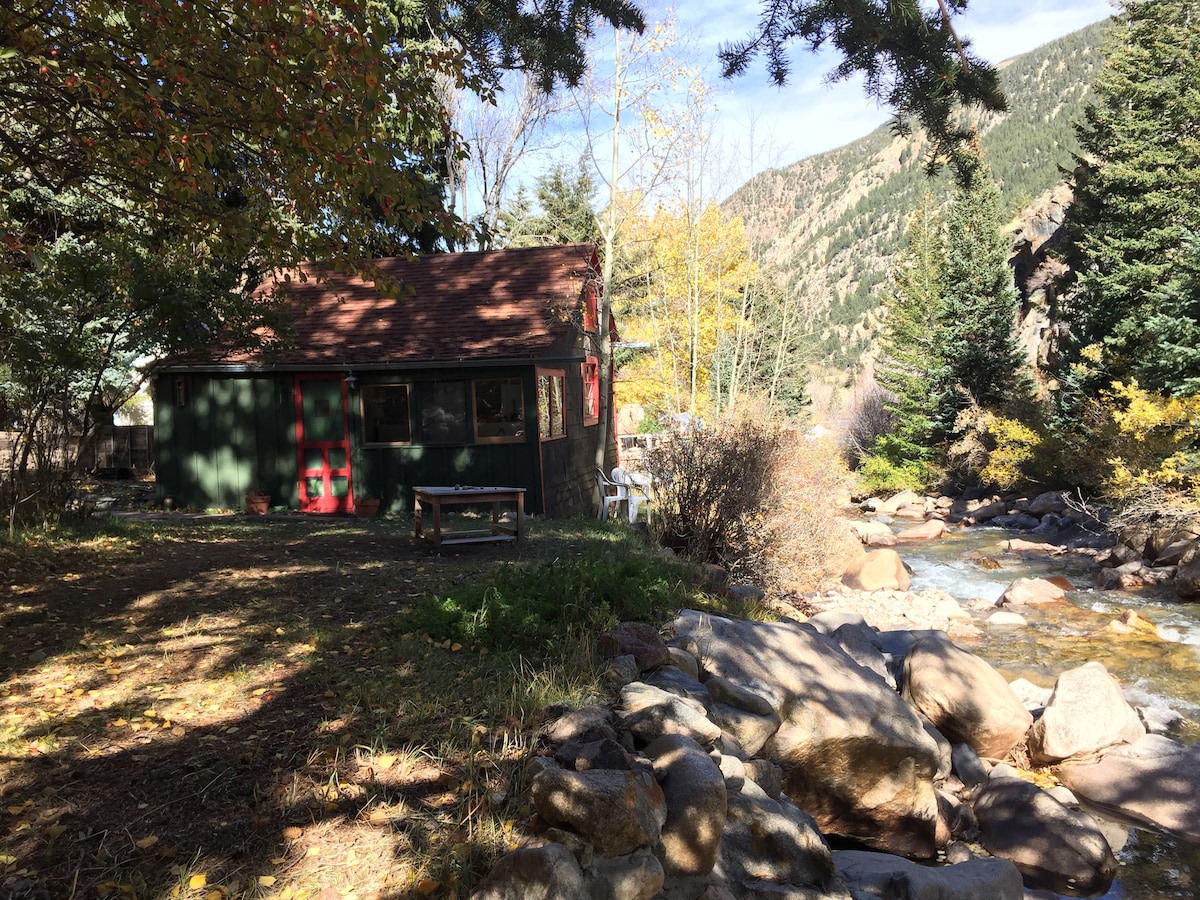 The Cricket- An amazing Tiny House!
The Cricket is a rustic historic cabin in a small neighborhood on Spring Street along side the rushing Clear Creek and nestled among an Aspen grove.
Tiny house hosted by Caroline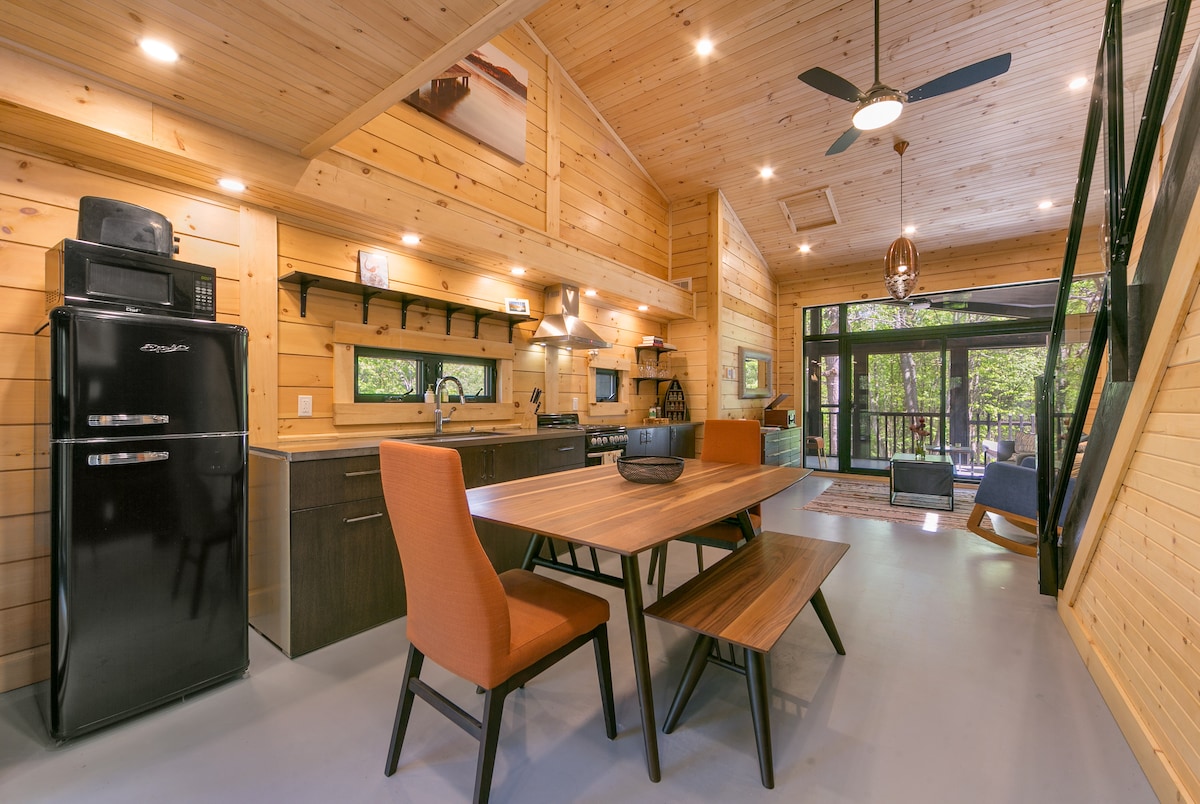 Muskoka's Luxury Tiny House
Serenely situated between Gravenhurst and Bracebridge, Tiny Haus has been custom built by an award winning architect to capture the beauty of the natural surroundings.
You can learn more about the Elizabeth tiny home or order your own by visiting Pratt Homes.