If you are in the market for any very small tiny house which is also reasonably priced, consider the Beehive by Incredible Tiny Homes.

This tiny house measures just 8' x 16', and weighs only 7,680 pounds.

You can already get a glimpse of what it's like inside through the large windows in the front.

The red trim around the windows contrasts beautifully with the surrounding siding.

It is a very inviting color combination, and the warm light exuding through the many windows seems to be welcoming us home.

As we approach the front door, that impression only gets stronger.

Let's step inside and find out what it's like to live in only 128 square feet of space.

I think you're going to be amazed by how comfortable it is!

Directly across from the front door is a small table or desk which you could use however you please.

Beside that desk/table, a flight of steps leads up to a loft.

There is a storage cabinet underneath the steps, as well as a space which has been left open, maximizing its storage flexibility.
The Helm—2-Story Container Home close to Magnolia Market

The kitchen is located directly across from the steps. There is a cover for the double sink basins so that you have extra counter space available when you need it.

You could fit any number of items inside the large storage cabinet under the steps.

It sure looks like this is the type of kitchen counter where you might be able to collapse the section at the end if you do not need to use it, but it is difficult to be certain.

The cabinets are custom-built for this kitchen. Notice that there is an extra storage drawer located underneath the apartment-size fridge and freezer.

Lighting and a nice view to work by are provided by the large window over the sink.

Even though covering and uncovering the sink to cook is not incredibly convenient, it is the most space-efficient solution in a tiny kitchen. And when you have so little floor space to work with, it is ideal. I can tell you from experience that you do get used to it fast.

You can just glimpse the washer and dryer along the left-hand side of this shot.

Here's a better view of both.

On the left, you see a composting toilet. Across from that is a shower.

This shower is simple and small, but it has a couple of shelves, and plenty of standing room for the average user.

Next to the composting toilet, there is a small sink and cabinet. It is not only space-efficient, but stylish with its look of sleek minimalism.

The composting toilet has a neat appearance when the lid is down.

One feature which I particularly like in the bathroom is the shelves to the left of the sink. They appear to reach back further into the wall than they protrude from it. This makes them the right size to hold towels and other bathroom supplies without intruding on your space when you use the sink.

It doesn't look like there is a lot of space past the kitchen for seating, but you could at least put a chair at the desk.

So, this living space probably would be most suitable for a single occupant.

Now, we can head upstairs.

The loft is just the right size for sleeping.

This photo shows off the hard wood floors.

There is a second, narrow loft for storage located across from the sleeping loft. The lights above the kitchen sink would provide a little additional light upstairs as well.
in an infinite green oasis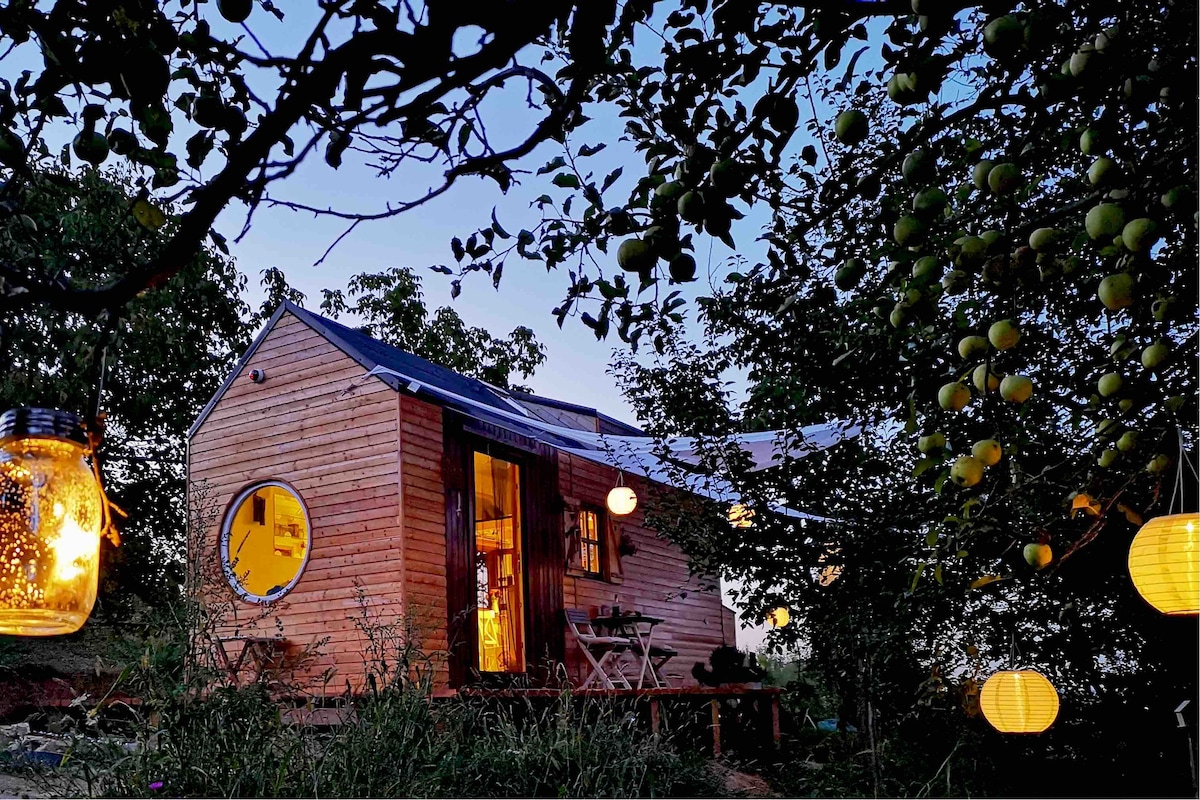 Tiny House on wheels
This is not just another bed you rest in overnight. It is a dazzling experience! Superhost Gabriella will amaze you with her cozy tiny house.
Entire house hosted by Robin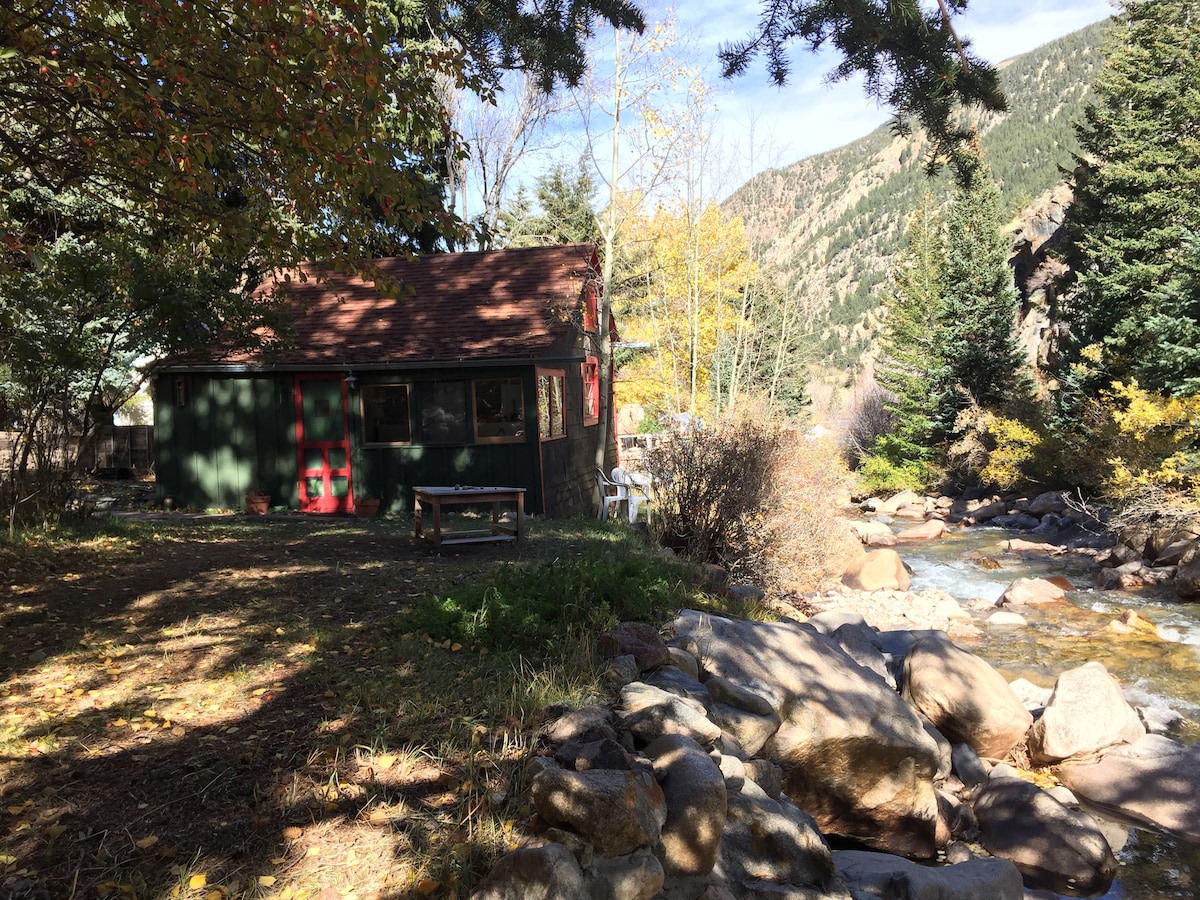 The Cricket- An amazing Tiny House!
The Cricket is a rustic historic cabin in a small neighborhood on Spring Street along side the rushing Clear Creek and nestled among an Aspen grove.
Tiny house hosted by Caroline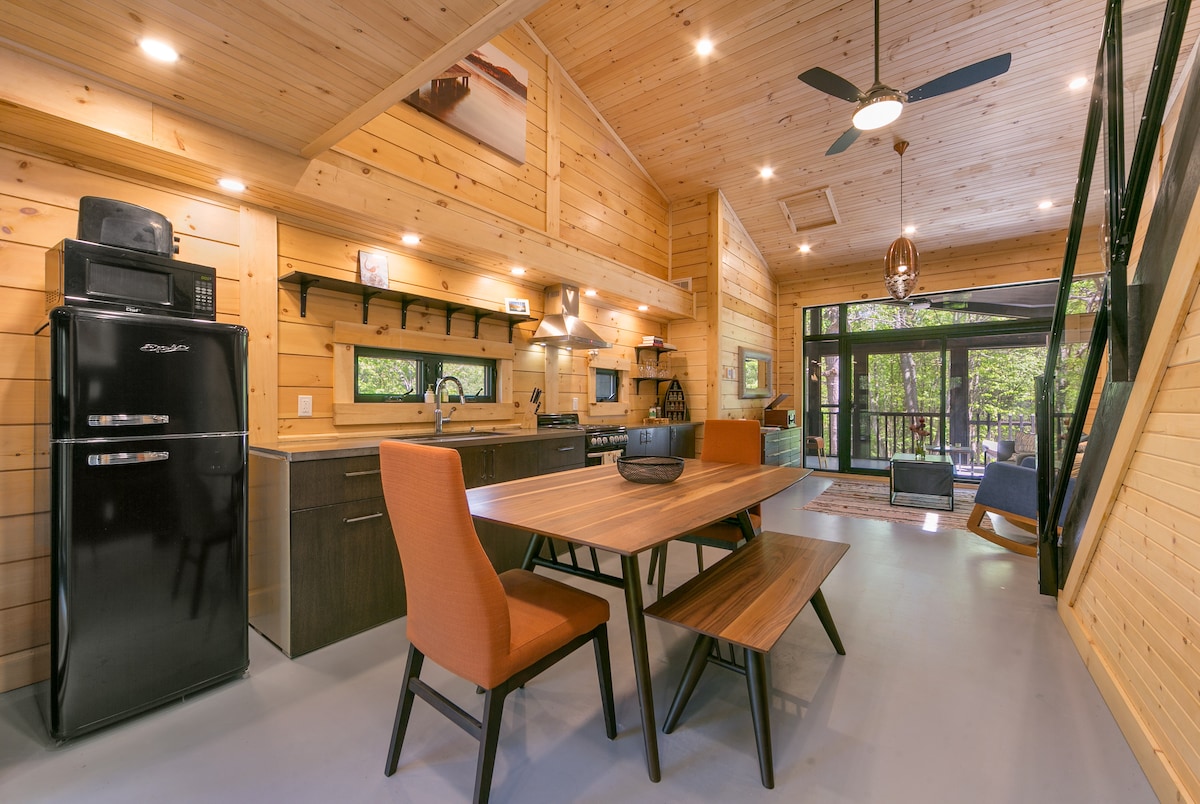 Muskoka's Luxury Tiny House
Serenely situated between Gravenhurst and Bracebridge, Tiny Haus has been custom built by an award winning architect to capture the beauty of the natural surroundings.

If I were going to have a television set in this house, I would probably locate the screen in this loft and simply watch it from across the way.

To conserve power and keep the living space comfortable, a ceiling fan is installed between the two lofts.

Want to call a cute little house like The Beehive your own? Learn more or commission Incredible Tiny Homes on their website.