289 square feet honestly isn't a lot. But one tiny house that makes it feel huge is the Vulcan, which measures 34 feet in length, and was built as a DIY project by its owners, Robert and Julia.

It is hard to believe, but apparently these two didn't have a ton of DIY experience prior to building this house.
Julia and Robert are looking to resettle, but they aren't sure where. They built the house to help them in that journey.
They explain, "With 5 children between us, all out of the house, we are ready to explore the country in search of a new place to call home. Rather than visiting potential locations, staying in a hotel for week (and we did a few of those and really enjoyed it), we wanted to ensure we get to learn the community, see what it is really like, experience the weather, the people, the activities. We want to know that it is the right place to spend the rest of our lives."

This photo shows you the clever layout of the home and why it appears so large! There is a huge patio, and it is completely covered overhead with curtains that can be drawn around the sides. Just at a glance, it looks like it adds about 30% more outdoor living space.

The curtains offer great flexibility in terms of how much privacy the owners want when they are hanging out on their porch.

The design of the roof allows for seating to be placed in the middle of it. That being said, I do wonder how it isn't a problem when there is rain or snow. It would be best to park this home somewhere without too much of either, or it might accumulate.

How did a couple of inexperienced builders make something so beautiful? They started out by going to a workshop where they learned the basics. They didn't build the trailer the house is on; they ordered it to their custom specifications. During the building process, they incorporated sustainable materials like Cumaru teak wood.

Check out the clever bar design. It is an extension of the countertop which you can collapse when not needed. So, when the house is all closed up, the bar can be folded out of the way. But when the house is opened up like this, it can be raised so that it functions as an outdoor dining spot.

The cook has an unbeatable view while working! Instead of just a window, the kitchen can be wide open to the fresh air. Also, easy to miss, notice the electric car charging port in use.
The Helm—2-Story Container Home close to Magnolia Market

Utilities are concealed by these steps.

The utilities in question are the 20 kWh Tesla batteries which are part of the home's solar system. It is completely off-the-grid with no need to connect to another power source.

The floors in the house are heated.

There is also a cast iron wood burning stove. With the small size of the house, these two features are more than adequate to keep the interior temperature comfortable however cold it is outside. The top compartment that you see on the wood burning stove is an oven.

You have already glimpsed the kitchen from outside, but you can get a better look at it here. It boasts stainless steel countertops, a deep sink and an oven and cooktop. The eye gravitates to the decorative tile backsplash and the floating open shelves.

That is a really cool and unique ceiling fan! You also can see now what the windows look like when the front part of the house is closed off from the porch.

Here you see some additional appliances: a steam oven, a microwave, and a couple of freezer drawers. With so much freezer space, this kitchen would be ideal for someone who likes to batch-prepare meals for a week or more.

Directly to the right of the counter, the steps lead you up to the loft. Just past them, you can see the washing machine and dryer. What's hiding in those cabinets under the counter is going to surprise you …

Yep, there is a mini-fridge down there and a dishwasher! I like this idea of putting in a mini-fridge and the two freezer drawers—it is space-efficient and fully customized to the chef's needs.

Across the way, one of the cabinets holds another secret: a coffee bar.

The couple's love for wine is well-served by these drawers specifically for bottles and glasses.

There is a sink on top of the washer and dryer and some storage cabinets above.

The shower is beautiful. If that tile looks slightly iridescent to you, it isn't your imagination; it features mother-of-pearl inlay. Deep shelves give you more than enough room for your shampoo, conditioner, soap, and razors. Also awesome is the fact that there is both a rain shower and a removable showerhead. This shower has it all!

The toilet is a composting Nature's Head model. The items you see attached to the wall are accessories for it.

The bedroom loft is so open and airy! And those cabinets next to the bed offer a ton of space for storing clothing and other items. But guess what? There's more …

There is additional storage hidden under the floor!

There is a large table with enough seating to entertain in the house—pretty awesome. But it gets even better …
in an infinite green oasis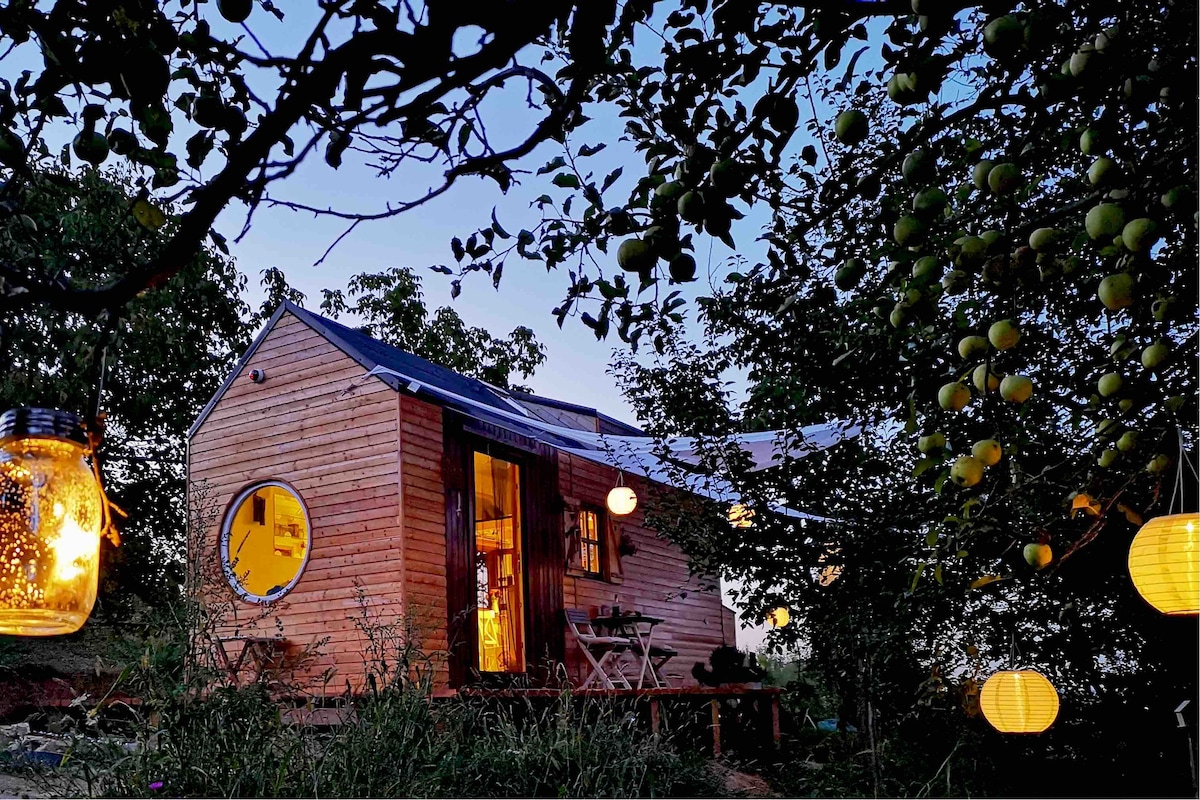 Tiny House on wheels
This is not just another bed you rest in overnight. It is a dazzling experience! Superhost Gabriella will amaze you with her cozy tiny house.
Entire house hosted by Robin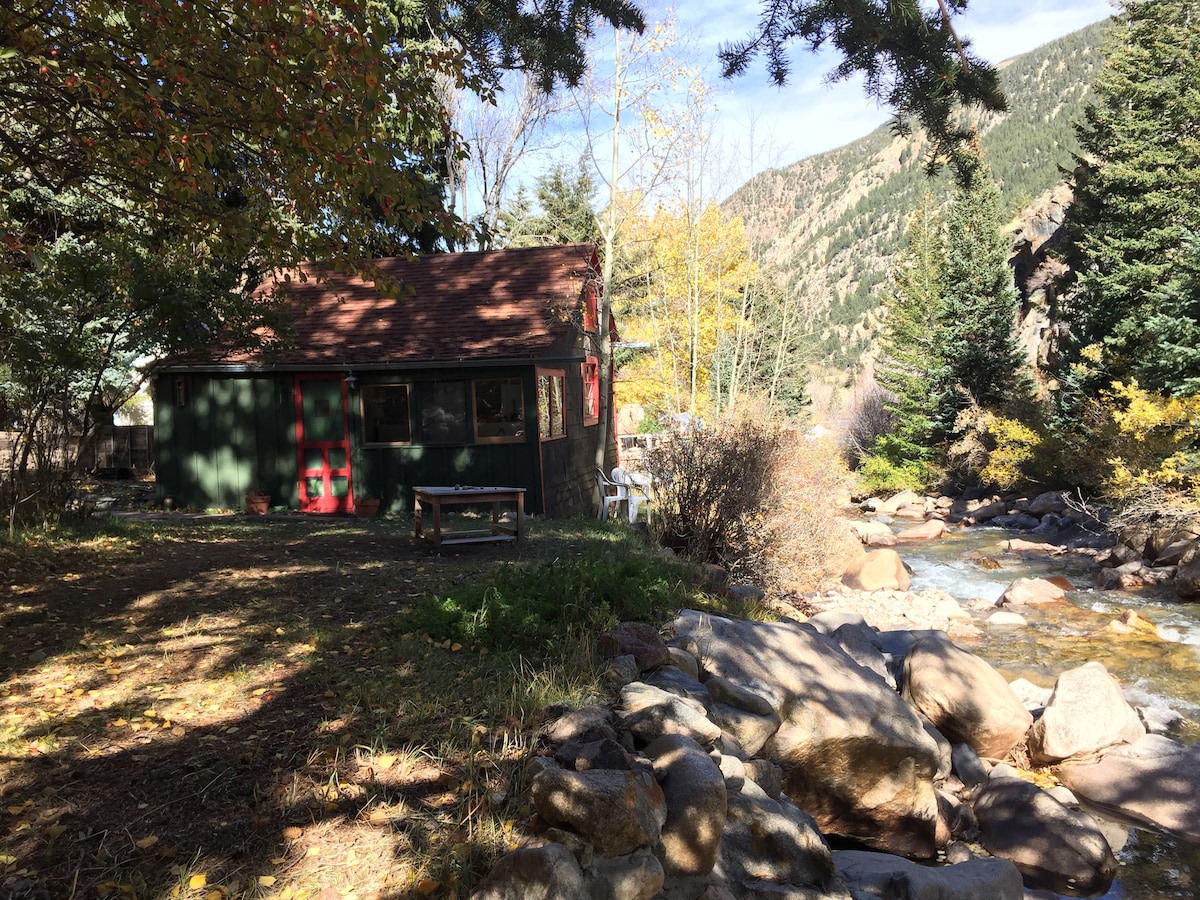 The Cricket- An amazing Tiny House!
The Cricket is a rustic historic cabin in a small neighborhood on Spring Street along side the rushing Clear Creek and nestled among an Aspen grove.
Tiny house hosted by Caroline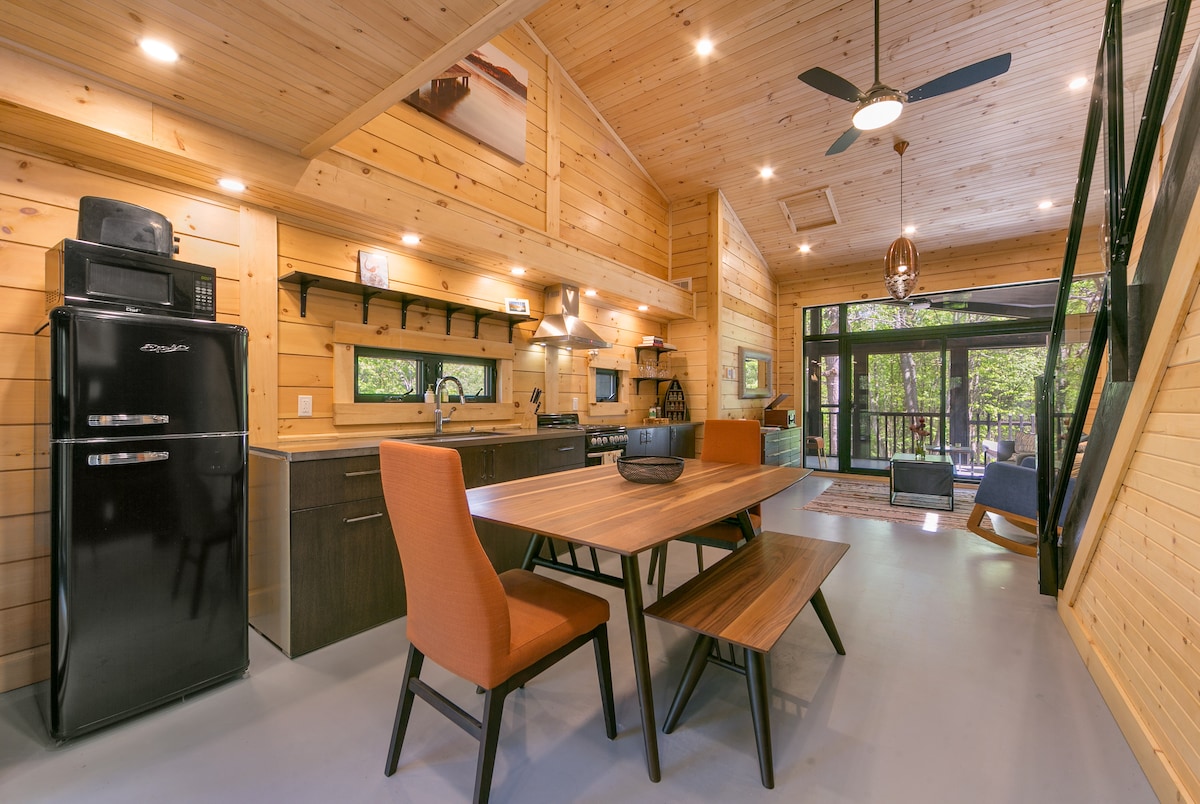 Muskoka's Luxury Tiny House
Serenely situated between Gravenhurst and Bracebridge, Tiny Haus has been custom built by an award winning architect to capture the beauty of the natural surroundings.

If you look in the center, you can see where the table was. It's still there, but its position has been lowered so that a cushion can go on top of it, creating a bed for overnight stays.

Here is what it is like up on top of the roof.
Above, you can watch a video tour of the house and its cool features. Want to find out more? Visit Tiny Lovin Life and Tiny Living Large.