Unless you've spent the past decade living under a rock, you are familiar with Tesla, the alternative energy company founded by Elon Musk. Did you know that Tesla now has its very own tiny house? The Tesla Tiny House serves to exhibit the company's alternative energy products. The Tiny House is presently on tour in Australia. Let's check out the energy solutions of the future—perfect for powering your own tiny house.
Here you can see the Tesla Tiny House from the outside. As you can see, the emphasis here is definitely on green design. While I am not sure what the siding is made of, it is a beautiful wood finish, very pleasing to the eye.
You can see from this photo that the Tesla Tiny House is not really a tiny house in a functional way—it is actually more like a glorified expo stand. The side of the house opens up wide on the left, providing a deck where the representatives can sit and tell an audience more about Tesla's products.
The Helm—2-Story Container Home close to Magnolia Market
Here is a slightly different angle, which gives you a better look at the siding and the Tesla logo.
This is what you see if you step inside the Tesla Tiny House. It has a very corporate look and feel, consistent with the house's purpose as a demonstration model. Remember, the lights and screens you see running here are all powered by 100% renewable energy.
Finally, one more view of the Tesla Tiny House, this time from overhead, allows us to look down on the solar panels which cover almost the entire roof.
Even though the Tesla Tiny House wasn't built to be lived in, it is undeniably a cool and clever demonstration model. And the technology which it exhibits can be used in real-life tiny homes around the world.
in an infinite green oasis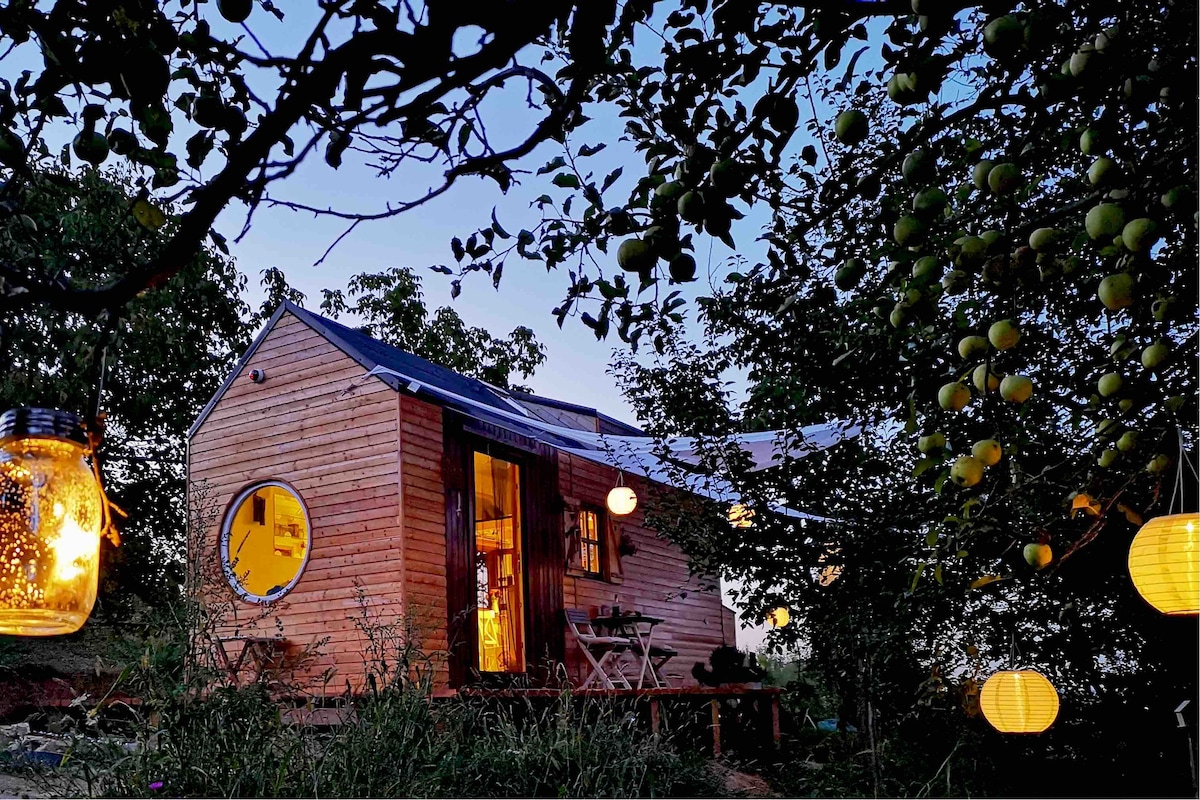 Tiny House on wheels
This is not just another bed you rest in overnight. It is a dazzling experience! Superhost Gabriella will amaze you with her cozy tiny house.
Entire house hosted by Robin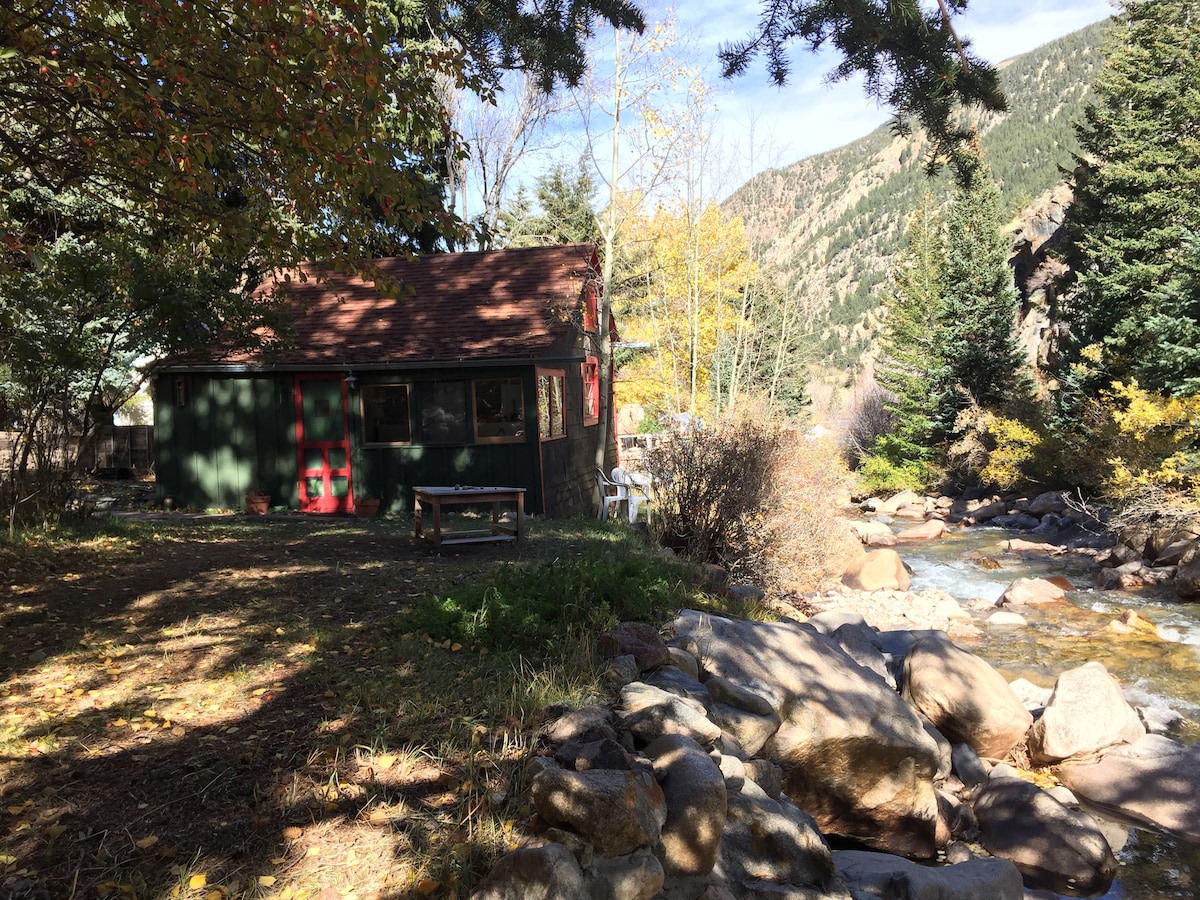 The Cricket- An amazing Tiny House!
The Cricket is a rustic historic cabin in a small neighborhood on Spring Street along side the rushing Clear Creek and nestled among an Aspen grove.
Tiny house hosted by Caroline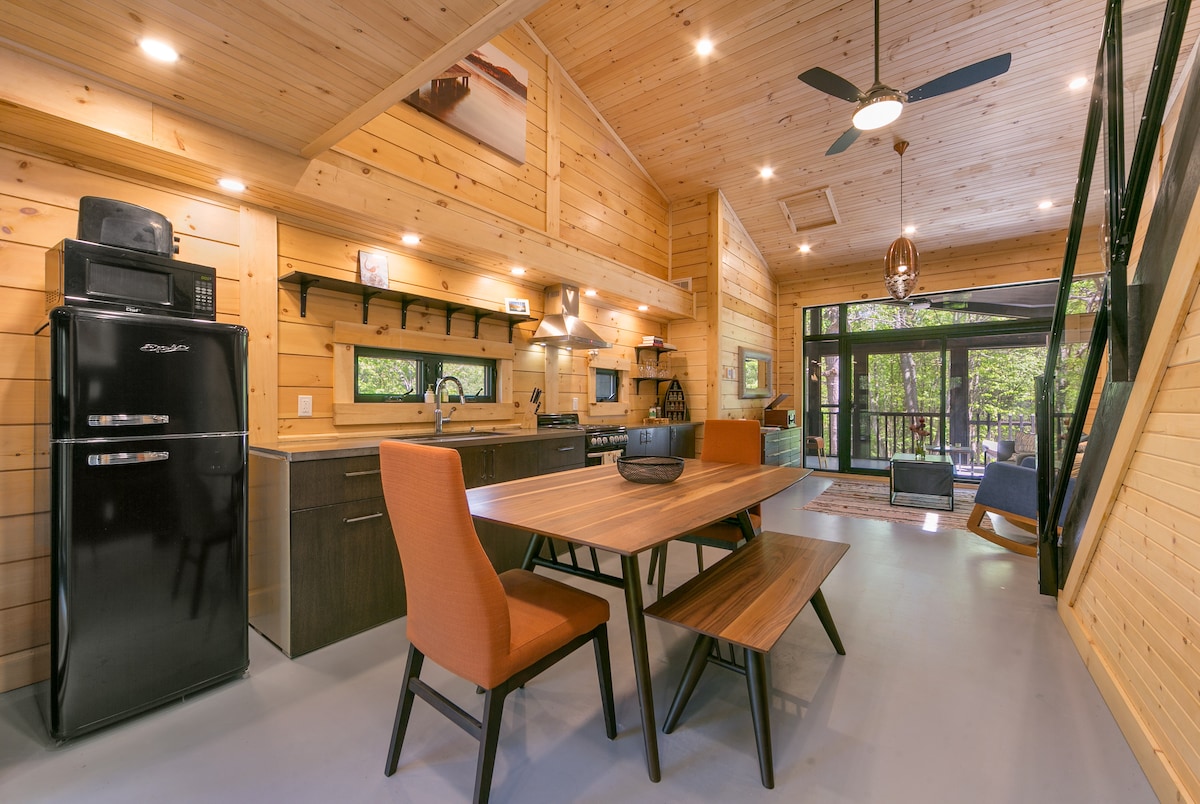 Muskoka's Luxury Tiny House
Serenely situated between Gravenhurst and Bracebridge, Tiny Haus has been custom built by an award winning architect to capture the beauty of the natural surroundings.
Want to learn more? You can visit the official webpage for the Tesla Tiny House here. This page includes photos and a map of locations, dates and times where the house will be on display.