If you dream of living in a tiny house, staying overnight in one is the next best thing! One great place to go to experience what tiny life is like for a night is Blue Moon Rising, a resort in at Deep Creek Lake in Maryland. There you can stay in a cute little cabin of your choice, like the one-of-a-kind Funkomatik 513!

Each cabin at Blue Moon Rising has a name which is as distinctive as the individual design of the cabin itself. Funkomatik 513 definitely has the most unusual name …

Funkomatik 513 looks ordinary enough, except for one striking detail.

The door with its bright purple paint really stands out! Owner and designer Bill Thomas was very taken with it, and realized it could inspire an entire structure. As Blue Moon Rising explains on their site, "While sourcing reclaimed products he came upon a purple door labeled 513 and decided to get funky."
The Helm—2-Story Container Home close to Magnolia Market

Apparently the same shade of purple is used for trim and cabinets in the interior. It is pretty hard to see from the photos, but it does look like both the cabinets in this shot and the curtains may be purple.

Here you can see the purple trim! It looks a little more understated than the purple on the door, blending in with the neutral rustic colors surrounding it. Still, it adds some distinction to the cabin. The colors of the potted flowers are nicely coordinated with it.

I'm not sure, but it looks like there is more purple paint under the eaves.

This photo shows you what the interior of the Funkomatik 513 is like. Once again, I find it hard to tell for sure where the purple shade has been used, perhaps because it is so subtle (though also because of the lighting). In any case, it is an inviting, open space with everything you would need for a comfortable stay.

It's so easy to imagine spending a few days in this delightful little cabin!

Surrounded by beautiful woodlands, the Funkomatik 513 gives you a chance to really get away from the hubbub of daily life.
in an infinite green oasis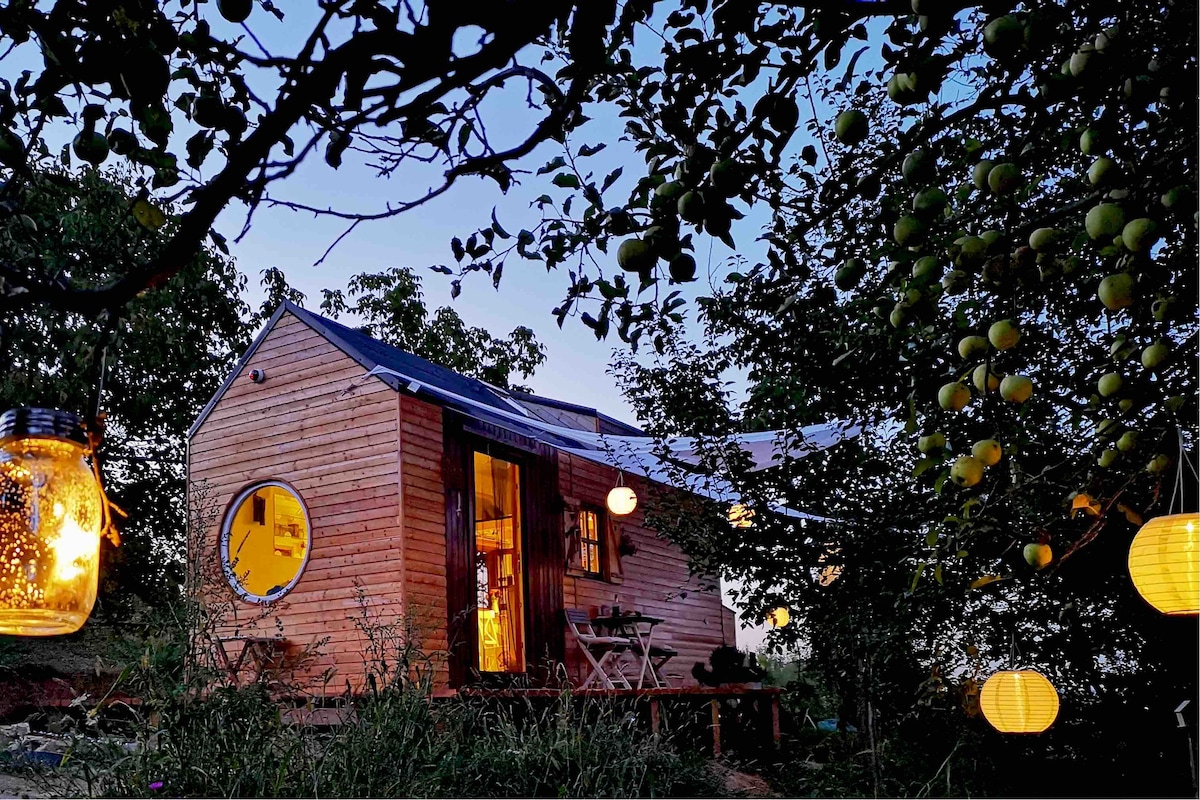 Tiny House on wheels
This is not just another bed you rest in overnight. It is a dazzling experience! Superhost Gabriella will amaze you with her cozy tiny house.
Entire house hosted by Robin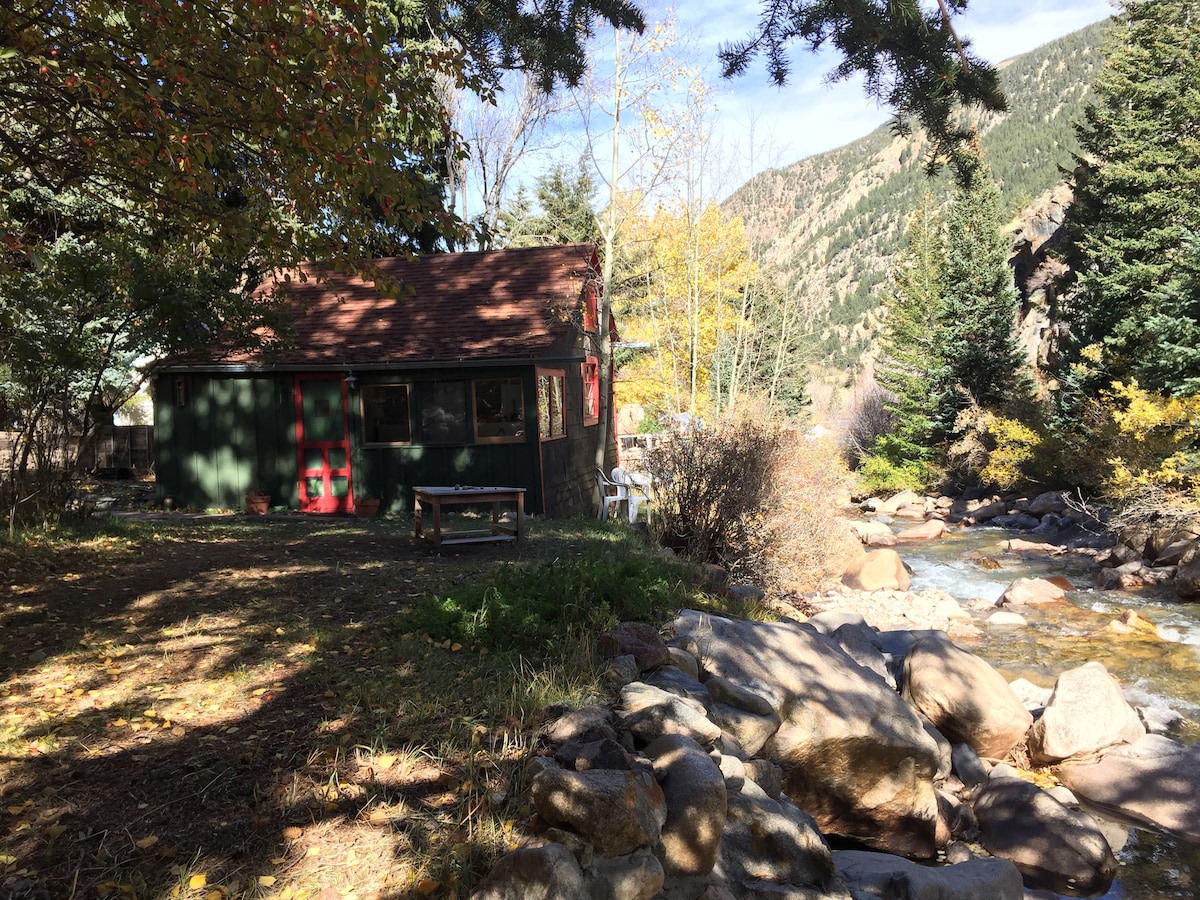 The Cricket- An amazing Tiny House!
The Cricket is a rustic historic cabin in a small neighborhood on Spring Street along side the rushing Clear Creek and nestled among an Aspen grove.
Tiny house hosted by Caroline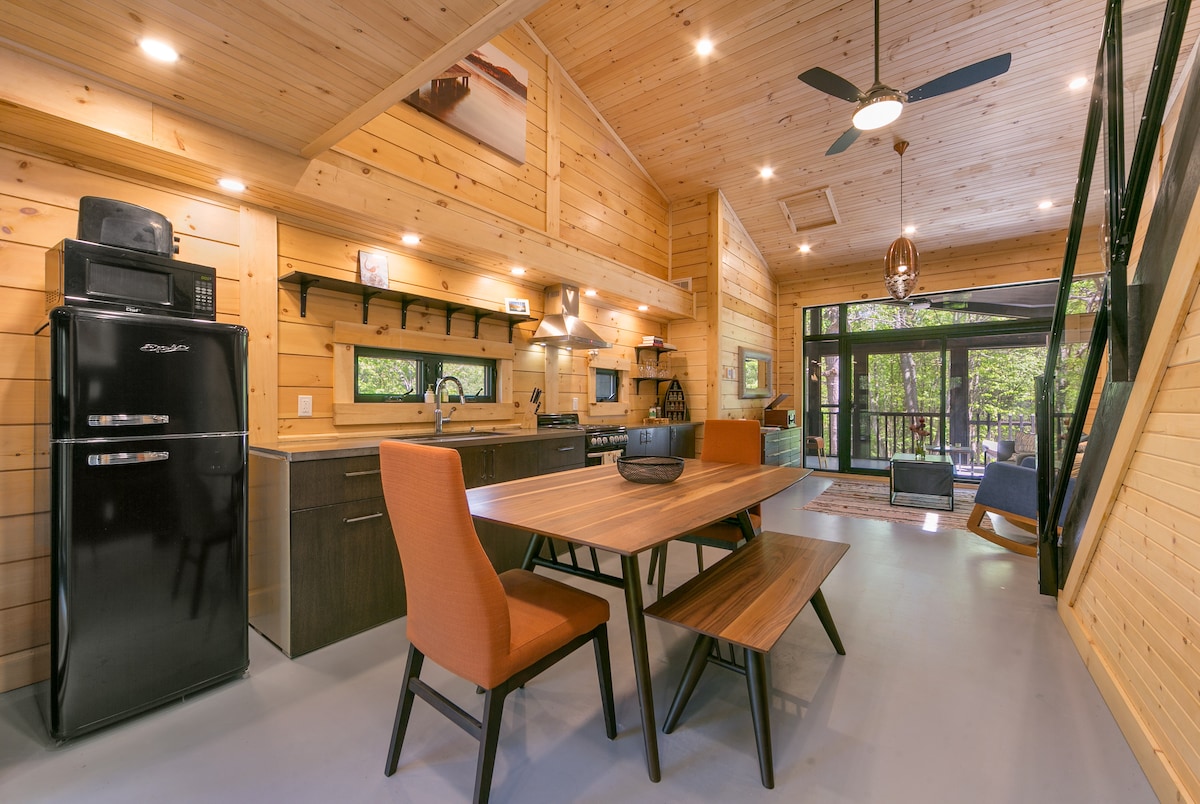 Muskoka's Luxury Tiny House
Serenely situated between Gravenhurst and Bracebridge, Tiny Haus has been custom built by an award winning architect to capture the beauty of the natural surroundings.
If you want to "get funky" with the Funkomatik 513, head over to Blue Moon Rising, where you can check out this and the other beautiful tiny cabins in more detail or place a reservation!