I love everything about the tiny house trend. It conserves space, reminds us that less really is more, and allows us to focus our time, budgets, and energy on aesthetic design. Essentially, the quality of space is far more important than the quantity of it. One of the many advantages of going tiny is saving money! Because you do not need nearly as much in the way of building materials to create a tiny house as you would to construct a "full size" domicile, you can create a lovely living space on a shoe string.
Still, saying it is one thing; doing it is quite another. Instructables user Hypha actually made it happen! She designed a brilliant tiny house for just $2,000 and shared photos from her construction process online. Let's check out her design process and her incredible finished result!
When Hypha got started, she didn't actually have everything she needed. She had a rusted old utility trailer and a dream, and that was about it. But she had the drive to match, so she borrowed some tools and got started anyway.

Hypha was willing to learn as she went. "I love to create, make, and invent, and my lack of construction experience didn't worry me too much."

As someone who is totally intimidated by anything relating to construction, I am really inspired by what she said next. "I trust my ability to reason through problems and engineer things, or know when something is beyond me. Most people have these abilities, they just need to learn to trust themselves."

She saved money by buying untreated pine lumber for her flooring instead of manufactured wood. She also created her own non-toxic stain which resulted in a beautiful honey tint.
The Helm—2-Story Container Home close to Magnolia Market

Her cabinets were made out of repurposed shipping crates.


Here you can see her applying the paint to the exterior. She went with a beautiful deep green color.

The kitchen is just unbelievable! There is plenty of shelf space, and a fully functional kitchen faucet which hooks up to an outdoor tank through a water hose. There is also a cast iron stove! Wow!

Even the bed was made from scratch! "It's a heavy canvas shell with layers of blankets, old foam toppers, mattress pads, etc.," she writes.

Look at all the storage space underneath the bed!

Here is the bookshelf next to the bed. The stain on the wood looks really amazing.

Finally, here are a few shots of the exterior of the finished tiny house. You can see it really is tiny. It can be hitched up to the back of a vehicle.

in an infinite green oasis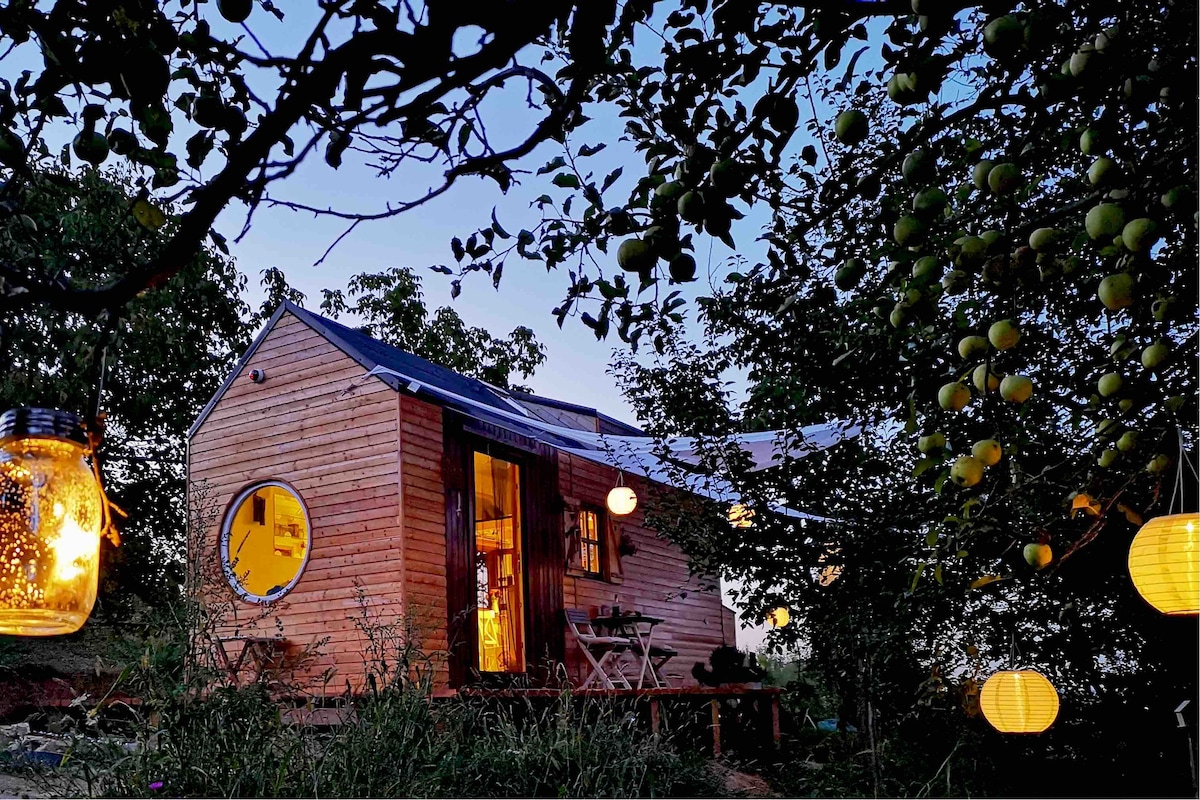 Tiny House on wheels
This is not just another bed you rest in overnight. It is a dazzling experience! Superhost Gabriella will amaze you with her cozy tiny house.
Entire house hosted by Robin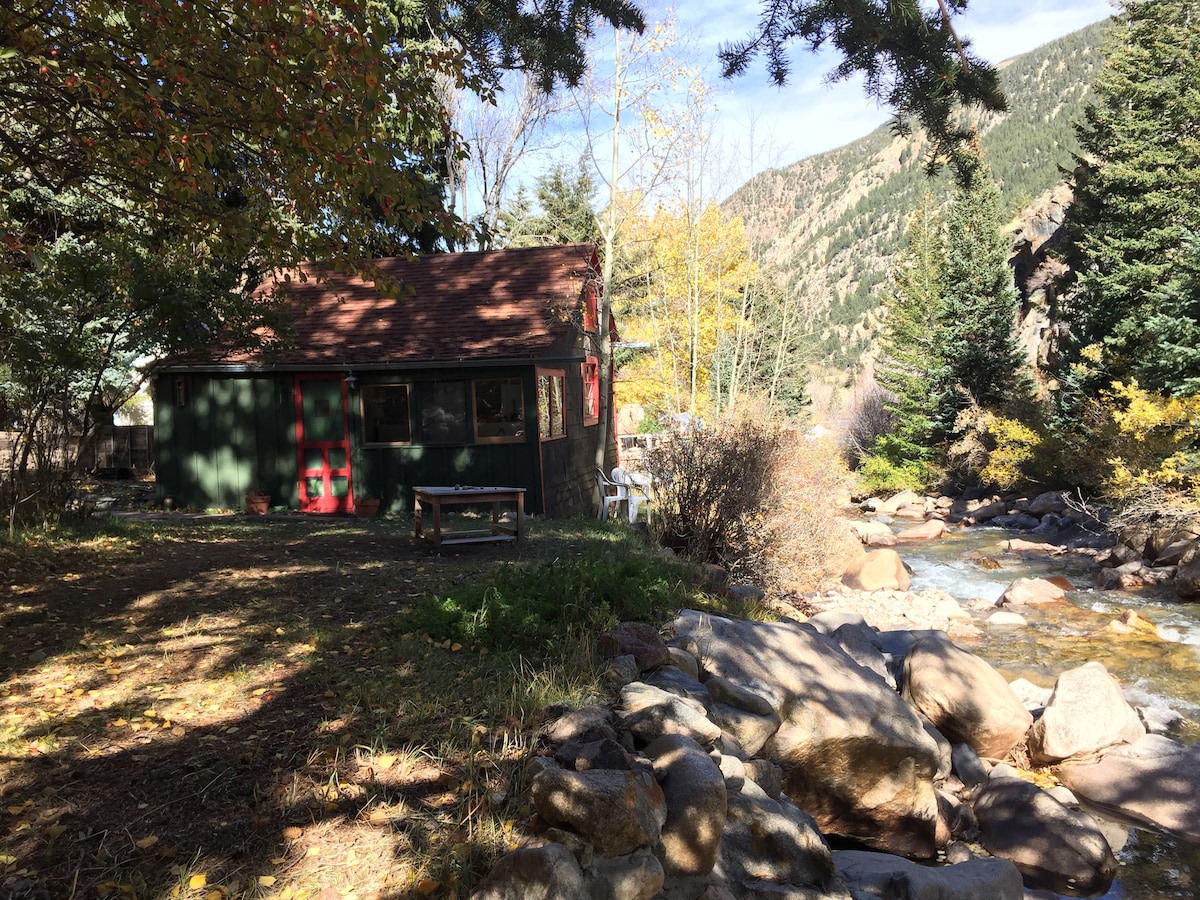 The Cricket- An amazing Tiny House!
The Cricket is a rustic historic cabin in a small neighborhood on Spring Street along side the rushing Clear Creek and nestled among an Aspen grove.
Tiny house hosted by Caroline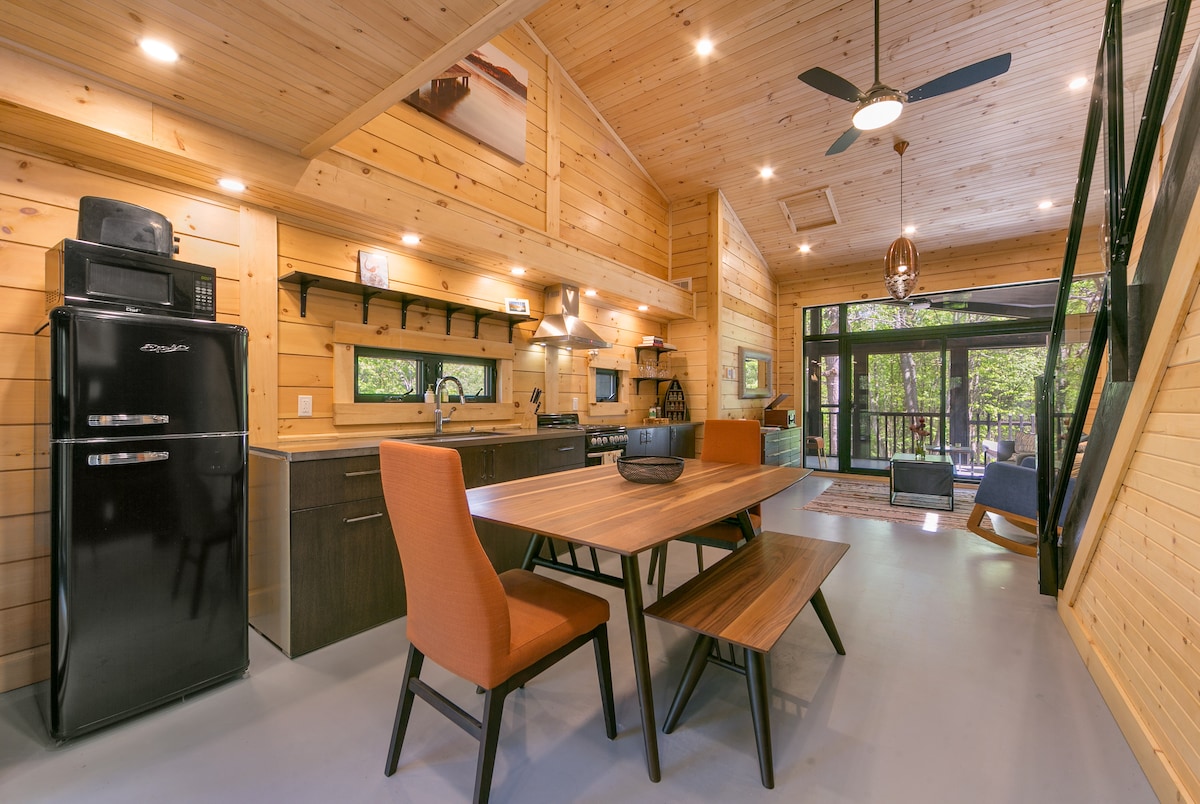 Muskoka's Luxury Tiny House
Serenely situated between Gravenhurst and Bracebridge, Tiny Haus has been custom built by an award winning architect to capture the beauty of the natural surroundings.
If you are as amazed by Hypha's work as we are, be sure to share it with everyone you know! Hypha writes, "In all, it cost around $2,000 to build, and probably 50-100 hours of time. It was so worth it. With no mortgage, and very little for the space and utilities, it has already paid for itself after only 6 months." Hypha's beautiful design, determination, resourcefulness, and faith in herself as a beginning builder are an inspiration! Make sure you check out her link below!
Builder's link on Instructables with detailed instructions: http://www.instructables.com/id/Tiny-House-Gypsy-Wagon-You-Can-Build-one-too/