Tiny houses are becoming more and more popular, and there are now a lot of companies springing up to build them to your specifications. One such company is Güte in Canada. Güte has come up with a design called the Shepherd Hut. The Shepherd Hut can be customized according to your wants and needs, and was built with functional versatility in mind. It could serve as a guest cabin, home office or studio, or as your principle residence.
Let's take a look at the Collingwood, which is an example of a finished Shepherd Hut, available for just short of $31,000 (CAD).
The Collingwood Shepherd Hut unites elements of contemporary and old-fashioned design in a unit which measures just 7.5 feet in width by 15 feet in length. Aren't wagon those wheels amazing?

The house was built entirely by hand. If you order a Shepherd Hut of your own from the company, you can expect the same for yours.

Here is a closer look at the gorgeous cast iron wheels.

In this shot, you can take a close look at the steps, which are made of cedar.

You may have noticed the snow in some of these photographs. The Shepherd House was actually designed with harsh weather in mind. That is why the roof is designed with such a vertical angle along the front and rear of the caravan. These shingles are designed to shed heavy snow so that it will not exert its weight on the roof and weaken it.

The Helm—2-Story Container Home close to Magnolia Market
Now let's check out the interior, starting with the breakfast nook. As you can see, the design of the interior is simple and minimalist. Right now there is not a lot in the way of décor in the home, so it looks pretty Spartan. Just look at the beautiful wood walls! They're breathtaking!

Here is another shot of the same nook. As you can see, when the table is not in use, it can be transformed into a comfortable bed!

Here is a shot looking at the opposite end of the caravan. There is a double bunk bed, and if you look at the bottom, you will notice a third bed which can slide out. So four people can comfortably sleep in this tiny house. This photo also gives you a really fabulous look at the beautiful wood.

Take a closer look at the fold-out desk.


Here are a few more interior shots which showcase the wood used throughout the home. The subtle curve of the roof and walls is beautiful! And check out the craftsmanship of the door!
Here is an image from the floor plans for the house. You can see additional hidden storage space.

These next three images show the customization options available for the colors of the exterior, interior, and trim. You can see these are all natural, sedate colors. Notice how the builders have selected a palette of possibilities which are all compatible with one another. Basically, they have ensured that you can't make a mistake. You could close your eyes and pick colors at random and not go wrong.

Here is one more shot of the Shepherd Hut in its lovely snowy environs.

in an infinite green oasis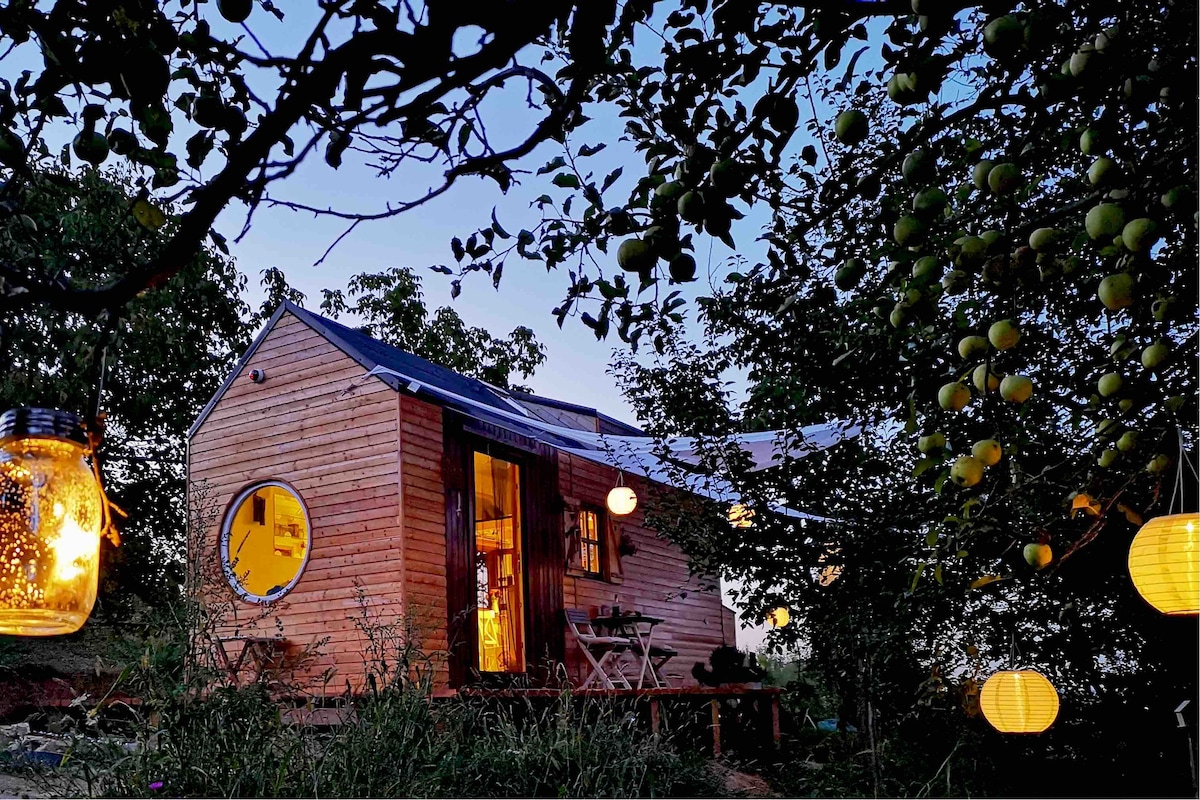 Tiny House on wheels
This is not just another bed you rest in overnight. It is a dazzling experience! Superhost Gabriella will amaze you with her cozy tiny house.
Entire house hosted by Robin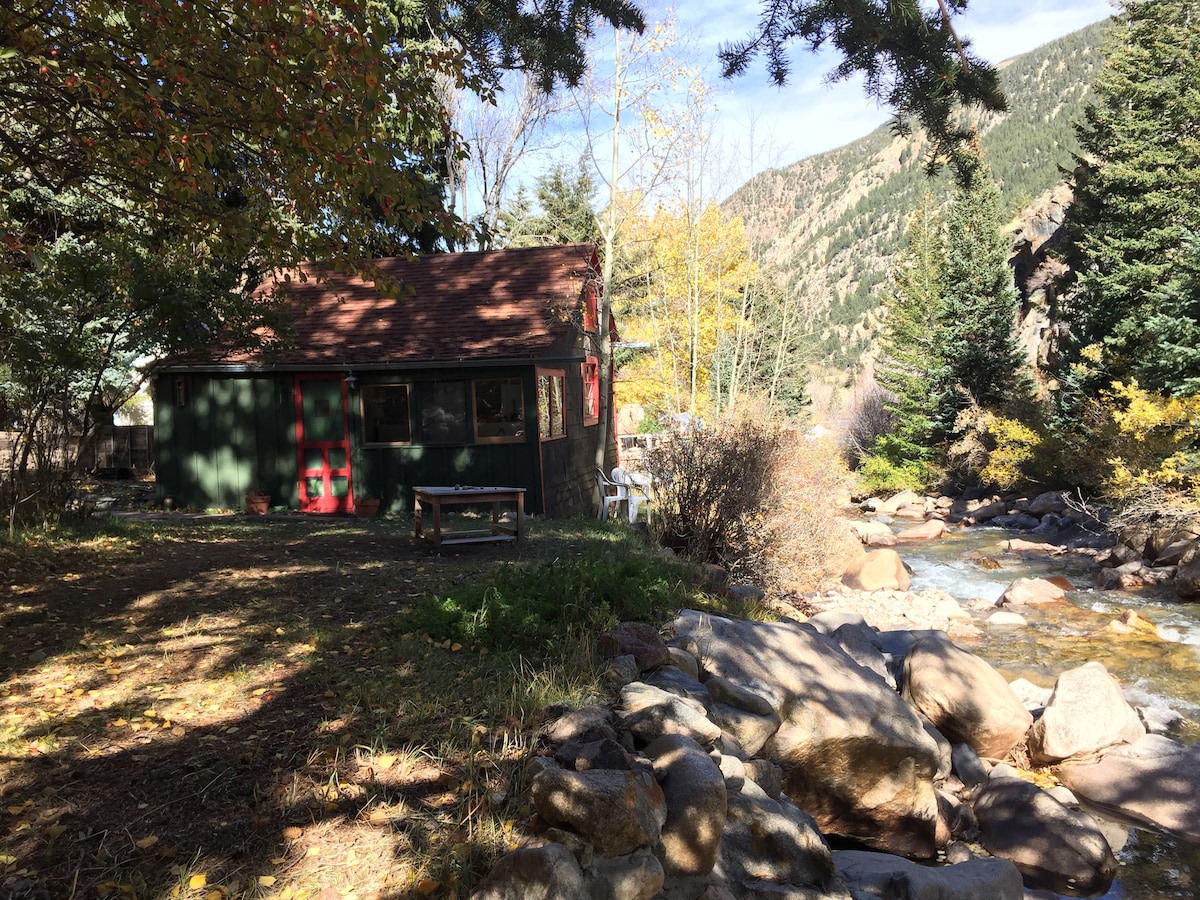 The Cricket- An amazing Tiny House!
The Cricket is a rustic historic cabin in a small neighborhood on Spring Street along side the rushing Clear Creek and nestled among an Aspen grove.
Tiny house hosted by Caroline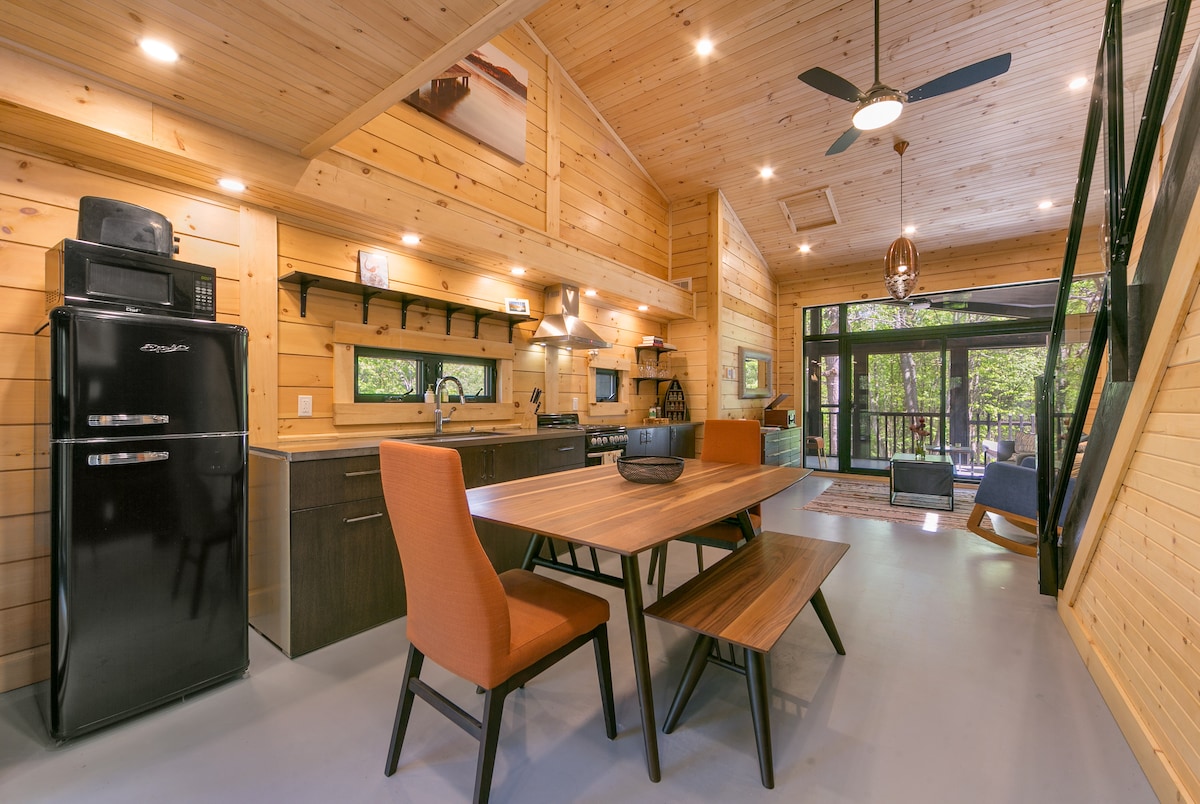 Muskoka's Luxury Tiny House
Serenely situated between Gravenhurst and Bracebridge, Tiny Haus has been custom built by an award winning architect to capture the beauty of the natural surroundings.
If you enjoyed exploring this tiny house, be sure to check out the builder's link below, and share this story with all of your friends!
Builder's link: http://gute.ca/home#