Minimaliste is a tiny house company out of Quebec that specializes in (you guessed it) minimalistic homes that are self-sufficient. One of their models is the 220-square foot Sequoia. With a large range of options including solar panels and ventilation systems, this home ranges anywhere from $30,000 to $100,000.
Video House Tour:
The exterior of the home is very simple with minimal styling and sleek wood siding. However, don't let that keep you from stepping inside this impressive home!
Inside, this home is anything but boring with innovative storage features and sleek style. A dark hardwood floor ground the white walls and ceiling and pair with the dark accents. The rooms are all open to one another for an open concept floorplan that makes the home feel large and airy.
The kitchen and dining rooms are next to one another with a black and white color scheme. The dining table is a large tabletop that can be folded flat against the wall when not in use to free up precious floor space. The side of the cabinets next to the table is painted with chalk paint and magnetized so notes can be written and small canisters can be used for vertical
storage.
The Helm—2-Story Container Home close to Magnolia Market
The kitchen features a compact refrigerator and oven/stove combo with plenty of storage room in both upper and lower cabinets. An extension to the countertops can even be pulled out across the bathroom door to give you extra prep room then pushed back in when not in use.
This home was equipped with a superior ventilation system which is controlled from this panel set against the kitchen backsplash.
Open shelving is along one wall and even the underside of the shelf was put to use with mounted jars that hold spices and cereal.
The living room is on the other side of the home and has another small table that can be folded flat against the wall. A sofa is on the other wall and you also have cabinets mounted on the wall as well as open shelving for extra storage and display space.
The loft is over the kitchen and is reached by a movable ladder that is stored out of the way during the day.
If you want to see more of the Sequoia by Minimaliste, watch this video of the off-grid modern tiny house:
And to learn more about the builders, visit their website at https://minimalistehouses.com/ and you can also follow them on social media at:
in an infinite green oasis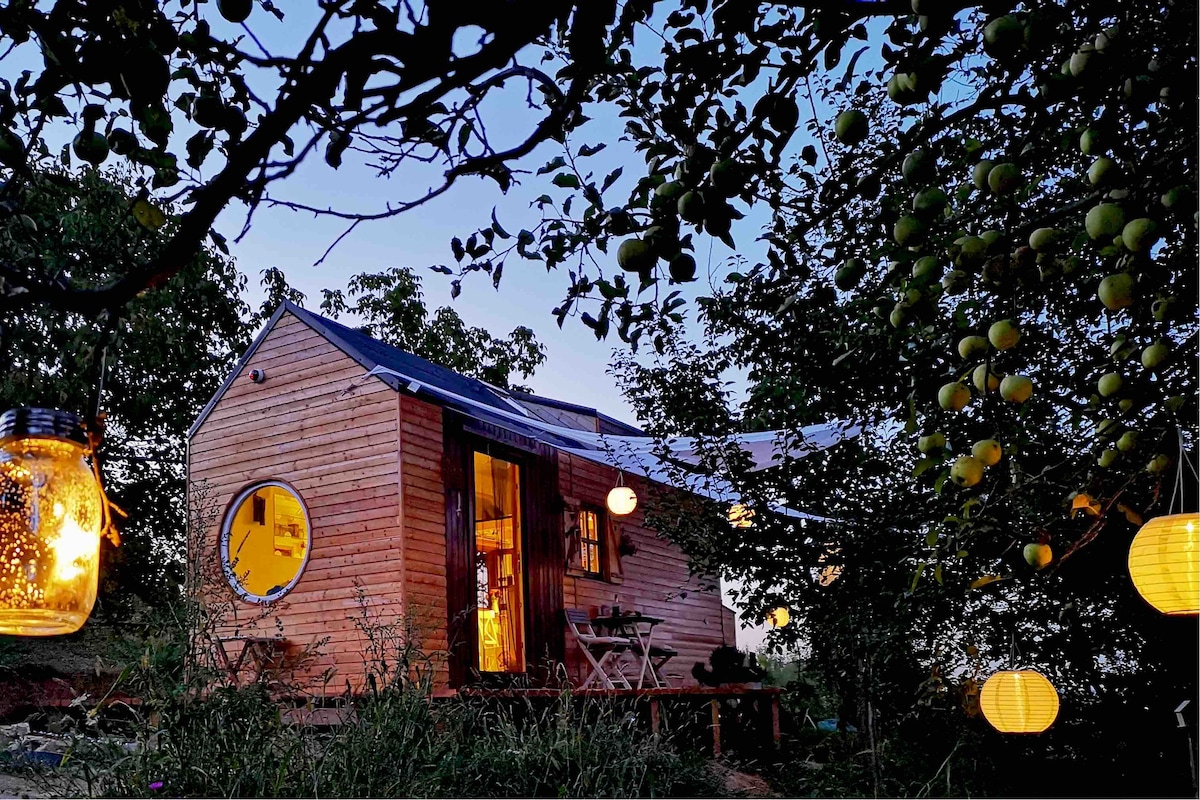 Tiny House on wheels
This is not just another bed you rest in overnight. It is a dazzling experience! Superhost Gabriella will amaze you with her cozy tiny house.
Entire house hosted by Robin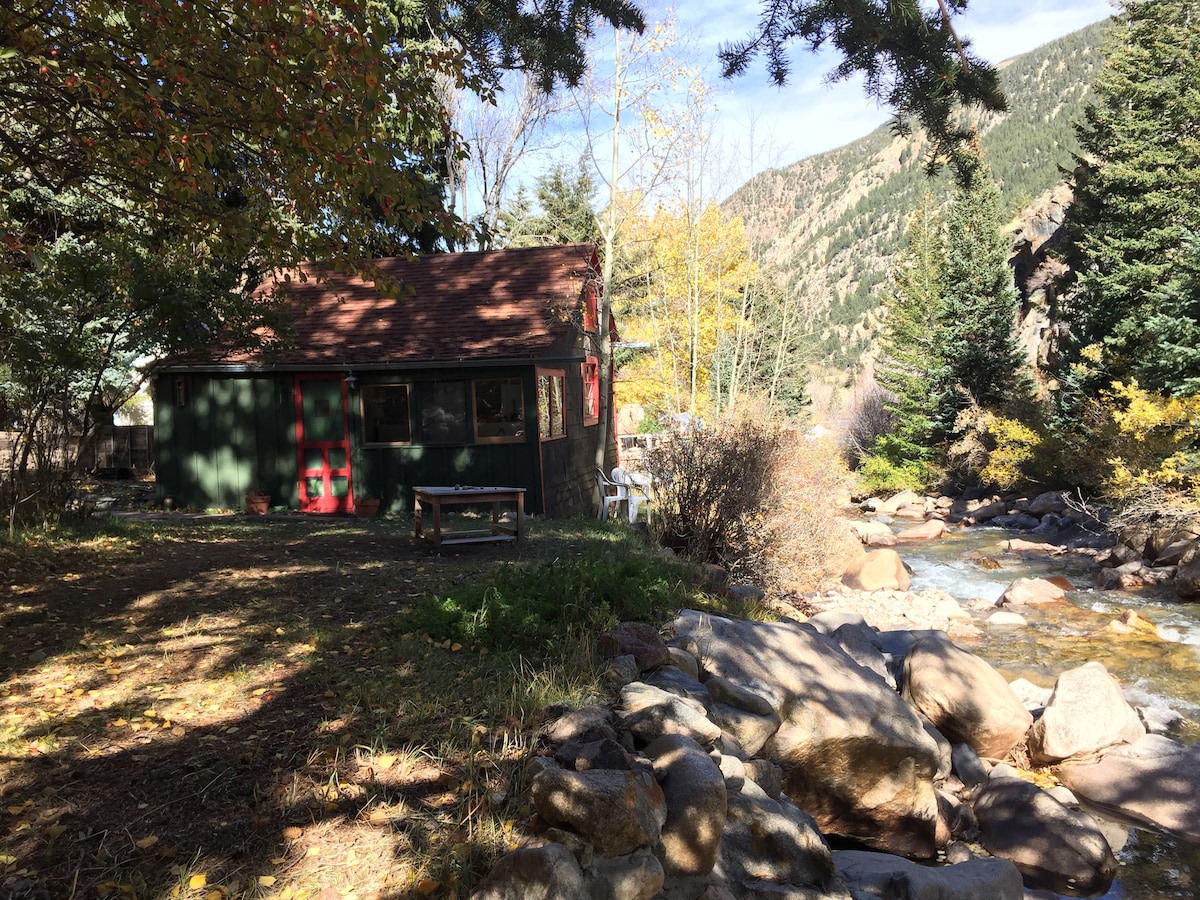 The Cricket- An amazing Tiny House!
The Cricket is a rustic historic cabin in a small neighborhood on Spring Street along side the rushing Clear Creek and nestled among an Aspen grove.
Tiny house hosted by Caroline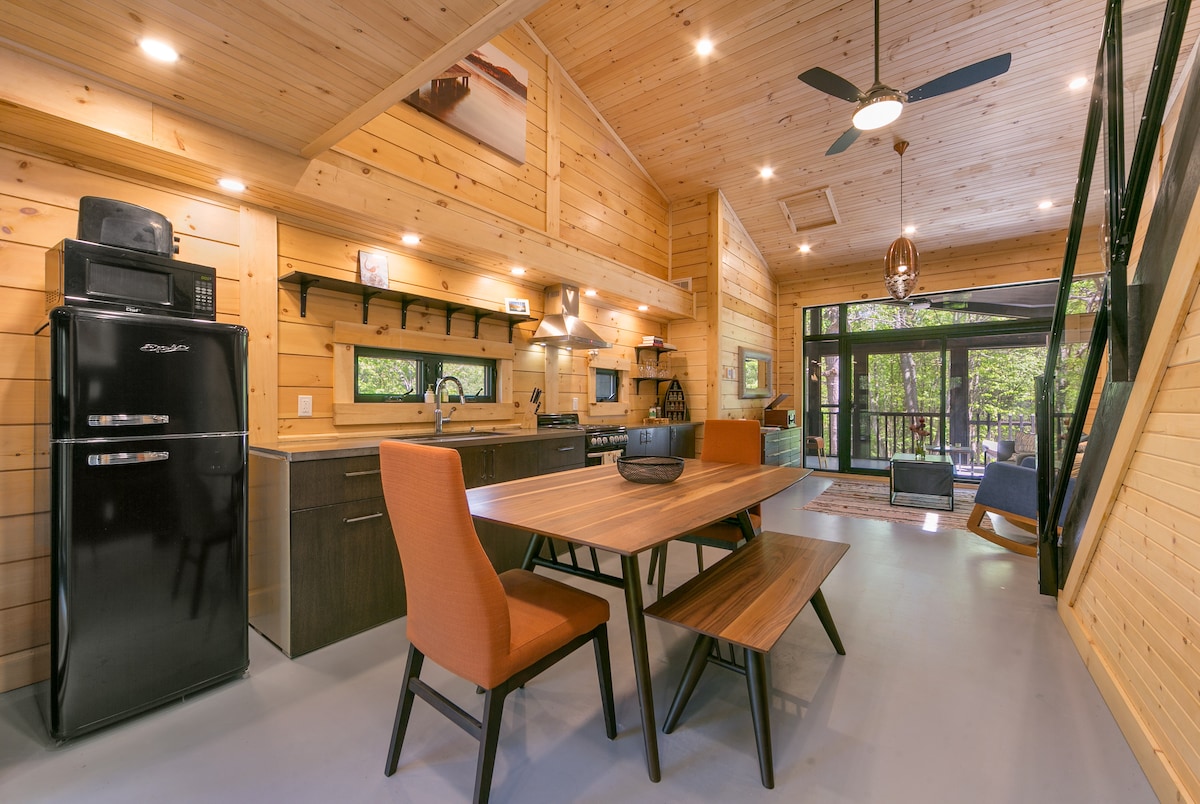 Muskoka's Luxury Tiny House
Serenely situated between Gravenhurst and Bracebridge, Tiny Haus has been custom built by an award winning architect to capture the beauty of the natural surroundings.
Facebook: https://www.facebook.com/minimalistepetitsbatimentsdurables/?fref=ts
Pinterest: https://www.pinterest.com/minimalisteinc/
Instagram: https://www.instagram.com/minimaliste.houses/