Ana White learned how to build while she and her husband were building their own home. Since then, she's developed a passion for it and has become an expert at construction. Her latest project for clients was this incredible tiny house that's not only incredibly beautiful but it even has an elevator bed in it! That's not something we see every day.
Video Home Tour
Ana and her husband build from their home in Alaska which is fairly remote so everything in the house was handmade by the couple including the coat hanger made from pipes.
The interior of the home was kept mostly white with wood accents for a bright and airy feel. Huge windows on both sides of the home let in tons of natural light adding to the brightness of the tiny house.
Storage was built into every possible place including under the platform for the kitchen and the steps. Being in Alaska, all of the plumbing had to be contained inside the home which is why the kitchen was built on a large platform.
The Helm—2-Story Container Home close to Magnolia Market
One of the major things the clients wanted was a wide open space with a huge living area. Ana's solution for that was to put the bed on an elevator that would lift out of the way during the day and be lowered when it was time to turn in for the night.
The other thing the client wanted was a large couch that was comfortable, could be used as a guest bed, and that had built-in storage. Ana decided to build her own sectional with benches that had large cubbies under the lids. To be used as a guest bed, the pieces are rearranged and the shoe bin by the door is dragged over to complete the bed and form a full-sized mattress.
A desk and dining area were still needed in the tiny house so her next ingenious idea was for the doors of the storage cabinet to be flipped up and used as tables or desks.
The kitchen has plenty of its own surprises too including a sliding pantry and a hidden washer/dryer combo in the corner of the kitchen.
The bathroom is off of the kitchen behind a custom storage wall and sliding barn door. A composting toilet and slim shower stall is in the bathroom as well as a sliding closet.
Ana has definitely moved up from a novice builder to a creative designer. We're incredibly impressed with her innovative ideas and this tiny house as a whole.
in an infinite green oasis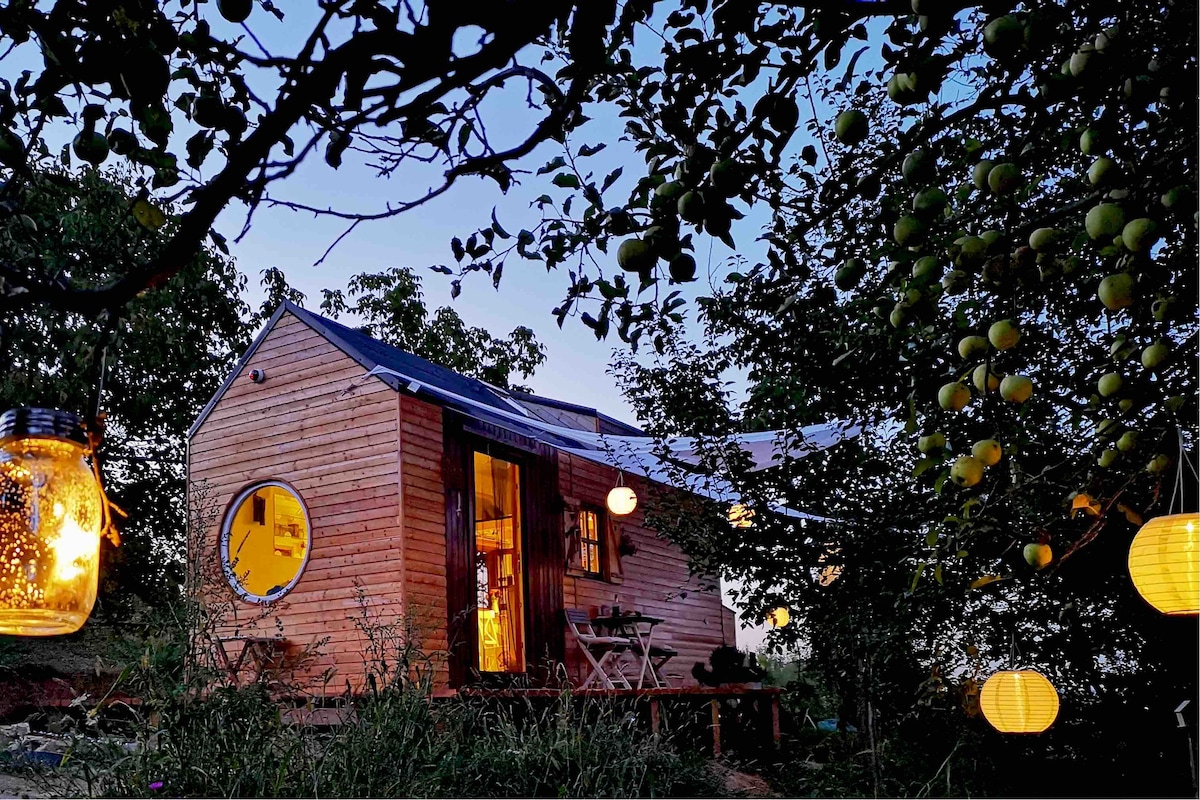 Tiny House on wheels
This is not just another bed you rest in overnight. It is a dazzling experience! Superhost Gabriella will amaze you with her cozy tiny house.
Entire house hosted by Robin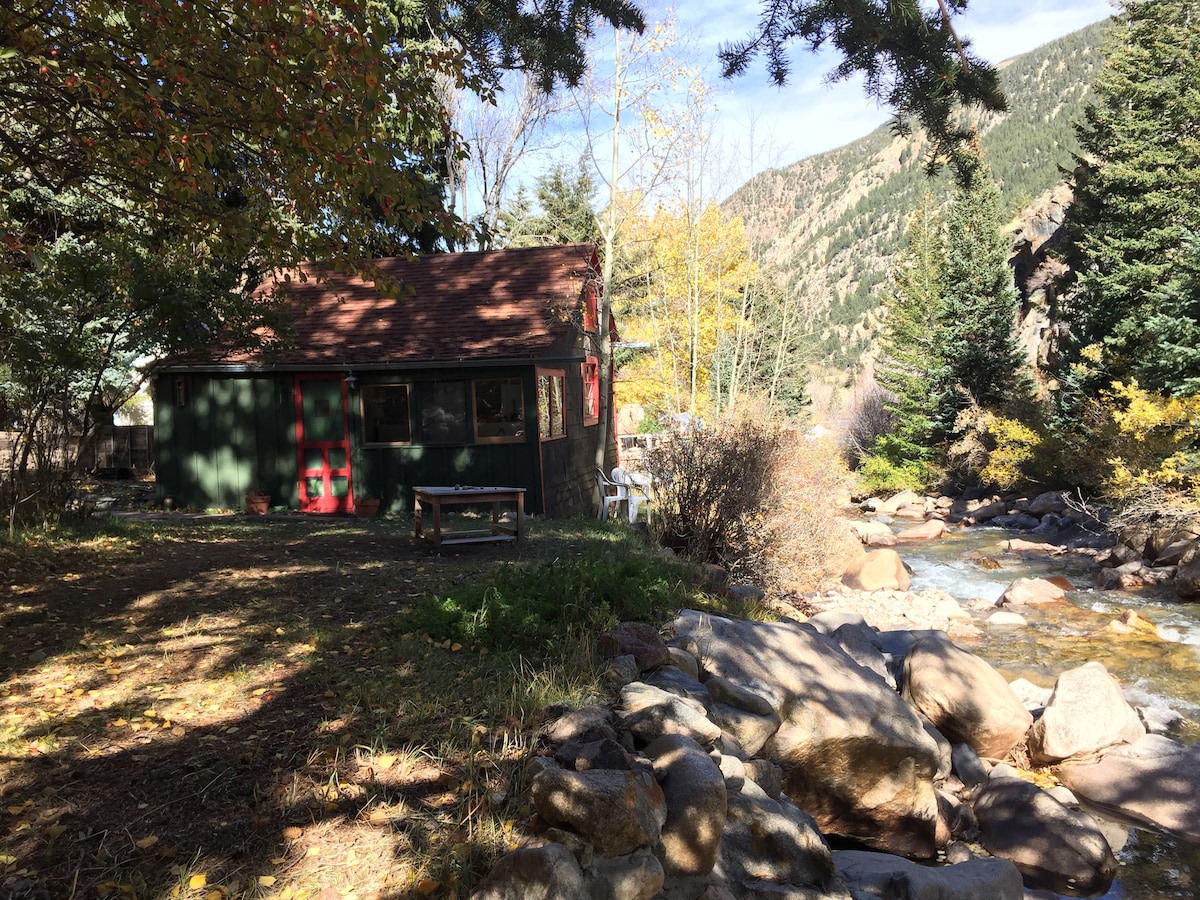 The Cricket- An amazing Tiny House!
The Cricket is a rustic historic cabin in a small neighborhood on Spring Street along side the rushing Clear Creek and nestled among an Aspen grove.
Tiny house hosted by Caroline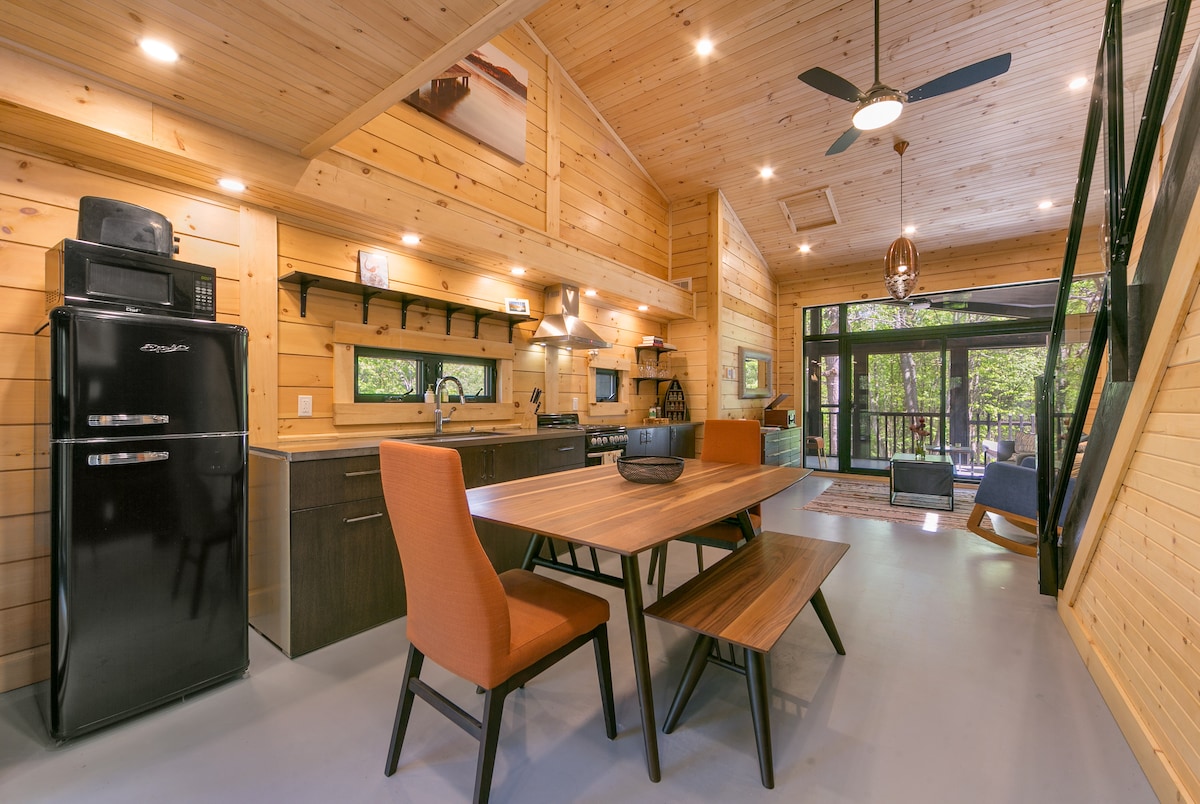 Muskoka's Luxury Tiny House
Serenely situated between Gravenhurst and Bracebridge, Tiny Haus has been custom built by an award winning architect to capture the beauty of the natural surroundings.
To see more of the tiny house, visit her website: http://www.ana-white.com/2017/01/tiny-house-rustic-modern-open-concept-dream-home-elevator-bed
And make sure you visit her website at http://www.ana-white.com.