The Fossickers Hut in New Zealand was designed and built by a Craig and Jodie who wanted to pay homage to early settlers of the area. The home is full of gorgeous handcrafted features with rustic touches for a one-of-a-kind experience. We love how this cabin seems authentic to the Pioneer time with its wood construction and metal roofing.
Double doors open up to reveal the inside of the cabin with wide wood siding and hardwood floors. Soaring ceilings make the home feel spacious and give room for a large loft.
The main bed is on the lower level with built-in nightstands and lights above the pillows. A ladder extends in front of the bed giving access to the loft which has two pallets for younger guests.
The Helm—2-Story Container Home close to Magnolia Market
The loft is bright with two stained glass windows that let natural light fill the room.
A small sitting area is at the foot of the bed with a handmade shelf above.
The whole tiny house is warmed by this small but mighty stove that sits on a metal base in the corner of the home.
The home has a small kitchen area in a separate room with an electric cooktop and small sink. The plates in the home were all handmade by the owners for a special and authentic touch!
Dining for two is just off of the kitchen area.
The real cooking can be done outside in the outdoor kitchen where an old stove and oven sit next to the outdoor bathtub. It's about as authentic to pioneer days as you can get!
in an infinite green oasis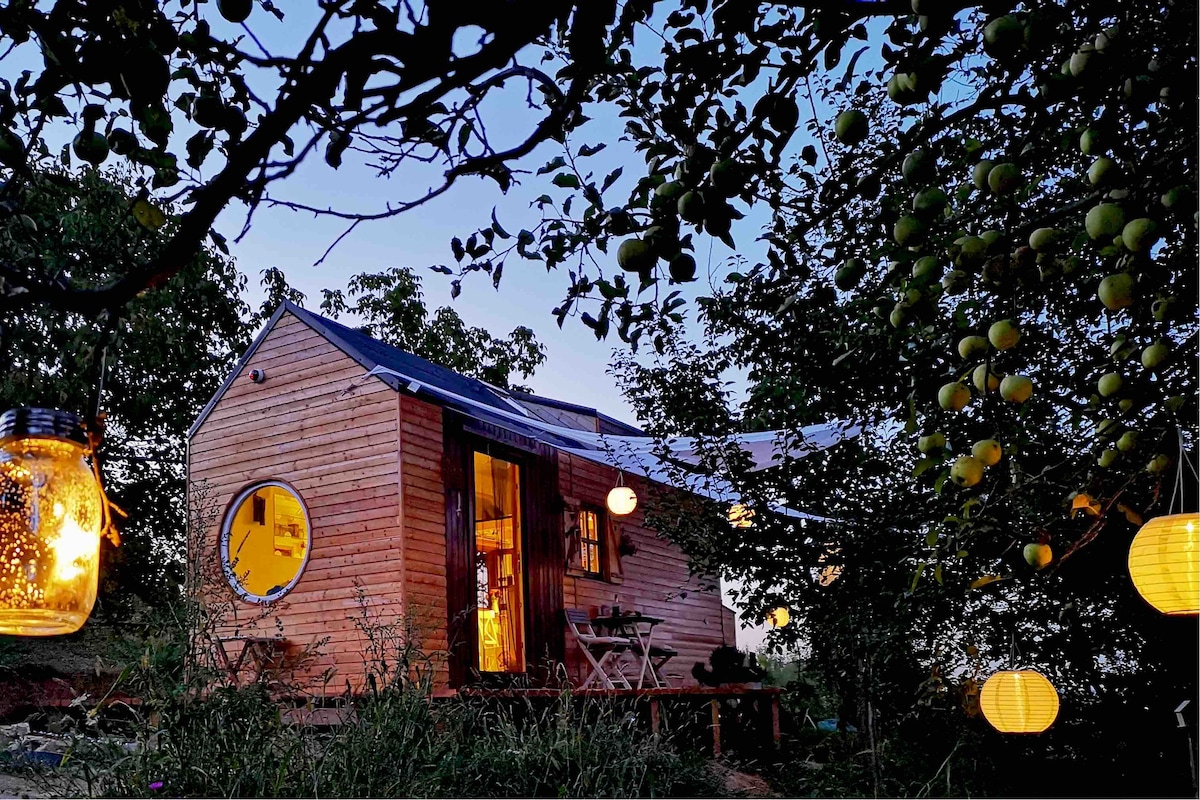 Tiny House on wheels
This is not just another bed you rest in overnight. It is a dazzling experience! Superhost Gabriella will amaze you with her cozy tiny house.
Entire house hosted by Robin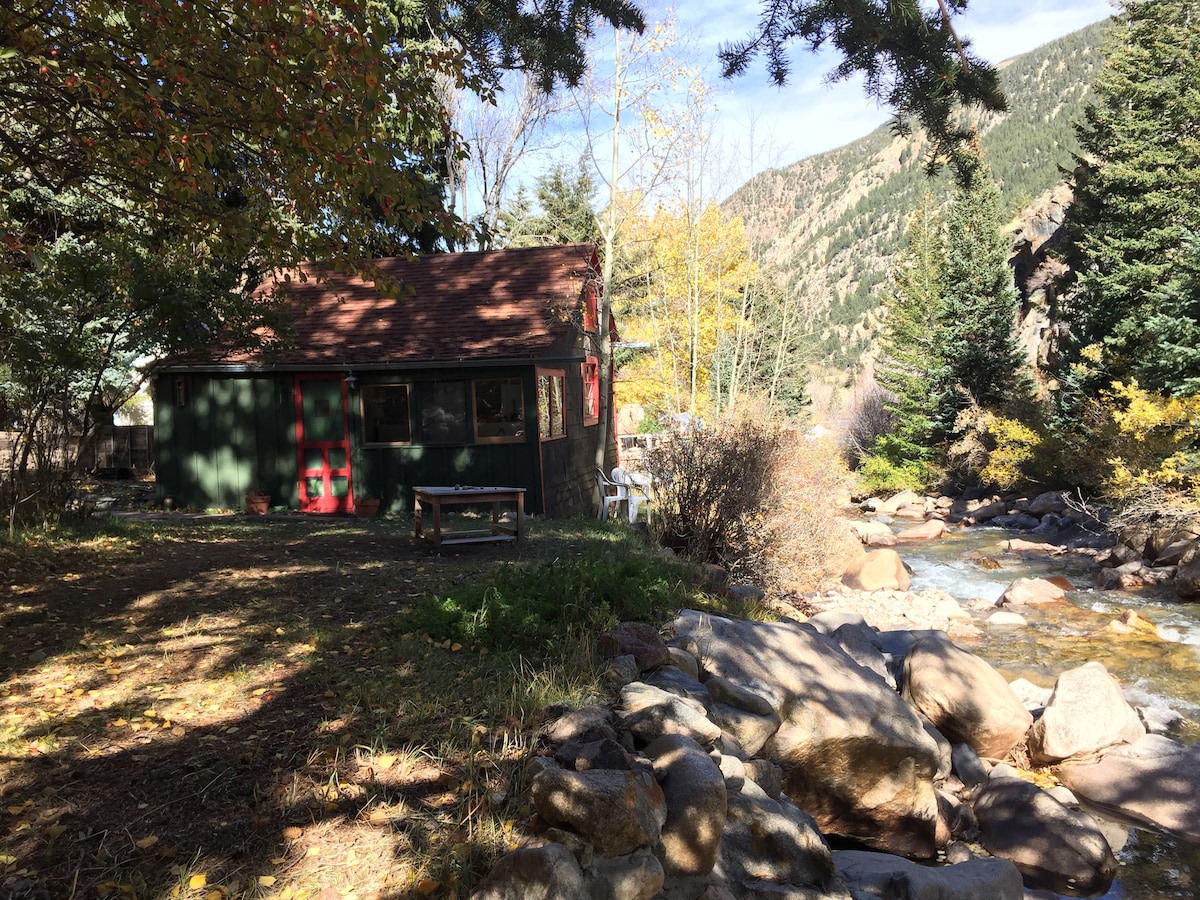 The Cricket- An amazing Tiny House!
The Cricket is a rustic historic cabin in a small neighborhood on Spring Street along side the rushing Clear Creek and nestled among an Aspen grove.
Tiny house hosted by Caroline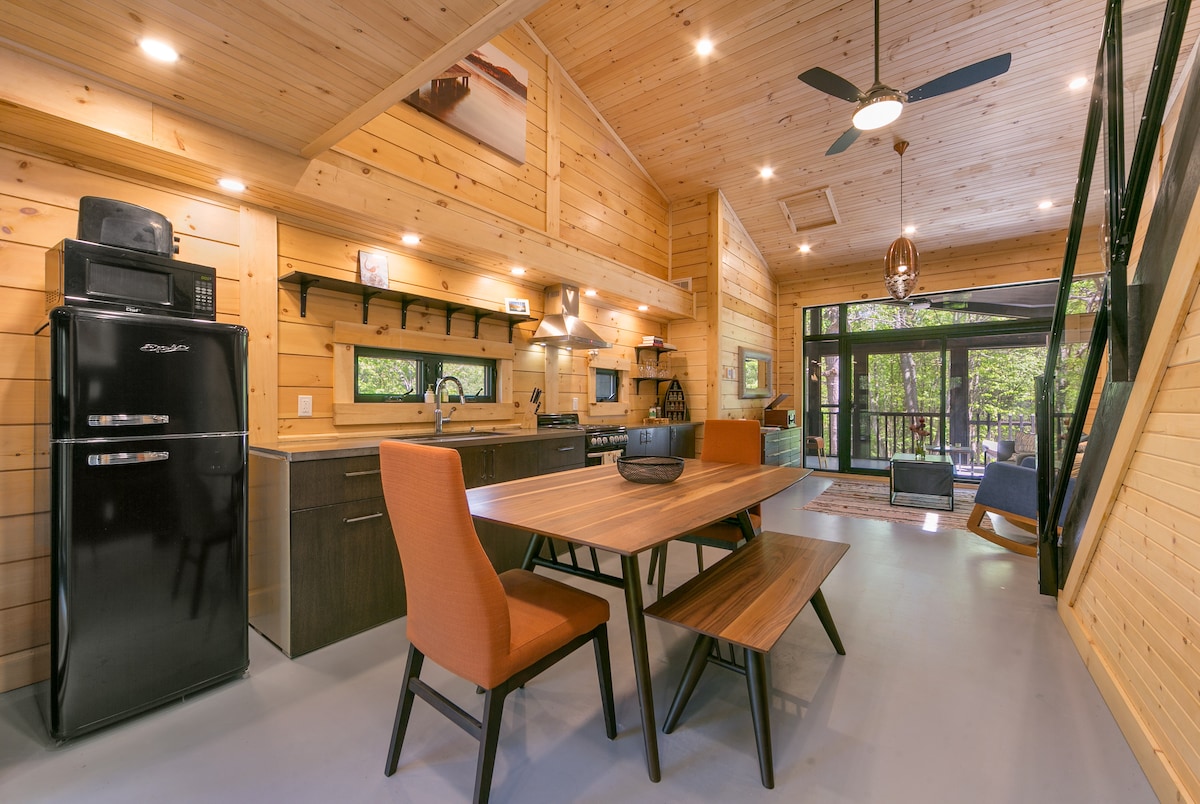 Muskoka's Luxury Tiny House
Serenely situated between Gravenhurst and Bracebridge, Tiny Haus has been custom built by an award winning architect to capture the beauty of the natural surroundings.
We love how dedicated Craig and Jodie were to their endeavor! If you'd like to see more of the Pioneer tiny house or even book a stay, visit http://www.canopycamping.co.nz/listings/fossickers-hut-marlborough/ for more information.