Jennifer and James Constable of Full Moon Tiny Shelters have a passion for building one-of-a-kind tiny homes that are 200 square feet or smaller. One of their models is the lovely Harmony House which is built on a 20-foot trailer with a 3-foot extension. The exterior of the house is covered in cedar shingles and multiple angles keep the home from feeling cookie cutter.
Inside, the home is kept mostly neutral with natural wood walls and a whitewashed ceiling. The living room has a custom seating area with storage compartments under each seat. This room gets plenty of natural light thanks to the huge windows that surround the home.
The entire tiny home is kept warm and cozy with this compact wood burning stove that's tucked into the corner of the living room. It's perfect for curling up next to with a book!
The kitchen is between the living room and the bathroom and it has a pretty pop of teal on the wall that even extends onto the ceiling adding fun character. Open shelving is arranged in a unique pattern and gives you plenty of room for dishes and canisters.
An elongated island sticks out from the counter giving you room to prepare your meal or to pull a seat up to and eat at the end of the counter.
The Helm—2-Story Container Home close to Magnolia Market
The sink is a deep double-basin stainless steel sink with a modern and sleek faucet featuring a detachable nozzle for spraying down dishes. It's a nice large size for the kitchen and looks sharp which is important since it's in the middle of the home!
A compact gas stove and oven are built into the corner of the kitchen next to a sliding cabinet for spice storage. They also took advantage of the wall space by adding a magnetic strip for knives which saves valuable countertop and drawer space.
The upstairs love is bright and cozy with a long window and plenty of headroom thanks to the slanting ceiling. Storage cubbies are built into the back wall and you have enough room for a full-sized bed or you can do a twin like pictured here leaving extra room for floor space.
Back downstairs, the bathroom has a sleek and slim sink with a storage tower built in next to it and a modern light above the mirror.
The sink has a stainless steel faucet which is similar to the one found in the kitchen so there's a cohesive feel to the home which is important in such a tiny space.
The bathroom was given a full-sized shower stall and a composting toilet but there's room for a tradition toilet if preferred.
This beautiful tiny home is fully winterized and ready to travel!
If you'd like to see more picture of the Harmony house and to learn more about Full Moon Tiny Shelters, go to http://fullmoontinyshelters.com/shelters/. You can also follow them on social media at:
in an infinite green oasis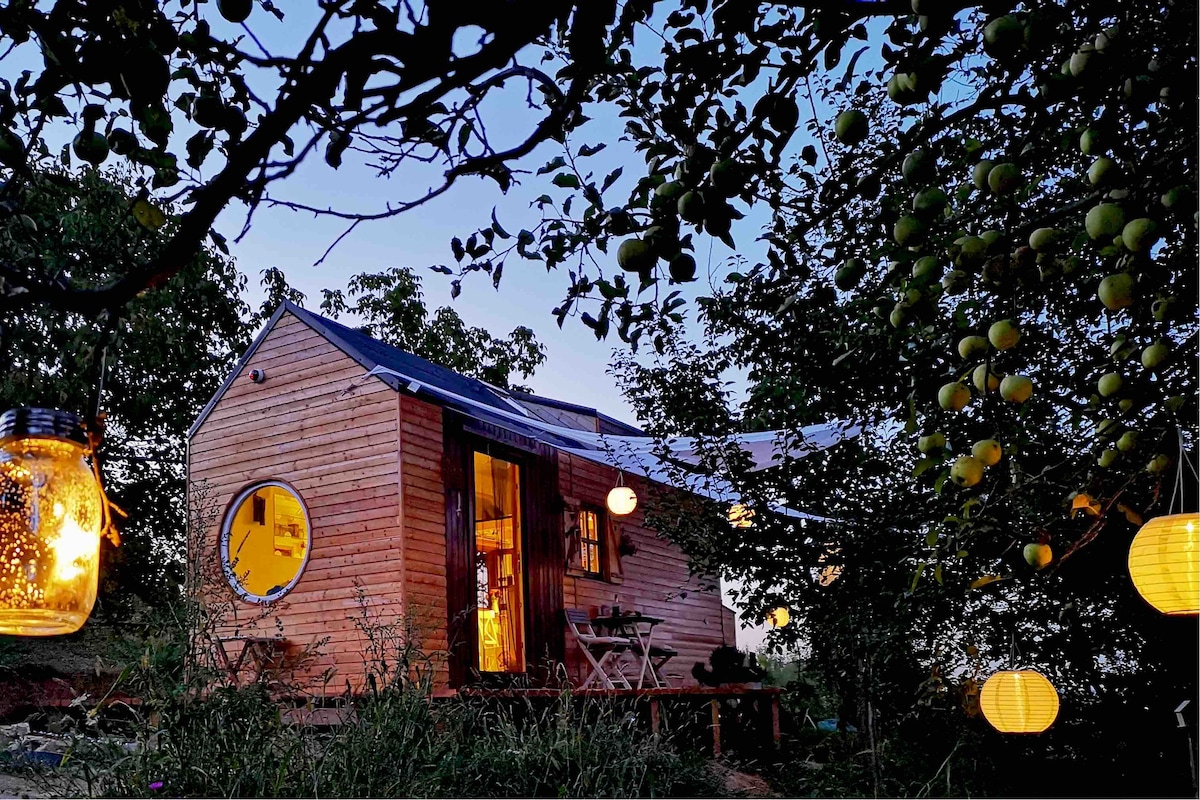 Tiny House on wheels
This is not just another bed you rest in overnight. It is a dazzling experience! Superhost Gabriella will amaze you with her cozy tiny house.
Entire house hosted by Robin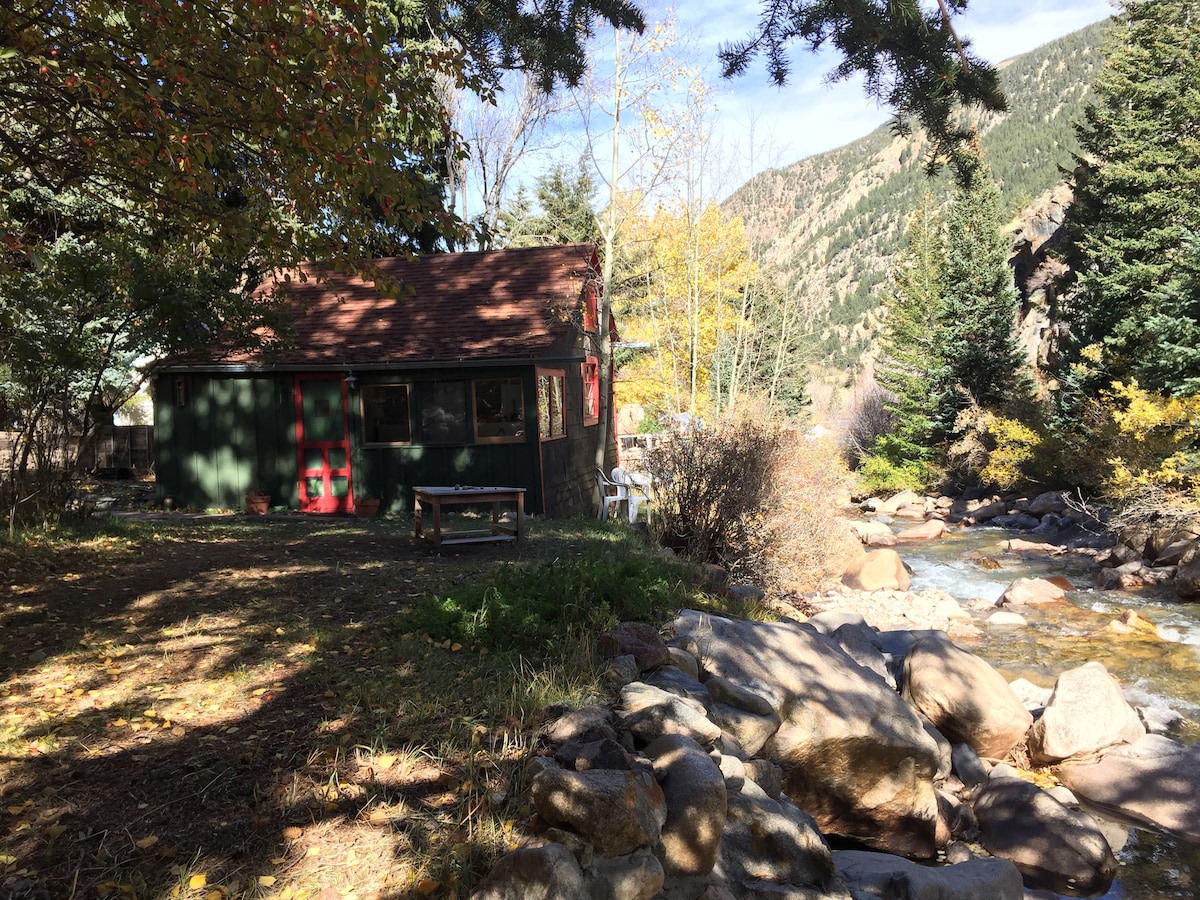 The Cricket- An amazing Tiny House!
The Cricket is a rustic historic cabin in a small neighborhood on Spring Street along side the rushing Clear Creek and nestled among an Aspen grove.
Tiny house hosted by Caroline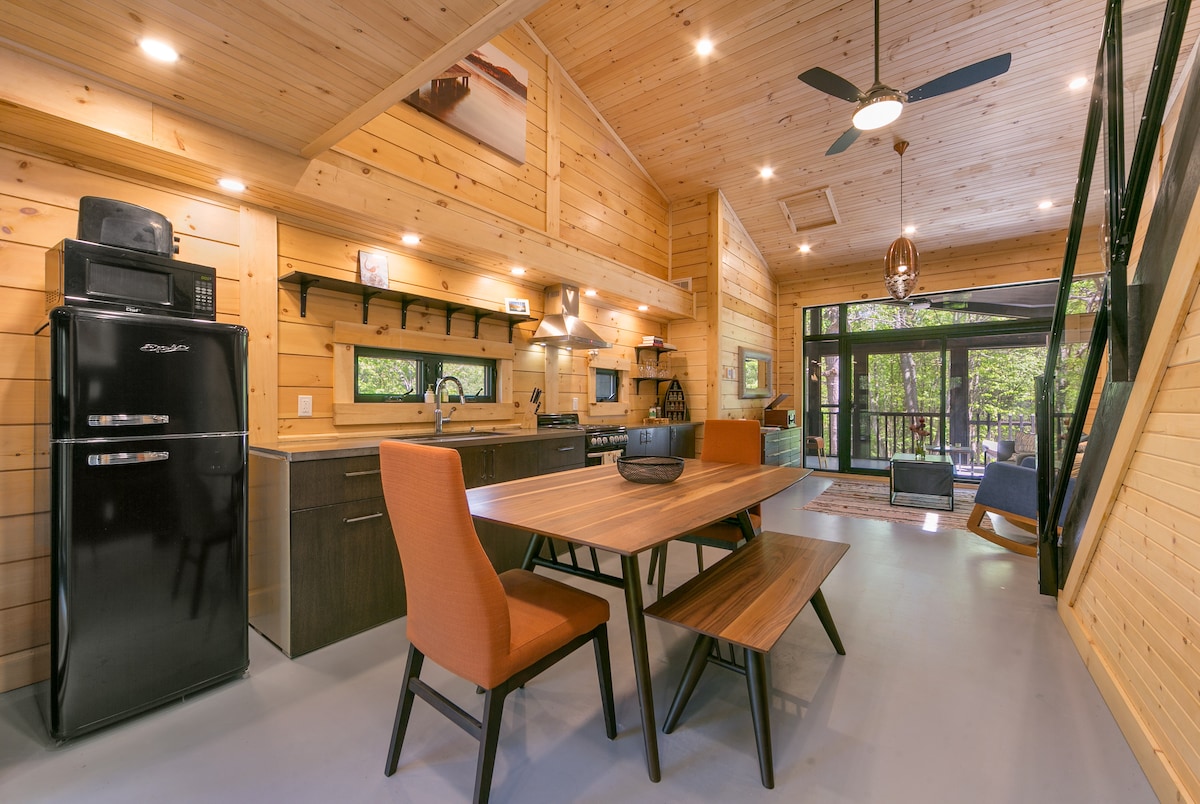 Muskoka's Luxury Tiny House
Serenely situated between Gravenhurst and Bracebridge, Tiny Haus has been custom built by an award winning architect to capture the beauty of the natural surroundings.
Twitter: https://twitter.com/FMTinyShelters
Facebook: https://www.facebook.com/pages/Full-Moon-Tiny-Shelters/711678652193982