When you first see the Cob Cottage, you might think you are looking at some kind of giant mushroom growing in Wonderland. But you are actually in the hills of British Columbia.
The profile of the building is a little more traditional around back:

The interior is absolutely breathtaking. Stepping inside, this is the view of the living area which greets you:

Doesn't it look cozy to curl up on that window seat?

Stepping through into the kitchen, you can see how the organic curving lines of the architecture have been worked into every aspect of the interior, including the countertop and the cabinets:
The Helm—2-Story Container Home close to Magnolia Market

Here is another view of the living area. Now you can see how all the other shots you have looked at fit together. Personally I love that staircase! The twisted shapes of the wood keep it looking very natural, like it just grew that way, and they also maintain a sense of openness.

On the other side of the wall with the staircase is the bathroom.

Here are a couple more photos of the bathroom. Isn't that window awesome?
Heading upstairs, you find the bedroom. The whimsical lines of the architecture continue here. The timbers and the lighting create a sense of warmth.

Here is the view looking the other direction:

There is even a desk squeezed against one wall with great natural lighting streaming in from above:

Here is the view looking in at the bed from out on the balcony:
in an infinite green oasis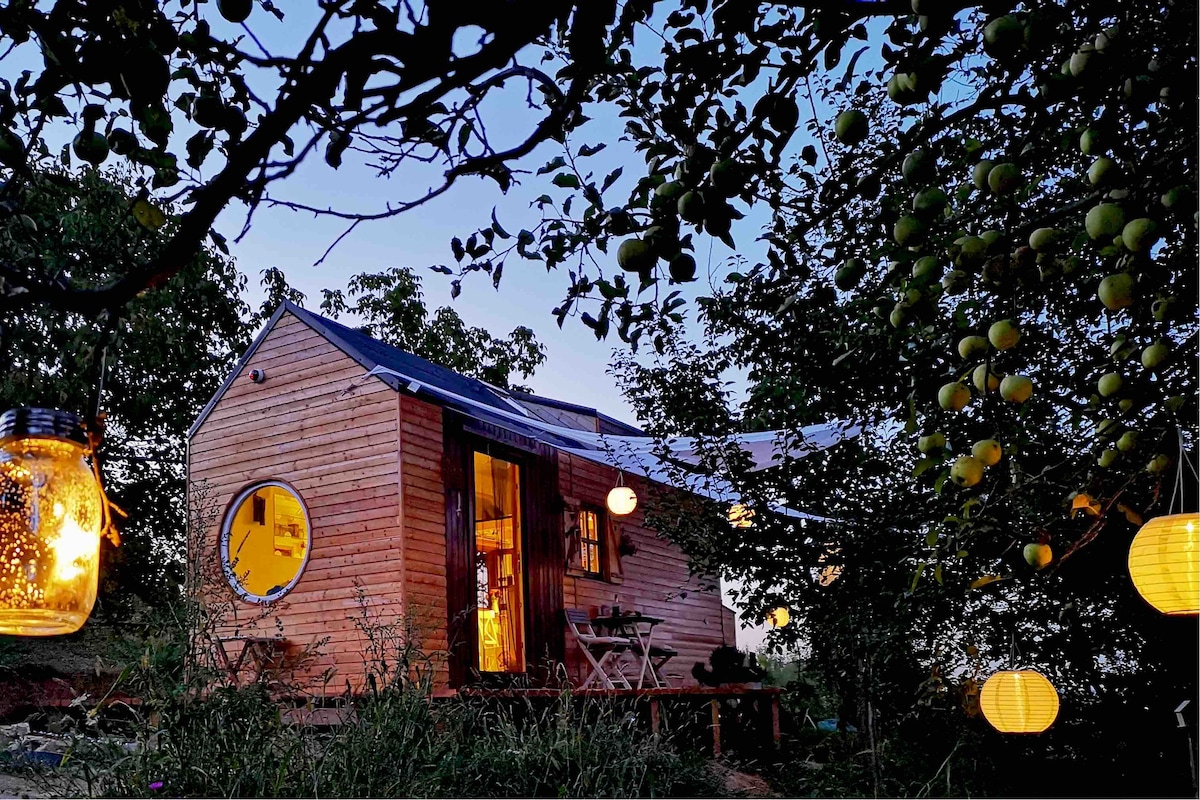 Tiny House on wheels
This is not just another bed you rest in overnight. It is a dazzling experience! Superhost Gabriella will amaze you with her cozy tiny house.
Entire house hosted by Robin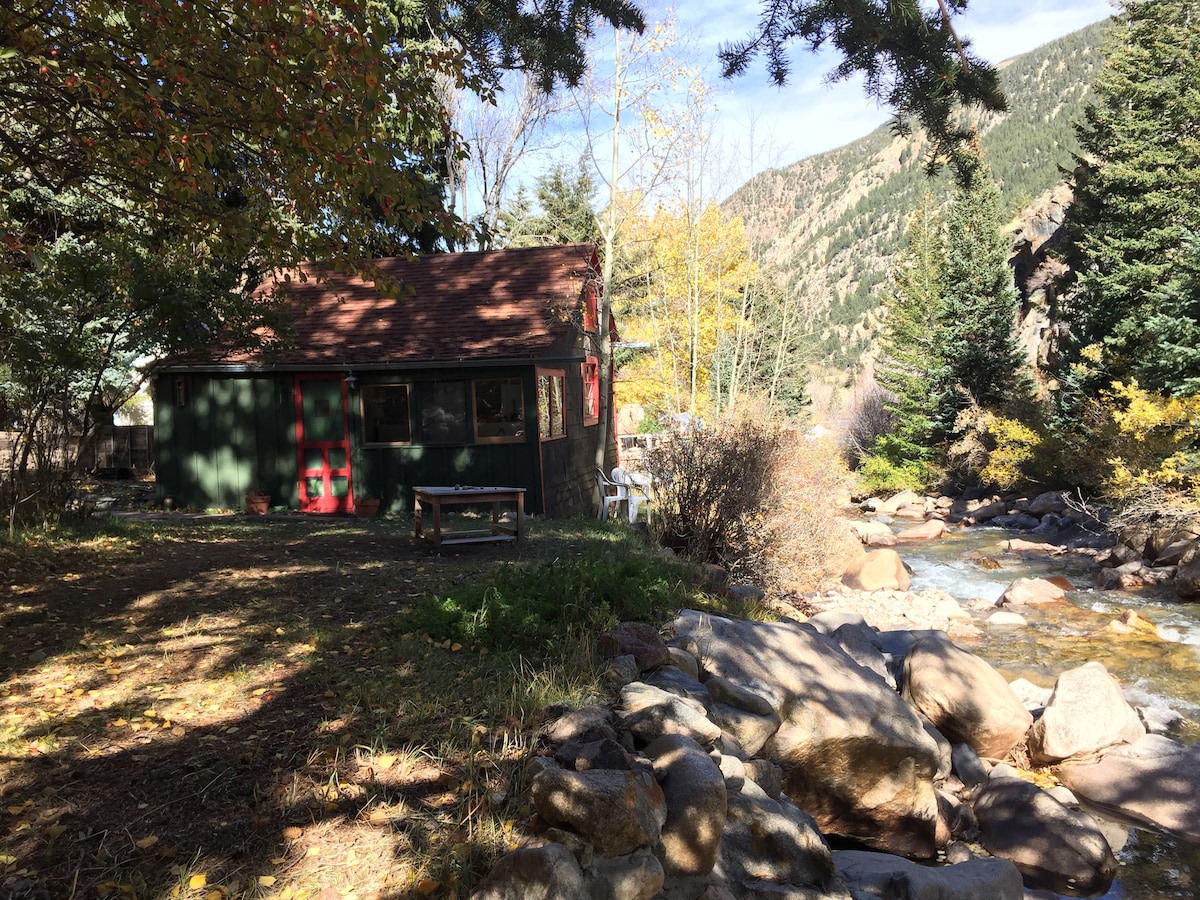 The Cricket- An amazing Tiny House!
The Cricket is a rustic historic cabin in a small neighborhood on Spring Street along side the rushing Clear Creek and nestled among an Aspen grove.
Tiny house hosted by Caroline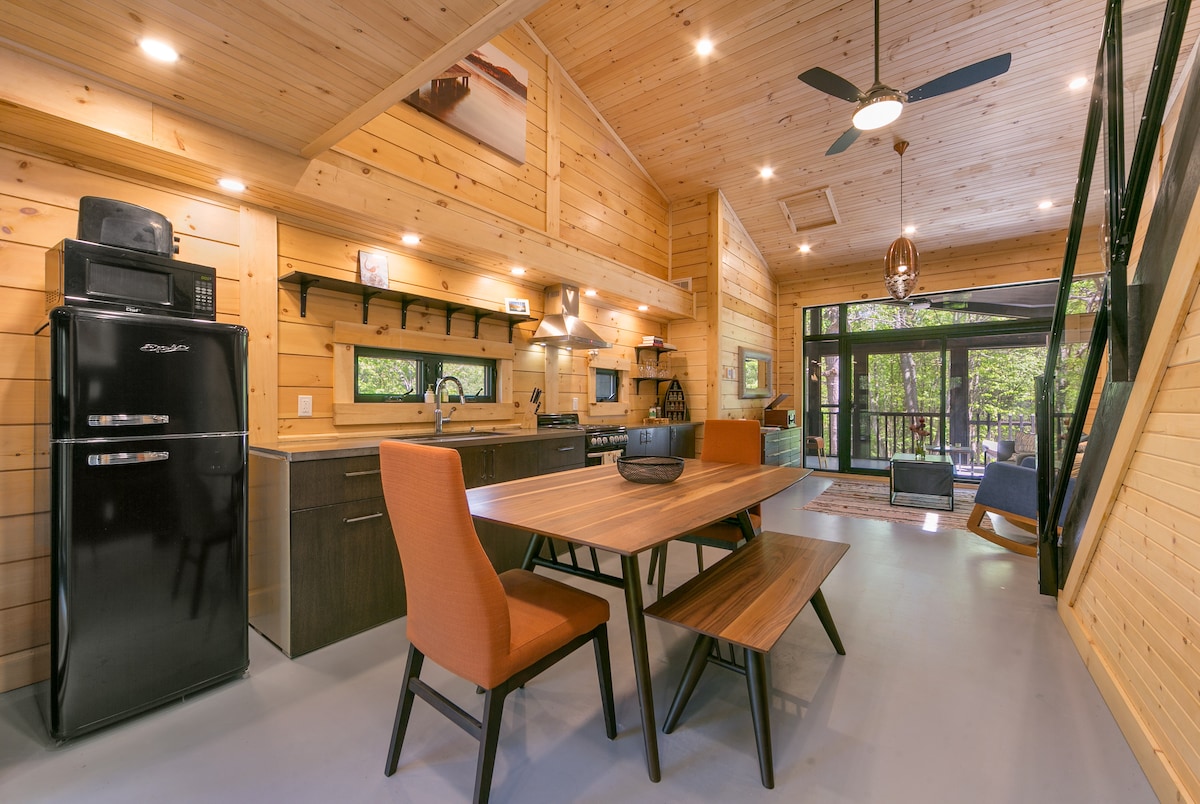 Muskoka's Luxury Tiny House
Serenely situated between Gravenhurst and Bracebridge, Tiny Haus has been custom built by an award winning architect to capture the beauty of the natural surroundings.
The best thing about the Cob Cottage in Mayne Island is that you can stay there! Click on the link below to be taken to the Cob Cottage official AirBnB page. Right now the cost is just $109 per night—amazingly reasonable to stay in such a unique tiny house. There are even weekly and monthly discounts available for long-term reservations.
AirBnB link: https://www.airbnb.com/rooms/1720832?sug=51