You know those cute little gypsy caravans that you see in fantasy shows and movies, parked in the woods? Lina Menard's "Lucky Penny" trailer in Portland, Oregon, is the real deal! Lina's trailer is parked in a community dedicated to tiny house living. There are some lovely houses you can see parked around hers, but the "Lucky Penny" definitely stands out with its warm, welcoming, fairytale charm!
Lina Menard always wanted to live in a tiny house. To that end, she went to school to earn a degree in sustainable design. She then purchased a trailer and converted it herself. Here you can see Lina with her Lucky Penny!

Here is the Lucky Penny parked in its tiny spot in the "Simply Home Community." As you can see, her neighbors' houses are equally tiny. I am loving the garden atmosphere with all the flowers and vegetation—the house is a perfect fit for its environment.

And you thought the exterior was amazing? Just take a look at this interior shot! The warm wood tones and the minty green form a delightful complementary palette. The patchwork quilt matches the walls perfectly, and the bed sheets match the drapes. Check out those tiered wood cabinets to the left. Aren't they gorgeous?

The Helm—2-Story Container Home close to Magnolia Market
Here is another view facing the other direction. Lina has made very smart choices with organizing space. Those cabinets offer ample storage space without taking up a lot of room. The tiered design offers shelving on the top. She isn't making use of most of it, but she could without creating a messy look.

The kitchen includes a 19" mini fridge under the counter. The sink is tiny, but just adorable.

The bed is expandable into a full-size bed. For guests, Lina stores a camping pad. Look how cozy her kitty looks! And by the way, don't you love the design of that cute window?

Here you can get a better look at the kitchen cabinets and spice racks. I am really amazed at how much counter space she has here. A lack of counter space is a notorious problem in most trailers, so this is quite impressive. This would make it so easy to cook! Washing dishes in that sink on the other hand … well, that'd be a challenge.

Check out a video of Lina's Lucky Penny here:
in an infinite green oasis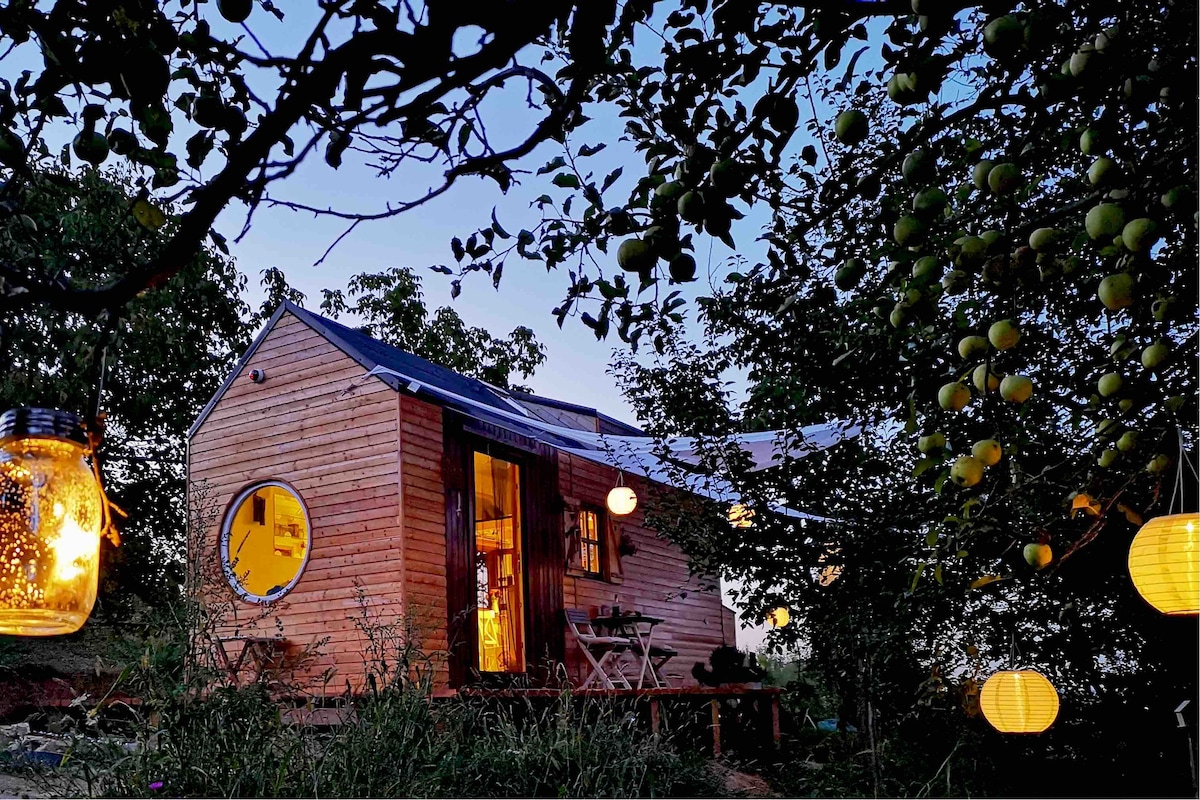 Tiny House on wheels
This is not just another bed you rest in overnight. It is a dazzling experience! Superhost Gabriella will amaze you with her cozy tiny house.
Entire house hosted by Robin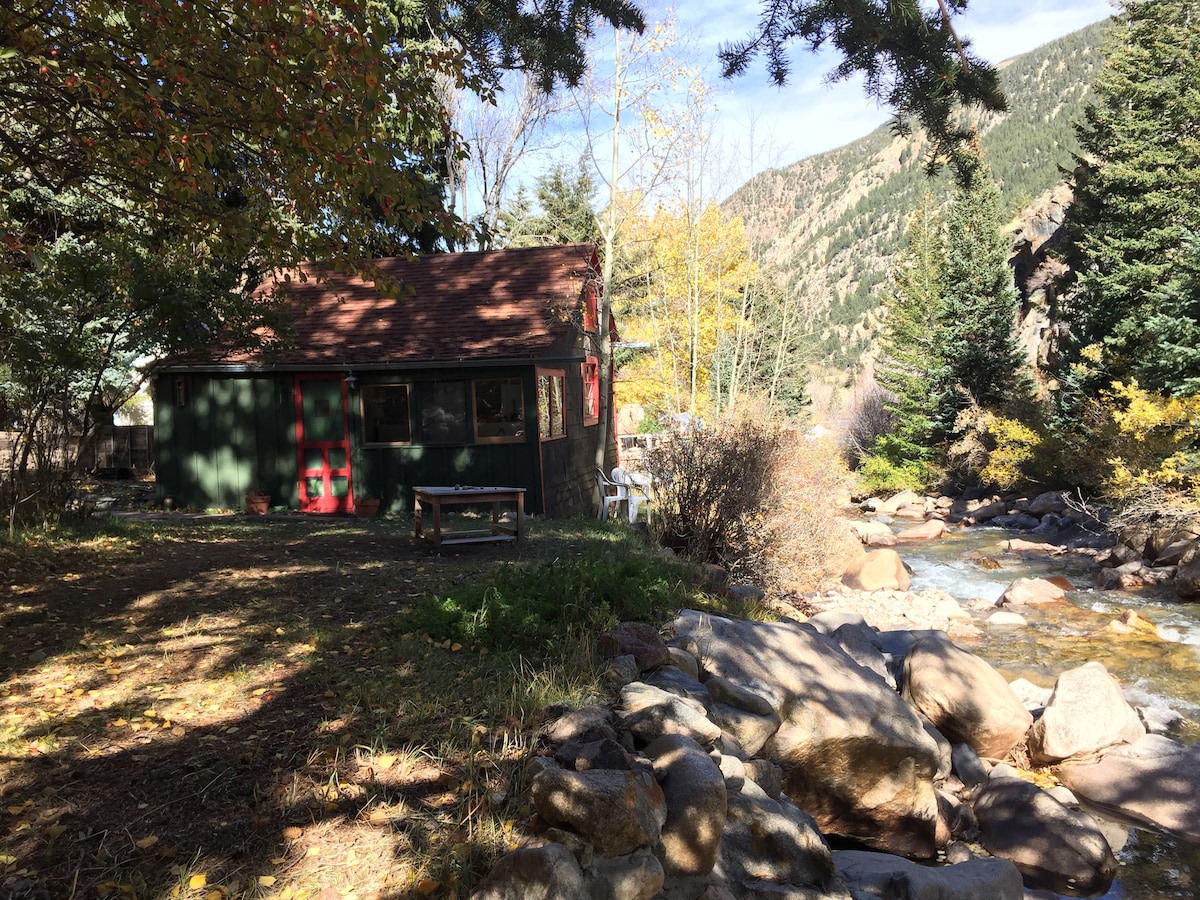 The Cricket- An amazing Tiny House!
The Cricket is a rustic historic cabin in a small neighborhood on Spring Street along side the rushing Clear Creek and nestled among an Aspen grove.
Tiny house hosted by Caroline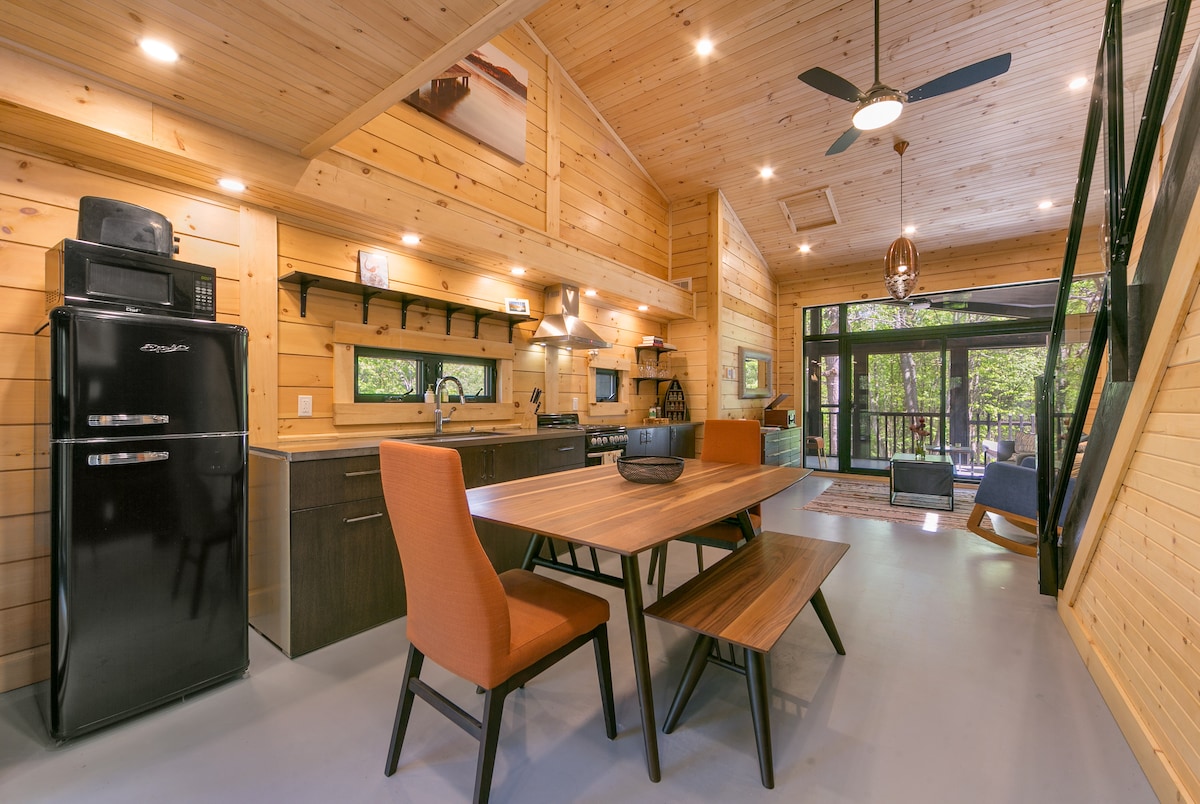 Muskoka's Luxury Tiny House
Serenely situated between Gravenhurst and Bracebridge, Tiny Haus has been custom built by an award winning architect to capture the beauty of the natural surroundings.
Watching the video you really get a sense of the magical ambiance Lina has created. What a gorgeous tiny house, and what a creative woman!