In Chelan, Washington, one woman has made it her mission to design and build a community of tiny houses. These aren't just any tiny houses, though, they're hobbit-style! This particular house is 288 square feet and it's designed for a "carpenter hobbit" but anyone can rent it on Airbnb and pretend like they're part of Lord of the Rings for a night!
This hobbit inspired tiny house is nestled on 5.5 acres next to the Columbia River Gorge mountainside. The first thing you'll notice is the iconic character of any hobbit house: the round doorway! You also have cedar shake siding and exposed beams adding gads of character to the home.
The homes are stick-built and are built right into the hillside so you're surrounded by the earth which keeps the house fairly climate-controlled. If you need some light, just come outside and enjoy the garden from this cheery chair!
Inside, the round theme continues through each doorway. The living area has a breathtaking stone fireplace and if you look close you can see that the floor is made from cut trees!
The walls are wrapped with heavy wood chair rails and the walls are kept a neutral earthy tone.
The Helm—2-Story Container Home close to Magnolia Market
In the bathroom, a large galvanized tub sits inside a cutout with a cute round window above it. The sink is made from an old wooden sideboard with an antique mirror hanging on the wall to add even more charm.
We love the warmth that the wood brings to this little nook!
Here's a better look at the incredible sink! Not only is the sideboard a treasure, but the sink is made from a huge chunk of wood!
The bedroom has its own exterior door and room for a full-sized bed. We especially love the lanterns hanging above the bed to add a warm glow.
We think this unique community is the perfect getaway for anyone but especially for fans of the book or movie series!
To learn more about the amazing hobbit community built by Kristie Wolfe, check out this article: gizmag. You can also follow her on social media:
in an infinite green oasis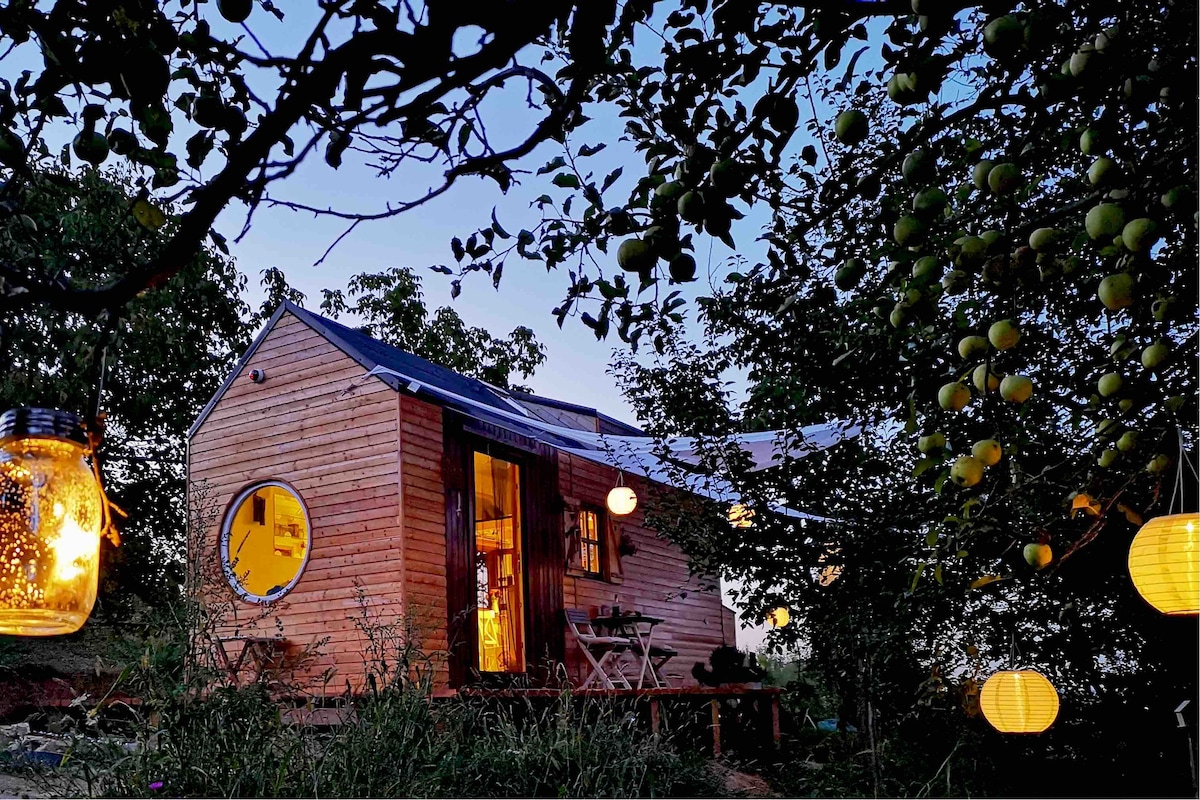 Tiny House on wheels
This is not just another bed you rest in overnight. It is a dazzling experience! Superhost Gabriella will amaze you with her cozy tiny house.
Entire house hosted by Robin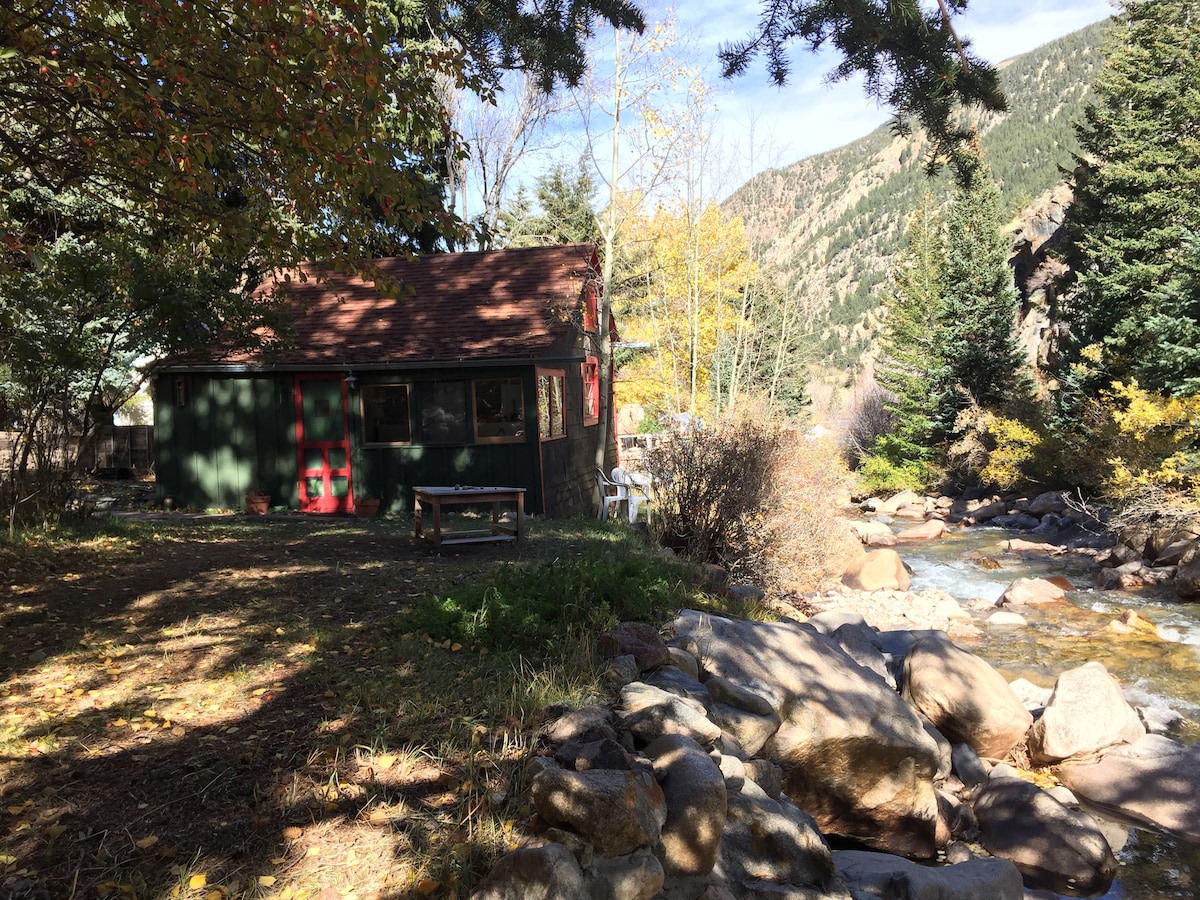 The Cricket- An amazing Tiny House!
The Cricket is a rustic historic cabin in a small neighborhood on Spring Street along side the rushing Clear Creek and nestled among an Aspen grove.
Tiny house hosted by Caroline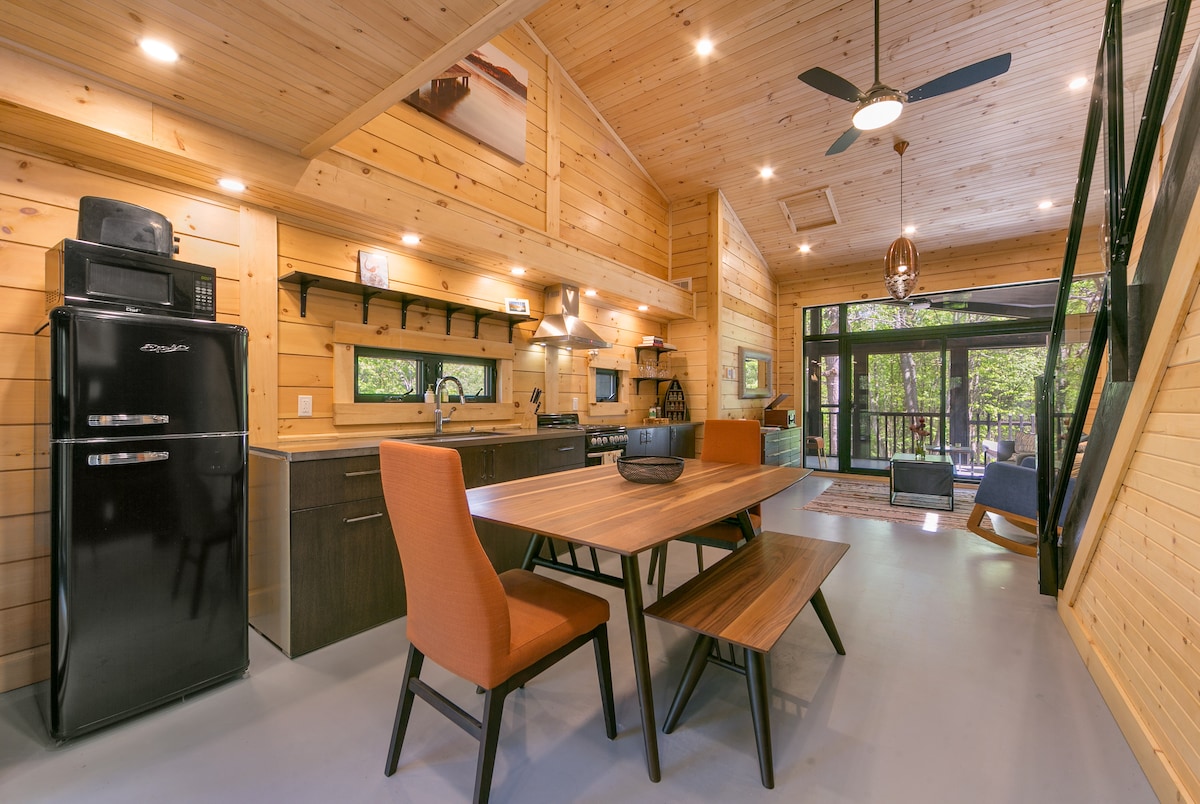 Muskoka's Luxury Tiny House
Serenely situated between Gravenhurst and Bracebridge, Tiny Haus has been custom built by an award winning architect to capture the beauty of the natural surroundings.
Facebook: https://www.facebook.com/kristie.wolfe.9.
Instagram: https://www.instagram.com/kristiemaewolfe/.
If you're interested in renting the 1 bedroom hobbit home for your next vacation, head over to Airbnb and book your stay: https://www.airbnb.com/rooms/8794484.