Carpenter Owl is a tiny house builder known for whimsical, unexpected designs. One of their most unusual houses to date is the "Wooly Resistance." This tiny house measures 12′ Long by 8.5′ Wide by 13.5′ High. That's right—it's longest dimension is its height. And if that isn't unexpected enough, there are four levels inside. How often do you see that many floors in such a tiny profile?

From the outside, the Wooly Resistance looks like a tiny cube made out of Eastern Juniper and Western Cedar. It seems quite at home amidst this lovely forest vegetation.
These photos us a glimpse at the bed loft. What stands out here of course is the wall. The beautiful slatted wood is spectacularly colorful. Who needs wall art when your wall is art?

Here is a more proper perspective on the bed loft. It is remarkable how much height there is; most bed lofts in tiny houses have very low ceilings.

Wall hooks make for convenient storage for jackets, backpacks and more. There is a little bit of extra storage space squeezed onto the windowsill.
The Helm—2-Story Container Home close to Magnolia Market

One of the highlights here is the big skylight. It's surprising that more tiny house builders don't choose to incorporate elements like this.

Look at all that light streaming into the kitchen from above! The openness of this space is utterly delightful. There is a huge window above the sink, offering a great view of the woodlands outside. You can also see a mini fridge and freezer as well as a portable cooktop.

There is a second loft above the kitchen on the other side featuring another bed. You also can see that there is a second large window in the kitchen as well. While working at that sink, you would be surrounded by beautiful views.

These space-saving steps take up almost no room at all. They are impressively minimal.
If you thought the first bed loft was cool, wait until you check out the second one. It is amazing …

Wow! It is literally surrounded on all sides by polycarbonate windows! If those were solid walls and that were a regular ceiling, this bed would feel very cramped and enclosed, but instead, it feels open to the world. Watching the leaves rustling and the stars overhead would be incredible!

Different types of wood were used together for the spice cabinet. This helps make the different shelves stand out, as well as their contents.
What you are looking at here is a secret door. This makes it easier to get groceries in.
in an infinite green oasis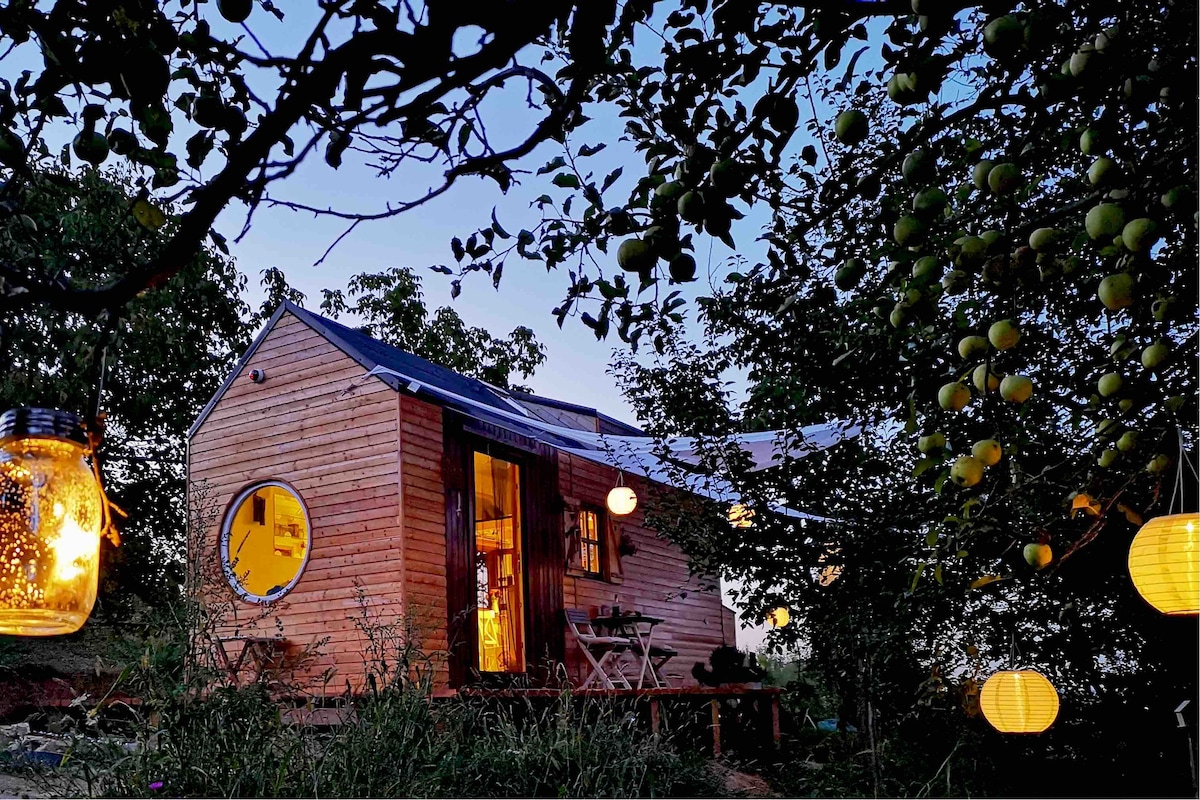 Tiny House on wheels
This is not just another bed you rest in overnight. It is a dazzling experience! Superhost Gabriella will amaze you with her cozy tiny house.
Entire house hosted by Robin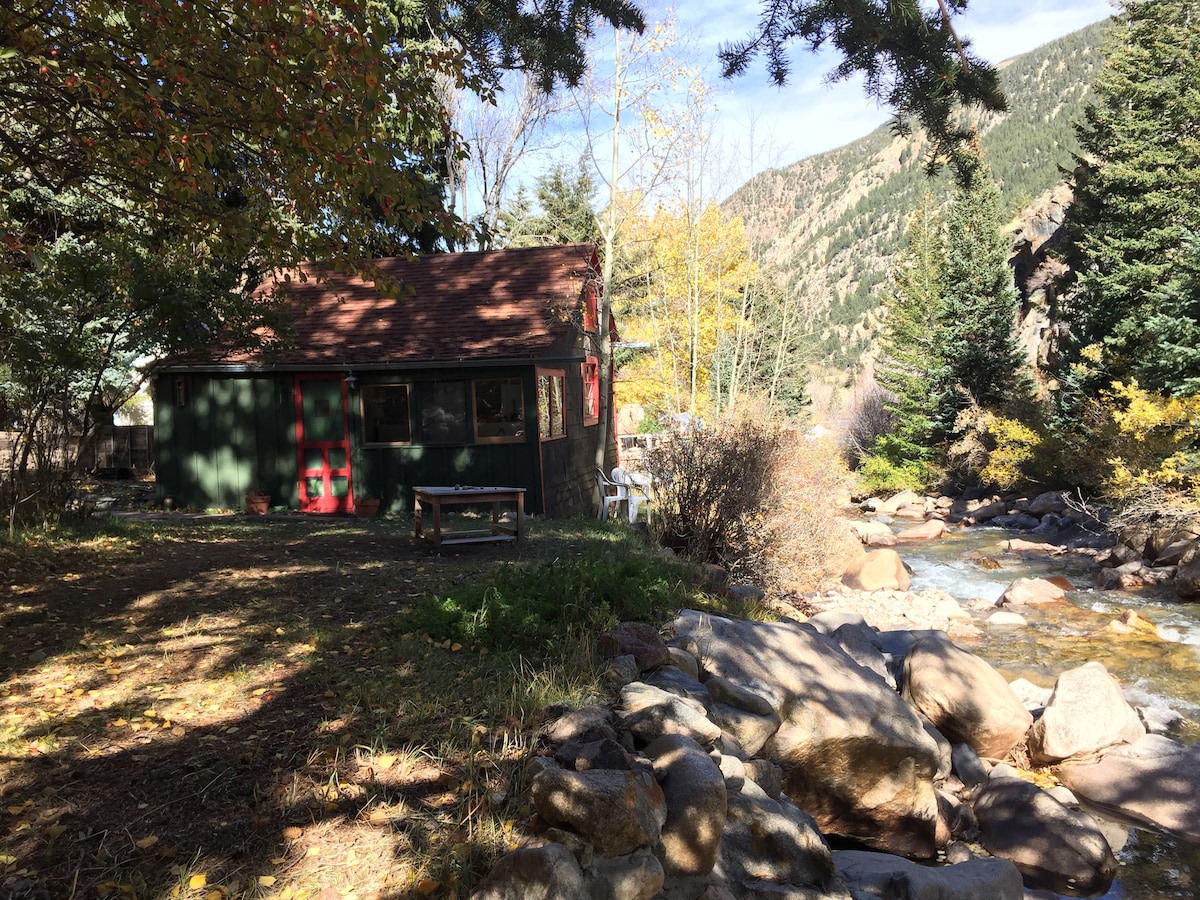 The Cricket- An amazing Tiny House!
The Cricket is a rustic historic cabin in a small neighborhood on Spring Street along side the rushing Clear Creek and nestled among an Aspen grove.
Tiny house hosted by Caroline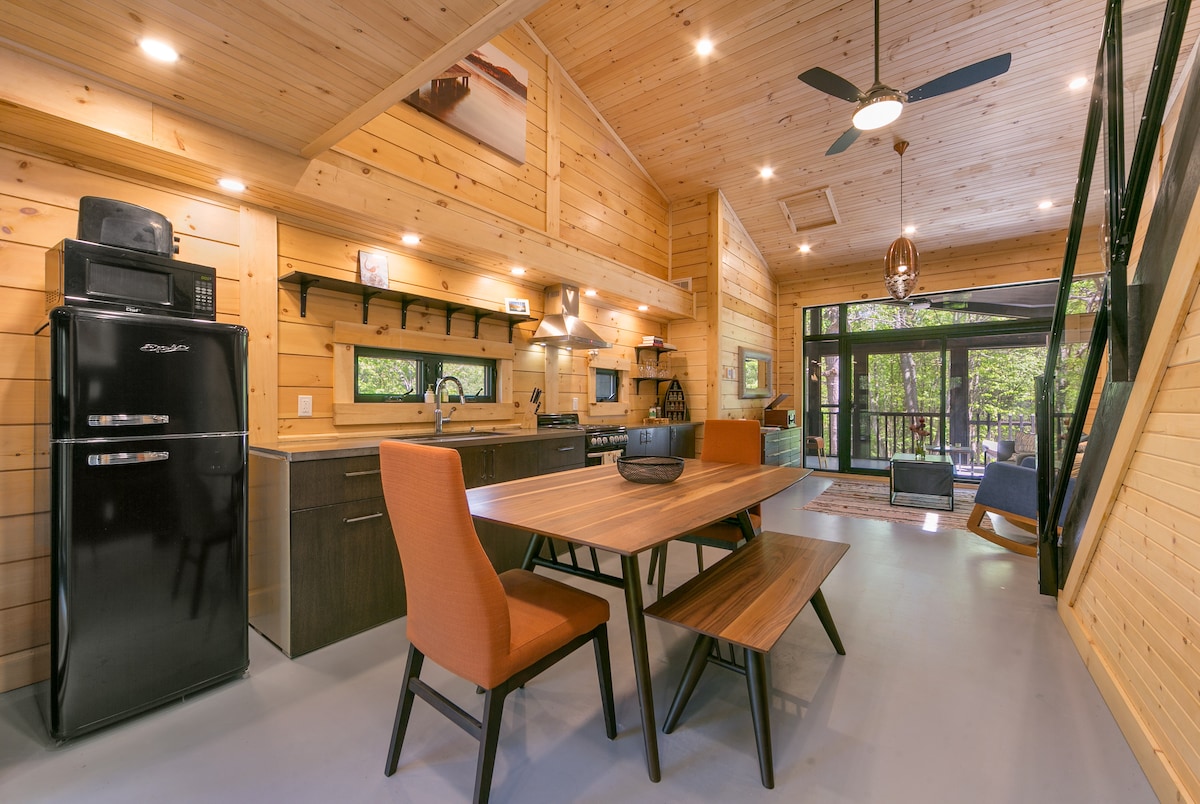 Muskoka's Luxury Tiny House
Serenely situated between Gravenhurst and Bracebridge, Tiny Haus has been custom built by an award winning architect to capture the beauty of the natural surroundings.
And another lovely view …

Want to find out more about this exquisite tiny home? Visit Carpenter Owl.