I am always amazed by how designers pack extra storage into a tiny home. This tiny house on wheels by Modern Tiny Living is one of my favorite layouts. It's open and airy while also being minimalist to suit your preferences. There is nothing better than the perfect combination of tiny living with your favorite decor and creature comforts. This tiny little green house on wheels is the ideal example of all the good things combined.
One of my favorite things is the window in the front door. This door opens up to the living area and the steps going right upstairs. It gives you the perfect look at the whole house in one easy glance.
Also, just in the door is this absolutely stunning built-in shelving unit. That wood accent will be found throughout the home, but this is my favorite location and addition to this space.
This living area has stairs on one side, but the other half of the room has a comfy sofa with room for easily 2-3 people. Underneath is storage, but you'll see more about that later.
Floating shelves line the end of the space for a small table or end table and shelves on the wall. I like how the bottom shelf is open beneath for easy storage. It's the ideal place to add a basket full of blankets and pillows for the couch or to add a doggy bed for your pets.
Looking back at the living room you get a better overall view of the storage at the end of this space. As mentioned, this home is all about storage. I love the idea of using this for books because I am a diehard bibliophile, but if you are more into movies or just want to display beloved collections, this is the place for that.
Looking back toward the back of the home gives you a look at the stairs leading to the loft, a beautiful railing there, and the door into the kitchen. One thing I like about this home is that they have very clearly separated the kitchen and bathroom from the rest of the space.
Notice that under the stairs are openings for added shelves or closet storage if you want. These spaces are often used for storing things like shoes, movies, games, or even winter clothing when not in use.
Up those stairs, you get to enter a wonderfully large sleeping loft. Since this home is built with a slanted ceiling, you'll find one side of your loft is taller than the other. So, while you can walk in standing up you'll have to kneel or stoop on the other side.
The Helm—2-Story Container Home close to Magnolia Market
Along the shorter wall is a short shelf the length of the space. I love this for stacking books and toiletries, or for simply holding phones and electronics to charge.
Unlike some homes, this loft is fairly large taking up over half the space above the rest of the home. This makes it nice for more privacy as the bed can be against the back wall. It is also ideal for more storage.
You've already seen most of the living area in earlier pictures, but the next three showcases a special part of this space. Take note of the sofa and the drawers beneath. These are great for storage, but also more.
Those drawers quickly pull all the way out of the space and lock it into place. You may wonder how this is helpful, but in the next image, you will see.
The cushions on the sofa are doubled when you normally sit there, but once the drawers are out, you can pull out the cushions to create a wider seat or a small bed. This is ideal for making into a bed. A second sleep space that can easily sleep 1-2 more people is handy if you have children or guests visiting.
Storage is found elsewhere in this home. As you move past the entry to the kitchen, there is more hidden storage! I mentioned a few times already this is all about making use of the space you have. Here you have a full traditional closet that is perfect for clothing. Plus there is a bookcase just outside for more storage. It's great for decor, additional clothing, or even part of your kitchen and pantry.
Right past the closet is the bathroom. While other parts of the home are spacious, I have to say this bathroom is definitely limited. It does meet the basic needs and is functional, but I prefer something larger.
A toilet on one side has floating shelves above for storage and I presume a barn door closer for privacy. That's what it appears to be from other images. Hooks in the door frame are great for towels or clothing, and while small, it does the job.
You can see from this angle that the bathroom is right across from your kitchen space. Again, this isn't ideal for me but in this layout is perfectly functional.
Across from the toilet is the small but functional shower stall with built-in shelving to hold your toiletries.
I have to say, among the things I like in this home, this kitchen wall is truly amazing. The countertop stretches the length of the space with storage underneath, and the extra-large windows are perfect for letting in light and adding a beautiful view should you decide to use the end counter as your dining table.
The deep kitchen sink has a wire rack for draining and a large flexible faucet that turns into a sprayer as needed. I really like this style of sink in a tiny home for versatility.
Take note of the open space at the end of the counter. This is perfect for sliding in a range or refrigerator as needed. While the standard model doesn't have those installed yet, you can customize for your own preferences.
Underneath the sink, you can see the gorgeous wooden accent continues with simple cabinets and shelves. This is the limited storage on this side of the kitchen but with all of the wall space and storage on the other side, you can add plenty of additional shelves to store food and supplies.
A look down this space shows the empty area beneath what is set up as a dining space a bit better. I like to imagine part of this will house the refrigerator or additional storage for convenience. Of course, it can be left open and simple tuck a few stools underneath for use when working or having a meal.
The end of the kitchen has an open counter where you can slide a range in, or simply add a variety of countertop appliances to use instead. This could be a slow cooker, hot plate, pressure cooker, air fryer, or toaster oven. All offer a way to prepare meals easily without having to put the full appliance into this space.
in an infinite green oasis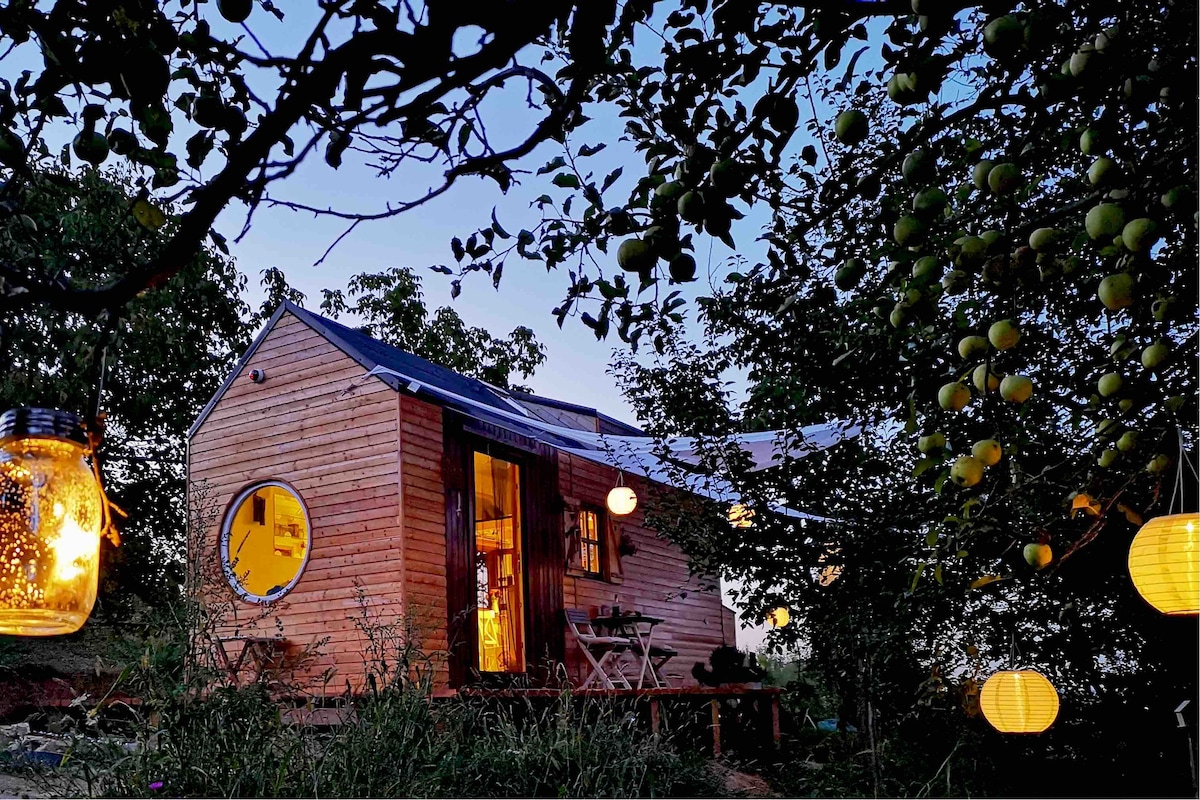 Tiny House on wheels
This is not just another bed you rest in overnight. It is a dazzling experience! Superhost Gabriella will amaze you with her cozy tiny house.
Entire house hosted by Robin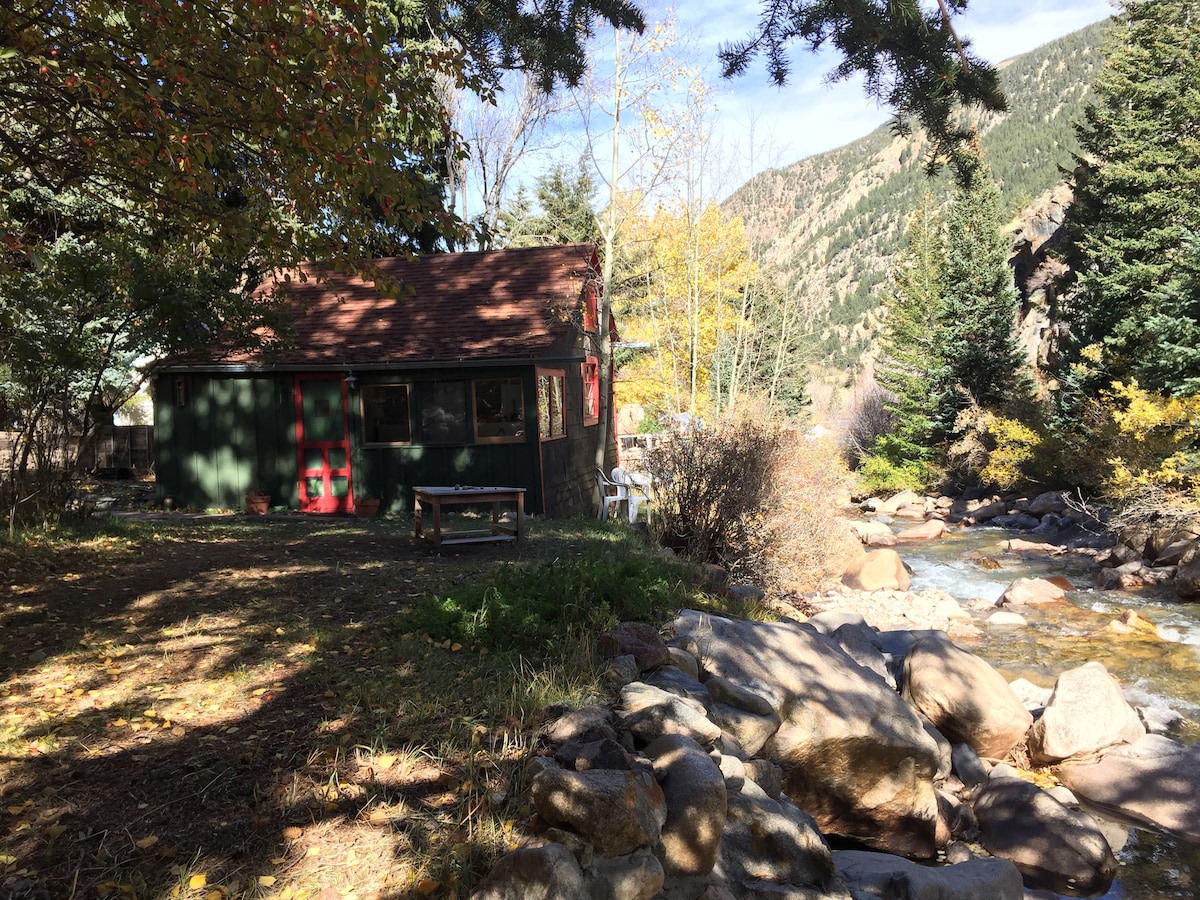 The Cricket- An amazing Tiny House!
The Cricket is a rustic historic cabin in a small neighborhood on Spring Street along side the rushing Clear Creek and nestled among an Aspen grove.
Tiny house hosted by Caroline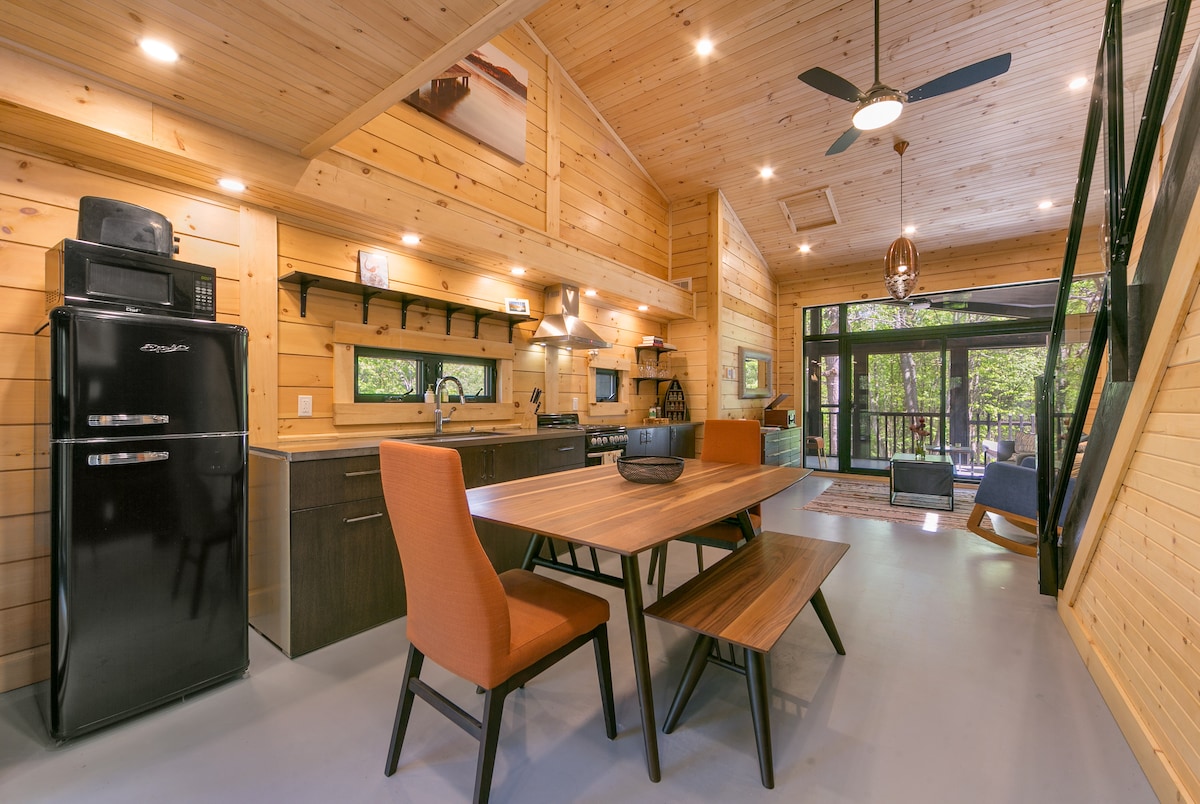 Muskoka's Luxury Tiny House
Serenely situated between Gravenhurst and Bracebridge, Tiny Haus has been custom built by an award winning architect to capture the beauty of the natural surroundings.
A pocket door instead of the barn door could also make it possible to use the end space for a larger appliance like a refrigerator if desired.
For more information on this beautiful home, check out the full listing with galleries and financing options on Modern Tiny Living. You can also view great home options and images on a regular basis on their popular tiny living Instagram account. This model and more are available for you to customize with your preferences. Make sure you let them know that iTinyHouses.com sent you!
Interested in more tiny house plans? Check out more great tiny homes below!